Shiba Inu Price Prediction as Daily Trading Volume Surges Past $100 Million – Are Meme Coins Back?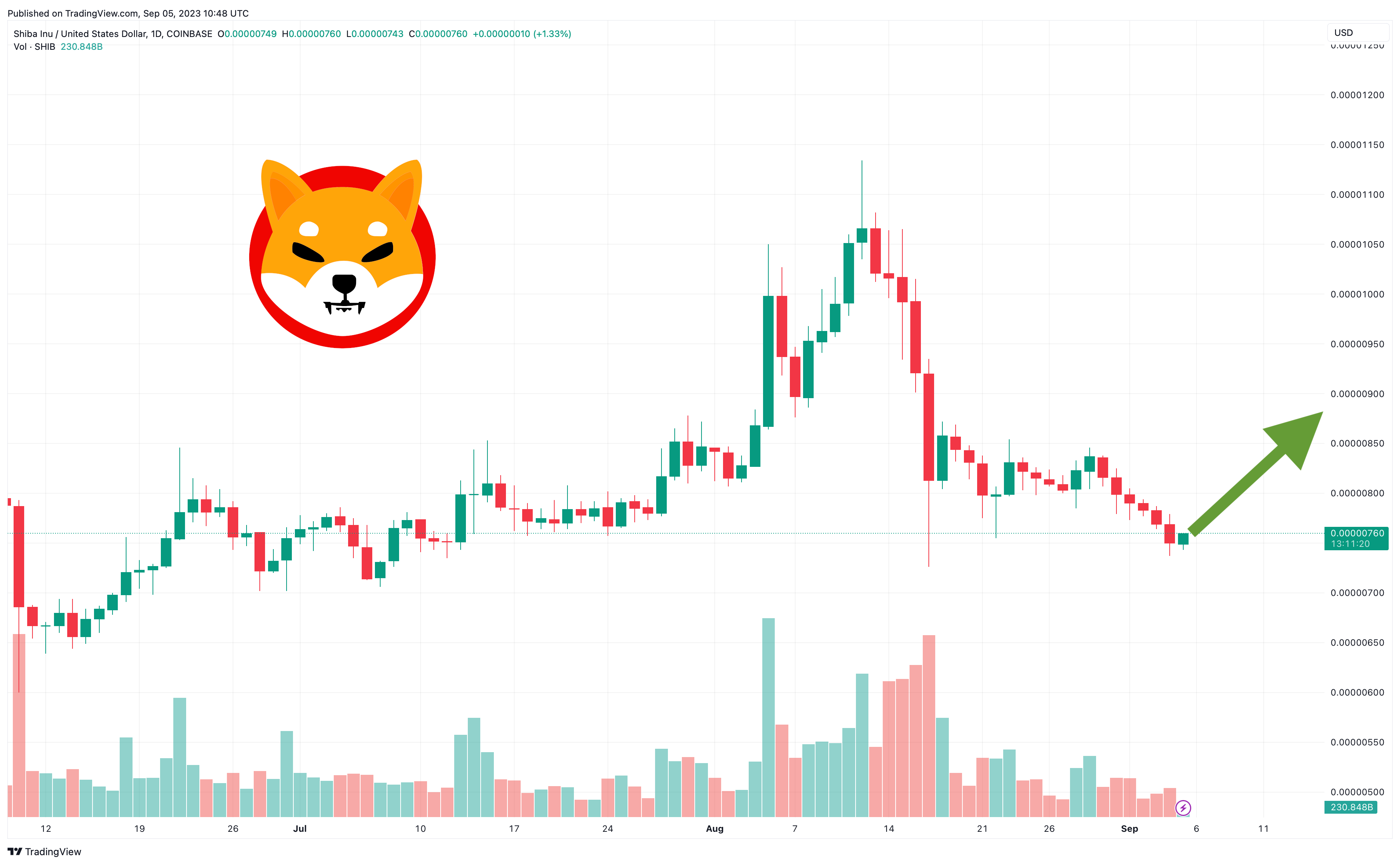 The price of Shiba Inu (SHIB) has declined by 1.5% in the past 24 hours, with its drop to $0.00000758 coming on what is also a disappointing day for the market as a whole.
SHIB is now down by 6% in a week and by 21% in the last 30 days, with the meme token also down by 6% since the beginning of the year, even though many major cryptocurrencies (e.g. BTC, ETH, XRP) have risen over this timeframe.
Yet, with SHIB's 24-hour trading volume rising beyond $100 million, there may now be enough liquidity and interest in its market to help it rebound very soon, especially when the coin remains decidedly oversold.
Shiba Inu Price Prediction as Daily Trading Volume Surges Past $100 Million – Are Meme Coins Back?
SHIB's indicators continue to look fairly weak, but on the plus side they are in a position that would suggest a rebound is due at some point in the near future.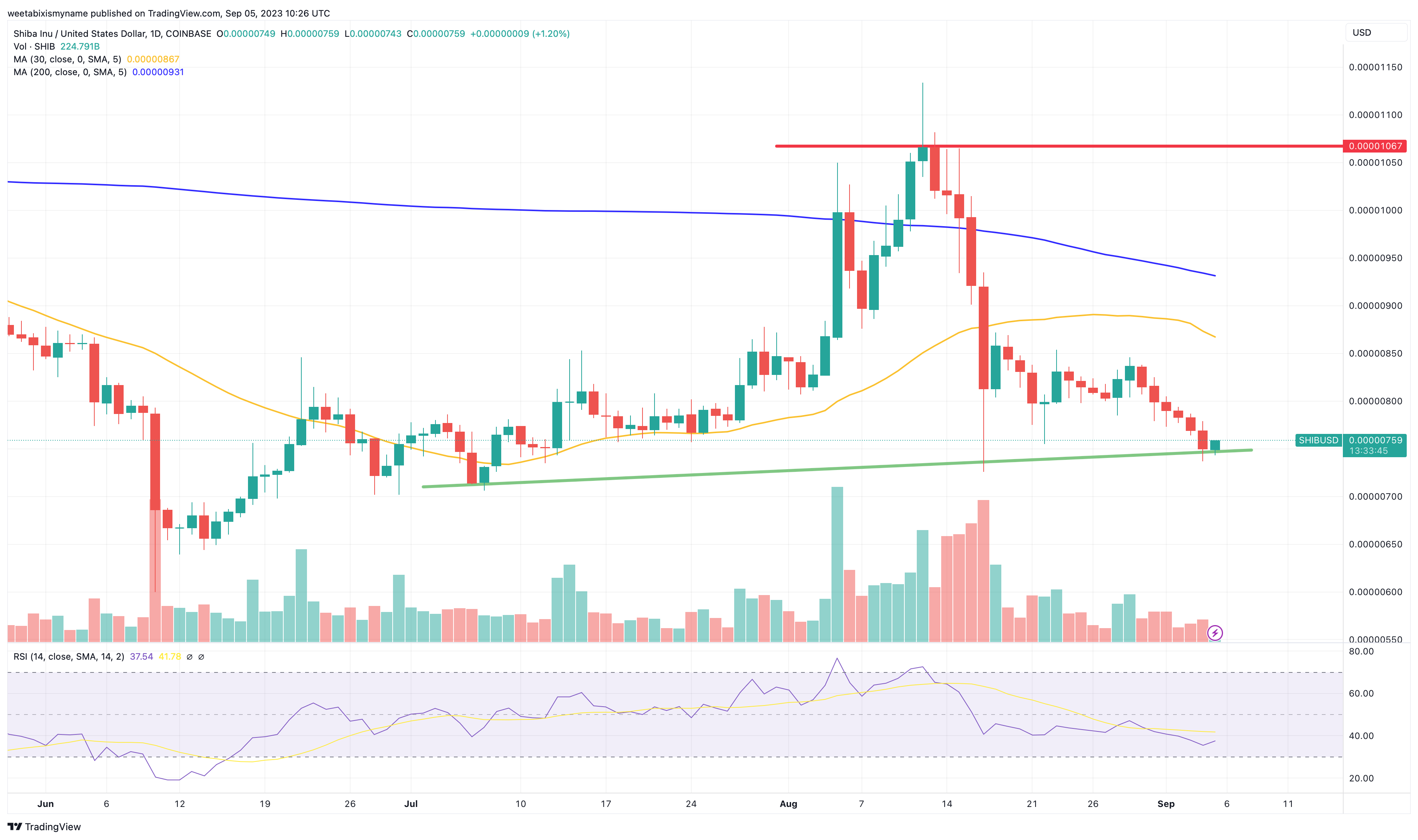 Firstly, SHIB's 30-day moving average (yellow) continues to fall further below its 200-day average (blue), providing a sign that the meme token is very close to hitting a bottom.
Secondly, the coin's relative strength index (purple) has begun rising slightly after more than two weeks spent hovering around 40, providing a sign that it is perhaps gaining some much-needed momentum.
This is the impression also created by SHIB's trading volume, which from $60 million during the weekend has now risen to $100 million, an indication that market interest in SHIB is increasing again.
What's interesting is that the past week has witnessed a couple of high-value SHIB transfers away from crypto-exchange Bitavo, something which would suggest that whales have resumed accumulating the token.
SHIB could therefore be in line for more rallies in the very near future, with the coin potentially returning to $0.00000080 in the next couple of weeks.
As for the longer term, the (re)launch of Shibarium means that the wider Shiba Inu ecosystem is likely to attract growing use over time, helping to make SHIB more in-demand.
The latest updates reveal that the layer-two network has now processed more than one million transactions, while also seeing the creation of more than 1.1 million wallets.
This is an encouraging sign, and it does suggest that, gradually, SHIB could recover over the coming months, potentially seeing out the year at around $0.0000150.
High-Potential Presale Has Only Two Hours Left
Because SHIB may be a long-term game, many traders may consider alternatives, particularly if they're aiming to turn an above-average profit in a relatively short space of time.
In such a case, most traders would be advised to consider having a portion of their portfolios in presale tokens, which can rally big once they're added to trading platforms.
And one of the best examples of this right now is Sonik Coin (SONIK), a new ERC-20 meme token that has raised just over $1.6 million since opening its presale a month ago.
Its presale ends today, with new investors having only around two hours in which to buy SONIK at its discounted sale price.
This doesn't give them much time left, with many traders already having been drawn in by SONIK's quirky take on memes based loosely around Sonic the Hedgehog.
Accordingly, the meme token will have total maximum supply of 299,792,458,000 (the speed of light in mm/s), while it has also set itself the target of reaching a $100 million market cap in the smallest amount of time possible.
It's also worth pointing out that SONIK will be a highly decentralized token, with 50% of its overall supply going to the presale, and with another 40% being reserved for staking rewards.
These staking rewards are another reason why SONIK has been attractive to investors, who are set to earn a passive income for simply holding the token.
New investors can join the sale by heading over to the coin's official website, but as stated above they have only two hours to do so before the presale ends.
1 SONIK still costs $0.00014, a low price that may end up seeming very low once the coin finds itself on trading platforms in the next few days.
Disclaimer: Crypto is a high-risk asset class. This article is provided for informational purposes and does not constitute investment advice. You could lose all of your capital.
---