Russia Sending Mixed Signals: Is China-style Bitcoin Crackdown In Works?
Last week, a leading Russian parliamentarian claimed that Duma financial policymakers were not behind any calls for a ban of cryptocurrencies, such as Bitcoin (BTC). This week starts with worrying news as legal experts and crypto industry leaders have taken aim at a draft bill set to be put before Russian parliamentarians with some warning that it could spell the end for the country's cryptocurrency industry.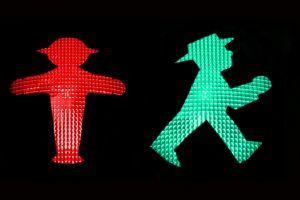 The draft bill for the long-awaited "On Digital Assets" bill has finally been published on the State Duma's official website after a wait of around 23 months.
But per Kommersant, the bill's provisions would seek to "disconnect" Russia from the world of crypto, with a total ban on mining on of the most worrying provisions – considering how many miners have set up shop in the country.
Monthly share of total Bitcoin hasrate in April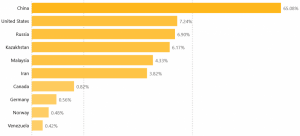 Despite issuing words of reassurance last week, Duma finance committee chief Anatoly Aksakov told Kommersant that Russian regulators were now taking a "tough stance" on the "restriction" of cryptocurrencies "in the Russian legal sphere."
Aksakov stated that although the bill looks to force Russian companies to close down or relocate overseas, Russian "citizens who want to deal with cryptocurrency" may do so "on foreign platforms."
The media outlet quotes Mikhail Uspensky, a partner at the Taxology law firm, as stating that the bill seeks to "completely block the legal sale of major global cryptocurrencies in Russia."
Uspensky added that the list of what citizens and companies are and are not allowed to do with crypto has been "poorly developed."
For instance, the lawyer states, the bill would allow declared cryptocurrency to be inherited, but would not allow donations to a close relative or awarded in divorce settlements.
In an open letter, the Russian Association of Cryptocurrencies and Blockchain (RACIB) wrote to the Ministry of Economy and the State Duma, saying,
"The government's message to all entrepreneurs whose activities are somehow related to cryptocurrencies is unambiguous: immediately withdraw your business from the country and relocate to other jurisdictions."
Only time will tell if there will be another twist in the long-running tale of Russian crypto regulations – a matter that has been in flux since 2017, with the first reading of "On Digital Currencies" passing the Duma over two years ago.
The Duma is expected to vote on the new bill in autumn this year.
---