Russia 'Not Ready to Deal' in Venezuelan Petro
Russia, Venezuela's closest political ally, says it is "not ready" to conduct transactions in the Latin American nation's Petro cryptocurrency, per media reports.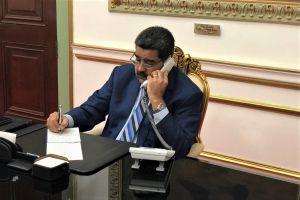 Russia last year sent its deputy finance minister Sergei Storchak to Caracas, along with a team of financial experts, including central bank officials. Storchak has stayed in close contact with the presidency, as well as Venezuela's finance minister and Central Bank President Calixto Ortega. Venezuela is currently in the midst of a worsening financial crisis, and has hoped its Petro venture will help it pull out of the economic quicksand.
Per Russian media outlet The Bell, Storchak has now handed Venezuelan president Nicolás Maduro a list of recommended economic measures. However, although Storchak and his team stated that the Petro had "received positive diplomatic evaluations" from Russian experts, the minister stated that Russia "is not ready to use the Petro in mutual settlements."
The news will come as a major blow for Maduro, who has been pushing for global acceptance for the oil-backed cryptocurrency, which the country launched last year. America – which is fiercely opposed to Maduro's regime – has banned all dealing in the Petro. Washington has also warned that countries and companies that conduct deals using the Petro may fall afoul of United States law. Venezuela has reportedly been offering Indian companies massive discounts if they buy Venezuelan oil using the Petro – to no avail.
The government has previously ruled that holidaymakers in many of the country's top tourist destinations must either settle their billsin cryptocurrencies or foreign fiats.
Last month, Venezuela lodged an official complaint against the United States with the World Trade Organization (WTO). The former claims that the America Petro ban constitutes an illegal restriction of trade. The WTO last week announced it was consulting on the matter.
Meanwhile, Russian parliamentarians last week claimed that the "digital economy" would be a priority in the year ahead, and that the government would push to consider up to 20 bills related to blockchain technology and cryptocurrency. Per a Duma press release, all 20 bills could pass before the house in the upcoming spring session.
______
Weekly LocalBitcoins, a peer-to-peer bitcoin marketplace, volume (in bitcoin) in Venezuela: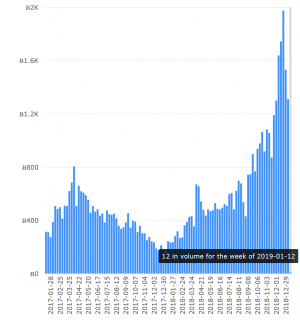 ---