Rollbit Price Prediction as RLB Rockets Up 50% in a Week – Are Whales Buying?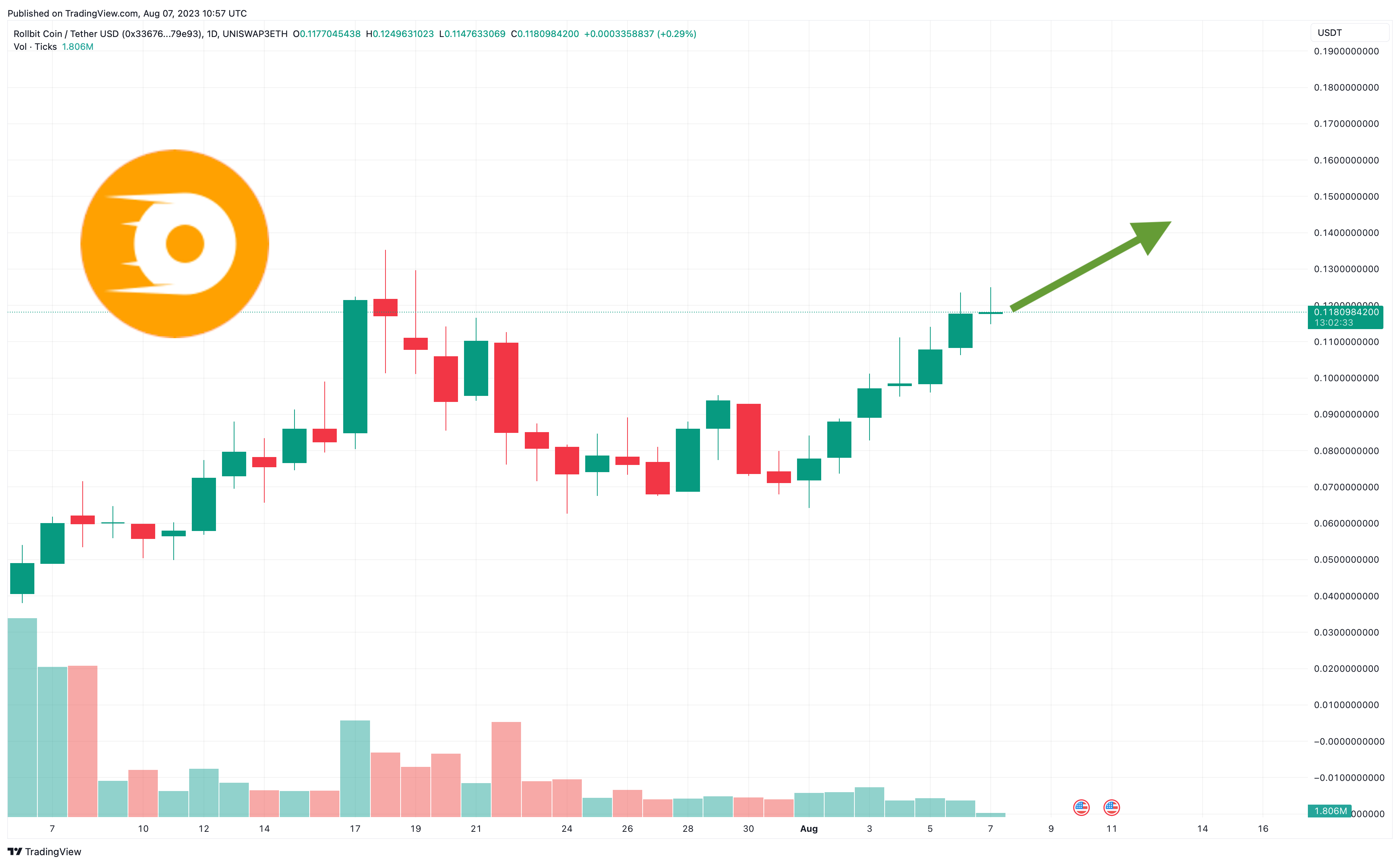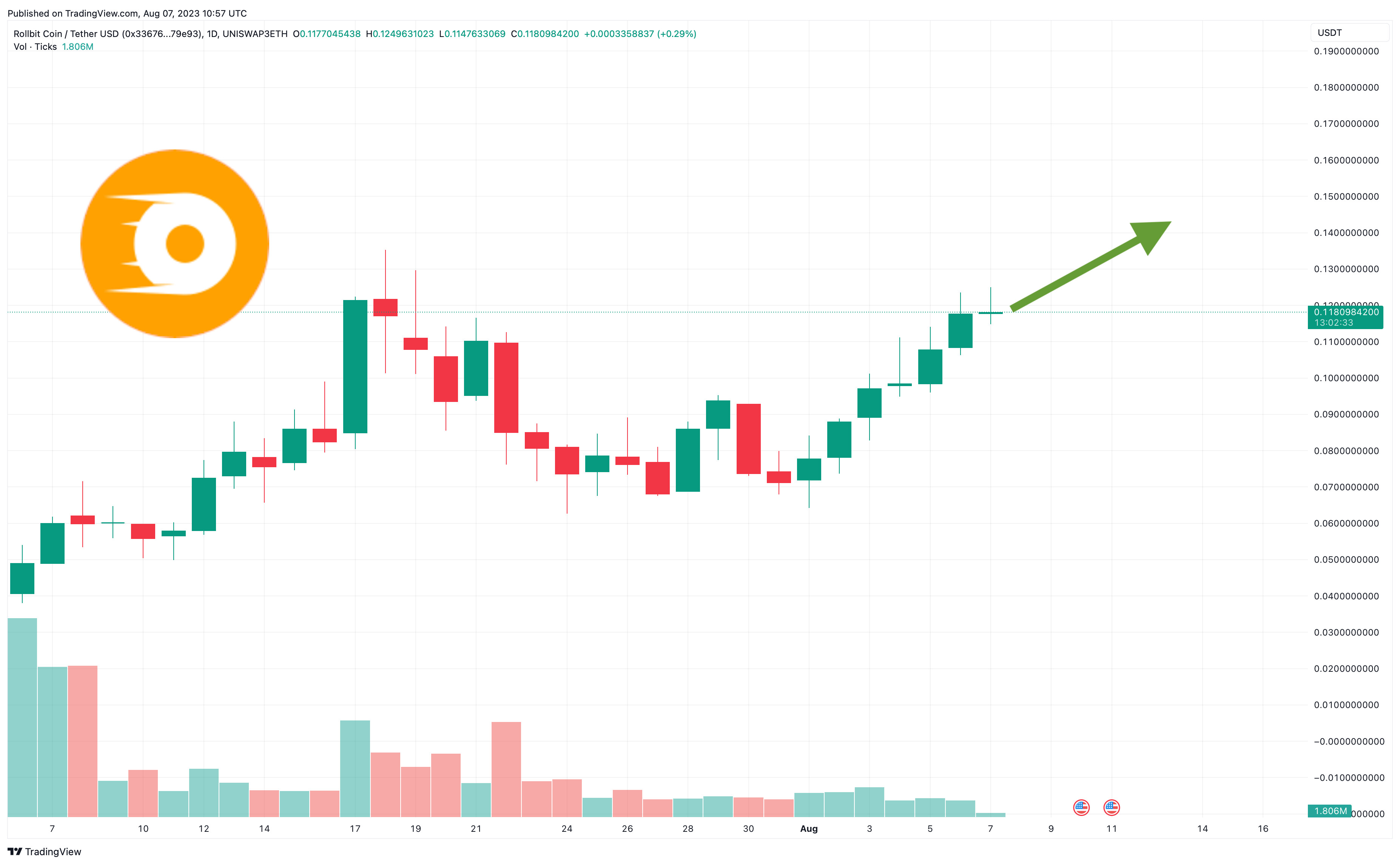 The price of Rollbit Coin (RLB) has gained by 6% in 24 hours and by 50% in a week, with its current price of $0.117994 also representing a massive 100% gain in the past month.
Even more impressively, the altcoin – the native token of the Rollbit casino/games platform – has surged by over 7,000% in the last 12 months, while it's also up by over 12,000% since the coin was added to exchanges in the first half of 2022.
This week's surge has come largely as a result of RLB being listed by major CEX Poloniex, which has seen the altcoin's overall trading volume shoot up massively.
And while it could argued that RLB may be very close to being overbought right now, it still seems to have momentum on its side, with more rallies likely incoming.
Rollbit Price Prediction as RLB Rockets Up 50% in a Week – Are Whales Buying?
There's little question that Rollbit is the strongest top-100 coin in the market at the moment, at least in terms of its technical indicators.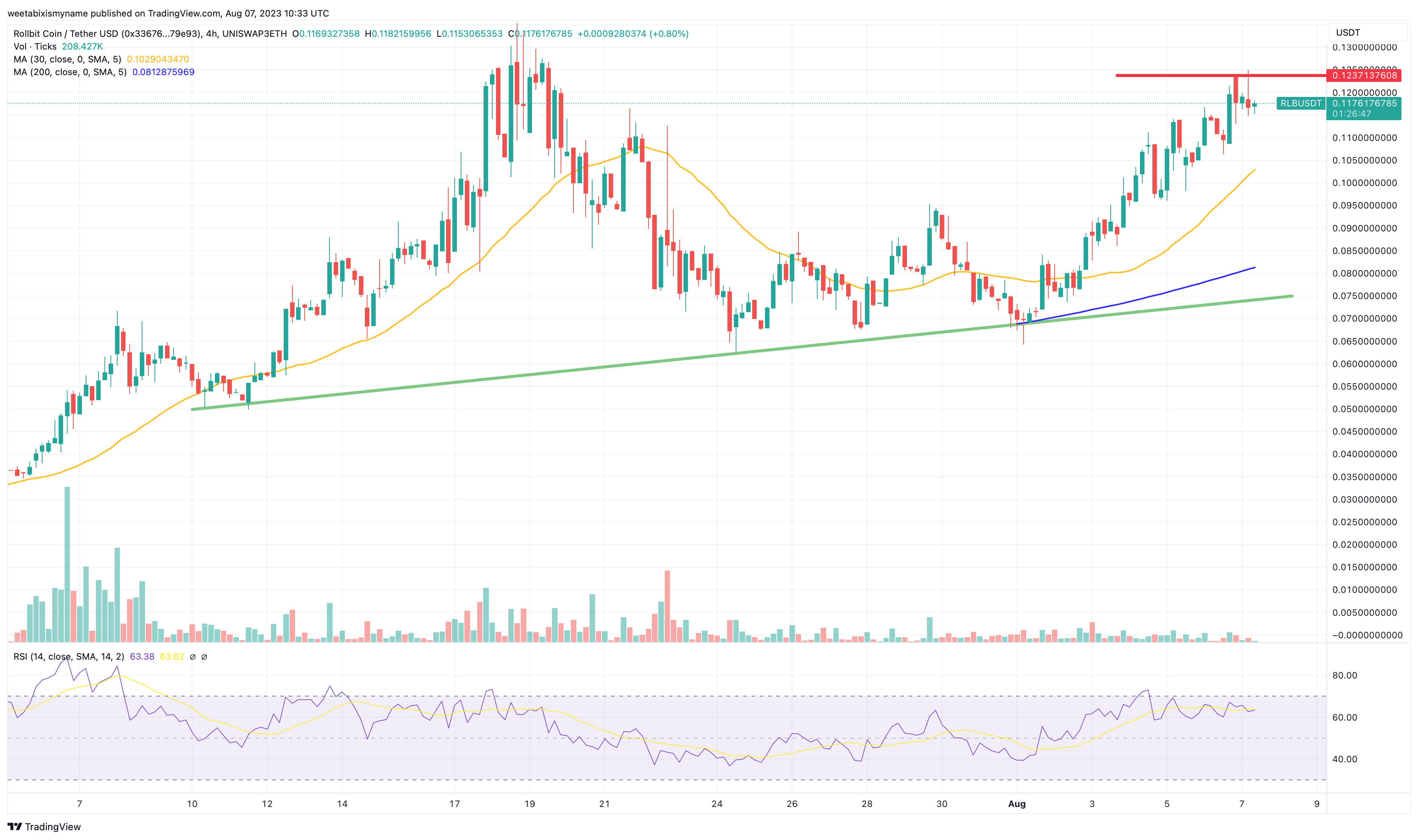 RLB's relative strength index has shot up to 70 in the past couple of days and remains high, indicating ongoing momentum that may continue for several days yet.
It's a similar story with the coin's 30-day moving average (yellow), which has begun climbing very steeply above its 200-day average (blue), which again signals the possibility of further rises before momentum is lost.
As noted above, RLB's Poloniex listing is the major cause of the coin's rallying in recent days, representing one of the altcoin's first listing on a major centralized exchange.
The listing could be regarded of signs of things to come for Rollbit, with the coin also being boosted massively by its migration from Solana to Ethereum in late June, something which has probably been the biggest factor in its recent growth.
Additionally, there are signs that whales are currently buying the token, meaning that it's likely to continue rising in the near future.
It's also worth highlighting the growing popularity of Rollbit as a decentralized casino, with platform predicted to grow its revenues to nine figures this year.
And given its growth, RLB remains an attractive investment prospect, with the coin being used to provide Rollbit users with discounts and other perks.
This means that the more Rollbit grows, the more RLB will grow in price.
And while the coin is arguably overbought right now, it can be expected to reach $0.13 in the next few weeks, before potentially ending the year at around $0.20.
Other High-Potential Altcoins
As strong as RLB is at the moment, it may be near the end of its recent rally, meaning that traders looking for gains over the next few weeks may have to look elsewhere.
This is where a number of promising presale tokens could fit in, with the best of these likely to rally big once they list on exchanges.
Arguably the likeliest candidate to do just this is Wall Street Memes (WSM), a new ERC-20 token that has impressively raised more than $22 million since opening its presale in June.
Wall Street Memes has emerged out of the meme stocks movement that was responsible for the GameStop rally in 2021, with this connection clearly providing the token with a ready-made community of supporters and holders.
This is highlighted by the fact that its Twitter profile now has more than 257,000 followers, which far exceeds the follower count of pretty much every other new presale token.
It's also encouraging to note that 50% of WSM's supply (of 2 billion tokens) has been reserved for the presale sale, with another 30% going towards community rewards.
This makes WSM highly decentralized, and combined with the community pool, its tokenomics are likely to motivate more investors to get involved.
New buyers can participate in the sale by navigating to the official Wall Street Memes website and connecting their crypto wallets, with 1 WSM currently priced at $0.0331.
The sale is now very close to its final stage, when 1 WSM will be priced $0.0337, although it's likely to eclipse even this price once it lists on exchanges.
Disclaimer: Crypto is a high-risk asset class. This article is provided for informational purposes and does not constitute investment advice. You could lose all of your capital.
---