Rollbit Price Prediction as Largest Crypto Casino Competitor Stake Gets Hacked – Will Whales Move to RLB?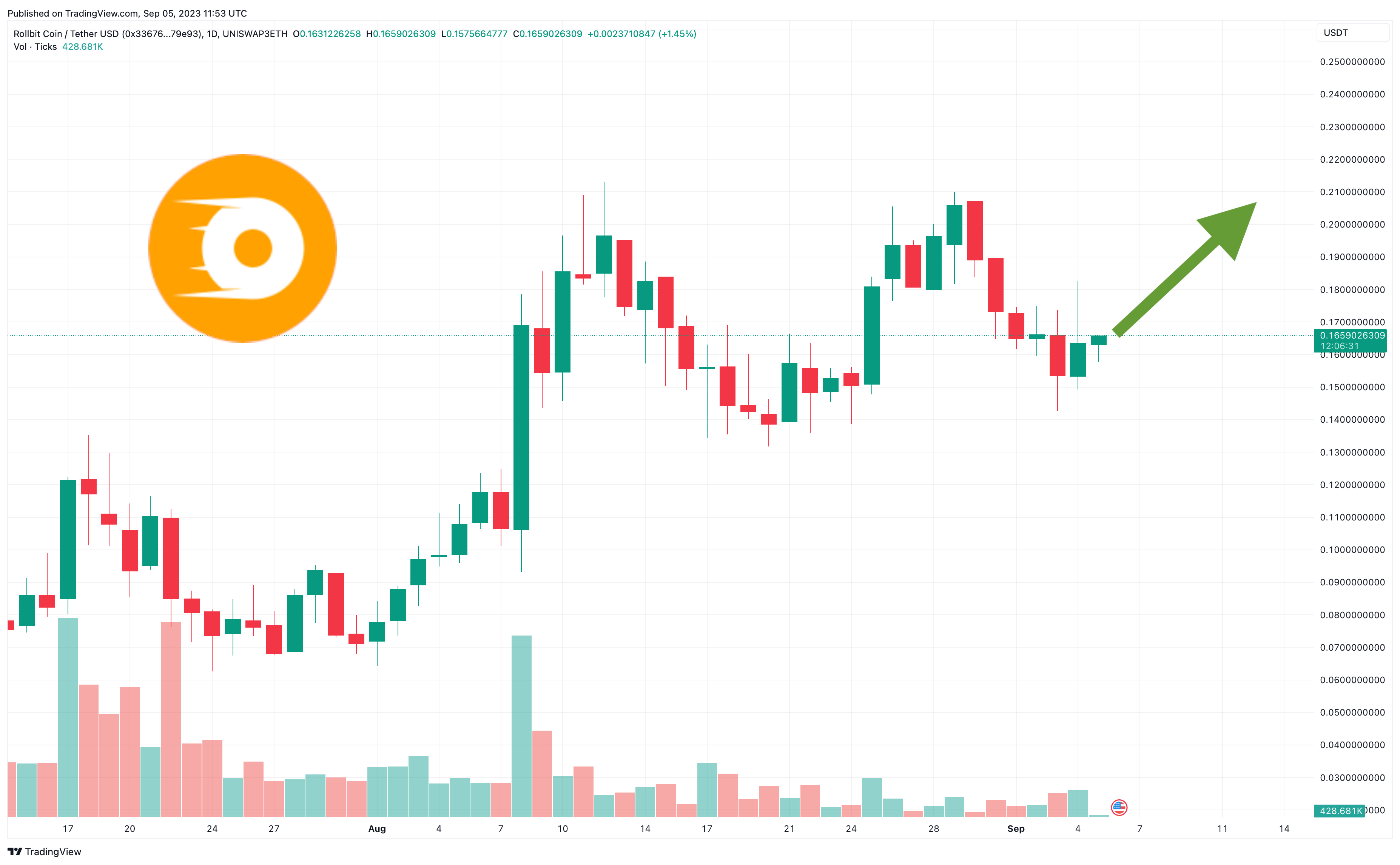 The price of Rollbit Coin (RLB) has gained by 4% in the past 24 hours, reaching $0.165899 after one of its rival online casinos, Stake, was hacked for $41 million.
RLB is now down by 9% in a week, yet the altcoin remains up by an impressive 49% in the last 30 days and by more than 9,000% in the past year.
This makes it one of the best-performing tokens in the top-100 cryptocurrencies by market cap, and with Stake potentially suffering a serious blow to its reputation, Rollbit's growth may only accelerate further from here on out.
Rollbit Price Prediction as Largest Crypto Casino Competitor Stake Gets Hacked – Will Whales Move to RLB?
Rollbit's chart and indicators unsurprisingly show some real momentum right now, with its relative strength index (purple) rising above 50 and potentially on course to rise even higher in the coming days.
Similarly, RLB's price is just about to rise above its 30-day moving average (yellow), a sign that the token is gaining momentum and attracting rising buying interest.
This means that RLB could rise as high as $0.18 before running out of steam, with the main reason for its bullishness today being the aforementioned hack of Stake.
According to Stake's own Twitter account, the platform's hot wallets were breached by an attacker and drained of funds, with some sources reporting that the lost amount could be as much as $41 million.
While Stake has posted that "user funds are safe," the loss of the $41 million may potentially damage the platform to the point where it suffers a run of withdrawal requests, which the cryptocurrency industry knows only too well can have disastrous consequences.
Conversely, the hack has apparently had a beneficial effect on the native token of Rollbit, which is one of Stake's main rivals.
And going forward, any long-term reputational damage to Stake may have the corresponding effect of increasing Rollbit's user count, which in turn can only boost RLB's price.
However, some commentators have urged caution, suggesting that Stake's hack is emblematic of the risks and vulnerabilities inherent to much or all of the blockchain-based casino sector.
On the other hand, Stake's misfortunes may be a wake-up call for it and its rivals, who may (and should) endeavor to step up their cybersecurity practices from now on.
Assuming Rollbit does take real measures to guard itself against similar exploits, its position within a growing sub-sector should result in further growth for its platform and its native token.
From its current level of around $0.166878, it can be expected to reached $0.18 in the next few days or weeks, before ending the year at around $0.25.
More High-Potential Altcoins
For anyone who isn't entirely sure about RLB, or who has already invested in the coin, it may be worth looking at newer altcoins, particularly news coins which are currently holding their presales.
Presales can often be lucrative for investors, since they provide the opportunity to buy a new coin cheaply, before it lists on exchanges and potentially rises.
Not every presale token is a potential winner, of course, but those with solid fundamentals often have a very good chance of doing well, and one of the strongest right now is Launchpad.xyz (LPX), a Web3 trading platform that has raised more than $1.5 million to date.
Aimed at intermediate and experienced traders alike, Launchpad.xyz will feature various trading tools and resources, including a Web3 wallet, a play-to-earn gaming hub, trading signals, fractionalized assets, collaborative trading rooms, and automated trading bots.
Its ecosystem will also include a decentralized exchange and an NFT marketplace, making it probably one of the most comprehensive new trading platforms to have emerged this year.
And within its platform, LPX will be used to pay fees and subscriptions, with the coin also being open to staking, meaning that investors can earn an income simply by holding the token.
This all helps to make LPX an attractive new investment, while also helping to explain why its presale has raised so much so quickly.
New buyers can invest early in the token by visiting the official Launchpad.xyz website and connecting their software wallets, such as MetaMask or WalletConnect.
1 LPX costs $0.0445, with the token's listing on exchanges (coming in the next few weeks) likely to push this price up higher.
Disclaimer: Crypto is a high-risk asset class. This article is provided for informational purposes and does not constitute investment advice. You could lose all of your capital.
---