PEPE Price Sinks After Multi-Sig Change, But Traders Are Racing Into $SONIK Coin - Will It Explode 50x?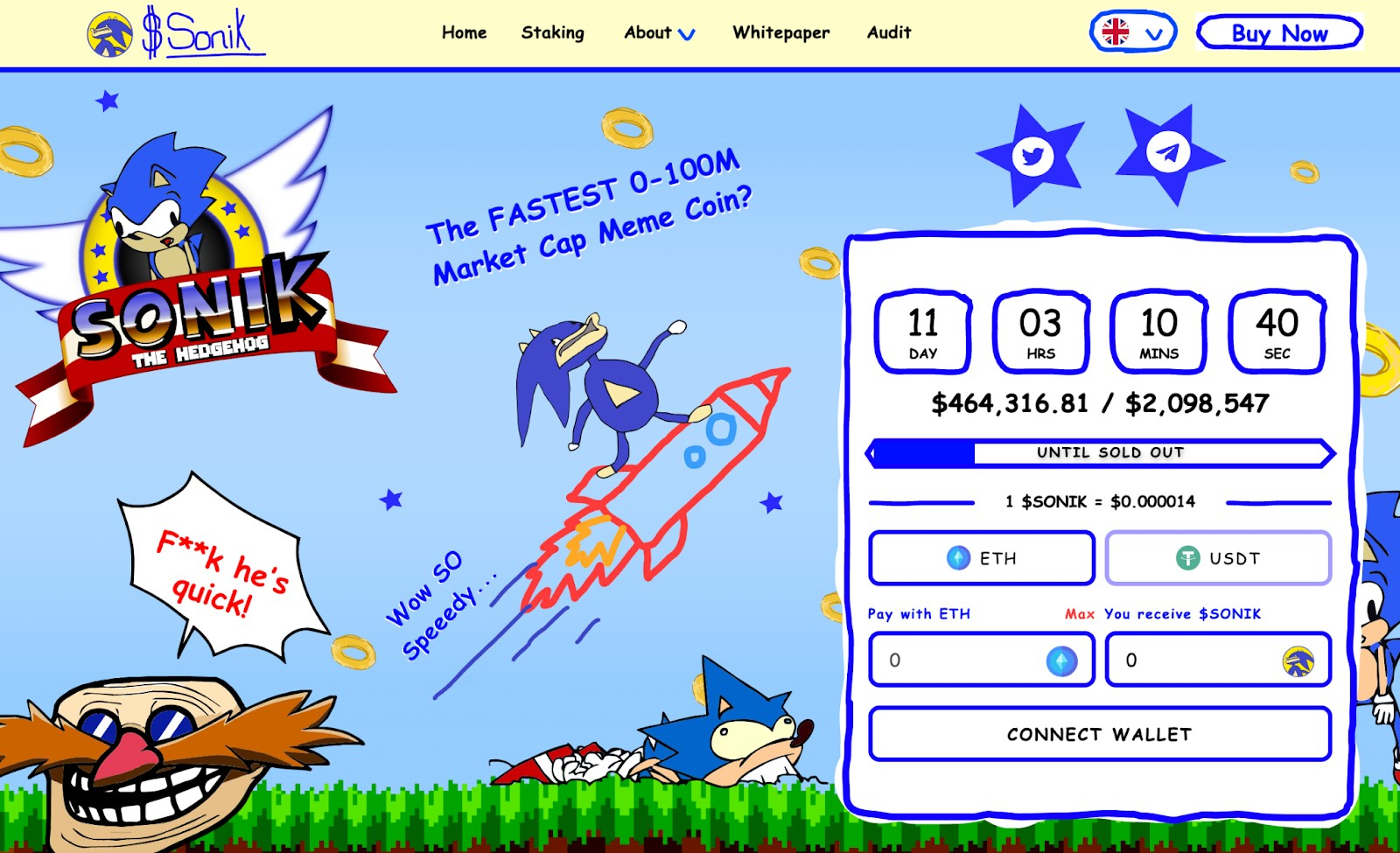 Friday the 25th of August – The PEPE price is falling as allegations of a rug-pull undermine its value, but traders are shifting funds into new meme coin Sonik Coin, which is surging towards the $500,000 in its presale.
A multisig wallet thought to be controlled by the Pepecoin team has sent funds to centralized exchanges, where the tokens will presumably be sold.
Bad news for PEPE holders is looking like a boon for Sonik Coin. Sonik meme coin is inspired by a legendary gaming character originating in Japan and built around the sort of degen humor typical of the meme coin space.
While the PEPE price has dropped more than 20% to $0.0000009181, $SONIK has raised $465,270, and the run rate is accelerating.
Arguably, $SONIK was always a much better bet for crypto degens than PEPE because it does something that most meme coins don't – it offers passive income based on its stake-to-earn utility.
So far, 16.5 billion tokens have been staked by presale buyers, earning an annual percentage yield of 145%.
The team is expecting its viral power combined with its yield-earning potential to make Sonik Coin a top meme coin. As the website loudly proclaims, Sonik Coin aims to be the fastest ever $0 to $100 million market cap meme coin.
"We know the meme culture is wild and untamed, and that's exactly what $SONIK embodies – the spirit of spontaneity and limitless possibilities," explains the whitepaper.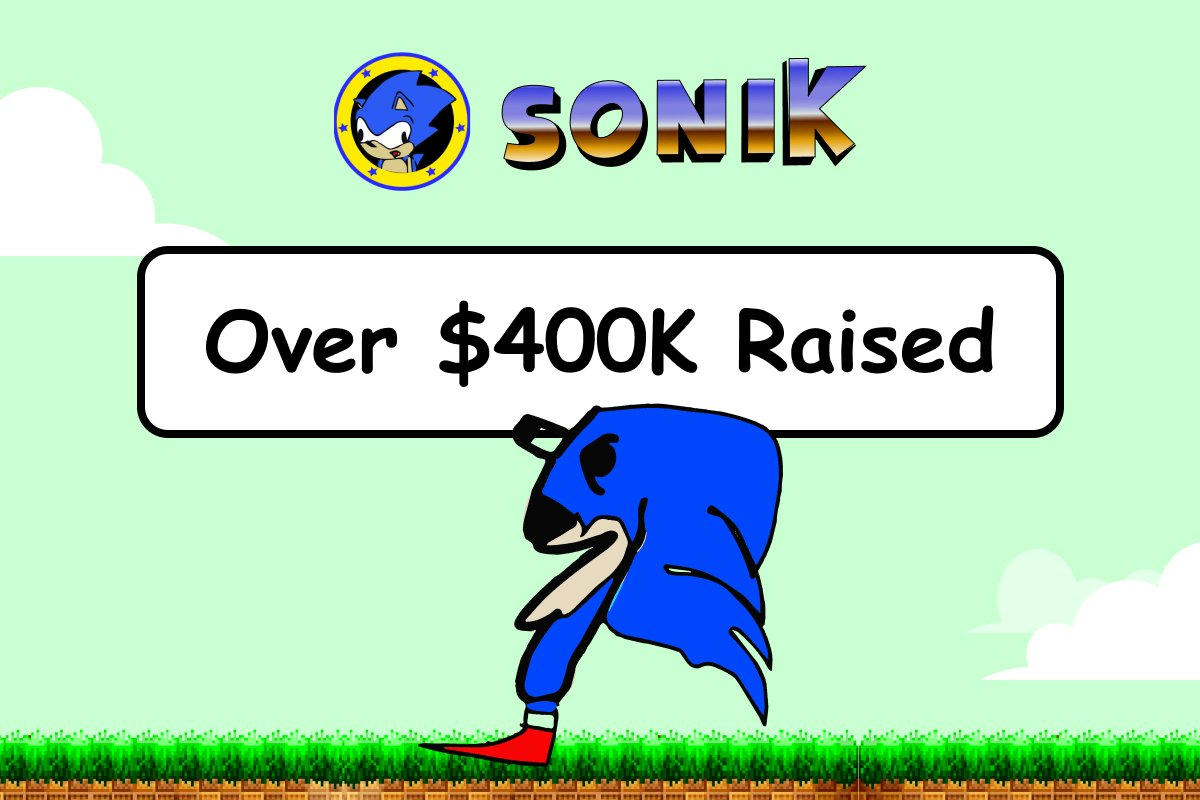 Sonik Coin's presale has flown past $465,000, as investors continue to pile in before the project reaches its hard cap of just under $2.1 million.
Once the presale hits this milestone, or once the presale countdown ends (currently at 11 days), the early buying opportunity will end.
Sonik Coin is selling 50% of a total 299,792,458,000 token supply in presale and looking to raise just under $2.1 million.
Why that number of tokens, you ask?
Well, that number represents the speed of light in meters per second, which the team suggests is how fast its Sonik character can run on its way to a $100 million market cap.
Sonik Could be Set to Explode 50x?
Sonik Coin has been able to continue attracting funds in recent days despite a drop in the broader crypto market, demonstrating that there is still plenty of demand amongst investors for a coin that could go viral and see big gains.
Just how high could Sonik Coin explode?
Well, the first thing to note is that the presale values the coin at a very modest $4.2 million, leaving plenty of room for exponential upside.
For example, if $SONIK succeeds in its aim of a quick pump to a $100 million market cap, that would represent gains of around 24x for presale investors.

If $SONIK could hit a market cap of $200 million, that would mean gains in the region of 50x for presale investors.
But most meme coin launches barely get out of the gates, let alone reach market caps in the hundreds of millions.
What makes Sonik Coin any different?
A few things, let's take a look.
Earn Passive Income of 145% APY With Sonic Coin
As briefly mentioned earlier, Sonik Coin is a stake-to-earn coin. That means it goes way beyond the usual pump-and-dump dynamics of the meme coin space by introducing an innovative staking system designed to reward HODLers of the token.
40% of $SONIK's supply has been dedicated to reward those who stake their tokens.
All investors will need to do is stake their tokens to start earning passive income.
Yields on offer are trackable via Sonik Coin's dedicated staking dashboard.

How many other meme coins come with an in-built yield-generating mechanism? Very few.
Currently, 16.5 billion tokens are staked and earning 145% APR. Stakers' tokens are claimable when the presale ends and the coin is listed, but there's a lock period of 7 days.
New stakers after the coin has launched on Uniswap are also locked for an initial seven days. Stakers can choose to either withdraw after that time or leave their funds in the staking smart contract to continue accruing yield.
Staking rewards will be distributed over a period of four years.
10% of $SONIK Supply is Allocated to Liquidity And Will be Locked
The Sonik Coin team is committed to providing a smooth token trading environment boasting well-oiled market liquidity.
The project has pledged to dedicate 10% of its token supply to decentralized exchange (DEX) liquidity.
Importantly, the project has pledged to lock this liquidity at the launch of the token, ensuring that there is no rug pull.
In the absence of plentiful liquidity, meme coin degens often face the hurdle of inefficient buying and selling, as well as big potential losses due to price slippage.
Sonik Coin Undertaking Huge Marketing Push
It's understood that the marketing team behind Sonik Coin may have also been behind SpongeBob ($SPONGE). SpongeBob gained 80x after its DEX launch price.
And the marketing team's efforts are already paying dividends.
Sonik Coin has secured features in high-profile crypto news websites like Finbold, CryptoPotato, and Cryptonews.
That has translated into an organic Twitter following of over 1,000, and a Telegram channel subscriber base also over 1,000.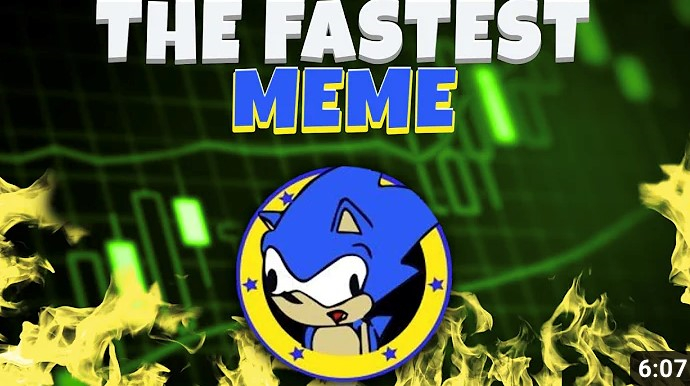 Dozens of major crypto influencers have also been singing the coin's praises.
Michael Wrubel, who has over 300,000 subscribers on YouTube, called the token his "next $1,000,000 meme crypto".
Meanwhile, GoUp thinks Sonik Coin is a new 100x project, and Jacob Crypto Bury says it has the makings of an at least 10x coin.
As Sonik Coin raises more funds, expect the marketing push to accelerate and more Twitter/YouTube influencers and crypto investing communities to start promoting the coin.
$SONIK Could Tap Into Huge Asia Fanbase
Some of the best-performing meme coins of the year have piggybacked off existing viral memes or fictional characters.
Sonic the Hedgehog has been hugely popular for years, particularly in Japan and elsewhere in Asia, areas of the world known to be at the leading edge of crypto adoption.
Sonik Coin's spin on this theme is loaded with viral potential and should attract an ever-growing base of meme coin-loving supporters.

Sonik Coin Presale Not To Be Missed
As PEPE's future hangs in the balance, low-cap gem hunters will be attracted to Sonik Coin's super-low presale valuation, and passive income hunters will love the staking mechanism.
And a huge marketing push from a proven team guarantees that awareness of the token on crypto Twitter will continue to grow, making a pump significantly more likely.
Get in today on 2023's speediest meme coin presale now.
To buy $SONIK, connect your Web3 wallet to the project's official website and (via the Ethereum network) you can buy the coin with $ETH or $USDT.
Sonik Coin is not affiliated with Sonic The Hedgehog, SEGA, or any of its associated projects and is simply a standalone awesome meme coin.
Disclaimer: Crypto is a high-risk asset class. This article is provided for informational purposes and does not constitute investment advice. You could lose all of your capital.
---