Pepe Price Prediction as PEPE Spikes up 5% – Can PEPE Reach $1?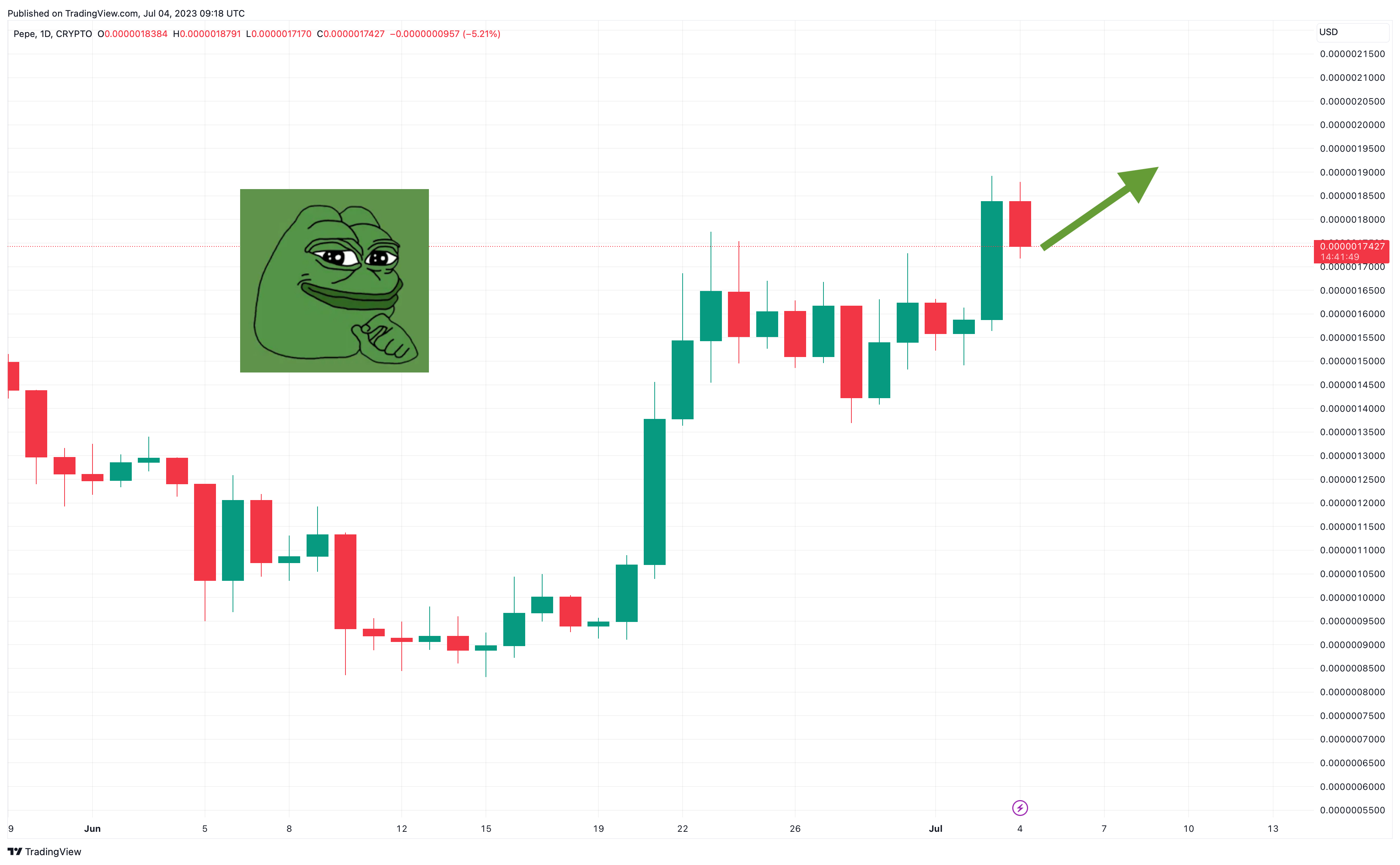 The Pepe price has risen by 1% in the past 24 hours, with its move to $0.00000175 also representing a 10% gain in the past week.
PEPE was up by as much as 5% at one point this morning, with its spike standing in contrast to the cryptocurrency market as a whole, which has barely moved today.
The meme token is also up by 88% in the past fortnight and by 37% in the last 30 days, with these gains helping it to recover some of the value it has lost since reaching an all-time high of $0.00000431 in early May, when investor appetite for meme coins was at its peak.
But with momentum back on its side, PEPE could see further rallies in the coming weeks, potentially enabling its price to lose several decimal places.
Pepe Price Prediction as PEPE Spikes up 5% – Can PEPE Reach $1?
PEPE's indicators suggest that the coin's rally could still continue for a while yet, with its 30-day moving average (yellow) climbing further above its 200-day average (blue).
Also signalling ongoing momentum is PEPE's relative strength index (purple), which remains above 60 despite a little dip earlier this morning from 70.
On top of this, PEPE's support level (green) is showing increasing strength, enabling the meme token to push forwards from an increasingly high base.
Taken together, these indicators all suggest that PEPE may continue to rise for the next few days, if not longer, with the meme token targeting $0.0000020 in the short term.
It does seem that whales are currently banking on further PEPE gains, with one large transaction showing a transfer away from Binance and to a private wallet.
Of course, while there have also been other recent large purchases of PEPE, the latter's status/existence as a meme token is likely to mean that its price will fall sooner or later, once whales decide to take their profits.
It's hard to say when this could happen, however, with PEPE arguably having the potential to hit new levels (such as $0.00001 or $0.0001) before it crashes down again.
Another High-Potential Meme Token
While PEPE looks like it could rally again in the near future, it should be remembered that it's already more than 3,000% up compared to its lowest-recorded price on CoinGecko, meaning that its best rallies are probably already behind it.
For this reason, some traders may prefer to look for the next big meme token, and of all the newest such coins in the market, Wall Street Memes (WSM) arguably has the best chance of having the biggest rally.
Emerging out of the meme stocks movement that orchestrated the 2021 GameStop and AMC rallies, WSM is an ERC-20 token that began its presale at the start of June, going on to raise more than $12.4 million so far.
Given just how quickly it has reached this total, it's clear that WSM already commands a significantly sized community, with its official Twitter account now boasting more than 256,000 followers.
This community will prove vitally important once WSM lists on exchanges in the next few weeks, in that it will be this growing community which supports the meme token's price, helping it to enjoy and maintain substantial rallies.
It's currently seeling for $0.0307 in its presale, although this price will climb to $0.0337 by the time the offering reaches its 30th and final stage.
Of course, WSM's price is likely to rise much higher than this when it does list on exchanges in the next few weeks, especially when it already has an army ready to recruit people to its cause.
Investors can join its presale by visiting the official Wall Street Memes website and linking their crypto wallets, with WSM buyable using ETH, USDT and fiat currency.
Disclaimer: Crypto is a high-risk asset class. This article is provided for informational purposes and does not constitute investment advice. You could lose all of your capital.
---