Pepe Coin Price Prediction as PEPE Surges Up 15% and Becomes Best Performing Meme Coin in the Market – What's Going On?
The Pepe Coin price has surged to $0.00000124 in the past 24 hours, with its 15% rise in the past 24 hours making it the best-performing meme token in the market right now.
Despite this gain, PEPE remains down by 1.5% in the last 7 days and by 15% in the last 30, with the altcoin also having declined by 71% since hitting an all-time high of $0.00000431 in early May.
This means that today's rally could be regarded mostly as a long overdue – and only partial – upwards correction for PEPE, which remains a plaything for whales and other big traders, and could therefore see further rises before it almost inevitably dips again.
Pepe Coin Price Prediction as PEPE Surges Up 15% and Becomes Best Performing Meme Coin in the Market – What's Going On?
Having spent the past two or three weeks declining steadily, PEPE's rally over the past day now means that its technical indicators are beginning to show some much-missed momentum.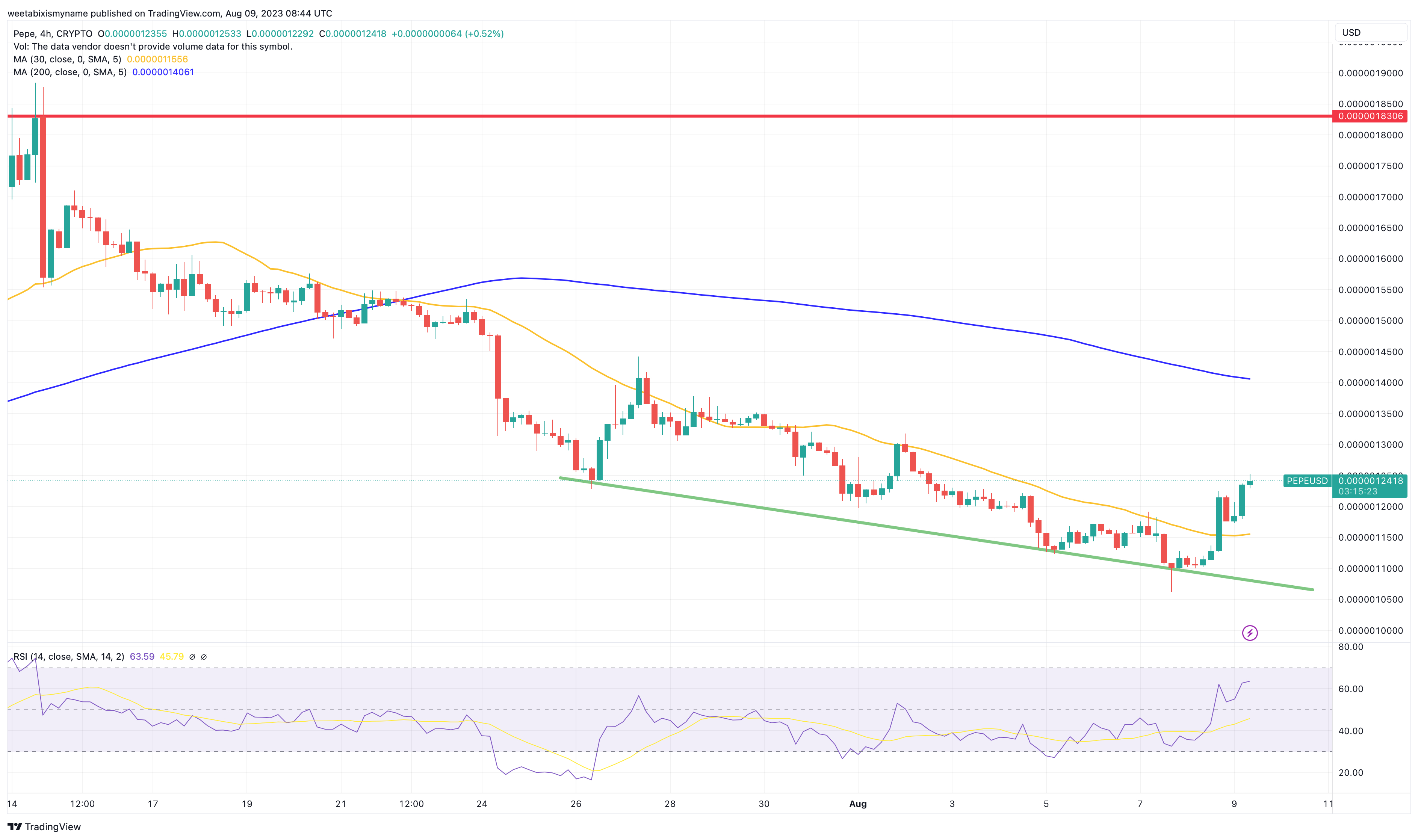 PEPE's relative strength index (purple) has shot up from nearly 30 yesterday to just over 60 today, with this rise in momentum having some room left to increase further before the RSI tops 70 and the coin becomes overbought.
Similarly, the coin's 30-day moving average (yellow) had reached a bottom in relation to its 200-day average (blue), but now it has begun to turn upwards and looks set to rise all the way back up to the longer-term average.
There's a strong argument to the effect that PEPE has been oversold and undervalued for too long now, and that it's due a big rally, which may potentially have just begun.
However, traders need be aware that PEPE remains a 'pure' meme token, with no fundamental value or intrinsic worth, so there's nothing to stop it falling back down again.
And it could fall hard even before its technical indicators reach 'overbought' positions, such is the coin's volatility.
A big reason why PEPE has risen and fallen so wildly over the past few months is that it has been taken up by whales as a vehicle for short-term gains, implying that larger investors tend to dump it soon after they've bought it.
As the above tweet shows, whales have been buying PEPE in the past couple of days, which has been a big factor in its rally.
On the other hand, the past couple of days have also seen a few big sales of PEPE, with one whale selling 2.26 trillion PEPE at a loss on August 7.
This is something traders need to be mindful of: there is absolutely no reason to hold onto PEPE other profit, so when the meme token falls, more investors are likely to get rid of it quickly, amplifying its potential volatility.
This warning aside, PEPE has the chance to rise to $0.00000180 before its current rally plays out, although it could easily fall even lower than it is now afterwards.
New High-Potential Altcoins For Bigger Gains
Because it can't be said with any certainty that PEPE will continue rising in the near and more distant future, some traders may prefer to look at altcoins that seem more assured of enjoying big rallies in the short-term.
At the moment, a number of presale tokens look particularly promising, in that they seem ready to rally big once they list on exchanges.
One of the most promising presale coins in this regard is BTC20, a new ERC-20 token that will provide an Ethereum-based version of Bitcoin that enables holders to earn passive income from staking.
Its presale made 6.05 million BTC20 available at a fixed price of $1, with the sale triumphantly selling out at the end of July.
The fact that the sale reached its hard cap is a clear sign that the market has taken to the idea of BTC20 in a big way, with many attracted by how it made the coin available at $1, the price BTC itself had back in 2011.
Yet one of the main draws of BTC20 is that its holders will be able to stake the token, something which can't be done with the original Bitcoin.
And now that the sale has finished, BTC20's team is in the process of rolling out its staking feature, while also making the coin available to claim by those who participated in the presale.
It will also list on Uniswap in the next few days, with more listings likely to follow soon, something which will help it rise considerably in price.
Stakers will be rewarded in freshly mined BTC20, with new tokens being issued until there are a total of 21 million BTC20, a process that will take over 100 years in total.
Given this hard cap, BTC20 will be a deflationary token, something which will help squeeze its price upwards over the long-term.
Disclaimer: Crypto is a high-risk asset class. This article is provided for informational purposes and does not constitute investment advice. You could lose all of your capital.
---