Pepe Coin Price Prediction as PEPE Slumps 15% Amid FUD Over Strange Multisig Changes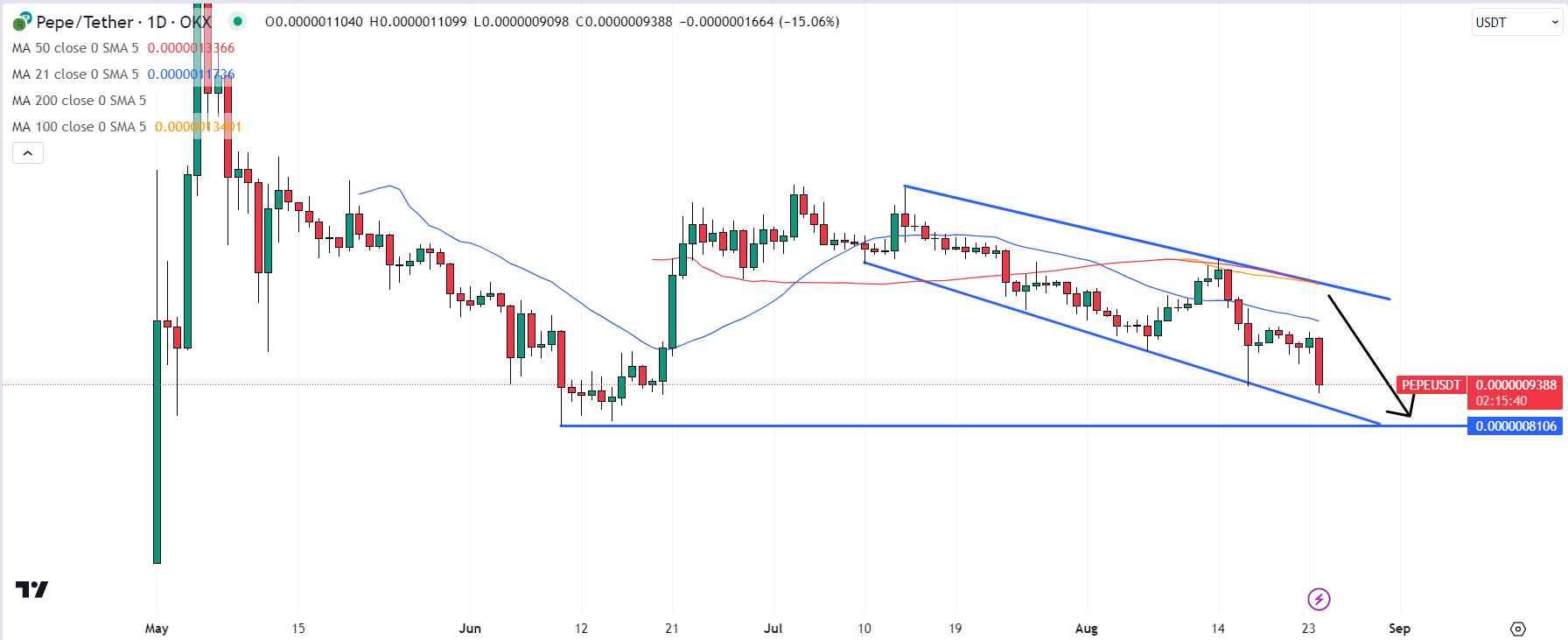 The price of Pepe Coin ($PEPE), the crypto market's third largest meme coin by market capitalization and best-performing crypto asset of the year so far, recently fell as much as 14% in minutes amid a wave of social media Fear, Uncertainty and Doubt (FUD).
Pepe Coin has been trading around $0.000001050, but quickly fell to new daily lows around $0.0000009 after a social media user flagged that the Pepe multisig wallet had just changed its threshold to 2/8 signatures, before also warning that some $PEPE had been sent to exchanges.
The transaction changing the multisig threshold (which required 5/8 signatures to execute) can be seen via Etherscan. It is also documented on the Safe Wallet service:
"Shocker Pepe team back with their suss moves. Who could've guessed" remarked one X (formerly Twitter) user.
But another user pushed back against the FUD.
"The only holders of more than 2.5% of PEPE are OKX and Binance, and of the top six holders, five are exchanges. Also, circulating supply = maximum supply. So there's a minimal risk for traditional "rug" here. The token belongs to the community," @ethx_o said.
Still, the $PEPE price was last down about 15% on the day.
Here's the PEPE multisig wallet and CEX addresses involved in alleged rug pull transfers
The multisig wallet transferred Pepe to an EOA (Externally Owned Account) address. This is a special address that is distinct from a smart contract address and is controlled with a private key.
https://etherscan.io/address/0x5bdea820293689b77fa8e83b1e3d58b27b5ce9ba#tokentxns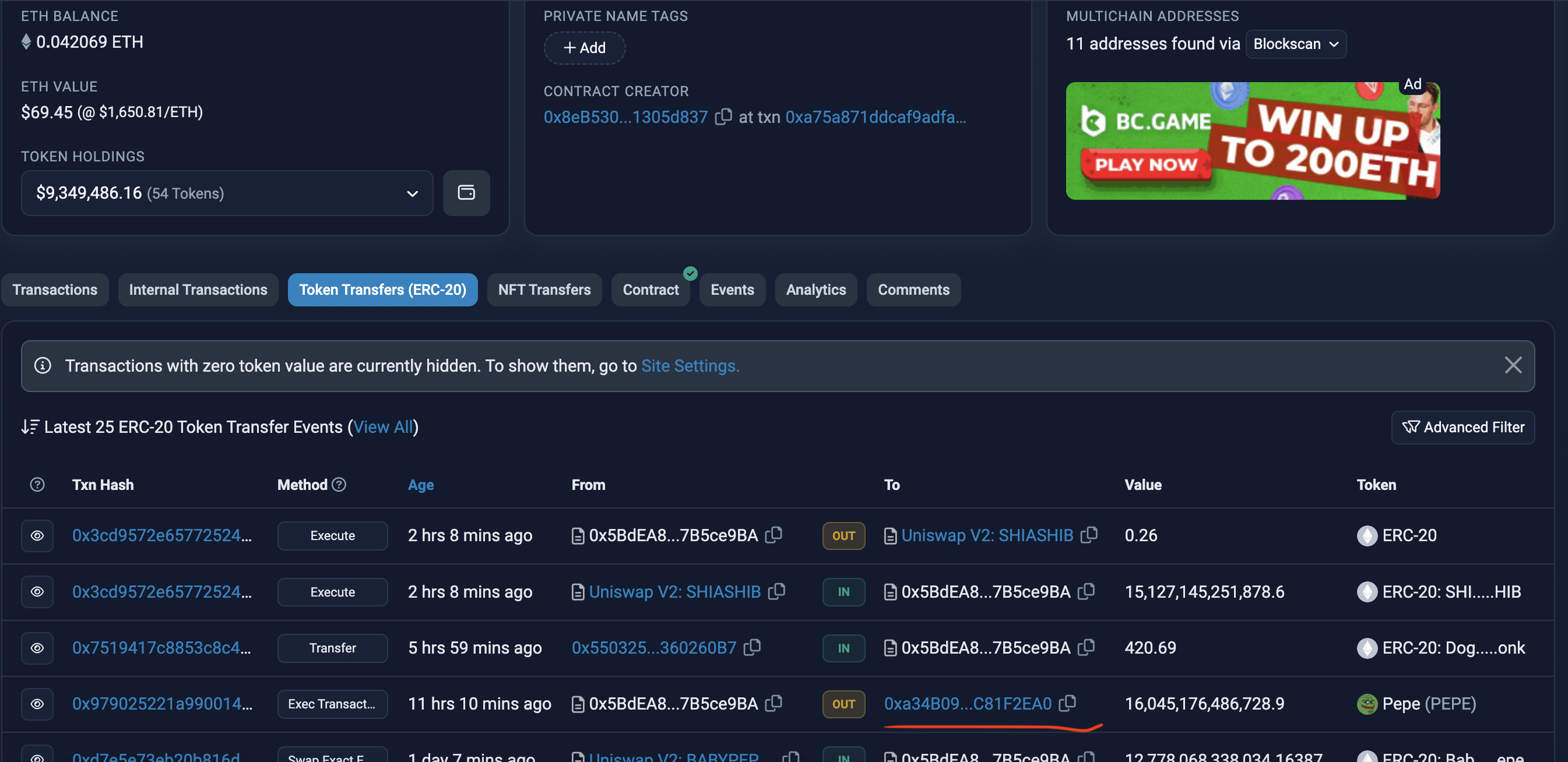 The movement of funds onto centralized exchanges can be seen at the following address:
https://etherscan.io/address/0xa34b091932d9c9ffcff254c9aa1b4210c81f2ea0#tokentxns

For example, here is the Binance wallet that received funds tokens originating from the PEPE multisig wallet.
https://etherscan.io/address/0x6aedf674e6c8bb0376fbe0d4ad28481ab33103cb#tokentxns

Price Prediction – Where Next for Pepe Coin?
$PEPE has been trending to the downside within the confines of a bearish trend channel in recent months and looks to be on course to test its June lows in the $0.0000008 area.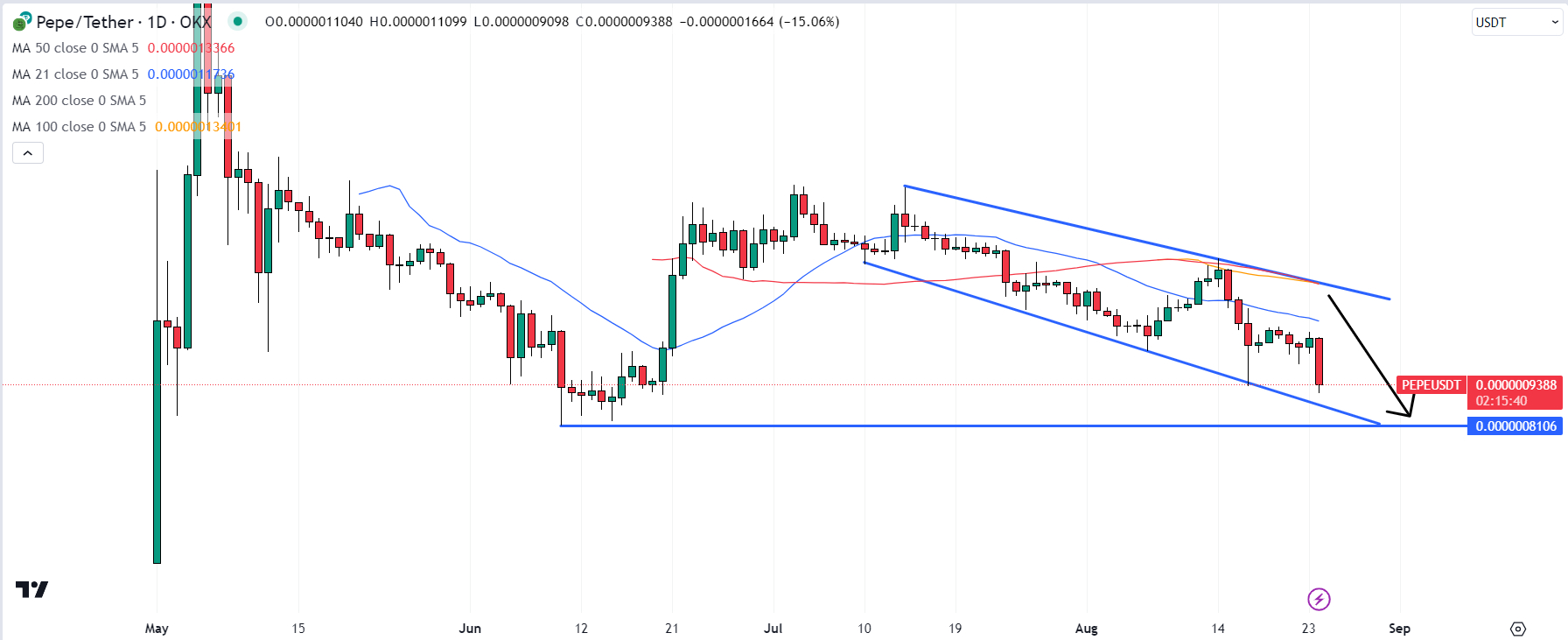 Short-term price predictions thus remain bearish.
That being said, assuming the latest warnings about multisig changes to Pepe's wallet proves to be nothing more than meaningless FUD, $PEPE's underlying fundamentals continue to look good.
As per Etherscan, the token is approaching an impressive 140,000 holders, a number that has continued to climb in recent months, despite the absence of a major fresh price pump.
Retail investors are apparently still keen to accumulate the coin and the further $PEPE dips, the more dip buyers might jump in.
Continued growth in the number of holders suggests that $PEPE's "adoption" as a crypto asset to invest in continues to rise, which should bode well for future broader market bull runs.
Pepe Alternative to Consider
It's always smart for meme coin investors to hedge their bets, given the unpredictability of the market.
One excellent Pepe Coin alternative that meme coin investors should consider is a new coin being launched by Wall Street Memes, one of the internet's largest retail investing communities.
Wall Street Memes, with its over 1 million following across various social media channels, has traditionally described itself as "the king of stonks" (stocks for the uninitiated), but is also looking to claim the crown of being "the king of crypto", with the launch of its very own meme coin token $WSM.
The presale of $WSM has been a resounding success, with over $25 million raised, and dozens of major crypto industry influencers and analysts backing the coin for major success.
And investors are running out of time to get involved, with the presale scheduled to end in under 36 days.
Get in now on a token that could match or even surpass the likes of Pepe Coin, Dogecoin and Shiba Inu.
This story was updated at 8:04am UTC August 25, 2023
Disclaimer: Crypto is a high-risk asset class. This article is provided for informational purposes and does not constitute investment advice. You could lose all of your capital.
---