How to Buy Pepe Coin in 2023 - The Complete Guide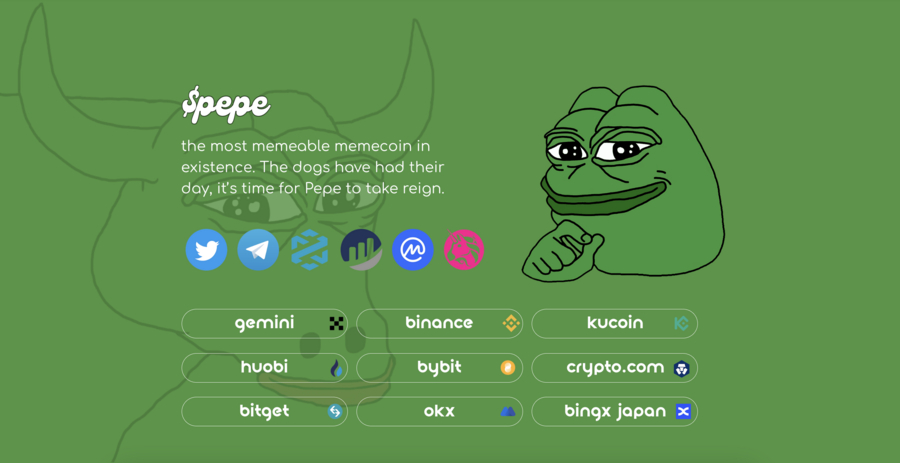 Meme coins are emerging as high-return contenders, among which Pepe Coin has rapidly risen to the spotlight.
Known for its volatility and rewarding potential, the coin is up by over 2,645% since its April 2023 lows to become the third largest meme coin on the market.
Pepe's playful disguise, inspired by the popular internet meme Pepe the Frog, hasn't stopped it from being taken seriously by almost 130,000 investors.
This article offers a step-by-step guide to buying Pepe Coin, showing the meme coin's unique trajectory and explaining why it recently captured such significant interest.
How to Buy Pepe - Quick Step-by-Step Guide
Here's a simplified guide to purchasing Pepe on Binance:
Step 1 - Create an Account: Visit the Binance website or app, and sign up for an account for free using your email and phone number. Remember to verify your identity before you buy Pepe Coin.
Step 2 - Choose a Purchase Method: Click "Buy Crypto" on Binance to see your options, which vary based on location. Use a stablecoin like USDT/BUSD first to buy Pepe Coin. A credit or debit card (Visa or MasterCard) is typically simple. You can transfer funds directly from your bank account to Binance or use an external payment service.
Step 3 - Confirm Your Order and Check Fees: After choosing a method, confirm your order quickly to lock in the current rate.
Step 4 - Store $PEPE: After you've bought Pepe Coin, decide where to store it. You can keep it in your wallet, retain it on Binance, or swap it for other cryptos.
What is Pepe?
Pepe Coin is a fast-growing and well-known meme coin built on Ethereum's blockchain. Since its April 2023 launch, the coin has swiftly climbed the ranks to join the top 70 cryptos, as per CoinMarketCap.
$PEPE is more than just a meme-inspired currency, like Dogecoin or Shiba Inu. The world of meme coins might be full of fun and humor, but they've also shown real potential for high returns, attracting crypto enthusiasts and skeptics alike.
Pepe's official website humorously suggests $PEPE is just for fun, insisting it has no real value and isn't meant for investment.
Yet nearly 130,000 investors have been attracted to this meme coin, and it has gained a spot on major exchanges like Binance, Uniswap, Bybit, and Gemini.
$PEPE takes its name from the Pepe the Frog meme. Despite its various associations with Pepe the Frog, the coin has no official ties with Matt Furie, the meme's original creator.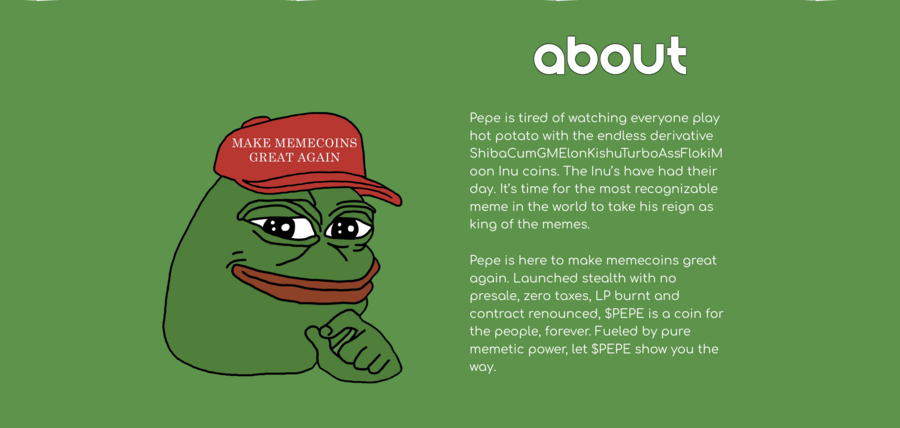 Unlike Dogecoin, which took nearly four years to reach a $1 billion market cap, $PEPE hit this milestone in just three weeks. Although its value swings dramatically, the number of $PEPE holders has risen over the past weeks.
A crypto investor turned a merely 0.125 ETH investment (around $250) into $1 million by acquiring 5.9 trillion PEPE tokens. But it's important to note that selling many such tokens at their peak value could be difficult due to $PEPE's relatively low liquidity.
Overall, $PEPE is a digital currency that's taken the crypto world by storm with its exponential returns. It's worth watching - both for the humor and the potential returns.
But as always in crypto, moving carefully is essential because the reality of cashing out might be harder than it seems. A fine line exists between asset valuation "on paper" and actual realizable cash.
How Pepe Price Has Surged & The Reasons Behind It
Since Pepe Coin entered the market, it has consistently risen to provide huge returns to early investors.
At press time, it stands at a staggering market cap of $626 million, making it the third-largest meme coin on the market.
The coin peaked at $0.0000045 on May 5th amid a record-breaking crypto bull run, attracting investors eager to capitalize on the rally.
But like any market, the initial enthusiasm decreased, causing a sharp price drop. The coin marked a 'descending channel,' symbolizing a bearish or falling market.
This term may sound complex to a beginner, but it's a phase when prices fall within set boundaries. Interestingly, it often signals a potential market turnaround or uptrend.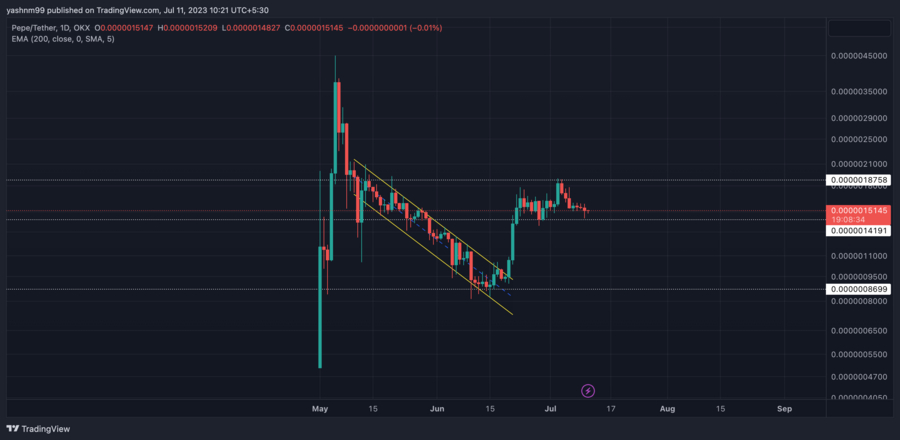 As Pepe's value continued to dip, it found support at $0.00000087, helping it break away from its 1.5-month-long descending channel.
Pepe's rise and subsequent decline is a perfect example of how the crypto market can surprise even the most seasoned investors, emphasizing the importance of continuous learning and adaptation.
Nonetheless, this downtrend set the stage for a new bull rally, recently pushing the coin past the $0.00000187 resistance level. Currently, Pepe has immediate support at $0.00000141.
Over the last month, Pepe Coin's value soared by a whopping 63%, hitting a high of $0.00000189. The decentralized crypto trading platform Uniswap saw substantial trading volumes of Pepe, with an impressive $6.28 million traded in just the past 24 hours.
The coin's price peaked in mid-June and has since remained steady. This upward momentum was primarily fueled by persistent investor enthusiasm.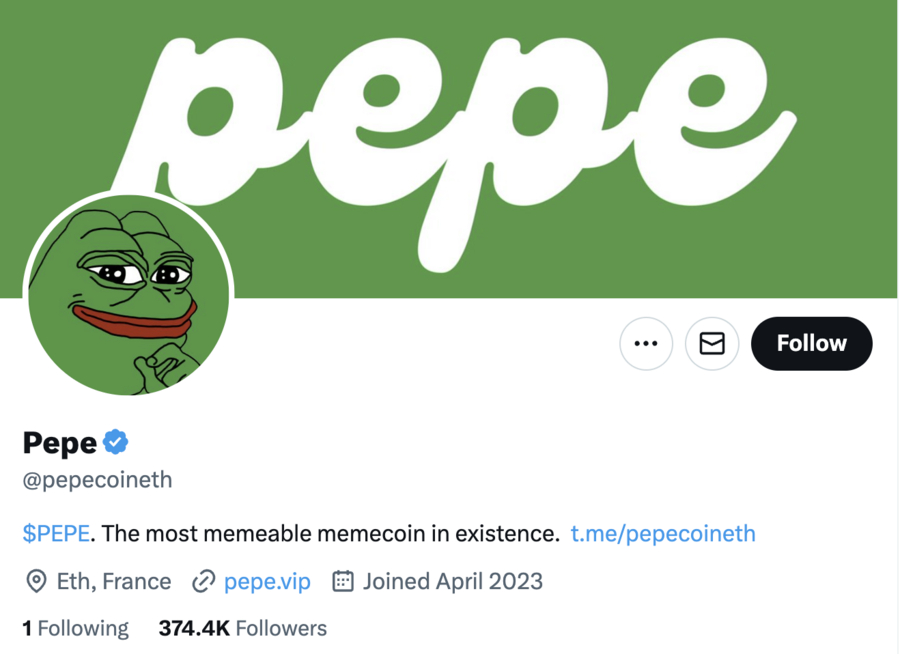 Many who missed the Dogecoin or Shiba Inu booms view Pepe as a 'second chance.' It is perceived as an enticing opportunity for those who missed the initial meme coin wave.
Moreover, the recent success of meme coins has significantly amplified Pepe's charm. According to CoinGecko, meme coins collectively have a market cap exceeding $15.1 billion.
This achievement has led investors to hunt for the next meme coin set to take off. Many saw Pepe as a promising prospect, believing it could be their ticket to crypto wealth.
As more people invested, the predicted high returns for Pepe Coin materialized, proving the initial expectations correct.
While Pepe's trajectory has been volatile, recent trends point toward a potentially profitable journey for investors willing to embrace the risk associated with meme tokens.
Why Buy Pepe? Is it Too Late, or is it Still a Good Investment
Pepe Coin has provided investors with a quick, staggering four-digit return in just a few weeks in 2023. The question on everyone's mind is, can Pepe Coin remain a profitable option, or is its peak behind us?
Like meme-driven coins Dogecoin and Shiba Inu, Pepe Coin's appeal comes from viral social media chatter.
While it lacks specific functionality, such as staking or unlocking features, it has gained a broad investor base. Longevity will depend on the community's ability to develop practical uses that sustain demand over time.
Looking at DOGE and SHIB, both coins capitalized on their initial buzz by offering functional uses, creating sustainable growth. If Pepe Coin follows this path, it might not be too late to jump on board.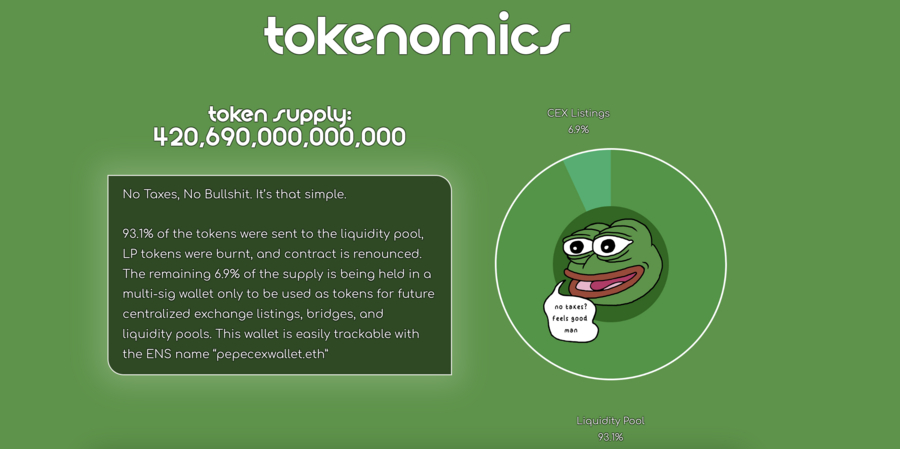 Moreover, Pepe Coin has an enormous circulation of 420 trillion tokens. Remarkably, over 93% of these tokens are already committed to the liquidity pool, their corresponding tokens burned, and contracts renounced, meaning they can't be retrieved or created again.
This leaves just under 7% of tokens in a multi-signature wallet. These are reserved for centralized exchanges, bridges, and other liquidity pool listings. This careful allocation strategy aims to use the tokens effectively, creating stability and growth for Pepe Coin in the long run.
Also, macroeconomic factors like interest rates influence cryptocurrency demand. Lower interest rates generally make high-risk assets, like cryptos, more attractive.
If the Federal Reserve stops or decreases rate hikes, the demand for Pepe Coin might grow, increasing its price.
The coin's long-term value will depend on its availability on major centralized and decentralized exchanges (CEXs and DEXs).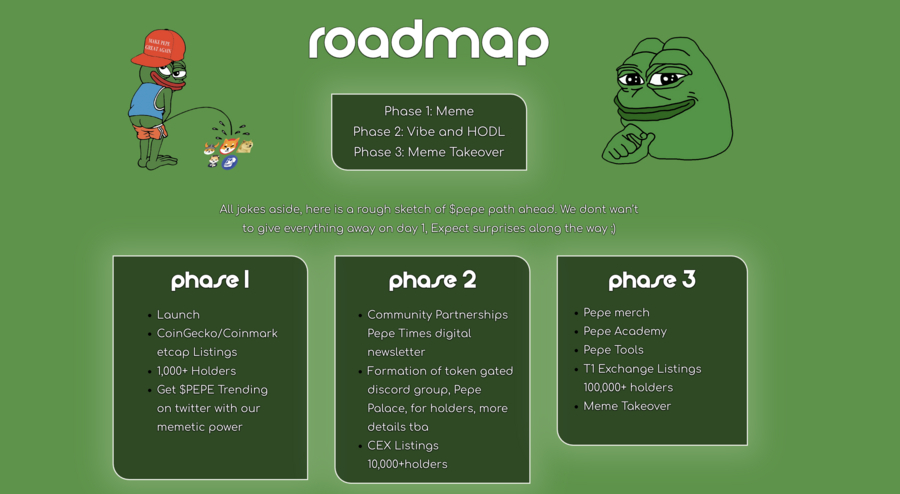 Currently listed on a few exchanges such as Binance, MEXC, Gate.io, Huobi, and Uniswap, Pepe Coin would benefit enormously from being on platforms like Coinbase, which will expose the coin to a wider user base.
To sustain its growth, Pepe Coin needs value beyond just speculation. Its compatibility with the Ethereum blockchain, thanks to the ERC-20 token standard, offers hope.
It allows interaction with decentralized applications (dApps), smart contracts, and other ERC-20 tokens. If the Pepe Coin community can develop functionalities like a staking mechanism or a play-to-earn game, it could significantly support the coin's price.
Investors must evaluate their risk tolerance and investment goals when considering whether to invest in meme coins like Pepe Coin.
Meme coins are inherently volatile, and their price is often driven more by social media trends than intrinsic value. Therefore, detailed research and market understanding are crucial before investing in these coins.
In short, investing in Pepe Coin carries risks and uncertainties, like any other investment. However, if its community can create practical uses and expand its exchange presence, its future could be bright. But remember, only invest what you're willing to lose.
As the broader market shows signs of recovery, the meme coin space has also seen an uptick over the past few months. Coins like Evil Pepe Coin have emerged and captured investor attention due to strong community support.
Evil Pepe Coin: Hot New Community-Centric Coin With a DEX Listing Lined Up, Secured Over $130K
Evil Pepe Coin ($EVILPEPE) is an Ethereum-based token that blends humor with a 'rebellious' approach to the world of meme coins. It uses the appeal of meme culture to offer a unique and exciting entryway into crypto.
The project aims to offer a new opportunity to investors in the meme coin space, where the fear of missing out (FOMO) can result in risky but potentially rewarding investments.
The $EVILPEPE token is priced at $0.000333 USDT in the initial offering. It can be purchased via ETH, BNB, USDT, or credit cards.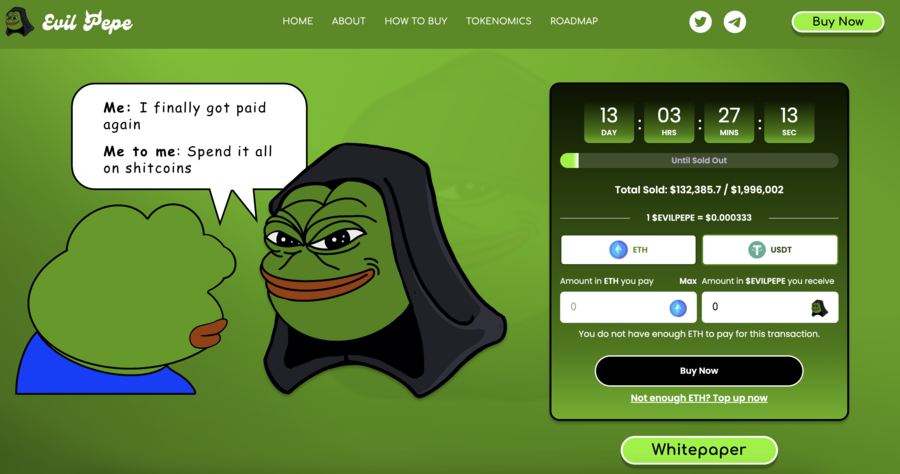 The $EVILPEPE team understands that a robust community is key to success in the meme coin space. They plan to release 90% of the total tokens during the presale, promoting a strong community-focused approach.
In the coming quarters, they plan to list $EVILPEPE exclusively on decentralized exchanges (DEX) to grow their user base.
As per the Evil Pepe whitepaper, of the 6.66 billion total $EVILPEPE tokens, 10% are allocated for liquidity, providing a stable marketplace for traders. However, it's crucial to evaluate your financial objectives before investing.
To stay updated with $EVILPEPE, consider joining Evil Pepe's Telegram channel.
How to Buy Pepe Tutorial
Investing in cryptos like Pepe Coin can be simple if you're mindful of your chosen platform and ensure your chosen exchange aligns with your investment strategy.
You can buy $PEPE on various platforms, including Binance, KuCoin, CoinEx, and Kraken. Remember that these exchanges differ, so compare their fees, security features, and the range of cryptos they support before choosing.
First, you must ensure your chosen platform supports users from your region. The platform's structure should align with your investment goals – some cater to long-term holders, while others are designed for frequent traders.
Binance, for instance, a popular choice with its competitive low fees, accommodates over 100 million users worldwide.
Let's break down the process of buying Pepe Coin on Binance into easy steps:
Step 1: Register on Binance
Start by using your email and mobile number to set up a free account on Binance's website or app. Remember, you need to complete the identification verification before purchasing Pepe Coin.
Step 2: Choose How to Buy
On Binance, click on "Buy Crypto." Here, you'll see the methods available in your country. Buying a stablecoin like USDT or BUSD first could make trading easier.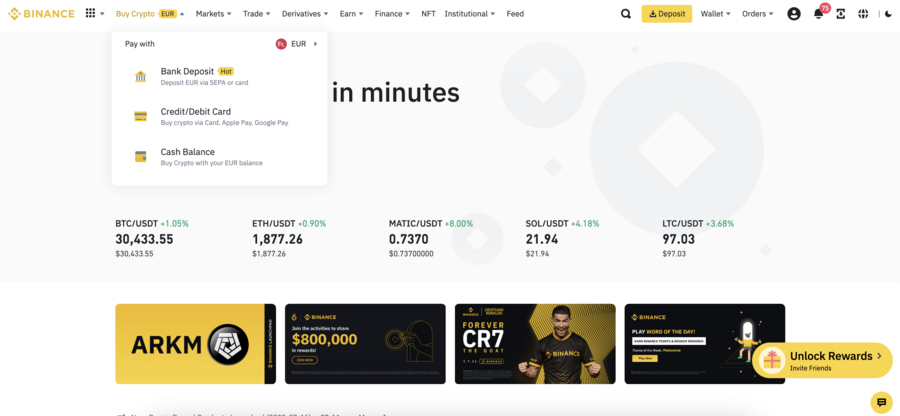 Buying with a credit or debit card (both Visa and MasterCard work) is generally easiest for newcomers.
Alternatively, deposit fiat from your bank to Binance or use a third-party payment service. Check Binance's FAQs for available options in your area.
Step 3: Confirm Payment and Check Fees
Once your exchange account is funded using one of the previously mentioned methods, navigate to the trading section and look for Pepe coin.
Various trading pairs should be available on your chosen platform (a trading pair signifies two different assets that can be exchanged mutually; for instance, PEPE/USDT).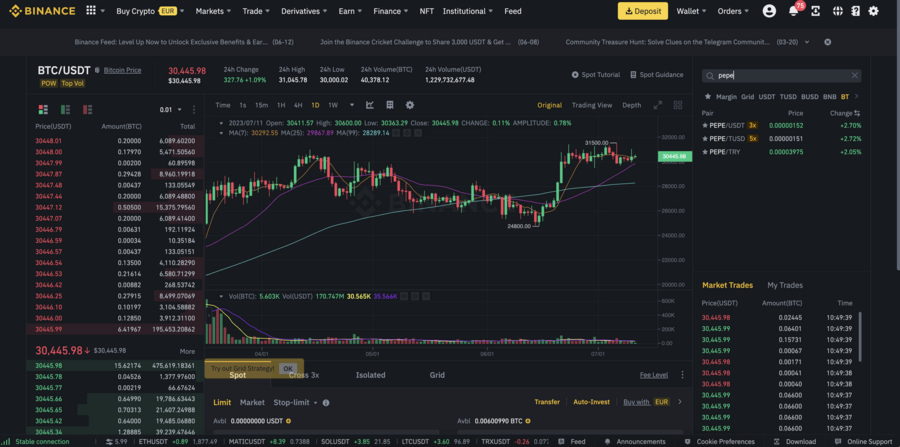 Then, confirm your order at the current rate within a minute. If you don't, the order amount adjusts to the updated market price. If needed, click "Refresh" for the latest order total.
Alternatively, you can place a limit order to set the maximum price you're willing to buy $PEPE.
Step 4: Store Your Pepe Coin
Once you've purchased Pepe Coin, decide whether to keep it in your private crypto wallet or on Binance. You can trade it for other cryptos or stake it on Binance Earn for passive returns.
Conclusion
Pepe Coin has carved a niche within the volatile meme coin space, offering potentially high gains driven by social media buzz.
However, investing in $PEPE carries the usual crypto risks, mainly price swings and speculative behavior. The Pepe Coin community's efforts to create practical uses could brighten this token's prospects.
Knowing your risk appetite and staying up-to-date with market shifts are key to all investments. But to navigate the crypto landscape with over 26,000 cryptos, staying ahead of the curve requires staying informed about new high-potential cryptos.
Want to learn more? Our 'New Cryptos' page has in-depth insights on other emerging tokens. Check out the page today to know more.
References
https://coinmarketcap.com/currencies/pepe/
https://www.coingecko.com/en/categories/meme-token
https://www.nbcnews.com/business/economy/federal-reserve-interest-rate-decision-june-2023-pause-how-much-rcna88922
https://in.tradingview.com/symbols/PEPEUSDT/
https://info.uniswap.org/#/tokens/0x6982508145454ce325ddbe47a25d4ec3d2311933
https://twitter.com/lookonchain/status/1648524295994494977?ref_src=twsrc%5Etfw%7Ctwcamp%5Etweetembed%7Ctwterm%5E1648524295994494977%7Ctwgr%5E8f4a0f24a44ab566fa1a220076cadd3a8dedf23e%7Ctwcon%5Es1_&ref_url=https%3A%2F%2Fcoinmarketcap.com%2Fcommunity%2Farticles%2F644007ad3c8cdf228d1427dd%2F
Frequently Asked Questions (FAQs)
Where can I buy Pepe tokens?
Pepe tokens are available on several different crypto exchanges. Some of the most notable ones include Binance, Uniswap, KuCoin, CoinEx, and Kraken. Please note that availability might vary depending on your location and the platform's supported regions.
How to purchase Pepe?
To purchase Pepe, you must have an account on a crypto exchange that lists Pepe. You can buy it directly with a credit or debit card or purchase a stablecoin like USDT/BUSD first to exchange it for Pepe. Once the purchase is made, you can decide whether to keep it in your private crypto wallet or on the exchange for trading or staking.
Can you buy Pepe Coin on Coinbase?
As of the time this article was written, Pepe Coin is not listed on Coinbase. However, the availability of coins on Coinbase can change, so it's best to check the current listings on the Coinbase platform or website. Alternatively, Pepe Coin can be purchased on other major exchanges like Binance, KuCoin, CoinEx, and Kraken.
Can I buy Pepe on Binance?
Yes, Pepe Coin can be bought on Binance. To do so, you must create an account, complete KYC, and choose your purchase method. You can buy Pepe directly with a credit or debit card or purchase a stablecoin first to exchange it for Pepe.
Disclaimer: The Industry Talk section features insights from crypto industry players and is not a part of the editorial content of Cryptonews.com.
---