PayPal Rumors Push Bitcoin Higher as On-Chain Transactions Surge
Possibly sparked by the rumor that the online money transfer company PayPal might get involved with cryptocurrencies, the bitcoin (BTC) price jumped more than 4% yesterday, before falling back slightly Tuesday morning.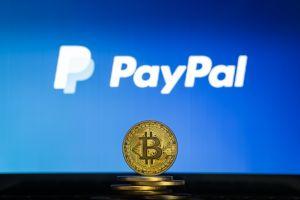 The unconfirmed news that PayPal might enable direct buying and selling of crypto might have been the main driver for yesterday's market rally, leading to green numbers across the board in both bitcoin and most altcoins.
The move in price was also noticed by the blockchain analytics firm Glassnode, which shared an alert today saying transaction volume on the bitcoin network has "increased significantly" over the past 24 hours.
As of press time on Tuesday (09:23 UTC), bitcoin's price was up by 1.76% over the past 24 hours, to trade at a price of USD 9,611, after reaching as high as USD 9,780 last night. It appreciated 0.95% in the last week.
Bitcoin price, 7-day chart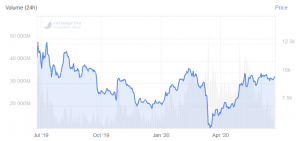 The rumors started circulating in the cryptoverse after several anonymous sources claimed that PayPal is planning to offer buying and selling of cryptocurrencies directly from both PayPal and the PayPal-owned mobile payment app Venmo.
The speculation caught on even more given that PayPal already decided to set up a blockchain research group, opening up new positions in the US and abroad, as well as an additional Crypto Engineering Team working out of Chennai, India.
According to a job post for an engineering position published in late May, PayPal's India-based crypto engineering team is "responsible for new initiatives for PayPal global with focus on agility, time to market and innovation."
However, it is still uncertain what exactly that entails regarding the company's dealings with cryptocurrency.
Already considered relatively crypto-friendly, it is possible to use PayPal to withdraw funds from certain crypto exchanges, including Coinbase.
PayPal's attitude thus differs from the more restrictive attitude towards crypto taken by competitor TransferWise, which has made it impossible to use their service to transfer funds to and from crypto exchanges. "But you can send money to your balances with bank details from a platform that deals with Bitcoin or another cryptocurrency," their website says.
Despite this friendlier approach, so to say, taken by PayPal, the company has until now not supported any direct interaction with cryptocurrencies.
PayPal was not immediately available for a comment when reached out to by Cryptonews.com on Tuesday morning.
__
Learn more:
PayPal For Crypto: Faster Transactions on the Way
How to Buy Bitcoin with Paypal in 2020
---