Only in Crypto: Nano Gets Closer to 4,000 Merchants, Price Drops
Cryptocurrency payment gateway CoinGate announced that they have integrated cryptocurrency Nano payments for their merchants as their newest native cryptocurrency. Nano-owners can now pay with the coin at more than 4,000 merchants that use the CoinGate service. However, the news didn't stop the price of NANO dropping by almost 5% in the past 24 hours (UTC 10:44 AM.)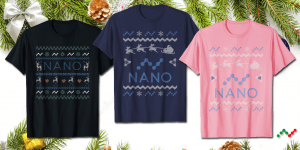 NANO price chart:
The coin, which is currently ranked 38th by market capitalization, is still up by almost 27% in the last 7 days.
At the time of writing, 114 companies are listed on Usenano.org, a website that lists all merchants that accept Nano as payment.
According to CoinGate, one of the biggest advantages of using Nano, launched in 2015 by Colin LeMahieu as RaiBlocks, are the minuscule fees: the average power cost of transaction on Nano blockchain is 0.112Wh, which is equivalent to around USD 0.005. The cryptocurrency's architecture supposedly also makes it infinitely scalable, as it distributes the ledger across each node, so every account has its own blockchain. These individual block-accounts track their own transactions and account balances independently from the public ledger. This is said to theoretically solve the scalability issues many blockchains - Bitcoin included - often face.
"All these features add up to the incredible potential Nano has for becoming a widely used solution for micro-payments. That is why we wish more people would focus towards such decentralized networks like Nano that carry the potential to solve the current inefficiencies found in other cryptocurrencies. After all, we are all united by a common goal of achieving a widespread cryptocurrency use," the official blog post by CoinGate states.
The company accepts more than 50 cryptocurrencies and is looking to add more, according to their website.
CoinGate has previously integrated the Lightning Network layer for Bitcoin payments for all merchants currently accepting Bitcoin. "We were pleasantly surprised when we came across tweets of our Lightning Network implementation at the Kasbah Bar in Oslo. You may have heard critics claiming, 'you can't buy coffee with Bitcoin'. Well, we're not sure about coffee, but buying beer with Bitcoin within a second for zero fees is definitely possible in Oslo", Dmitrijus Borisenka, co-founder and CEO of CoinGate, said at the time.
---