Mr. Hankey Coin Price Prediction - 2023-2030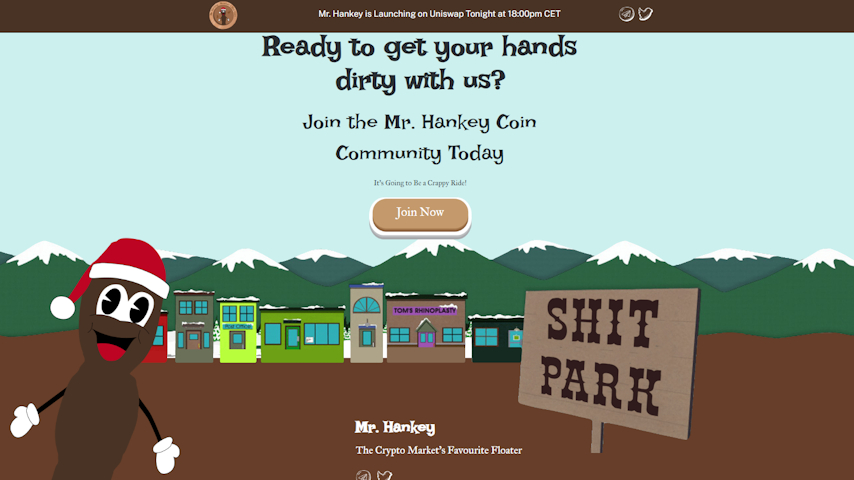 Mr. Hanky Coin is a new shitcoin taking the phrase to a whole new level. This turd-themed token offers lighthearted, poop-themed comedy and promises to give 'dirty money' a new meaning.
Mr. Hankey Coin sold out its $500k presale in just 9 hours this week, so many investors are wondering just how high this new meme coin could rise after launch.
In our Mr. Hankey Coin price prediction, we'll look at where $HANKEY could be in 2023, 2024, 2025, 2030 and beyond.
Mr. Hankey Coin Price Prediction Summarized
Traders who managed to get their hands on $HANKEY tokens via the presale got them for an insanely low price of just $0.00125. With $500k already sold that gives $HANKEY a fully diluted market cap of $1.25M.
With this in mind here's our price forecast for Mr. Hankey coin until 2030:
End of 2023: Initial enthusiasm around Mr. Hankey Coin is expected to send the token soaring higher after its ICO. The relatively low market cap at launch coupled with high liquidity could produce above-average gains. We predict Mr. Hankey Coin will reach $0.00005 by the end of 2023.
End of 2024: The team behind Mr. Hankey Coin plans to introduce burn and redistribution mechanisms, which could sustain long-term interest in $HANKEY. By the end of 2024, we predict a price of $0.00008.
End of 2025: Mr. Hankey Coin could fade in popularity in 2025 as other meme coins launch. We expect the price to decline slightly to $0.00006.
End of 2030: Supply limitations will become increasingly important the longer Mr. Hankey Coin's burn mechanism is in effect. That could support price gains between 2025 and 2030, so we predict a price of $0.000095 by 2030.
What Is Mr. Hankey Coin?
Mr. Hankey Coin is a brand-new meme coin designed to play on the idea of a 'shitcoin.'
The token's mascot is an actual turd, and the project's website is filled with poop-themed jokes and innuendos. Mr. Hankey Coin calls $HANKEY 'not so shiny, a tad bit smelly, and proud of it!'
The project also features scenes from the ultra-popular TV show South Park. The creators of Mr. Hankey Coin are fans of the show, although the token hasn't been endorsed by any of South Park's creators.
Mr. Hankey Coin hasn't launched its presale earlier this week, incredibly reaching its $500k in just 9 hours. The 400 million tokens sold in the presale make up 40% of the total 1 billion supply.
That means that many investors who want to own $HANKEY will need to buy in after the token begins trading on exchanges. This buying activity could help $HANKEY become the next crypto to explode after launch.
The project is supporting highly volatile price action with high liquidity. An additional 400 million $HANKEY tokens are allocated to the project's liquidity pool.
The team behind Mr. Hankey Coin also understands the importance of making $HANKEY go viral. 10% of the $HANKEY supply is allocated to marketing efforts. The shitcoin and South Park themes are likely to attract wide audiences, especially given the recent success of meme coins in the crypto market.
Already, $HANKEY has been featured on DEXScreener, CoinGecko, Poocoin, and BeInCrypto. Crypto influencer Jacob Crypto Bury predicted in a video that $HANKEY could be the next Pepe.
Mr. Hankey Coin Price Prediction 2023
Mr. Hankey Coin is expected to launch its presale on July 13. The project hasn't yet set an initial price or announced what price $HANKEY will list at.
So, for our Mr. Hankey Coin price prediction, we'll assume a launch price of $0.00001. This is a similar price to what other meme coins have launched at. The exact prices we discuss should be adjusted if the launch price is different, but the forecasted gains will remain the same.
The initial pump in $HANKEY could be huge. The project's presale has a very low $500,000 hard cap, so it's likely that not every investor who wants to buy $HANKEY will be able to.
That in turn will fuel demand when the token lists on exchanges. Even with high liquidity, demand could sharply outpace supply in the short-term. $HANKEY looks poised to pump, and presale investors could earn significant returns if that happens.
How long the pump will last is hard to say. It could be a few days or a few weeks. But even if $HANKEY falls from its peak, the price should remain elevated through the end of the year. So, we predict a price of $0.00005 at the end of 2023.
That represents a 5x gain from our assumed list price. Investors who perfectly time $HANKEY's peak could stand to earn 10x returns or more. That makes $HANKEY one of the best meme coins of 2023.
Mr. Hankey Coin 2024 Prediction
The initial hype around Mr. Hankey Coin might fade in early 2024, as happens for many meme coins. However, the project has a few plans to keep interest piqued.
The first is a burn mechanism, which will steadily reduce the supply of $HANKEY. Every time tokens are burned, the remaining tokens become more valuable.
In addition, the team behind Mr. Hankey Coin plans to roll out a redistribution mechanism. This could be a tax on $HANKEY sales that puts additional tokens in the hands of loyal investors. This kind of rewards system would make it more valuable to hold $HANKEY for the long-term, thus supporting demand in the market.
Assuming these developments are rolled out in 2024, we forecast that $HANKEY will appreciate to $0.00008. That's a 60% gain from the token's predicted price at the end of 2023.
Mr. Hankey Coin 2025 Price Forecast
Mr. Hankey could experience a slight decline in price in 2025. This is common among meme coins, which tend to see an outflow of investors after the project has lost its initial hype.
However, a core group of investors typically remains, so the price may not fall all that far. At the same time, the burn and redistribution mechanisms will continue to support the price of Mr. Hankey Coin.
For $HANKEY, we predict a price of $0.00006. That's a 25% decline from the price at the end of 2024.
Mr. Hankey Coin Price Prediction 2030
It's difficult to make long-term predictions about any token, let alone a meme coin. Meme coins are very volatile and there are very few meme coins that are older than 5 years.
With that in mind, we predict a price of $0.000095 for $HANKEY at the end of 2030. This prediction is based on the fact that Mr. Hankey's burn and redistribution mechanism will have had many years to work. The community will be highly loyal to the token and the supply will be significantly diminished from its initial 1 billion tokens.
This price represents a 9.5x gain for Mr. Hankey Coin presale investors and a market cap of nearly $12 million.
Why Are Traders Backing Mr. Hankey Coin?
Traders and investors see a lot of potential in Mr. Hankey Coin. Here are some of the key reasons why this coin is generating interest.
Price Speculation
Mr. Hankey Coin is widely expected to experience volatile price action after it hits exchanges. Shitcoins like $HANKEY are notorious for big price swings, which investors can capitalize on to earn returns.
Meme Coin Bull Market
The crypto market has been red-hot for meme coins and shitcoins over the past several months. $PEPE gained more than 10,000% in May and was closely followed by a 3,500% gain in $SPONGE. More recently, Pepe v2 exploded 54,000% after launch.
Mr. Hankey Coin can join in the trending market and benefit from the wave of buying activity in meme coins.
Viral Potential
Crypto traders love a good laugh, and they'll find it with Mr. Hankey Coin. What could be funnier than seeing a turd-themed crypto token discussed in mainstream media outlets? Traders are incentivized to pump the token as high as possible just to see the reaction that $HANKEY can get.
Limited Presale
The Mr. Hankey Coin presale is limited to a $500,000 hard cap. That's a fraction of the presale volume other meme coins are doing. So, demand is likely to far outstrip availability ahead of the $HANKEY ICO.
That could force traders who missed out on the presale to buy at ICO prices, sending the token shooting higher. Investors who did get their hands on $HANKEY during the presale can earn returns from this spike in demand.
How to Buy Mr. Hankey Coin
Although Mr Hankey Coin's presale has sold out, traders can still buy the token once it imminently goes live on its first DEX.
Investors can join the Mr. Hankey Coin Telegram group to be kept up to date with the latest news.
Disclaimer: The Industry Talk section features insights by crypto industry players and is not a part of the editorial content of Cryptonews.com.
---