MindAI Crypto Presale Review - Should You Invest?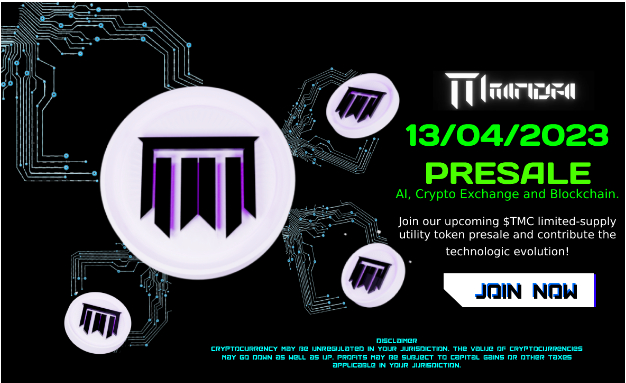 Disclaimer: The Industry Talk section features insights by crypto industry players and is not a part of the editorial content of Cryptonews.com.
MindAI is a new organization that will soon release its new cryptocurrency exchange and the presale for TMC (The MindAI Coin) - its native cryptocurrency. This MindAI crypto presale review covers all the important facts related to the presale, the token allocation, and its use cases.
We also analyze MindAI's usage of AI (Artificial Intelligence) in its cryptocurrency exchange and show investors how to purchase TMC tokens once the presale goes live.
MindAI Crypto: What is it?
MindAI is a startup organization that aims to build innovative systems within the blockchain niche. This platform's main product will be a cryptocurrency exchange through which traders can buy and sell multiple crypto assets.
However, MindAI leverages AI (Artificial Intelligence) to offer automated assistance to users, detect frauds faster, and flag suspicious activity. Despite the abundance of cryptocurrency exchanges available in the market, crypto assets have still been stolen and lost.
For instance, the FTX saga in 2022 has led MindAI to develop a cryptocurrency exchange that will aim to be fully compliant and offer high transparency and security to the user. MindAI is already set to request regulatory approval licenses in Italy after the launch of its initial coin offering (ICO) event.
At the center of MindAI's ecosystem is The MindAI Coin (TMC). This cryptocurrency token will be used to gain benefits on the TMCX (Exchange), from where users can easily trade the best cryptocurrency assets.
While TMC is not yet available to buy, the presale will go live on April 13th, 2023. Our guide will give readers further information on the tokenomics of the project and how the tokens will be allocated for the presale.
Along with top tokens such as Bitcoin (BTC), MindAI pushes the adoption of multiple alternative cryptocurrencies (altcoins).
Since Bitcoin uses high computational power and non-renewable resources to operate, investment in multiple Proof-of-Stake (PoS) altcoins can be an ideal way to invest in space. MindAI envisions itself as one of the safest ecosystems through which investors can trade in the space and access quality projects. The platform will also develop innovative features that will make the platform simple to use.
MindAI's Focus on Artificial Intelligence
According to a statistic by dataprot.net, nine of the ten leading businesses worldwide have invested in the AI technology space. In an effort to positively impact the crypto space, MindAI has decided to combine artificial intelligence within its ecosystem.
Another report states that the usage of AI algorithms in cryptocurrency trading helps users process vast amounts of data in a fast manner. Therefore, an investor can respond instantly to volatility and market changes. MindAI aims to leverage AI to get detailed insights on transaction details on a monthly and annual basis.
Through deep learning in AI, computers can process and analyze data similarly to humans. This is seen in instances such as text and speech prompts, which are vital to MindAI's plans. MindAI will introduce a branch of AI called NLP (Natural Language Processing), a part of the deep learning concept.
This particular model will help consumers in receiving automated online assistance.
What's Special about MindAI?
Through MindAI's crypto exchange, the platform aims to offer a more secure and transparent platform. TMCX, the crypto exchange, will follow all the security standards to protect clients' funds.
Furthermore, MindAI will regularly upgrade the platform to protect the user's assets. MindAI will also leverage AI to detect fraudulent activity, which can be flagged and detected in real-time. On the TMCX exchange, customers can verify their cryptocurrency reserves, which will be audited on the platform.
Diving deep into the AI space, MindAI separates itself from other exchanges by introducing models such as AGI (Artificial General Intelligence), which are automated systems that can respond to queries or needs.
Another core concept at the center of MindAI is Computer Vision - which allows computers to analyze and interpret visual images. Therefore, MindAI will support the deep analysis of images, image generation, and 3D learning.
This company has also registered as an innovative startup in the special section of Businesses Register in Italy. Thus, MindAI will use 15% of all free cash flows towards research & development for the first five years of existence.
Is TMC Token a Worthwhile Investment?
With the TMC token presale launch not far away, should investors consider purchasing this cryptocurrency? Let's look at whether TMC is a worthwhile investment.
Rewards within MindAI's Platform
By holding TMC (The MindAI Coin), investors will benefit while using the TMCX exchange. Firstly, holding TMC tokens will lead to discounts on cryptocurrency exchange fees. The platform states that TMC tokens can also be leveraged to get discounts on AI-trained model fees and other fees within the ecosystem.
While the platform has not been launched, the TMC token will also be used for transactional purposes, such as goods and services within the exchange. Thus, if investors are keen on leveraging this crypto exchange for trading, they will be able to extract multiple use cases by holding the TMC token.
Early Entry Opportunity
Currently, MindAI will launch the ICO event for TMC on April 13th, 2023. Thus, investors will have the opportunity to purchase TMC at the lowest price possible. As seen with other cryptocurrency presales, investors may get huge returns by entering as early as possible.
However, it is important to note that token presales are also a high-risk investment since there is no guarantee of making a profit. In the case of MindAI, while the platform does aim to implement several AI models, the website and the exchange is yet to be released. However, the process is expected to begin in the coming months.
Low Token Supply
Some of the best low-supply tokens, such as Bitcoin, benefit from their limited demand. Since the token supply is lesser, more investors are fighting to invest in a limited amount of tokens. Thus, the price pushes upwards as the demand rises.
In the case of MindAI's native token, TMC has a total token supply of just 300 million. Boasting the potential to be one of the best long-term cryptocurrency investments, TMC will offer 50% of the total coins during the presale.
MindAI's Future Plans
With any new cryptocurrency project, it is essential to lay out a future roadmap when it comes to marketing, crypto listings, and platform upgrades. MindAI's roadmap provides complete clarity of what we can expect in the months ahead.
As of now, the most important step is the release of the TMC token. With the first presale round not far away, investors have the opportunity to take part in what can potentially be one of the best crypto presales to invest in 2023.
Another important step is the development of the team working on the TMXC cryptocurrency exchange. Within this quarter, MindAI will begin the hiring process for the exchange. As mentioned above, MindAI will also request regulatory approval in Italy after the presale goes live.
By the end of Q2 2023, MindAI will start announcing the CEX (centralized crypto exchange) and DEX (Decentralized crypto exchange) listings for the TMC token. The platform will also announce new partnerships, which can elevate the future of the platform to the next level.
In the coming months, MindAI will begin requesting regulatory approval to function in other European countries as well. Since the official website of TMCX will be launched by this period, the company will focus on promoting the brand and pushing out marketing campaigns.
Since security is of utmost importance for MindAI, the platform will conduct security, functional, and performance tests. For instance, the performance tests will analyze whether the exchange can handle high amounts of transactions.
The last two quarters in 2023 will be about global expansion and platform upgrades. MindAI will release the first version of TMCX and make transactions open to all users. MindAI will also work on simplifying the onboarding process and adjusting fees.
At the same time, the platform will start applying for regulatory approvals in Asian countries. Another element MindAI will focus on is launching its own Learning Academy.
MindAI's Presale
From a total supply of 300 million, 150 million tokens (50%) will be allocated for the TMC token presale. Through this presale, MindAI aims to raise funds to help expand its cryptocurrency exchange.
By entering the presale, individuals can also gain early access to goods and services within the exchange. The token presale will comprise eight rounds. During the first round of the presale, TMC will be priced at $0.15 per token. By the final stage, the price of TMC will jump to $0.20 - a 33.3% jump.
Therefore, investors can enter early to purchase this cryptocurrency at a low price.
| | | |
| --- | --- | --- |
| Presale Stages | TMC Price | Tokens Allocated |
| Stage 1 | $0.15 | 40M |
| Stage 2 | $0.155 | 20M |
| Stage 3 | $0.16 | 15M |
| Stage 4 | $0.165 | 15M |
| Stage 5 | $0.17 | 15M |
| Stage 6 | $0.18 | 15M |
| Stage 7 | $0.19 | 15M |
| Stage 8 | $0.20 | 15M |
The platform has also mentioned that 45 million (15%) of the token supply will be reserved for Research & Development and the MindAI academy.
90 million (30%) will be reserved for the team's foundation, while 15 million (5%) will be set aside for liquidity pools when the initial exchange offerings take place.
Due to the use cases offered through TMC, MindAI can potentially conduct one of the best crypto ICOs this year.
How to Invest in MindAI
While the TMC presale has not been released yet, this section will show investors how to be a part of the initial coin offering stage once the presale is announced.
Step 1: Download a Cryptocurrency Wallet
The TMC presale can be accessed through popular cryptocurrency wallet options such as MetaMask and Wallet Connect.
When using a desktop, download the crypto wallet for your browser. Choose your preferred fiat wallet and download the application directly if you use a mobile device.
Step 2: Buy ETH or USDT
Investors can purchase TMC with Tether (USDT) or Ethereum (ETH) tokens.
If you do not own one of these assets, find a preferred cryptocurrency exchange, purchase the tokens, and transfer them to your cryptocurrency wallet.
Step 3: Buy TMC Tokens
Once the presale goes live, interested parties can connect a wallet on the presale website with their particular wallet provider.
After you connect with the presale, you can click on one of the two options - 'Buy with ETH' or 'Buy with USDT.'
When purchasing with USDT, it is vital to add enough allowance, to avoid any errors with the transaction. Enter twice the transaction amount - once for the allowance and the next for the actual transaction to purchase TMC tokens.
Presale investors can enter the amount they wish to buy (minimum $50 worth of TMC) and click on 'Convert.'
After the transaction has been approved, you can click on 'Continue' to return to the buying section of the page.
Conclusion
This MindAI crypto presale review has closely examined this AI-based cryptocurrency platform. MindAI aims to release its cryptocurrency exchange, leveraging AI protocols to offer seamless transactions, more security, and efficiency.
While the exchange has yet to be launched, MindAI will conduct the coin offering for TMC, the native crypto token, starting April 13th, 2023. TMC aims to raise $150 million through this presale by allocating 150 million tokens across eight presale rounds.
For more information, follow the project on its social channels, including:
Website: https://officialmindai.com/
Linkedin: https://www.linkedin.com/company/officialmindai/
Instagram: https://www.instagram.com/officialmindai/
Twitter: https://twitter.com/officialmindai
Telegram: https://t.me/MindAIOfficial
FAQs
What is MindAI?
MindAI is a new platform offering a cryptocurrency exchange and other blockchain services by leveraging AI elements such as deep learning, Natural Language Processing, and AGI.
What is TMC used for?
By holding TMC (The MindAI Coin), investors can get discounts on crypto exchange and AI-trained model fees. The token will also be used within the ecosystem for settling transactions.
How many presale rounds will MindAI Offer?
TMC tokens will be allocated through eight presale rounds. From the total supply of 300 million - 150 million tokens will be offered for presale investors. MindAI aims to collect $150 million through the presale.

---