MicroStrategy Has No Limits For Bitcoin Purchases, Discusses Sale Scenarios
One of the most bullish bitcoin (BTC) investors, US-based software company MicroStrategy, said it has no specific target for their BTC holdings as they plan to sell USD 1bn worth of their shares and use part of the proceeds to buy more bitcoin.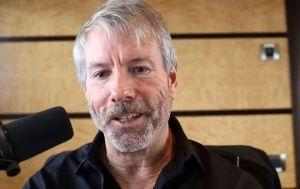 "We will continue to monitor market conditions in determining whether to conduct debt or equity financings to purchase additional bitcoin," the company said in a prospectus, filed with the US Securities and Exchange Commission.
The company said it may sell shares having an aggregate offering price of up to USD 1bn from time to time in one or more offerings.
MicroStrategy intends to use the net proceeds from the sale for general corporate purposes, including the acquisition of bitcoin, but they say they have not determined the amount of net proceeds to be used specifically for any particular purpose.
"We view our bitcoin holdings as long-term holdings, and we do not plan to engage in regular trading of bitcoin and have not hedged or otherwise entered into derivative contracts with respect to our bitcoin holdings," the company said.
They also discussed two scenarios when they might sell some of their BTC:
They may sell bitcoin in future periods as needed to generate cash for treasury management and other general corporate purposes.
Also, if their business is not able to continue to generate cash flow from operations in the future sufficient to service their debt and make necessary capital expenditures, they may be required to "adopt one or more alternatives, such as selling bitcoin or other assets" among other alternatives.
In either case, the company claims it believes that its BTC acquisition strategy is complementary to its enterprise analytics software and services business.
"We believe that our bitcoin and related activities in support of the Bitcoin network enhance awareness of our brand and can provide opportunities to secure new customers for our analytics offerings. We are also exploring opportunities to apply bitcoin-related technologies such as blockchain analytics into our software offerings," per the prospectus.
Yesterday, MicroStrategy confirmed that it has raised USD 500m in order to buy more BTC.
As of June 4, 2021, they held approximately BTC 92,079 that were acquired at an aggregate purchase price of USD 2.251bn and an average purchase price of approximately USD 24,450 per bitcoin, inclusive of fees and expenses. This stash is worth over USD 3.73bn today.
At 04:10 UTC, BTC trades at USD 40,538 and is up by 4% in a day and 21% in a week, trimming its monthly losses to almost 13%.
____
Learn more:
- This Is When MicroStrategy Might Sell Bitcoin According to Arthur Hayes
- Fed May Have Indirectly Invested In MicroStrategy's Bitcoin Drive
- Institutions & Retail Compete For Bitcoin - Whose Hands Are Stronger?
- Bitcoin Should Be Treated as a Five to Ten Year Investment - Kraken CEO
---