Major DeFi Milestone: Total Value Locked Hit USD 1 Billion
Disclosure: Crypto is a high-risk asset class. This article is provided for informational purposes and does not constitute investment advice. By using this website, you agree to our terms and conditions. We may utilise affiliate links within our content, and receive commission.
We have been reporting for a while now about the massive growth the DeFi (decentralized finance) ecosystem is experiencing, and today, the Cryptoverse saw another major milestone reached – total value locked in DeFi surpassed USD 1 billion, before dropping below this threshold again.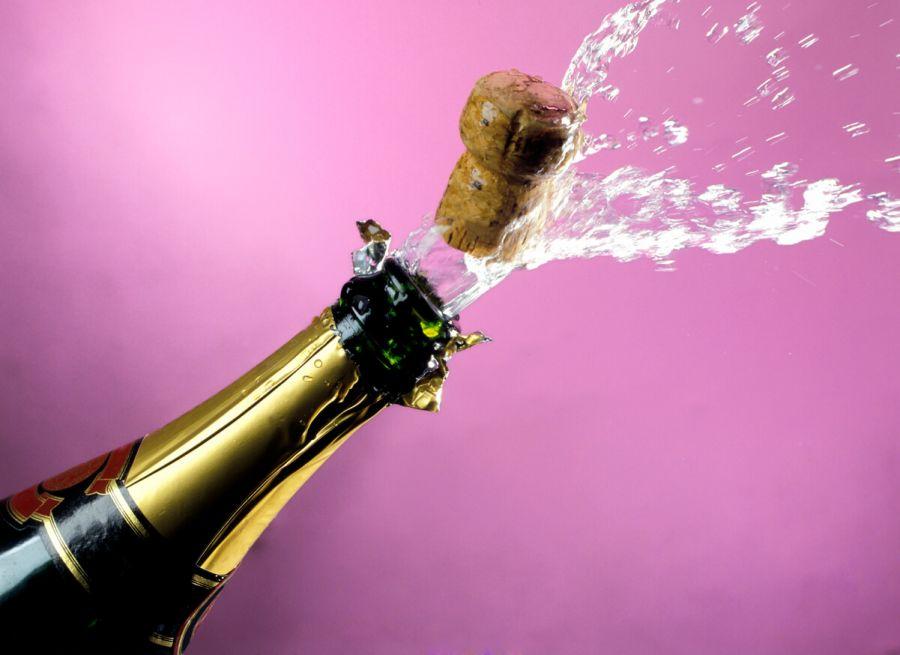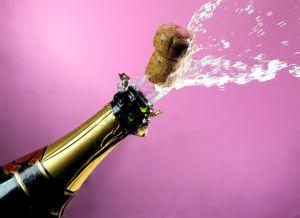 Source: iStock/pidjoe
The total value locked (TVL) has been steadily climbing since December 2017, seeing substantial growth in 2019. It has been surpassing new all-time highs one after the other for the entire 2019, displaying an explosive growth of DeFi. Compared to February 2019, the TLV is now 262% higher, according to DeFi Pulse.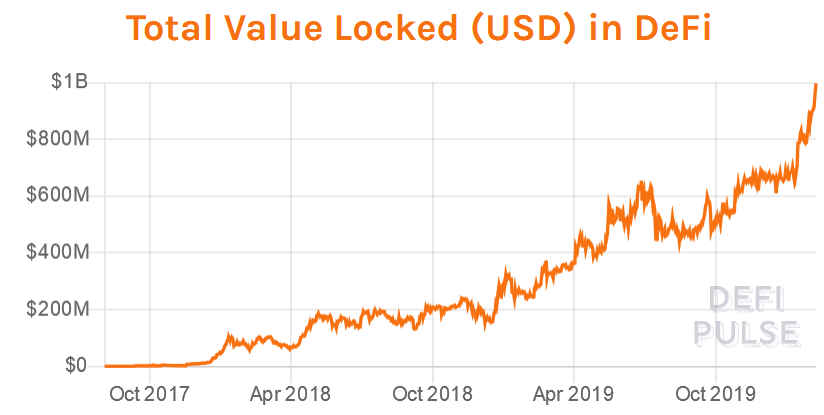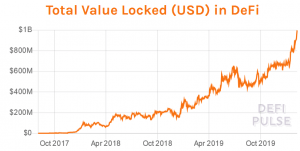 Source: Defi Pulse
Maker still dominates the space in a major way – 59.7% of it – as it currently has USD 597.1 million in assets locked up, and it itself has been reaching new all-time highs since the beginning of February. Prior to that, its highest point was USD 505.4 million in June 2019.
Compared to Maker, the second-placed Synthetix has USD 149.2 million locked up (dropping 1.1% in a day), and third-placed Compound has USD 125 million (rising 3.3% in a day). The rest have less than USD 100 million each.
The Cryptoverse was quick to notice this major development, even watching the number prior to it hitting 1 billion, waiting for the big moment.
Anthony Pompliano, co-founder and partner at digital asset management firm Morgan Creek Digital, tweeted that this is a "pretty cool milestone to see," while Ryan Sean Adams, the founder of investment company Mythos Capital, also shared a number of milestones that crypto space has seen in the past seven years, predicting a successful decade ahead.
$1 billion locked in DeFi for the first time ever

Bitcoin hit $1b in 2013

Ethereum hit $1b in 2016

DeFi hit $1 billion in 2020

Historical milestones

Software eating money

Software eating banks

The next decade will be wild

🚀

— RYAN SΞAN ADAMS – rsa.eth (@RyanSAdams) February 7, 2020
Spencer Noon, head of crypto investments at DTC Capital, noted that the TVL went "from one million to *ONE BILLION* in only 878 days" and that this is a historic day.
Meanwhile, as reported, financial technology and data company Digital Assets Data finds that organic user adoption could be a challenge for DeFi space in 2020. Following their analysis of Maker's Dai Stablecoin System and the current distributions, the company says that the majority of assets being locked and borrowed in the DeFi space is actually the responsibility of just "a few addresses."
Also, talking to Cryptonews.com, Loi Luu, CEO and Co-Founder of Kyber Network, open source, on-chain liquidity protocol, said that they're "very excited" for DeFi, finding that many in the space share that enthusiasm, particularly given the increase in the number of DeFi users, and that total value locked in DeFi has been reaching all-time highs.
"We foresee that with DeFi, important wealth-building and business tools such as applications involving loans, insurance, investments, and other financial services, become much more accessible to people around the world. Anyone with an internet connection and a smartphone or laptop will be able to connect to the public blockchain network, use DeFi platforms, and participate in the global digital economy."
There will be more governmental and regulatory support for blockchain and DeFi with greater regulatory clarity and understanding of the space, leading to mass adoption. Furthermore, says Luu, more professionals and developers from traditional finance will see the value of DeFi "and we will see the DeFi space flourish, with a brain drain of talent going towards DeFi startups."
__
Learn more:
What is Decentralized Finance and What's It Good For?
DeFi is the Ultimate Defense Against Political/Financial Disasters
DeFi Challenges the Global Financial System
___
Other reactions:
$1 billion is now locked into decentralized finance applications & protocols after 2.5 years.

It took Lending Club 5 years to get to that same amount.

Finance has always been a high value, low engagement product. It's exciting to see #DeFi take off—it didn't need scalability. pic.twitter.com/RRzemqRJVG

— ian (@ianDAOs) February 7, 2020
__
Speculators are early adopters that seed the space with liquidity and capital for experimentation. The lowest hanging fruit for crypto is still transferring value and extensions thereof. https://t.co/E2al7xfgVn

— Jason Choi (@mrjasonchoi) February 7, 2020
And, of course, there were jokes as well:
get me one, too

— SecuNinja support 🇺🇦 🌌 @secuninja.bsky.social (@secuninja) February 7, 2020
__
No exclamation point. No screen shot.
Why are you even doing here?

— 🩸DavidHoffman.eth🦇🔊 (@TrustlessState) February 7, 2020
---