Litecoin Price Prediction as Bitcoin's Rally Spurs 5% Spike for LTC: Are Investors Shifting Towards LTC?
Disclosure: Crypto is a high-risk asset class. This article is provided for informational purposes and does not constitute investment advice. By using this website, you agree to our terms and conditions. We may utilise affiliate links within our content, and receive commission.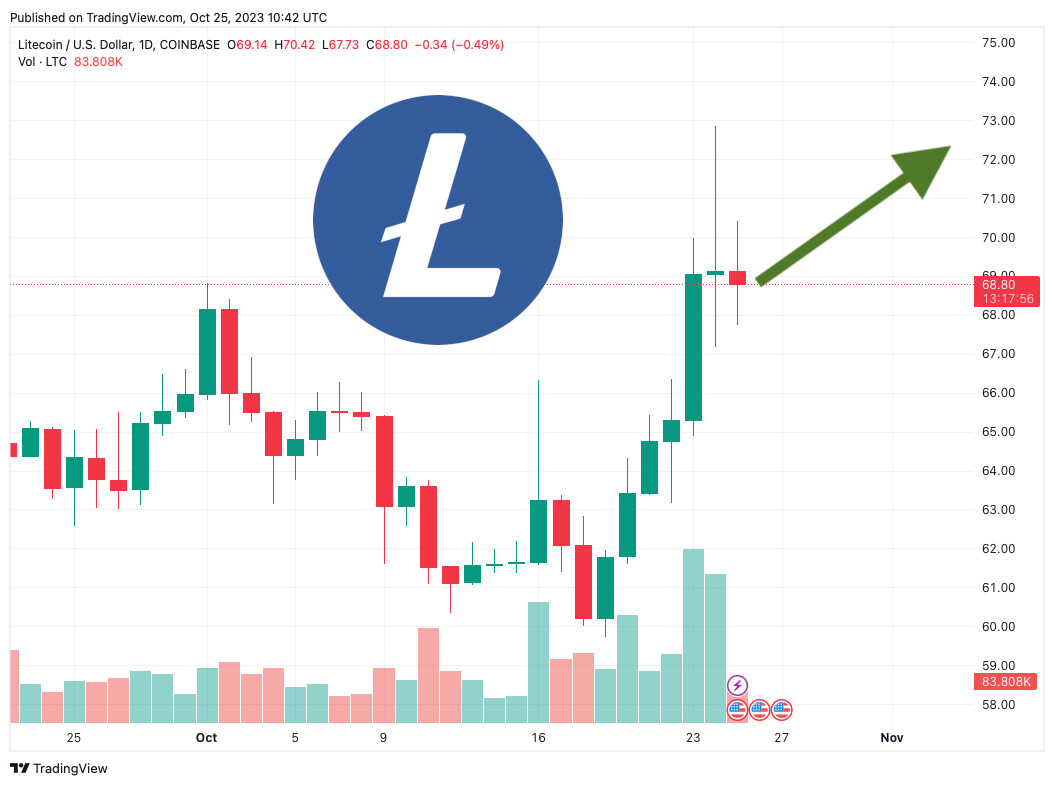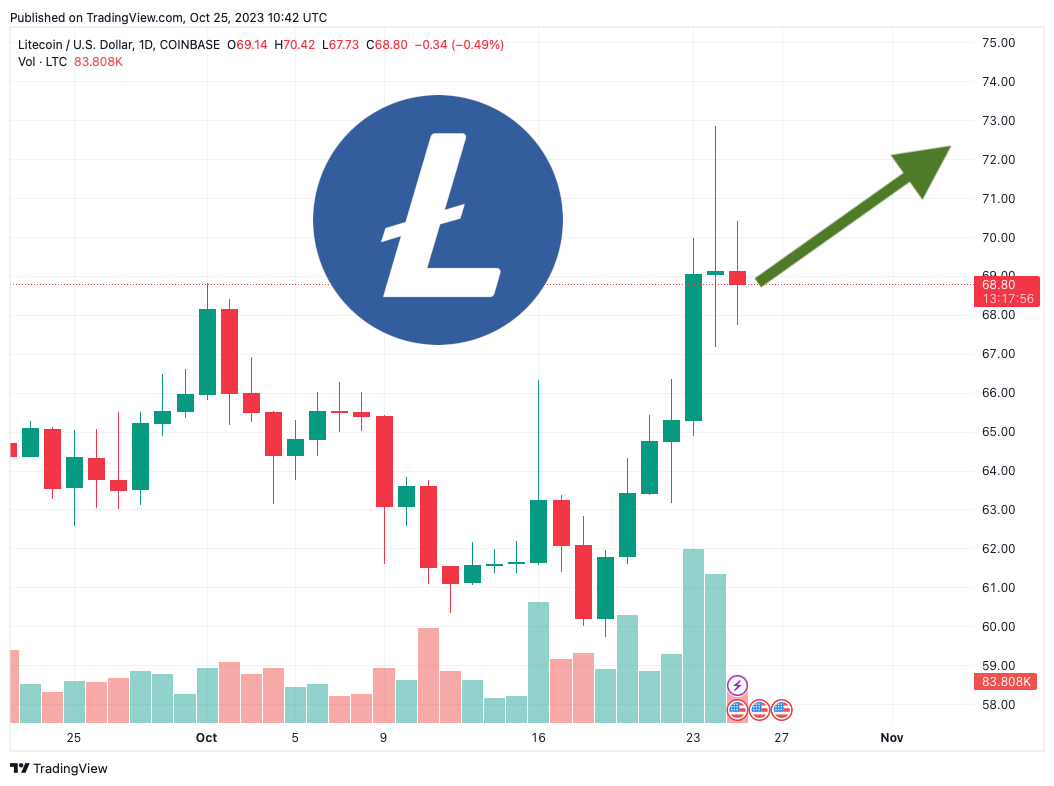 The price of Litecoin (LTC) has dropped by 2% in the past 24 hours, with its fall to $68.57 erasing some of the gains it made during yesterday's market-wide rally.
Yet LTC remains up by an impressive 10% in the past week, as well as by 7% in a month, as growing positivity surrounding potential Bitcoin ETF approval fees into demand for altcoins.
LTC also remains up by 30% in the last 12 months, with the market's steadily improving momentum likely to help the altcoin have a strong end to the year.
Litecoin Price Prediction as Bitcoin's Rally Spurs 5% Spike for LTC: Are Investors Shifting Towards LTC?
Litecoin's indicators are in a promising position, in that they show increased momentum at a time when they have plenty of space left to rise further before the altcoin becomes overbought.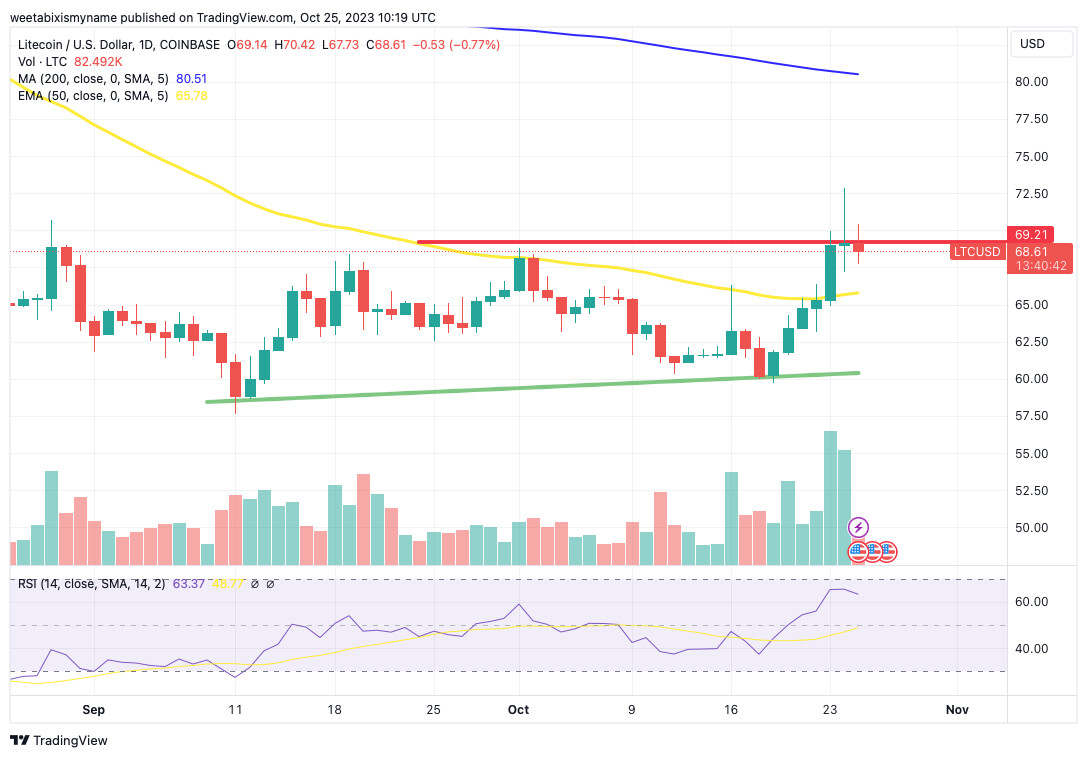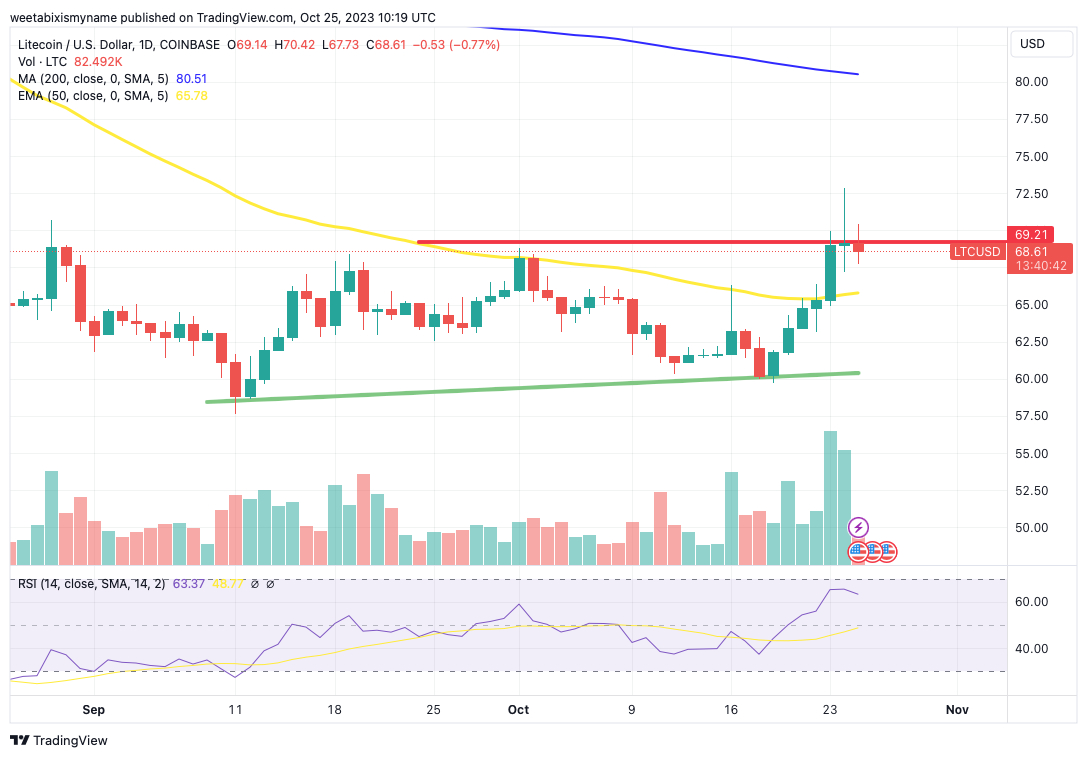 Firstly, LTC's relative strength index (purple) is hovering above 60 after rising strongly in the past few days, implying that it could still rise to 70 and beyond before this week's moves are played out.
Perhaps even more encouragingly, the coin's 30-day exponential moving average (yellow) has only just begun rising up towards its 200-day average (blue).
This would imply that LTC remains largely oversold and undervalued, which in turn implies that are bigger gains and rallies are yet to come.
And while LTC has dipped a little this morning, its steadly improving support level (green) indicates that it isn't going to fall much further before rallying again.
As noted above, LTC has gained in the past couple of days as a result of the expectation that a Bitcoin ETF (or several) will soon be formally approved by the SEC.
Needless to say, this would provide the entire market with a massive boost, yet it would also be particularly beneficial for Bitcoin forks such as Litecoin, which may eventually see its own ETFs.
Based on this assumption, it's realistic to expect LTC to reach $80 in the next few weeks, with the end of the year potentially pushing the altcoin up to $100 again.
And if 2024 does witness a fully fledged bull market, LTC could possibily return to $200 or higher.
The coin may outpace many other major tokens in any market-wide rally, given how heavily oversold it had been in recent months, with its own halving event having a undersized effect on its price.
And in the much longer term, LTC's greater utility as a means of payment (compared to Bitcoin) may see it gain greater adoption in the next couple of years, pushing its price up incrementally over time.
High-Potential Altcoins
While LTC is set to increase over the longer term, its progress may be a little too gradual for some traders, who may prefer to look towards newer altcoins for market-beating gains.
And even though it can be tricky to pick the next high-performing alt, presales provide one means of identifying a potential winner, with the most successful sales often translating into successful exchange listings.
Possibly the next presale coin to have a big listing will be TG.Casino (TGC), a decentralized casino platform that has raised over $1.4 million since beginning its sale a few weeks ago.
Such a figure is impressive given the small amount of time in which TG.Casino's sale has been open, yet it's a testament to how successful the platform has been in winning over supporters.
It has been able to do this for a couple of reasons, with its platform interestingly marrying the worlds of social networks and online casinos.
Specifically, TG.Casino operates on popular social messaging app Telegram, which it has harnessed to grow its member count to 4,000 already.
It has been helped in this endeavor by the fact that it has already launched its casino platform, which offers a wide and regularly expanding roster of gambling experiences, from classic card games to more modern betting markets.
Winning at such games enables users to earn rewards in the platform's native token, TGC, which will have a hard cap of 100 million.
40% of this supply has been allocated to the presale, with 20% to staking rewards and 10% to gaming rewards.
The fact that holders can stake TGC will make the token doubly profitable, in that holders will earn a passive income on top of any price gains the coin makes once it lists.
Investors can join the presale before it ends by going the official TG.Casino website, where 1 TGC costs $0.1375.
This price is set to rise in just under a week, while it could rise even higher once in lists on trading platforms in the next few weeks.
Disclaimer: Crypto is a high-risk asset class. This article is provided for informational purposes and does not constitute investment advice. You could lose all of your capital.
---