Is It Too Late to Buy Solana? SOL Price Bounces 20% From Recent Bottom and AI Crypto Signals Platform yPredict Can Help Find the Next Low Cap Gem – Time to Buy?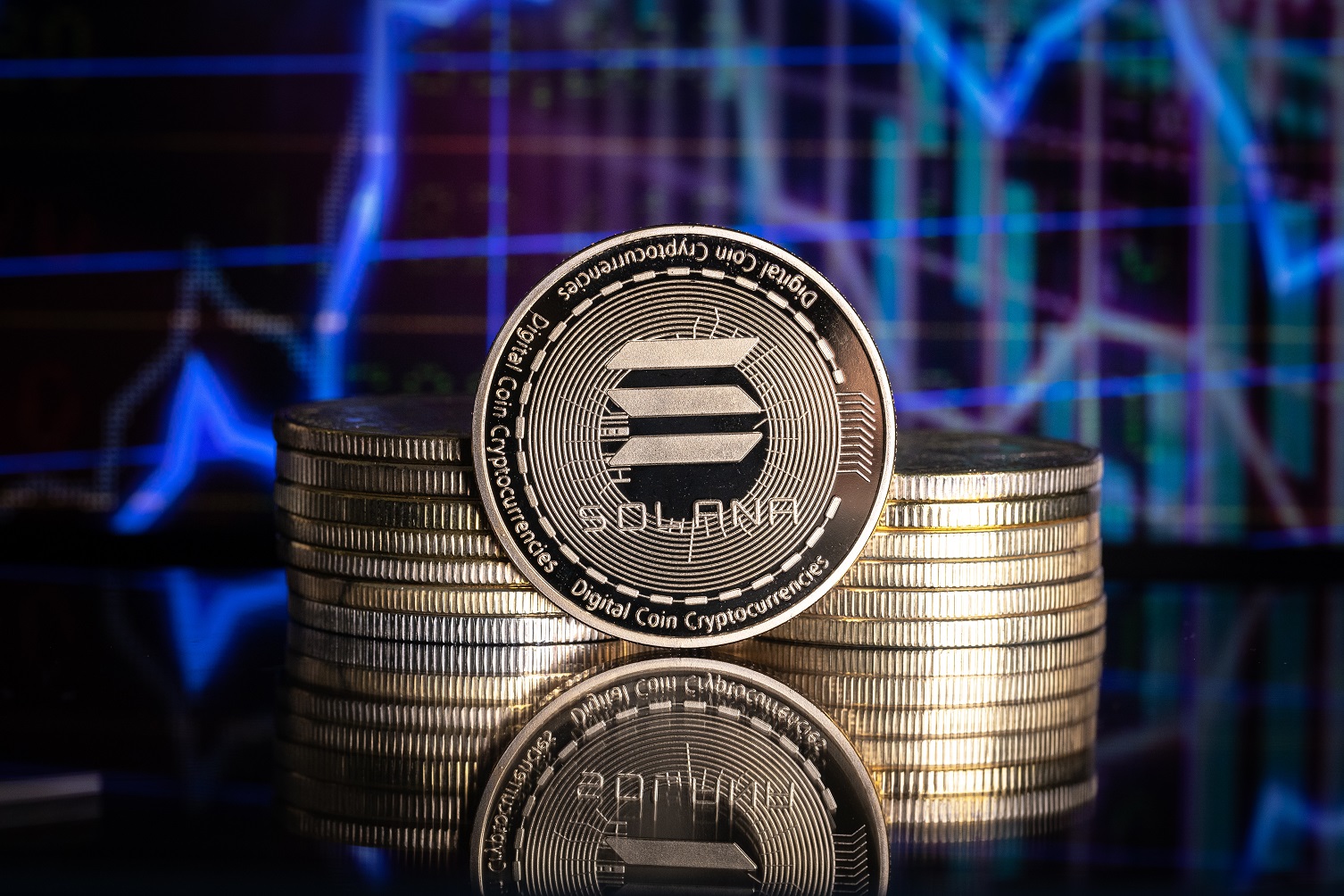 Solana (SOL) appears to be on the rise, experiencing a steady increase in price that signals a notable recovery. Will the wider crypto market slowdown in recent hours put a damper on its momentum?
Rising 22.6% from its recent low of $12.80 posted on June 10, the SOL price currently trades at $15.82--hovering around break even on the 24 hour timeframe as of writing.
This upward movement signifies a notable recovery, particularly given it has successfully mounted the Fibonacci retracement level of Fib 0.618 at $15.33.
SOL Price Prediction and Technical Analysis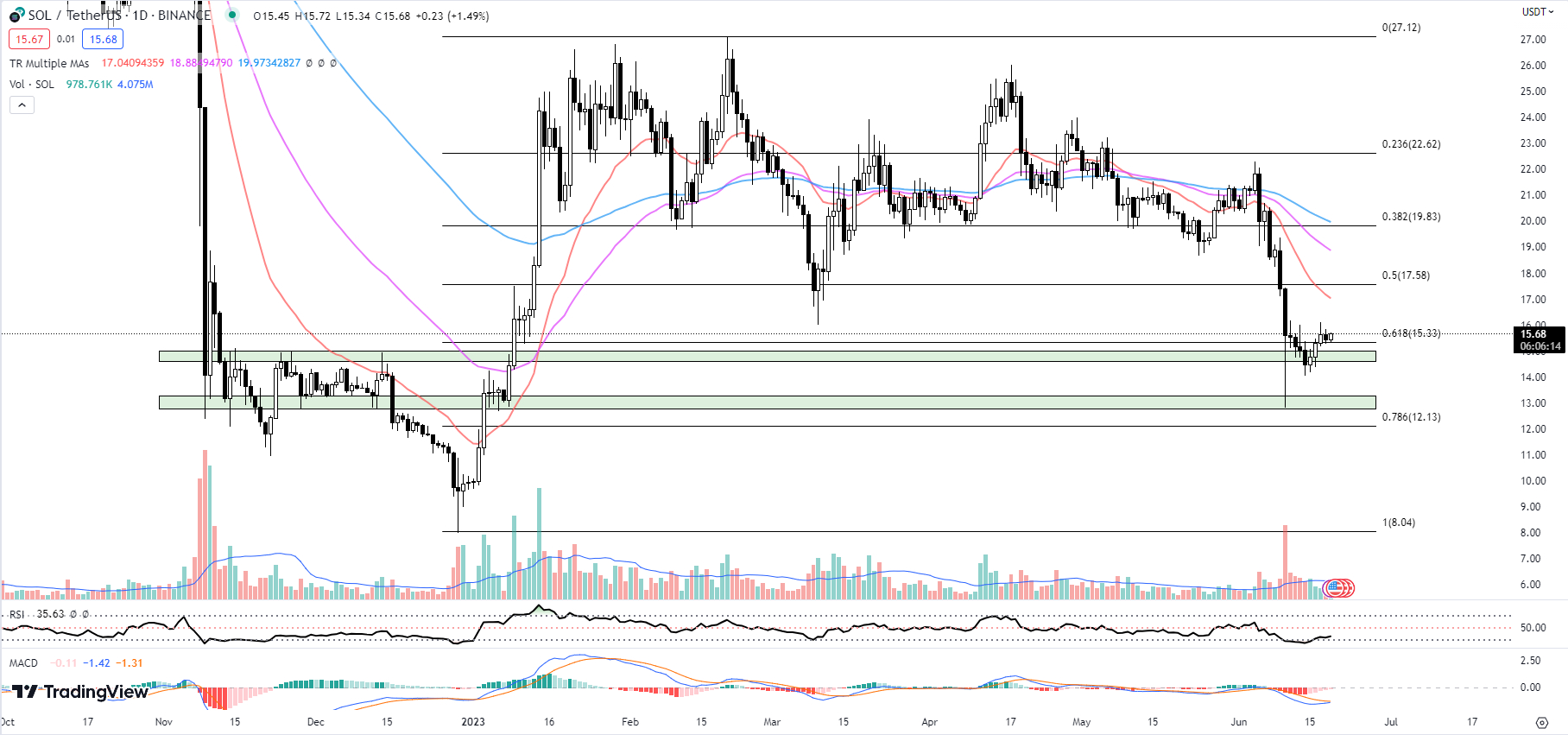 The 20-day exponential moving average (EMA) currently stands at $17.04, acting as an immediate resistance level for SOL.
Given the current price of $15.68, the SOL price needs to rise approximately 8.6% to breach this level, which if accomplished, could signal a possible trend reversal and bullish momentum.
Meanwhile, the relative strength index (RSI), a crucial tool for indicating overbought or oversold conditions, is currently at 35.63, up from yesterday's 33.56.
Although this value is below the neutral 50 mark, the positive increase suggests a strengthening bullish momentum.
It's worth noting, however, that SOL remains in the 'oversold' territory, indicating potential buying opportunities for investors.
In addition, the MACD histogram, a trend-following momentum indicator, is currently at -0.11, a noticeable improvement from yesterday's -0.20.
While this change remains negative, it's nonetheless a positive sign, as a less negative MACD value could be interpreted as the end of a bearish trend and the beginning of a bullish phase.
Interestingly, while the market cap is down by 0.63% to $6 billion, the 24-hour volume has surged by 23.89% to 152 million.
This increase in trading activity, even amidst a declining market cap, could indicate growing investor interest in the asset.
For immediate support, SOL investors should keep an eye on the Fib 0.618 level at $15.33 and the horizontal support area of $14.62 to $15.
On the resistance side, the 20-day EMA first at $17.04 is a level to watch, followed by the Fib 0.5 level at $17.58. These resistance levels, once broken, may pave the way for further upside potential.
While Solana exhibits signs of a budding recovery, investors should approach with cautious optimism.
The positive momentum reflected in the technical indicators suggests the possibility of a bullish scenario, yet investors are advised to carefully monitor the resistance and support levels as well as the evolving market sentiment.
Bouncing back with a 20% rise from a recent low, the SOL price has exhibited impressive resilience.
Yet, this invites the question: Could the use of AI have provided an anticipatory edge?
An under-development AI crypto signals platform, yPredict, could hold the key to understanding similar phenomena in the future.
Predicting the Unpredictable: AI's Role in Market Movements
AI's influence is permeating diverse sectors, with financial market price forecasting being one such area. Observations from research hint at machine learning-based large language models' potential to predict stock price movements.
These AI models have the capacity to sift through extensive price data, detecting trends often missed by humans. One start-up capitalizing on this potential is yPredict.
yPredict is currently developing a crypto research and trading platform that presents traders and investors with a wide range of AI-powered features, including pattern recognition and social/news sentiment features.
Built by expert AI developers and quantitative analysts, the technology is projected to provide an edge to its users. Even in its nascent stage, yPredict's beta version is available to a limited number of users.
yPredict's Unique Offerings and Tokenomics
One aspect setting yPredict apart is its commitment to maintaining free, unrestricted access to its crypto price prediction system.
This decision stems from a desire to attract traffic to yPredict's broader ecosystem. While the price prediction system is a key selling point, yPredict's ambitions extend beyond simple price forecasts.
In a recent announcement, yPredict revealed the launch of its first AI-powered model for wider use, marking a shift beyond its traditional focus on crypto analytics and price predictions.
The model, trained on over a hundred million links, is designed to help with precise backlink strategies, removing the guesswork involved in ranking for desired keywords.
Taking center stage in yPredict's operations is $YPRED, a crypto token touted as a promising AI utility coin.
Distributed on the Polygon blockchain, $YPRED not only ensures fast transactions and low gas fees but also underpins yPredict's operations.
A freemium pricing model, with varying levels of membership, is planned to allow accessibility to yPredict's premium features.
80% of the total token supply of 100 million will be open during the public presale, making it an attractive investment opportunity.
Owners of $YPRED tokens are in for multiple perks. 10% of the collected $YPRED-denominated subscription fees will be circulated back to existing $YPRED token holders, thus incentivizing investors to hold on to their tokens.
Another avenue for token holders to reap benefits is by staking their tokens in pools to get monthly rewards.
As such, yPredict's tokenomics presents a potentially rewarding proposition for potential investors.
Disclaimer: The Industry Talk section features insights by crypto industry players and is not a part of the editorial content of Cryptonews.com.
---