Is it Too Late to Buy Optimism? OP Price Blasts Up 27% in a Week and Web3 Coin LPX May be The Next Crypto To Explode – Here's Why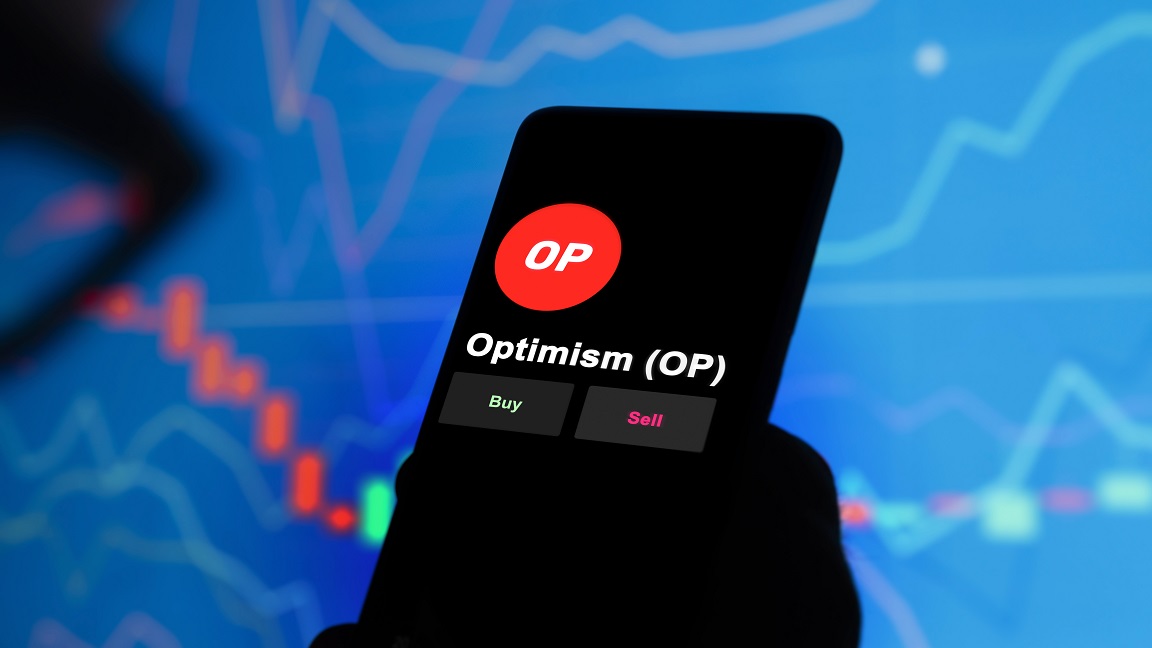 Optimism (OP) is demonstrating an impressive recovery, having surged 27% in the past week following a new YTD low of $0.895 on June 10. OP is currently trading at $1.411, indicating a 4.06% increase so far today.
Optimism is currently attempting to surpass the reverse Fib 0.5 level at $1.386. This level coincides with a significant horizontal range of $1.363 to $1.419, which had previously acted as resistance in November and September of 2022. Let's take a look at what might be next for OP.
Technical Indicators Signal a Potential Reversal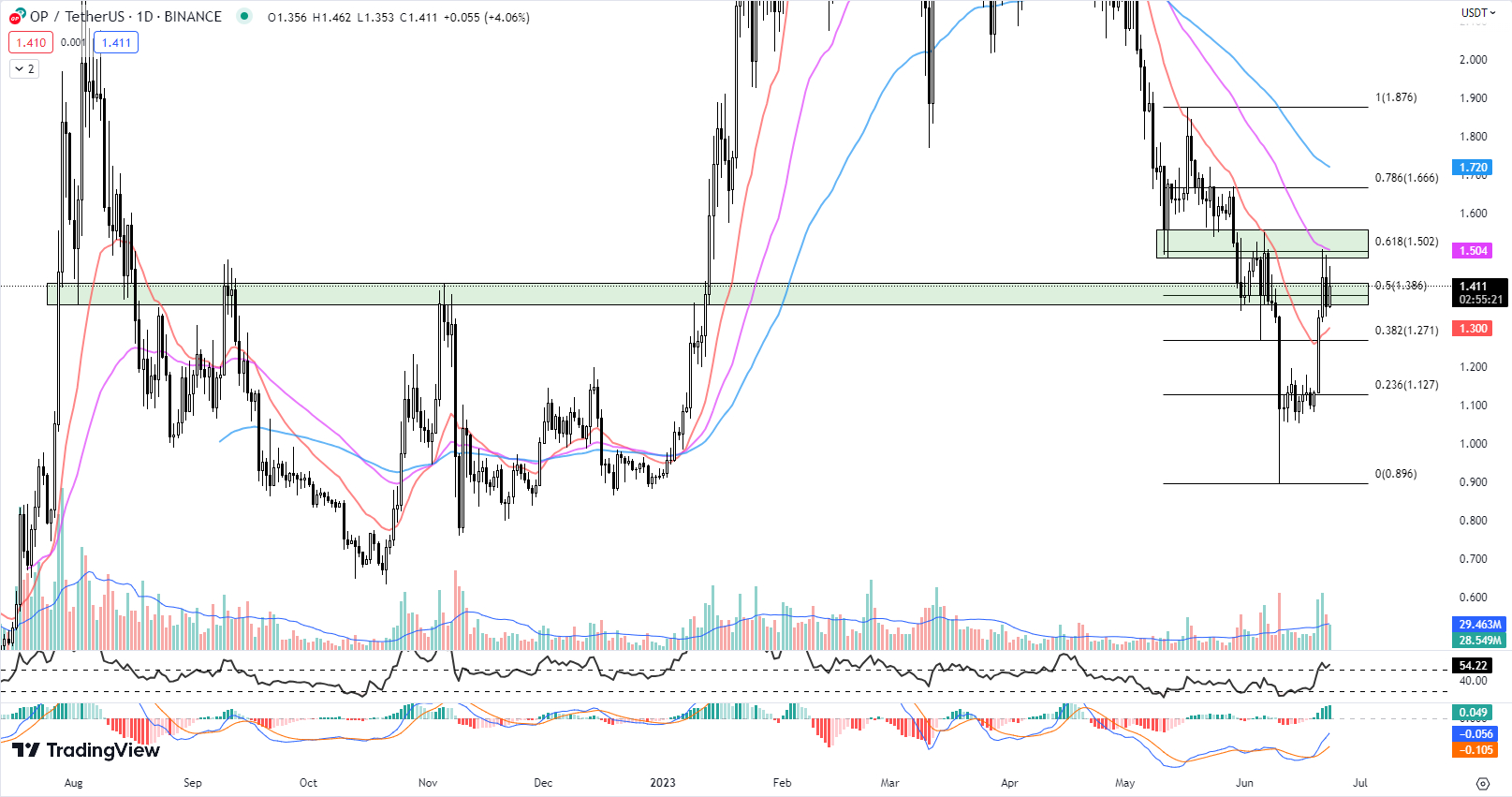 The 20-day, 50-day, and 100-day EMAs are currently sitting at $1.300, $1.504, and $1.720, respectively.
These EMAs can provide valuable insights into the overall market trend and potential support and resistance levels.
In the case of Optimism, the 20-day EMA is acting as possible immediate support, while the 50-day EMA is in line with a significant resistance level.
The RSI is currently at 54.22, up from yesterday's 51.16. Although not yet in overbought territory, the RSI indicates a growing bullish momentum.
Meanwhile, the MACD histogram is at 0.049, also suggesting a potential trend reversal.
Key Levels to Watch for Traders
Traders are advised to closely monitor the resistance level at the Fib 0.618 level, currently valued at $1.502.
This level coincides with the 50-day EMA at $1.504, as well as the horizontal resistance level ranging from $1.483 to $1.557.
The existence of multiple confluences suggests that this level holds significant resistance.
In terms of immediate support, Optimism is currently trading around the Fib 0.5 level at $1.386, in confluence with the horizontal support level of $1.363 to $1.419.
If this level doesn't hold, the next potential support is the 20-day EMA at $1.300.
Optimism's market cap has increased by 1.87% to $910 million, while the 24-hour trading volume has decreased by 24.27% to $161 million, according to CoinMarketCap.
The drop in trading volume may suggest that the recent price surge could be losing steam.
Overall, traders are advised to monitor Optimism's critical support and resistance levels closely to assess its future price action.
While technical indicators suggest a possible trend reversal, exercising caution and waiting for additional confirmation is wise.
While Optimism's recovery is grabbing headlines, Launchpad XYZ's potential to disrupt the web3 industry cannot be ignored.
The project has a lot to offer, including a market-leading trading terminal, an in-house DEX, and the ability to access the metaverse and web3 gaming.
The Ultimate Web3 Trading and Metaverse Resource
Launchpad XYZ is a comprehensive platform that can cater to all the trading requirements of crypto and NFT traders.
Its trading terminal is designed to be the best in the market, and it will be complemented by an in-house decentralized cryptocurrency exchange (DEX).
To ensure that users have a smooth and hassle-free trading experience, the DEX will prioritize attracting high-quality liquidity providers.
Additionally, the platform will feature a peer-to-peer (P2P) exchange for non-fungible tokens (NFTs), as well as a market information hub called Trading Edge.
These resources will be readily available to users, empowering them to make informed investment decisions.
Launchpad XYZ will go beyond just trading, as it will offer users access to the metaverse as well as opportunities to engage in play-to-earn web3 gaming. This is made possible through its metaverse library and web3 gaming hub.
$LPX: The Token with Unparalleled Potential
The $LPX token plays a fundamental role in Launchpad XYZ's web3 ecosystem, serving as the platform's native currency.
Holders who stake at least 10,000 tokens can avail themselves of various benefits, including fee discounts, access to NFT mints whitelists, presales, beta play-to-earn game launches, and community prestige badges.
As web3 technology continues to gain acceptance, platforms like Launchpad XYZ could lead the chart.
Launchpad XYZ has a maximum token supply of 1 billion, and $LPX is set to launch on major cryptocurrency exchanges later this year, with a fully diluted market cap of $70 million.
There is a possibility that the $LPX token may experience significant growth in the upcoming years, especially if there is a wider cryptocurrency bull market and a steady expansion in the Launchpad XYZ user community.
The Launchpad XYZ team has expressed optimism that the token could achieve a market capitalization of $10 billion by 2025.
If this were to happen, the potential gains for $LPX from its initial exchange listing price of $0.0565 could be significant.
As decentralization and digitization continue to gain ground, Launchpad XYZ has the potential to significantly impact the web3 space.
With its robust suite of features and the promising $LPX token, investors and users alike should keep a watchful eye on this project as it gathers momentum.
Disclaimer: The Industry Talk section features insights by crypto industry players and is not a part of the editorial content of Cryptonews.com.
---