Is It Too Late to Buy Hedera? HBAR Price Shoots Up 11% in 24 Hours as Shibie Raises $150,000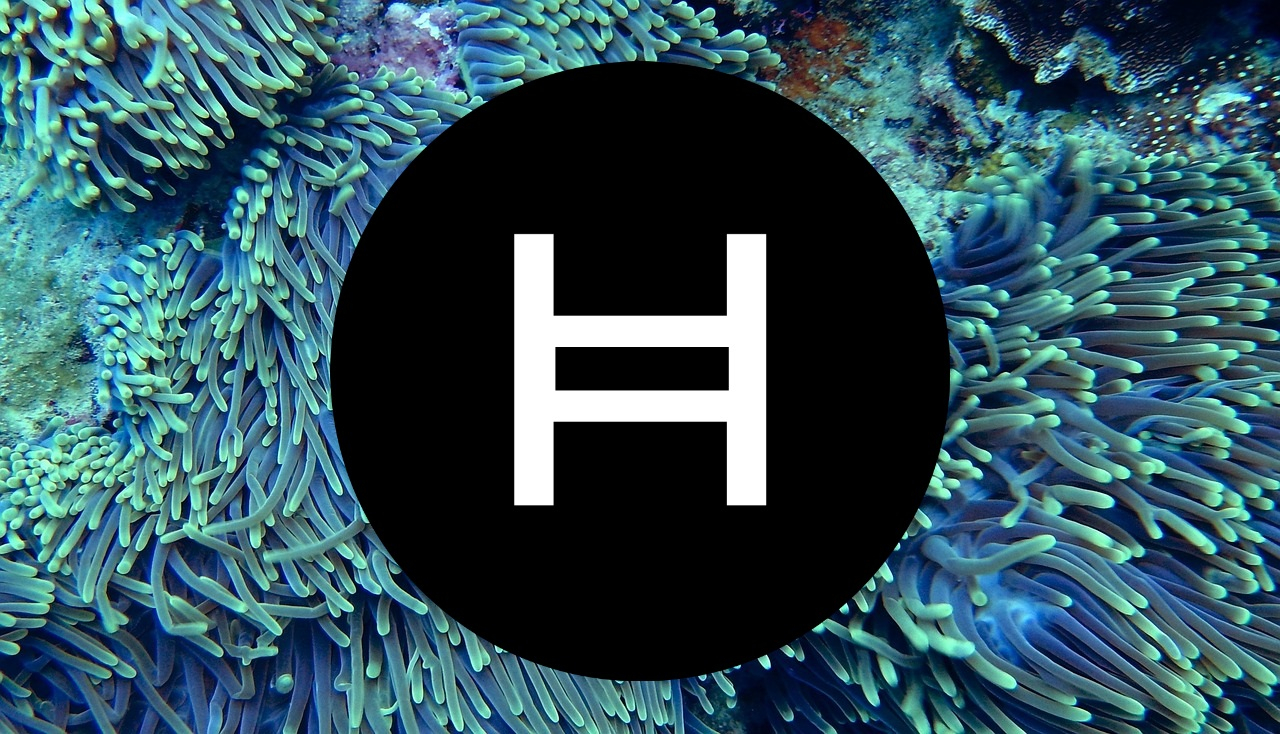 Hedera Hashgraph (HBAR) has seen a third test of resistance from the 200DMA rejected as 3-months of suffocating price action seems set to continue.
This comes as the enterprise grade layer-1 blockchain has struggled to breakout from rock-bottom technical structure following a painful -90% bleed-out from its all-time high (ATH)
HBAR Price Analysis: Is Hedera Doomed to Hit Zero?
The failed retest of resistance from the 200DMA has left Hedera in a minor -6.5% retracement, with HBAR currently trading low at $0.0562 (a 24-hour change of -2.77%).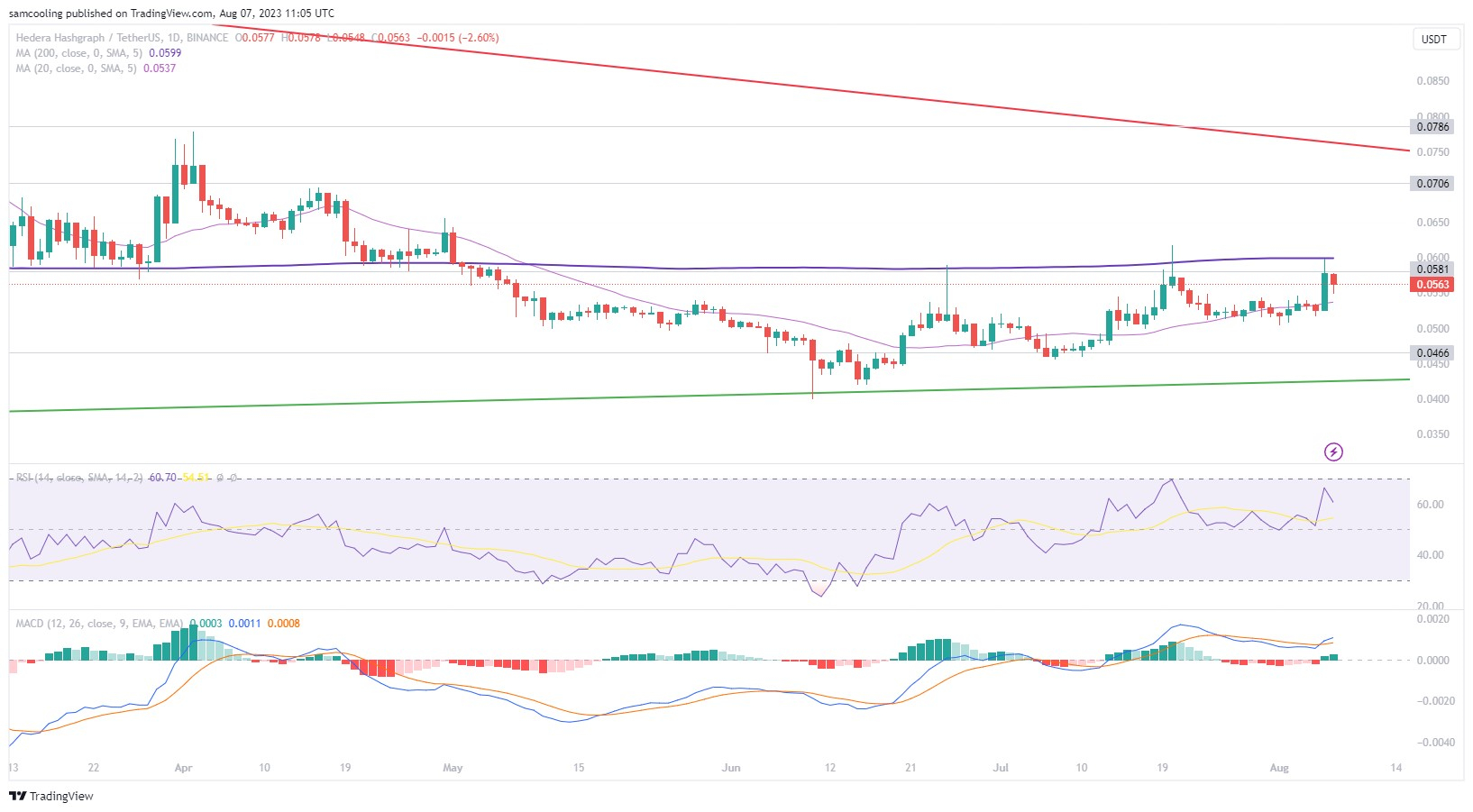 Built-off 12-days consolidation around support from the 20DMA, Sunday saw HBAR price shoot up +14.3% in a dramatic move triggered by the news that FreshSupplyCoAU have integrated Hedera into its Continuity API - in a move which connects the blockchain with the Mastercard network.
But despite the strong fundamental headwind, rejection at the 200DMA was swift, with momentum crumbling almost instantly at the $0.06 price level.
Yet, while price action is reeling from rejection, there is some solace from the steadfast support of the 20DMA, combined with the bullish signal found in the MACD at 0.0003.
The RSI contrasts this, however, overheating significantly on the recent push up to a bearish signal at 60.70 - although the -6.5% retracement appears to be cooling-down this critical indicator dramatically.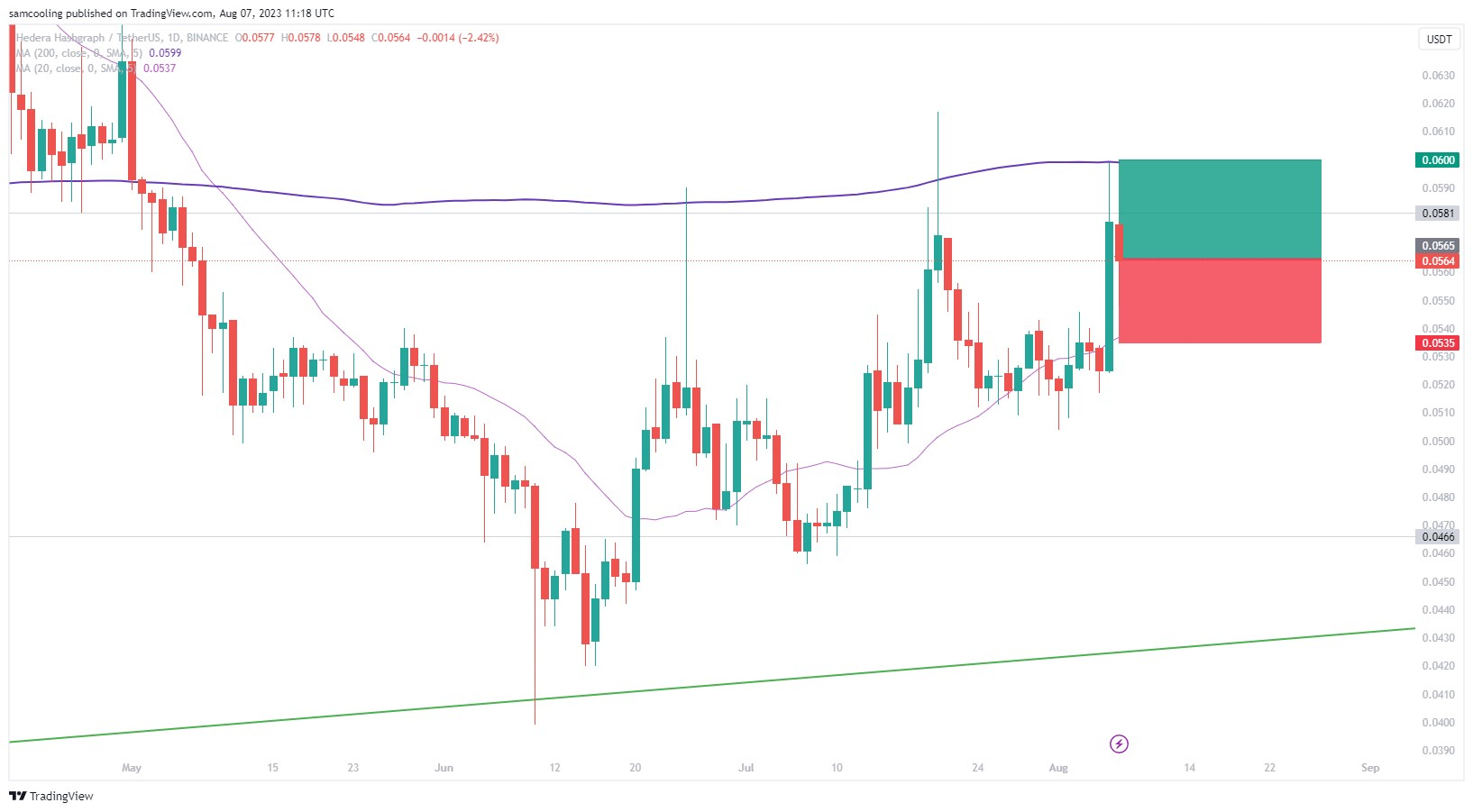 With upside potential seemingly limited to the ironclad resistance layer around $0.06 (+6.2%), and downside risk limited by strong footing in the 20DMA at $0.535 (-5.3%), HBAR faces a mediocre risk: reward profile.
Representing neither a particularly lucrative long or short position, HBAR's risk: reward ratio reads 1.17.
Yet, while it may be too late to get stuck into HBAR price action this week, intrepid traders are already moving on to find the next meme coin with moon-shot potential - and the recent hype around the Barberheimer film franchises seems to fuelling explosive traction for an emerging token.
Barbenheimer Ignites Shibie Presale, Exploding Beyond $150,000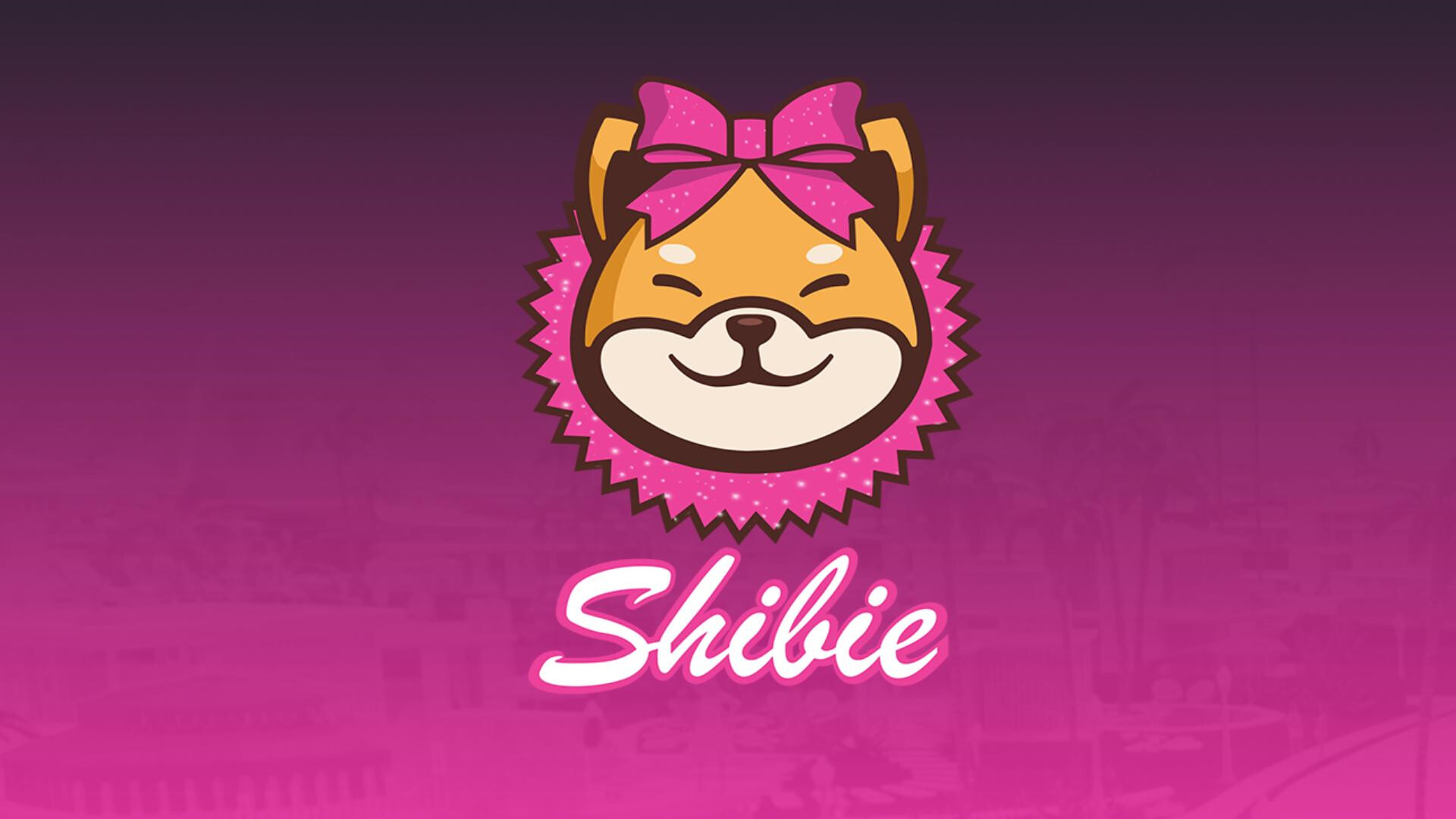 There's a new pup in town, and it's gearing up to leave a paw print so indelible that you'll be talking about it for years to come.
Meet Shibie, the glamorous Shiba Inu-Barbie crossbreed ready to take the crypto space by storm - yes, you heard right. Hollywood's blockbuster sensation Barbie and the ever-viral Shiba Inu have joined forces in the form of this disruptive token, set to redefine the meme coin space.
Without wasting a second, the Shibie presale is on with almost $175,000 already raised, and with 60% of supply on offer, tokens are priced at an alluring $0.000167, there's simply no time to waste.
Remember, we're talking about raising a small seed funding round of $999,999, which could sell out in the blink of an eye considering the buzz around Shibie. So, make your move, and make it fast.
Barbie-Themed Inu Attracts New Class of Gen X Meme Coin Investors

With 1,000x gains or even more on the horizon, Shibie is set to outshine even the brightest stars in the crypto market.
What sets Shibie apart is its unique fusion of two cultural icons – the Shiba Inu and Barbie, creating an alluring charm that's hard to resist.
This playful union of whimsy and glamor, encapsulated in a single token, is sure to captivate audiences and break boundaries as Barbie smashes the 15-year old box office record.
Dedicated to creating a diverse and inclusive community, the Shibie team has allocated 20% of the $SHIBIE token supply to DEX liquidity and 10% to centralized exchange (CEX) liquidity.
This strategy ensures smooth trading conditions right from its initial launch while widening $SHIBIE's reach.
With a massive marketing drive in the pipeline, Shibie is all set to make headlines.
The team's strong focus on liquidity and clever marketing ensures a vibrant presence across various media platforms, making Shibie the talk of the town - connect with the Shibie Telegram and Twitter to stay up-to-date.
Be a part of the Shibie revolution – seize the opportunity, invest in the presale, and make your mark in the crypto meme coin vertical.
Disclaimer: Crypto is a high-risk asset class. This article is provided for informational purposes and does not constitute investment advice. You could lose all of your capital.
---