Is it Too Late to Buy Binance Coin? BNB Token Blasts Up 12% From Recent Crash and Traders Say This New AI Crypto Signals Platform May Be the Next Best Performer – Here's Why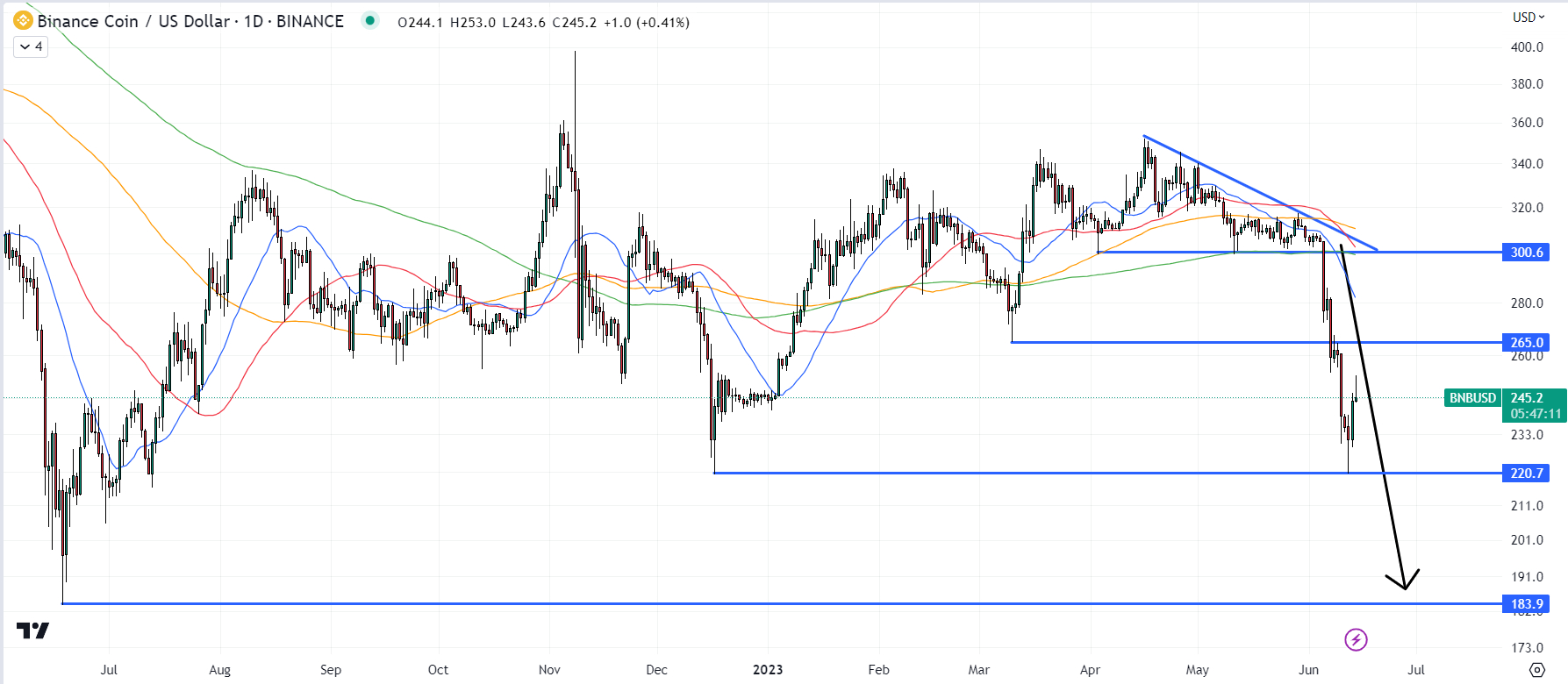 Binance Coin (BNB), the cryptocurrency that powers the Binance Smart Chain, has seen a decent 9% price bounce from its recent lows.
BNB/USD at the time of writing was priced at $247, having crashed to lows around $220 earlier this week.
The cryptocurrency was sent tumbling last week after the US Securities and Exchange Commission (SEC) sued Binance and claimed that BNB is actually an unregistered security.
If the US courts side with the SEC, it means that BNB could face significantly stricter regulations in the US.
Binance Coin is still down close to 20% versus its pre-SEC lawsuit levels above $300.
If BNB bears can push the cryptocurrency below its late-2022 lows in the $220 area, that could open the door to a drop to 2022's lows in the $180s.
December's $220 low has for now offered strong support.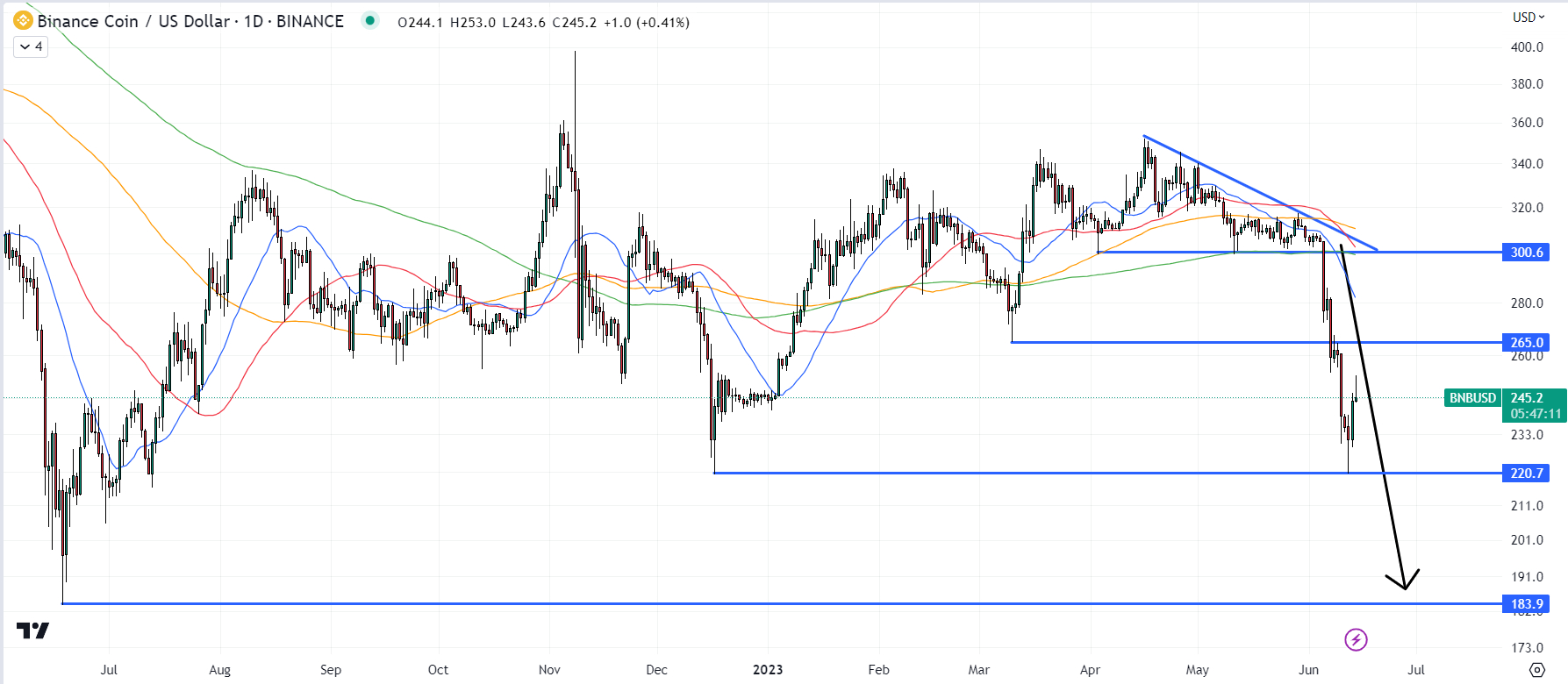 But the prospect of further near-term downside for BNB means that, for those asking whether it is too late to buy the cryptocurrency, the answer is probably no.
However, those considering entering the market with a buy on BNB may wish to wait out the regulatory uncertainty before taking a position.
Investors looking for a better shot at near-term gains could consider new AI-powered crypto price prediction platform yPredict's native $YPRED token.
Indeed, analysts at Cryptonews.com rank yPredict's presale as one of the hottest of 2023.
yPredict (YPRED) – Why it Could be the Next Best Performer
The yPredict market intelligence platform is building a first-of-its-kind, institutional-grade financial price prediction system.
According to observers, the tool, which is built on yPredict's in-house deep data analysis, will help crypto investors discover the next explosive crypto with ease.
The best part, yPredict's crypto price prediction system will remain free and open for all users to access – the price predictions will be made publicly available and require no login to see, the project's Whitepaper explains.
But yPredict offers investors much more than just crypto price predictions.
The project is "building a cutting-edge crypto research and trading platform that provides traders and investors access to dozens of AI-powered signals, breakouts, pattern recognition, and social/news sentiment features", the start-up says in yPredict's Litepaper.
The platform's technology was designed using state-of-the-art predictive models and data insights built by top AI developers and quants.
Meanwhile, the project says "the ypredict.ai marketplace will enable experts to earn recurring revenue by offering their model predictions or data research as trading signals, which traders and investors can subscribe to".
As AI continues to make waves in the crypto industry and beyond, projects like yPredict are expected to attract significant interest.
That's why many industry observers are tipping AI cryptos like yPredict's native $YPRED token to be amongst the next best-performing coins.
Get $YPRED Early Via yPredict's Viral Presale
To fund the development of its revolutionary AI-powered crypto trading and market intelligence platform, yPredict is running a presale of the native $YPRED token that will power its platform.
The presale is absolutely flying and just hit the massive $2.35 million milestone.
The project's presale is in its sixth stage, with $YPRED tokens selling for $0.09.
However, there's still plenty of upside for new investors, as the token will list across major exchanges for $0.12 later this year, for paper gains of 33%.
But the pace at which yPredict's $YPRED token continues to fly off the shelves means that investors need to move quickly to avoid missing out when the presale sells out.
yPredict has a presale hard cap of $6.5 million, which could be hit in a couple of weeks if the presale continues to gain pace like it has in recent days.
The 33% gains that investors who get in now can secure could pale in comparison with the upside $YPRED looks set to enjoy when the rollout of the product begins.
Disclaimer: Cryptocurrency projects endorsed in this article are not the financial advice of the publishing author or publication - cryptocurrencies are highly volatile investments with considerable risk, always do your own research.
---