Binance Coin Price Prediction as BNB Whale Cashes Out of $2 Million Position After Two Years – How Low Can BNB Go?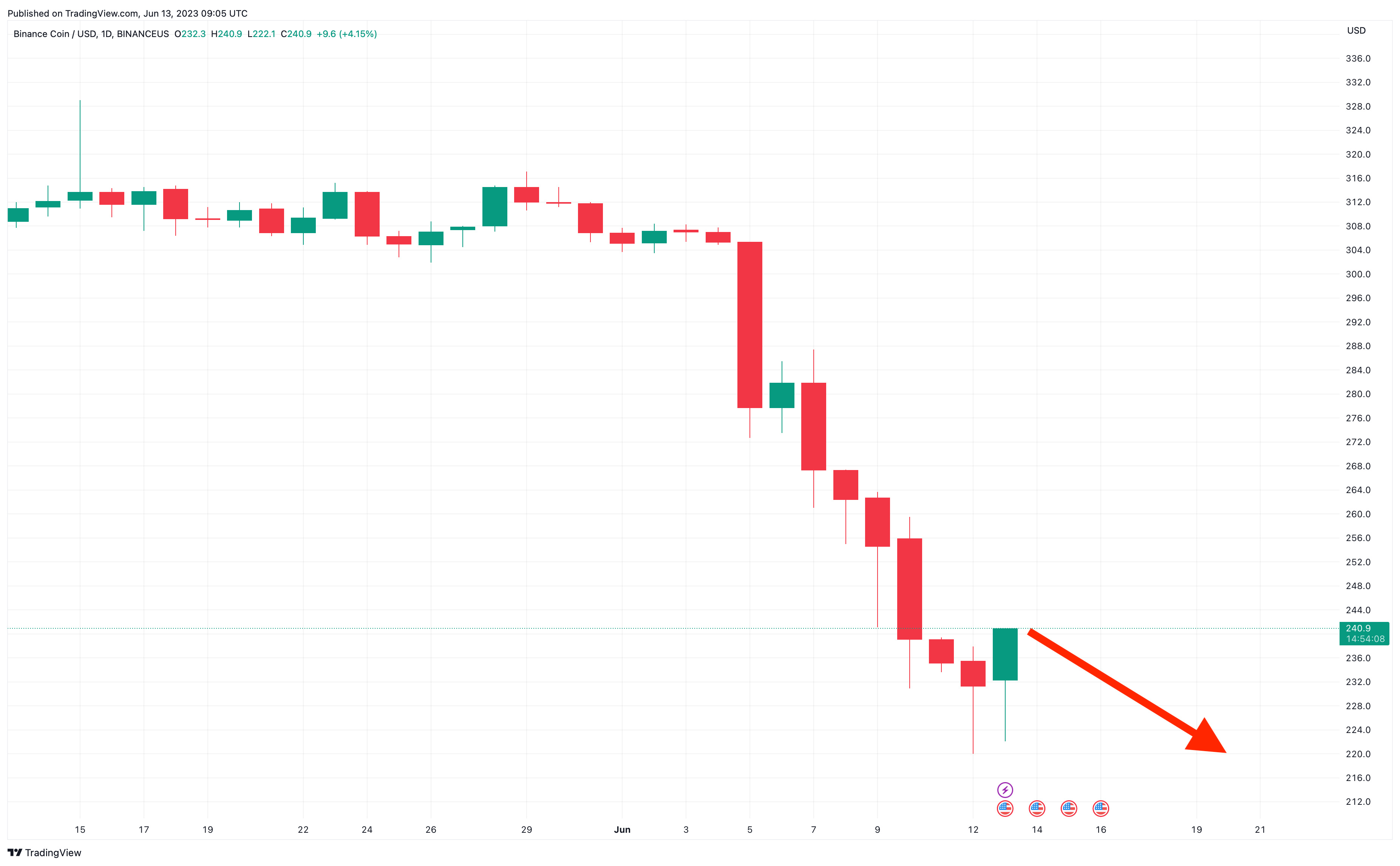 The Binance Coin price has risen by 4% in the past 24 hours, reaching $235 as the altcoin tries to shake off the steep losses caused by the SEC's legal action against Binance.
Despite its rise today, BNB remains down by 15% in a week and by 25% in the past fortnight, with the exchange token notably down by 4% since the beginning of the year (whereas most major cryptocurrencies are up).
And while BNB has revived a little in the past 24 hours, it's likely this movement is a dead cat bounce, given that today will witness a hearing on the SEC's motion to impose a temporary restraining order on Binance.US' assets.
If the regulator's motion is granted, BAM -- the owner of Binance.US -- has warned that it would "effectively end" its business, something which would undoubtedly have grave repercussions for Binance as a whole and for BNB.
Binance Coin Price Prediction as BNB Whale Cashes Out of $2 Million Position After Two Years – How Low Can BNB Go?
Needless to say, the past week or so has been terrible for BNB, as reflected by its charts and indicators.
The altcoin's relative strength index has spent much of the month in and around the 30 level, signalling substantial selling.
Likewise, its 30-day moving average (yellow) has fallen steeply below its 200-day (blue), which again suggests further losses to come, until at least the 30-day levels out.
Such a leveling-out may not occur for some time, however, given that BNB's support level (green) is also falling precipitously, and is unlikely to stick to its current level of around $224.
Fundamentally, this is because the SEC's action against Binance and Binance.US (in particular) has only just begun, with a hearing set to happen today in Washington D.C. that will determine whether the regulator's temporary restraining order on Binance.US' assets is granted.
And judging by what whales have been doing in the past couple of days, it seems that the market consensus is that the SEC's motion will probably be upheld.
Indeed, one BNB whale who had been dormant for two years sold more than $2 million in the altcoin yesterday, while Whale Alert reported a transfer of around $14.5 million in BNB to Binance.
This doesn't bode well for BNB, and even if the coin has risen in the past 24 hours, some observers are skeptical that anyone but Binance is propping up the altcoin's price at the moment.
For this reason, it's easy to imagine BNB falling even lower in the coming days, potentially dropping below $200 on the back of the SEC being awarded its TRO.
And from there, further damage to Binance's business -- perhaps via withdrawals, a shutdown in the US and loss of market share to rivals -- could sink BNB even lower in the coming months and years.
Newer Altcoins with High Potential
Given that the SEC's actions against Binance mostly concern Binance.US, it certainly can't be ruled out that BNB will make a recovery sooner or later, given the global scope of Binance's overall business.
However, such a recovery may take a while to materialize, while a shutdown of Binance's US operations could have serious ramifications for its worldwide operations.
As such, investors may be advised to diversify their portfolios into newer altcoins, which don't have legal actions hanging over them and which are still due their first major growth spurts.
Presale tokens, in particular, hold out the potential for big gains, seeing as how sales end with the corresponding coin listing on exchanges.
One of the most exciting new tokens at the moment Wall Street Memes (WSM), an ERC-20 cryptocurrency aligned with the meme stocks movement, which was famously responsible for the 2021 GameStop and AMC rallies.
Wall Street Memes launched the presale for its WSM token a few weeks ago, and has already raised in excess of $6.4 million.
This figure indicates how successful WSM has already been in growing its own community of holders, who will likely support its price once it lists on exchanges in the coming months.
And with more than 229,000 followers on Twitters, it does indeed seem that this community is already substantial, putting WSM in a good position to compete with more established meme tokens such as Shiba Inu, Dogecoin and PEPE.
With its presale currently in its 13th stage, 1 WSM now costs $0.0286, although this price will rise to $0.03370000 by the time the 30th and final stage begins.
To join its sale, investors need only head over to the official Wall Street Memes website and connect their crypto wallets.
And once they've acquired some WSM, all they then need to do is wait for the eventual exchange listings and potentially make some good profits.
---