InQubeta (QUBE) Presale: Your Ticket to Life-Changing Wealth Alongside Chainlink (LINK) and Polkadot (DOT)
Disclaimer: The text below is a press release that is not part of Cryptonews.com editorial content.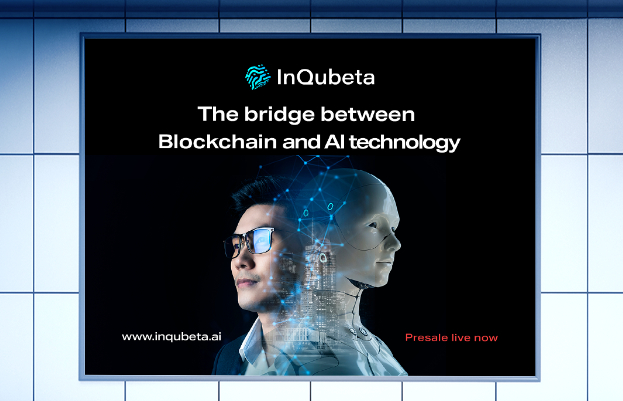 The cryptocurrency market has been changing people's lives and making millionaires for years, attracting many investors looking for opportunities to earn residual income.
Most savvy investors are attracted to new projects with robust tokenomics that can deliver huge gains.
Right now, InQubeta (QUBE) appears to have what most potential investors want in a crypto project.
Also, if you're looking for the best crypto to invest in and get rich, there are good options like Chainlink (LINK) and Polkadot (DOT).
However, InQubeta's presale might be your best bet for life-changing wealth.
In this article, we will delve deeper into why InQubeta, Chainlink, and Polkadot could soon be your ticket to life-changing wealth.
InQubeta (QUBE) Could Make You the Next Crypto Millionaire
InQubeta has just joined the crypto industry, and with its big plans, it could become a household name in the crypto market.
InQubeta's presale is live right now, and there are many reasons to keep your eyes on it.
InQubeta was built to allow crypto users to invest in AI startups. QUBE token holders can make fractional investments through the non-fungible token (NFT) marketplace that InQubeta will launch.
InQubeta is currently in demo stage 1 of its presale, with QUBE tokens going for 0.007 USD. Over $350 has been raised so far, and over 35,000 tokens, which is around 4% of the total for this stage of the presale, have been sold.
QUBE tokens (ERC-20 based) started with an initial presale price of $0.001. QUBE tokens are deflationary, and a 2% tax is charged on transactions.
These will be sent to a burning wallet, driving the total supply down as time passes. This scarcity will increase the price of the existing tokens and the profit for token holders.
You can buy QUBE tokens by signing up for the presale on the website. They can be purchased using ETH, USDT, BTC, or other supported cryptocurrencies on the website.
The minimum amount you can buy is $50 worth of QUBE tokens. A total of 975 million tokens will be sold during the public presale. Now is the best time to hop on the InQubeta train.
Chainlink (LINK) Bridges the Gap Between Blockchain and the Real World
Chainlink joined the crypto market in 2017 and was built to stand out. It is the first blockchain Oracle network.
As an Oracle network, it lets users transfer data from real-world sources to blockchain smart contracts and vice versa.
The Chainlink network verifies all data that comes through it and then translates it to be used on the blockchain.
Node operators handle these operations and are rewarded with LINK tokens for verifying and sending the data into the network.
LINK tokens are the native tokens of Chainlink. LINK tokens use the ERC-677 token standard, an extension of the popular ERC-20 token standard.
Chainlink has built a strong reputation in the crypto industry and has formed partnerships with big names like Intel and Google Cloud.
Polkadot (DOT) is the Champion of Interconnectivity on the Blockchain
Polkadot was introduced to the crypto market in 2020 and has become a big name since its launch. It was built by Dr Gavin Wood, a co-founder of Ethereum, and he made it to connect incompatible blockchains under one network.
Polkadot provides spaces for up to 100 parachains. Parachains are blockchains connected under Polkadot's blockchain, known as the relay chain.
Polkadot also allows for para threads, which enable blockchains to connect temporarily on a pay-as-you-go basis.
The native token that powers Polkadot is the DOT token, and these tokens bond other tokens when connecting parachains, for staking on the network, and as governance tokens.
Everything Polkadot offers makes it a promising crypto project.
Conclusion
InQubeta, Chainlink, and Polkadot are set to revolutionize crypto as the next big thing in the crypto market.
However, InQubeta has cemented itself as the best crypto to invest in because of its huge profit potential to change the lives of investors.
Getting in on InQubeta's presale could be your best investment choice to make residual income because the price is expected to surge soon.
If you missed the others, InQubeta could be your ticket to life-changing wealth!
---