InQubeta Presale Victory Pushes QUBE Up The Crypto Ranking, As QUANT Bottoming Up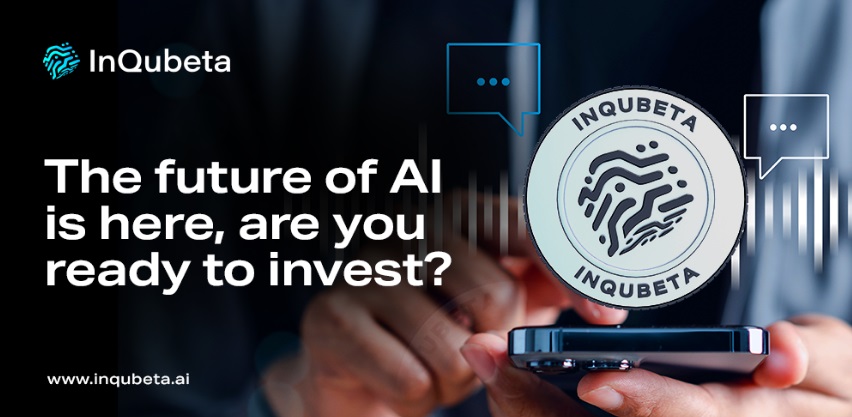 Pursuing innovative strategies holds immense significance in shaping the prosperity and expansion of digital assets in crypto. Among these ideas, QUANT (QNT) is demonstrating a bottom-up surge in its value within the crypto community. It can potentially revolutionize the path to growth and prominence for tokens. Fueling the excitement further, the recent victory of the InQubeta (QUBE) presale has swept through the crypto market, propelling the QUBE token to unparalleled heights in the crypto rankings.
InQubeta is a groundbreaking crypto crowdfunding platform that enables fractional investment in AI startups. Due to its impressive presale success, the DeFi project has gained significant attention in the crypto market. InQubeta's deflationary token, QUBE, aims to revolutionize AI startup fundraising and foster growth in the AI tech sector, making it the best crypto investment in the crypto space right now.
This article discusses InQubeta presale's victory, cementing QUBE's position as a rising digital asset, and explores the groundbreaking strategies fueling QUANT's growth.
InQubeta (QUBE) Presale Success: QUBE Climbs Crypto Rankings with Innovative DeFi Features.
InQubeta's presale has seen significant growth, propelling QUBE up the crypto rankings as it gains momentum and investor interest. The presale price is currently $0.0098, offering an attractive entry point for investors looking to participate in the revolutionary crowdfunding platform. Currently in stage 2 of its ten-stage presale journey, InQubeta's structured approach to fundraising ensures a steady progression towards its funding goals.
The presale's success has been remarkable, with over $2 million already raised. Also, over 95% of the QUBE tokens have been sold during this phase, indicating strong demand and enthusiasm from the community for participating in the DeFi project. The project is expected to reach a minimum value of $0.0308 before its launch on major exchanges. To participate in the presale, investors can use various coins, with USDT being one of the supported cryptocurrencies for purchasing QUBE DeFi tokens.
One feature that drives the presale's success is the ability to stake QUBE tokens. This staking mechanism allows investors to earn rewards from the platform's 5% sell tax, which is directed towards a dedicated reward pool. Also, integrating NFTs for each investment opportunity further enhances the attractiveness of the ecosystem, offering investors unique and valuable opportunities in the AI startup space.
InQubeta's commitment to transparency and community engagement through the governance token QUBE has also contributed to its victory in the crypto rankings. By empowering token holders to participate in decision-making processes actively and encouraging involvement, the platform has built a more democratic and community-driven ecosystem, which further enhances its appeal to investors and startups.
InQubeta's presale victory highlights its commitment to nurturing startups through mentorship and guidance from experienced industry professionals. With access to a network of AI industry veterans and strategic support for business development and strategy, InQubeta creates a supportive environment for startups to navigate challenges, identify growth opportunities, and build successful businesses. As the presale progresses, it attracts attention and interest, further solidifying InQubeta's pioneering role in the crypto crowdfunding space and the advancement of AI technology startups.
QUANT (QNT): A Promising Crypto with Data-Driven Innovation and Strategic Focus
Quant is a promising cryptocurrency experiencing a potential increase in value. Emphasizing quantitative research and data-driven strategies, QNT aims to offer investors a unique and robust experience in the crypto space. Its focus on fundamental analysis and technical indicators sets it apart, appealing to those seeking a more informed and strategic investment journey.
Quant's strong focus on building a solid foundation and sustainable growth makes it a promising cryptocurrency to monitor closely. With a deliberate growth approach, the team aims for long-term success and innovation within the project. QNT's analytical approach and commitment to excellence have led to significant advancements, attracting attention from investors.
Conclusion
The remarkable journey of QNT, with its strategic bottom-up approach, has witnessed significant milestones. At the same time, the successful InQubeta presale has propelled QUBE to greater heights within the crypto rankings. With its innovative approach to fractional investment in AI startups, the InQubeta presale has attracted widespread interest from investors, positioning it as the best crypto investment platform right now. As the presale progresses through its ten stages, InQubeta's vision of revolutionizing AI startup funding is poised for continued growth and success in the crypto market.
---