Immediate Enigma Review – Scam or Legitimate Trading Software
Disclosure: Crypto is a high-risk asset class. This article is provided for informational purposes and does not constitute investment advice. By using this website, you agree to our terms and conditions. We may utilise affiliate links within our content, and receive commission.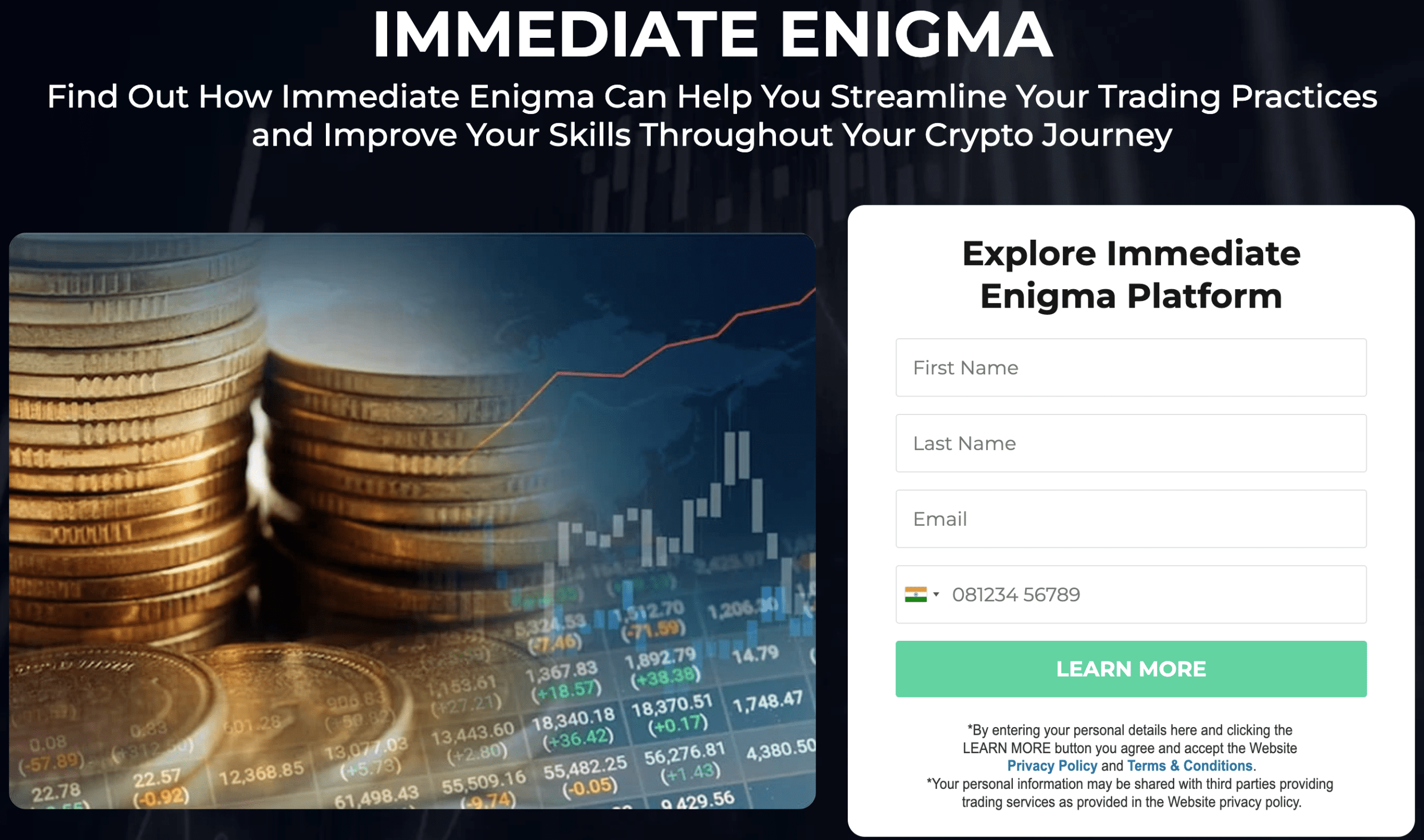 Disclaimer: The text below is an advertorial article that is not part of Cryptonews.com editorial content
Immediate Enigma claims to help investors deal with the enigmatic world of cryptocurrency by streamlining their trading practices and improving their skills. Its info-focused utilities apparently include educational resources that help investors develop better trading strategies.
Are any of these claims true, though? In this Immediate Enigma review we assess the site's legitimacy by reviewing its features.
Immediate Enigma Summary
| | |
| --- | --- |
| Supported Crypto | Multiple cryptocurrencies |
| Accuracy Rate | Not specified |
| Available on Mobile | No Immediate Enigma app |
| Fees | Not mentioned |
| Customer Support | Available 24/7 |
| Withdrawal Speed | Claims to be instant |
| Minimum Deposit | Not mentioned |
Cryptocurrencies are unregulated. Trading with unregulated brokers will not qualify for investor protection.
What is Immediate Enigma?

Immediate Enigma claims to be a user-friendly but comprehensive trading platform designed to provide traders with the educational resources and materials they need to start their crypto journey. The other perks that this site purportedly has are strategy development and charting tools.
People should devise and test diverse strategies, states Immediate Enigma, continuing to state that such an endeavor requires access to multiple tools to understand the market and make informed decisions. For that purpose, the platform supposedly delivers charting tools, market research utilities, and a robust collection of tutorials and updates to always keep investors ready.
The platform states that the tutorials and updates will keep investors in touch with the latest trends, allowing them to evolve their trading strategies per the market's conditions.
With the apparent availability of real-time data, management features, backtesting capabilities, and educational resources, users may have much to go on when venturing into crypto trading for the first time. However, it is important to remember that these features are only accessible after making a minimum deposit, details of which aren't available on the platform.
Also, the demo trading feature that lets one assess these facilities is locked behind the minimum deposit requirement, which makes independent auditing difficult. Fortunately, the platform is supported by a simple sign-up process, and part of the due course is talking to an account manager, who may provide key details like fee and minimum deposit during sign-up.
Immediate Enigma Pros and Cons

Listed below are the pros and cons of Immediate Enigma:
Pros
It is an info-focused platform
Claims to provide constant market updates and news about crypto
Offers educational and information resources
It has a simplified UI
Offers backtesting capabilities
Cons
No information is available about the fee details
Offers no details about the founders
Has no info about the minimum deposit requirement
How Does Immediate Enigma Work?

From its looks, Immediate Enigma feels like a standard trading software with a lot of focus on information. It claims to have a user-friendly and comprehensive approach to trading, providing users with information resources and materials they need to start their crypto journey.
Per the website, this approach gives users a wide view of the cryptocurrency world. Furthermore, the website claims that all the tools available on the platform are optimized for simplicity. It means that users of all levels – whether beginners or veterans – can use this platform with ease.
Once the user is well versed with crypto, thanks to going through the educational materials, they can start using the website. However, there is a demo trading facility available, which means investors can dabble in paper trading before switching to live trading facilities.
Immediate Enigma reportedly also facilitates backtesting facilities. Through it, investors can apparently develop strategies and run them within simulated settings before implementing them in the live markets.
Even though these features sound enticing, we have only been able to go off the content given on the official website to take a look at these facilities. Since a demo trading facility to test the site's features is unavailable without making the minimum deposit, we recommend exercising caution when using this platform. Check out the site thoroughly before starting, and only invest according to your risk tolerance.
Immediate Enigma – Top Features

Immediate Enigma has listed the following as its top available features:
Market Updates
Per the website, users can access multiple educational resources that will give them a bird's eye view of the market conditions. These will apparently give users insights into an asset's current and previous performance. Investors will supposedly be able to assess price fluctuations and make informed investment decisions.
News About Cryptocurrencies
According to Immediate Enigma, users can access regular cryptocurrency updates through price charts and news. The latter is important since crypto assets move on the price charts based on people's sentiments.
Educational and Informational Materials
Immediate Enigma's main purpose is to help traders expand their knowledge about the crypto market. For that purpose, it supposedly offers them tutorials and multiple educational resources. As investors go through these materials, they will likely develop a deeper understanding of the crypto market – per the site's claims.
Partner Broker Guidance
Per the claims, investors will be contacted by a partner broker as soon as they create an account. This broker or "account manager" will help them better understand the available tools.
Real-Time Data
Immediate Enigma reportedly gives users access to real-time data they can use to expand their crypto knowledge. This data includes price fluctuations, which, per the site's claims, investors can mark using charting tools to make better investment decisions.
Management Features
According to the website, users get multiple management tools that allow them to monitor the performance of their favorite crypto.
Backtesting Capabilities
Immediate Enigma claims that it has multiple backtesting facilities that people can use to test trading strategies before implementing them in live markets.
Demo Account
Per the claims, investors can create a demo trading account and engage with paper trading before starting their crypto trading journey.
Cryptocurrencies are unregulated. Trading with unregulated brokers will not qualify for investor protection.
Immediate Enigma Fees

There are no details available regarding the Immediate Enigma fees. However, that doesn't mean that it is a fee-free platform. From the looks of all the tools and educational resources provided, there might be some commission and even transaction fees involved. We recommend talking to the customer support team for details.
Immediate Enigma Minimum Deposit Requirement

It is not clear from the website's content what the minimum requirement of Immediate Enigma is. While it can be in the ballpark of $250 to $300, we have also come across websites with a minimum deposit requirement of $50. Talk to the customer support team for information.
Is Immediate Enigma a Scam?

Immediate Enigma is not an auto trading platform and, therefore, makes no large claims about the win rate. It also doesn't guarantee any profits. All it does advertise is having a comprehensive trading system that makes it simple for all to trade. These facilities are complemented by the available educational resources that the platform claims to turn beginners into savant traders.
However, these are only claims, and there is not much available online to prove the existence of these facilities. This situation is exacerbated by the fact that the demo trading account is locked behind a minimum deposit requirement, and that information is not directly available on the website.
Furthermore, there is also a matter of third-party reviews. Most of them describe it as a crypto trading bot. However, it does not seem to have this feature when considering the content available on the website. Sites like Scamadvisor have also put the site under a red flag, but since there are multiple sites with the same name, it is unlikely that it is talking about the variant of Immediate Enigma that we have reviewed.
On a positive note, the site has a simple sign-up process and is accessible through multiple devices. While this is not enough to put the platform under a "Trusted "category, we recommend doing your own research before using this platform.
Immediate Enigma Customer Support

The official website advertises that customer support is available at Immediate Enigma, but that seems to be accessible only to registered users. As unregistered users, we had access to the Contact Page that didn't give any response once we reached out. For registered users, however, this facility seemingly allows users to reach out to the support team at any time of the day through various means.
How to Use Immediate Enigma?

Provided that Immediate Enigma meets your trading requirements, here are the steps to start your investment journey on this platform:
Step 1 – Create an Account
The first step is to go to the official Immediate Enigma website and start the account creation procedure. Enter your name, email, and phone number to proceed. The account manager (partner broker) will contact you to help you complete the process.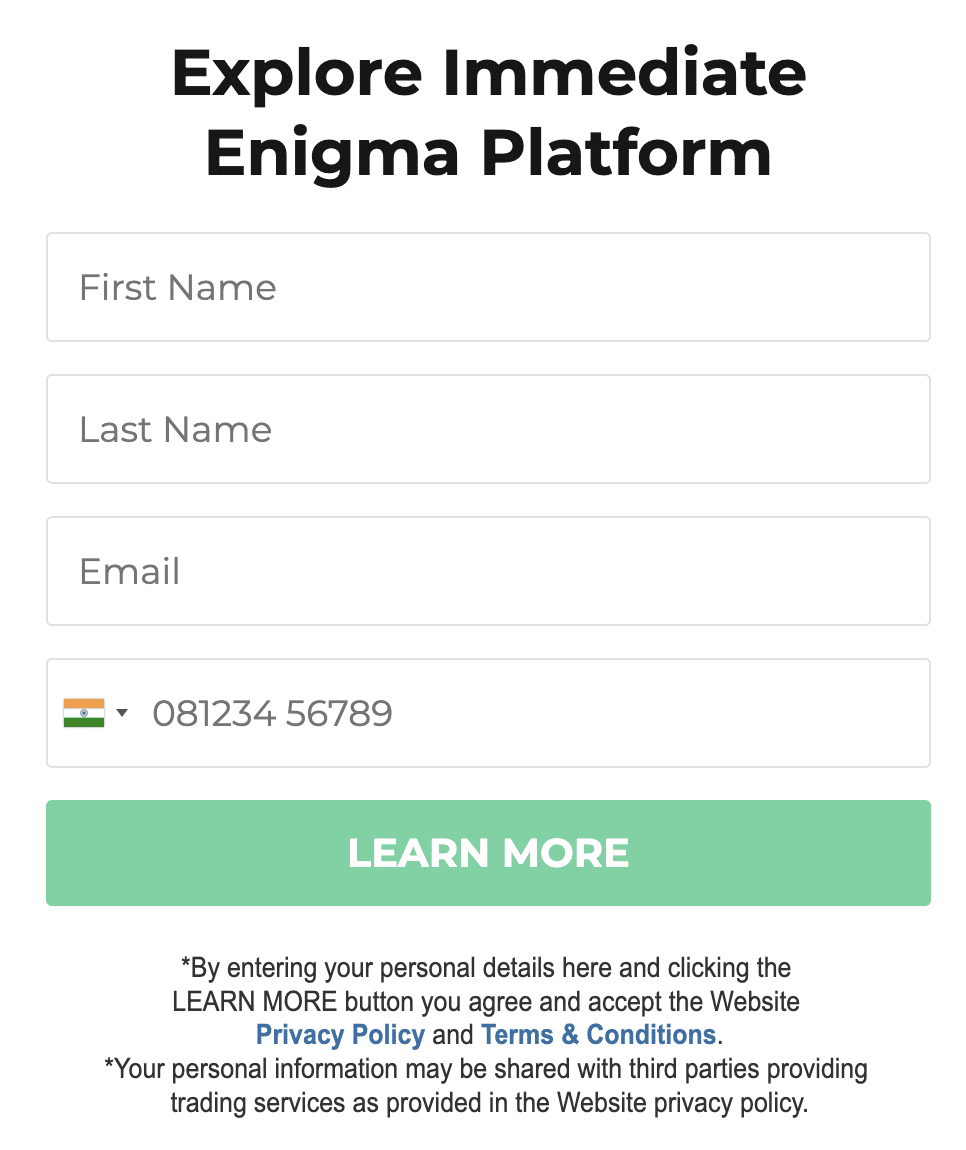 Step 2 – Deposit the Minimum Amount
Inquire about what the minimum amount is and make a deposit using the available payment modes.
Step 3 – Start Trading
Test the site's demo account first to understand how everything works. Switch to live trading only after becoming well-versed in trading the crypto you want to trade.
How to Delete an Immediate Enigma Account?

The process to delete an Immediate Enigma account is not given on the platform. Contact the customer support team to find out about the process. Or, check the dashboard to see if there is a "delete account" option available. Also, we recommend withdrawing the amount before deleting the account, as there is a risk of losing funds during the account deletion process.
Have Celebrities Endorsed Immediate Enigma?

No, there have been no signals to suggest that celebs have endorsed Immediate Enigma. However, some sites claim the same, even naming one version of this platform as "Elon Musk Immediate Enigma". We recommend avoiding such platforms, as these claims are mostly false.
Who is the Founder of Immediate Enigma?

Immediate Enigma has provided no info about its founders. The About Us page tells that the team who created the platform comprised experts, analysts, and crypto enthusiasts. This vague information further continues into how the website was developed. However, there are no names given. The team is likely anonymous. While there is nothing inherently wrong with this, more transparency is needed in a new crypto era that has just started to come out of the crypto winter.
Latest Bitcoin News

These are the latest updates about Bitcoin to keep up with:
Bitcoin is holding strong, just below the $38k mark. This is happening amidst weak stocks and poor macroeconomic conditions in which traditional assets are feeling market pressure.
Cathie Wood of Arc Invest has rallied with Bitcoin as a dual hedge against deflation and inflation.
Crypto presales have started to gain ground in light of renewed interest in the crypto market.
The Verdict

With its education-first approach to trading, Immediate Enigma has a lot of positives that investors can get behind. The abundance of educational resources that Immediate Enigma apparently offers can help investors of all kinds. The issue, however, lies in the lack of information and proof surrounding these features.
Social media does not discuss Immediate Enigma, and multiple third-party reviews talk about their being an AI crypto trading bot. Customer testimonials are nowhere to be found. There are a lot of negative connotations associated with this platform. While these are not enough to mark it as a scam, we recommend being wise when dealing with this crypto trading software.
Cryptocurrencies are unregulated. Trading with unregulated brokers will not qualify for investor protection.
FAQs

What is Immediate Enigma?
Immediate Enigma is a crypto trading software that claims to deliver an info-focused system that investors can use to learn about crypto trading. It reportedly has charting tools and also offers real-time data to users.
Has Elon Musk endorsed Immediate Enigma?
Elon Musk, the Dogefather, is an enigmatic figure in the crypto world. He has always been bullish about Dogecoin, and recently, he has also voiced some support for Bitcoin. However, it is unlikely that he is aware of Immediate Enigma.
---