How to Buy XRP20 - A Beginner's Guide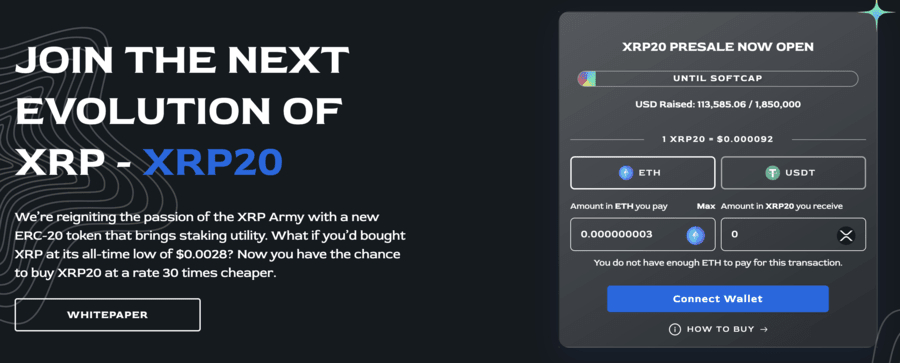 XRP20 ($XRP20) is a new proof of stake (PoS) Ethereum token designed to reflect the philosophy and tokenomics of Ripple (XRP) but with a focus on retail investors.
The project combines some interesting concepts and takes its cue from Ripple, but it should be borne in mind that it is a completely unique project that has no affiliation with the large cap coin.
This guide will outline details about the initiative as well as how to take part in the presale.
What is XRP20?
XRP20 is an ERC20 variation on XRP, Ripple's token. The aim of XRP20 is to take some themes from Ripple, chiefly the tokenomics, and combine it with additional features such as a deflationary token and staking rewards (more on this down below).
One major selling point of XRP20 is that it is available at an extremely low price point, especially in comparison to XRP. The token retails for $0.00009200. This is 30X lower than XRP's all time low of $0.0028. And it's thousands of times cheaper in comparison to the current XRP price of $0.70.
XRP20 hopes to capitalize on the current news surrounding Ripple, through association. Ripple recently won a court case against the Securities and Exchange Commission (SEC). This case has been ongoing for years, and the price of XRP rose by 70% following the result. Large exchanges like Coinbase and Kraken are set to relist the token following the case.
The project draws inspiration from Ripple but makes it more accessible to retail investors. It seeks to create its own "XRP20 army", much like the armies associated with meme coins such as Doge and Shiba Inu. it further offers staking rewards which might serve to garner increased interest in the project.
Staking and Rewards
One differentiator between XRP and XRP20 is that the latter offers staking rewards within a deflationary ecosystem. There is a total of 100 billion $XRP20 of which 40% (40 billion) are available in the presale. Another 40% (40 billion) are dedicated to staking rewards. 10% (10 billion) will be permanently removed from circulation through a burn mechanism. Finally, 10% (10 billion) will be allocated towards DEX liquidity.
After the DEX launch, one of the core initiatives is the implementation of a token burning mechanism. XRP20 is deflationary in nature, whereby a buy/burn formula automatically sends a percentage (0.1%) to a specific address. Over time, the total amount of tokens is reduced, and the value of each token should increase, if all other market conditions remain equal.
All project participants can benefit from staking rewards, though the specifics have yet to be disclosed in detail. Staking can help to knit the community more tightly together as it gives people an incentive to stay with the platform for the long term. It's also a way of rewarding people for their time and attention. If multiple people are staking their coins, it results in increased price stability, which benefits the wider ecosystem.
XRP20's Roadmap and Future Use Cases
The XRP20 roadmap unfolds in four stages. The first stage relates to the presale and token distribution. The presale will be an opportunity to establish a strong and engaged community around XRP20.
The second stage relates to marketing and awareness. The emphasis here will be on the accessibility and usability of XRP20, placing an emphasis on the value proposition of being able to gain access to the "second coming of XRP". The focus will also be on being able to stake it for the long term in order to derive increased rewards.
After the launch, the token burning mechanism will take place during stage three. Details on this have not been disclosed as of yet, apart from the fact that 0.1% of each transaction goes to a burn address and that 10% of the supply goes towards a burn allocation.
The final stage refers to the post launch community staking and details about this have also yet to be finalized. However, staking rewards are there to encourage long term investment and price stability. There are no set dates for each phase of the roadmap.
For the latest updates, follow the team on Twitter or Telegram.
Alternatively, for a thorough price forecast interested buyers can read our XRP20 price prediction.
How to Buy $XRP20 Token - Detailed Guide
Failing to invest in tokens and then seeing them appreciate sharply in value is not a nice feeling, for anybody.
XRP20 offers retail investors an additional opportunity to invest early, even if it is simply a Ripple themed token.
Here's how to get involved.
Step 1 - Set Up Your Wallet
When you visit the presale page, you will find the acceptable Web3 wallets. You will need MetaMask or Wallet Connect in order to take part in this presale. You can download these wallets from the official page.
Make sure you double check the HTTPS certification and that it is the official version.
Step 2 - Buy Crypto
You'll also need crypto to take part in the XRP20 presale. The cryptos you need to finalize the transaction are USDT and ETH. Remember to have some extra ETH to pay for network fees.
You can purchase crypto on many major exchanges, where it will be sent to your ETH or USDT address in your Web3 wallet (MetaMask or Wallet Connect). Popular centralized exchanges include Kraken, Coinbase, Bitfinix, and Binance.
Step 3 - Connect Your Wallet
This is a simple step. On the presale page, you will find a button usually listed as "connect wallet". This is where you link your Wallet Connect or MetaMask with the presale page. This indicates where the tokens are supposed to be sent upon transaction completion.
Step 4 - Buy Your $XRP20
After you have connected your wallet, specify how much you would like to purchase. This is a very quick step considering the speed of crypto transactions. Just be sure to double check how much you are looking for, as it's easy to make mistakes when working with smaller figures and many decimal places.
Step 5 - Claim $XRP20 Tokens
You can claim your tokens when the presale is complete and they become available. All presale participants must claim their tokens from the website using the same wallet they used to contribute. Claiming will be at the same time as the DEX listing.
Conclusion
Considering XRP's maximum increase of 137,000%, $XRP20 has the potential to provide very high gains for early buyers. It is easier to store, trade, and track as compared to $XRP, due to being built on the Ethereum blockchain.
$XRP20 has a stake to earn mechanism offering benefits to long-term holders and 10% of the token supply will be burnt, increasing scarcity. It could also benefit from Ripple's trending legal news.
Just make sure to read the project in detail and to take note of the fact that you are not actually investing in Ripple. XRP20 is a speculative asset and the price can fluctuate. Once you understand the risks and rewards, you can make more intelligent investment decisions.
References
FAQs
What is XRP20?
XRP20 is a token aimed at retail investors who might feel they missed out in terms of earlier tokens. Retail investors were not allowed access to Ripples' initial ICO. So one of the selling points of XRP20 is that it creates a new movement to allow people back into an early stage crypto, fostering a community spirit. Of course, it is not the actual Ripple token but a Ripple-themed token, which needs to be considered before investment.
What are the main benefits of XRP20?
Aside from the possible correlation with Ripple which is trending in the news, XRP20 fosters a community spirit, and we have seen how movements such as Shiba Inu and Doge blew up solely due to this community empowerment. Moreover, it is a deflationary environment that can result in token scarcity and price increases. Finally, it has a staking mechanism that could help to assist with long term price stability and increased investor interest.
Are there dangers associated with XRP20?
All investments carry risk, and it is possible to lose the entirety of your investment by taking part in new presales. This is stated emphatically in the website and whitepaper disclaimers. You should read up on the project beforehand and take note of the fact that the majority of investments do not yield a short term return.
Disclaimer: The Industry Talk section features insights from crypto industry players and is not a part of the editorial content of Cryptonews.com.
---