How to Buy Bitcoin with Credit Card in Canada
The text below is an advertorial article that was not written by Cryptonews.com journalists.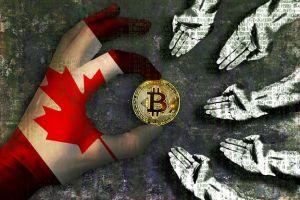 We've all been there.
Bitcoin price is moving, you're in a hurry, and want to get your fair share of first-ever absolute digital scarcity.
How can you go about it?
A credit card purchase is one of the fastest and most convenient ways of buying bitcoin. Though it may come with somewhat higher fees compared with a regular transfer or exchange, the benefits often outweigh them, as buying bitcoin with a credit card is much faster and extremely convenient. So how can you buy bitcoin in Canada in the most frictionless, convenient, and cost-efficient way?
MyBTC.ca is one of the top options if you're looking to buy bitcoin in Canada with a credit card (or other methods). It is a Bitcoin-only platform geared towards new Canadians looking to invest or trade Bitcoin (BTC). It is an extremely intuitive and user-friendly platform and makes buying bitcoin so simple that even your grandma could do it.
According to Duane Seamans, MyBTC.ca CEO:
"The ubiquitous and instantaneous nature of credit card acceptance make them a natural fit for buying cryptocurrency on demand."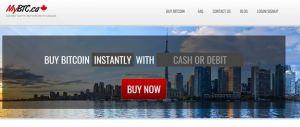 Besides, MyBTC.ca is regulated by The Financial Transaction and Reports Analysis Centre of Canada (FINTRAC) and is registered as a Money Services Business (license no. M20844324). Complying with these regulations ensures that you're buying bitcoin via a legitimate and trustworthy business that does not engage in fraudulent operations.
Here is how to buy bitcoin with a credit card using MyBTC.ca:
Go to MyBTC.ca.
Register your phone number, email, and verify your identity. MyBTC.ca uses a streamlined know-your-customer (KYC) process, meaning that registration takes only a few minutes.
Go to the "Buy Bitcoin" page and choose "buy bitcoin with credit card" or one of the alternative purchase methods.
Enter your bitcoin wallet address. If you don't have a bitcoin wallet, we recommend setting up a Guarda wallet either on your phone, computer, or web browser. For storing bitcoin amounts above CAD 1000 or more, we recommend getting a cryptocurrency hardware wallet like Ledger or Trezor. MyBTC.ca is a non-custodial platform and does not offer digital wallet service, meaning that you have to safeguard your own private keys.
Complete the payment via credit card or the alternative payment method.
Receive bitcoin (BTC) directly into your wallet.
Congratulations - you've just bought bitcoin with your credit card in Canada. In case you need assistance with your purchase, be sure to contact MyBTC's 24/7 customer support desk via MyBTC.ca website or email: [email protected].
Once you set up an account with MyBTC.ca, you will be able to use it for recurring purchases. Asides from the credit card, MyBTC.ca enables you to buy Bitcoin in Canada using five other payment methods, including:
• Interac Online
• Interac E-Transfer
• Bank wire
• Cash deposit at Canada Post
• Flexepin voucher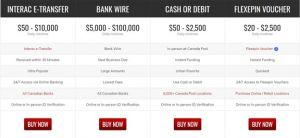 MyBTC.ca offers Canadians a quick and convenient way to buy bitcoin with a credit card in Canada. The platform transfers bitcoin directly into your private wallet, thus granting you full control of your coins and private keys. As such, it is safe to say that MyBTC.ca is one of the most convenient and secure platforms for anyone looking to buy bitcoin with a credit card (and other methods) in Canada.