MyBTC.ca Review
If you're looking for a way to buy Bitcoin in Canada, look no further - MyBTC is an exclusively Canadian cryptocurrency exchange that facilitates quick Bitcoin (BTC) purchases at affordable fees. As a non-custodial platform, it transfers BTC directly to your private wallet, meaning that the exchange has minimal counterparty risk and leaves you in charge of your own private keys. Supported payment methods include Interac E-Transfer, credit and debit cards, bank wire, cash deposit, Flexepin vouchers, and more. The service is very user-friendly and easy to use, however, this convenience comes with somewhat higher transaction costs.
General info
| | |
| --- | --- |
| Web address: | MyBTC.ca |
| Support contact: | Link |
| Main location: | Toronto, Canada |
| Daily volume: | 0.0 BTC |
| Mobile app available: | No |
| Is decentralized: | No |
| | |
| --- | --- |
| Parent Company: | MyBTC.ca |
| Transfer types: | Bank Transfer, Credit Card, Debit Card, |
| Supported fiat: | CAD |
| Supported pairs: | 1 |
| Has token: | - |
| Fees: | High (Compare rates) |
Pros & Cons
Buy bitcoin in seconds with CAD Beginner-friendly service Around the clock customer support Transparent fee structure
Bitcoin-only service No selling or trading options Canadian-only service Mandatory KYC
MyBTC Review: Key features
Launched in 2016, MyBTC.ca is one of the leading Canadian fiat-to-crypto brokers that lets you buy bitcoin in a quick and convenient manner. The service is very easy to use and guides the user through the entire process of purchase, meaning that it is suitable even for non-tech savvy newbies who are interested in acquiring some bitcoin (BTC) cryptocurrency.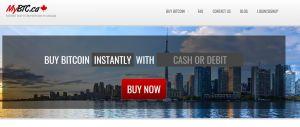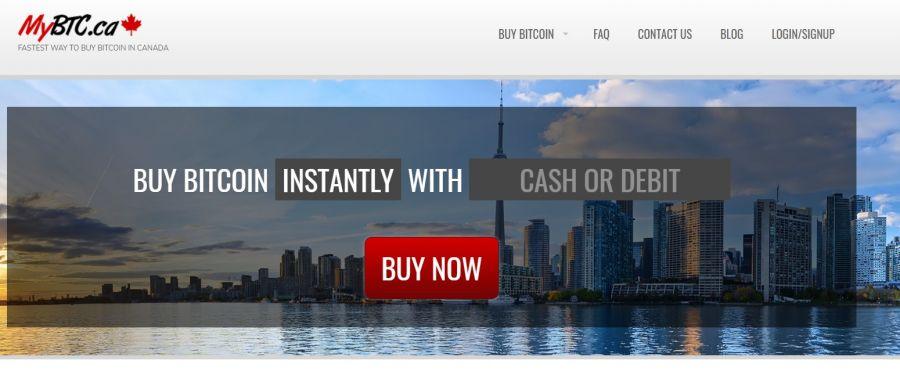 MyBTC stands out due to the following features:
Buy bitcoin instantly using six payment methods. Canadians can buy bitcoin via Interact Online and E-Transfer, bank wire, credit or debit card, cash deposit at Canada Post, and Flexepin vouchers.
Non-custodial platform. MyBTC.ca transfers bitcoin directly to your private wallet, meaning that there's little to none counterparty risk as the platform can't lose your funds.
Fast verification. All MyBTC users must pass know your customer (KYC) check before making their first purchase.
User-friendly exchange. The platform guides you through the entire purchase process and makes sure that the customer support is available for you at all times.
100% Canadian platform. MyBTC.ca serves Canadian clients only. Likewise, it only accepts deposits in Canadian Dollars (CAD), too.
In brief, MyBTC.ca offers an easy and convenient way to buy bitcoin in Canada. Though it does not offer the lowest fees in the industry, it provides a simple, clear, and easy to use way to get Bitcoins even for new and non-techy traders and individuals.


History of the exchange
Created and launched in 2016, MyBTC has become one of the better-known places for buying bitcoin in Canada. The platform's founder and CEO, Duane Seamans, is said to have been involved in the Bitcoin space since 2014.
Since day one, we've been committed to servicing Canadian Bitcoiners with fast and frictionless payment methods — catering to consumers who like the security of funding with the traditional banking network and also those who prefer otherwise, says Duane Seamans, CEO at MyBTC.ca.
Since its launch, MyBTC.ca managed to become a trusted broker and ink deals with Interac, Flexepin, and Canada Post to facilitate their operations. Alongside that, the company has a stable banking relationship with a Canadian financial institution, meaning that their funds are insured and kept safely.
The company's mailing address is located at 260 Adelaide St E #206, Toronto, ON M5A 1N1, Ontario, Canada. However, as its website explains, there are neither employees nor any business operations present at this address.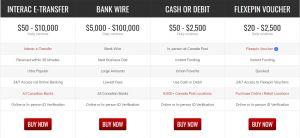 MyBTC is regulated by The Financial Transaction and Reports Analysis Centre of Canada (FINTRAC), which is the country's anti-money laundering (AML) and counter-terrorist financing (CTF) intelligence unit and regulator. As a business dealing in virtual currency, it counts as a Money Services Business (MSB) and has an issued MSB license no. M20844324, which can be verified at the regulator's public registry.
MyBTC.ca is purely a Canadian exchange. If you want to open an account with MyBTC.ca, you need to be at least 18 years old resident or citizen in Canada. In order to use the exchange, you need to verify your identity and personal information.
MyBTC verification
MyBTC is a regulated crypto broker. As such, you must pass the identity verification procedure (KYC) before getting your hands on some bitcoin via their platform. It can be done in two ways - online and offline.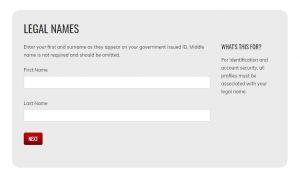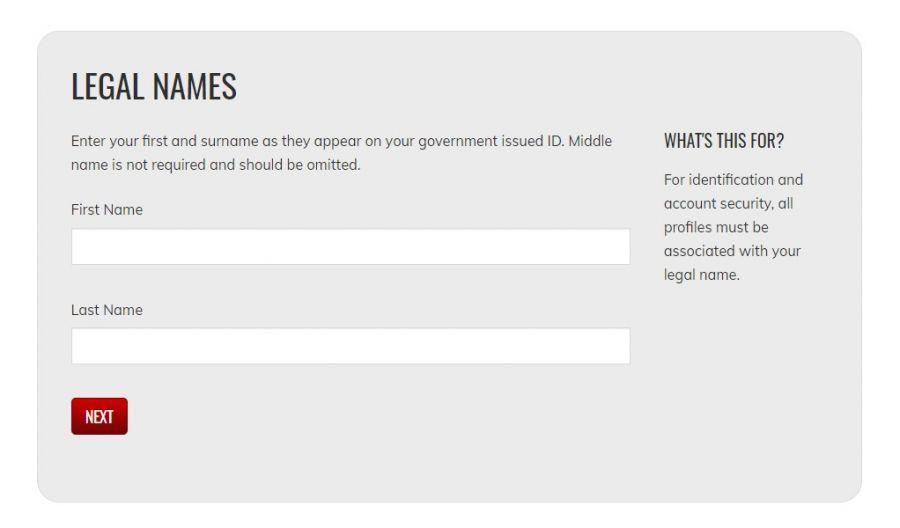 To verify your identity online, MyBTC will ask you the following information during the sign-up process:
Proof of identity. A picture of a government-issued ID or passport
Proof of liveness. A picture of yourself holding your ID with a paper reading "MyBTC.ca ID verification for Bitcoin purchase" and current date.
Proof of address. A copy of utility, phone, or internet bill with your current address on it (not older than three months).
Financial information. A recent copy of a loan, credit card statement, or a bank statement.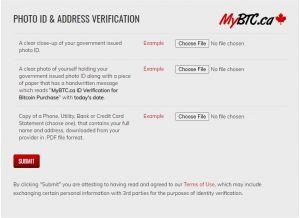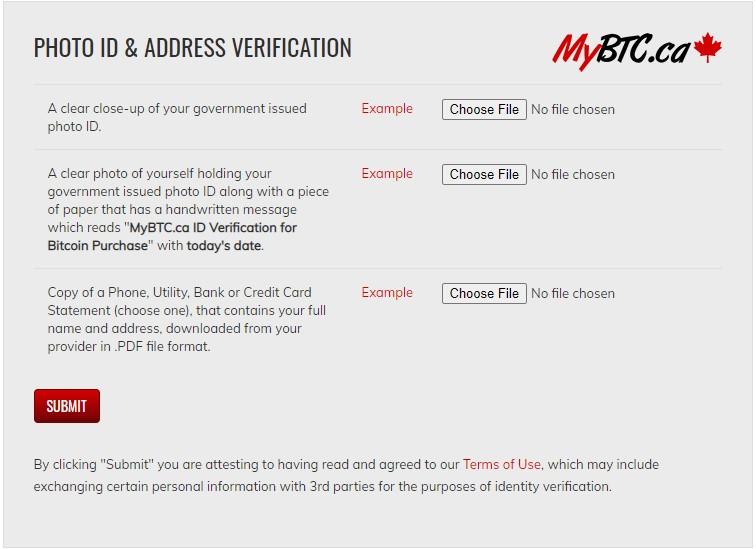 If you're going for an offline verification, you can do so at a local Canada Post. In this case, make sure to bring along the following documents:
A valid government-issued ID or passport
MyBTC.ca profile information
A unique barcode sent to your home address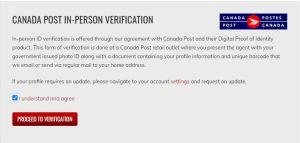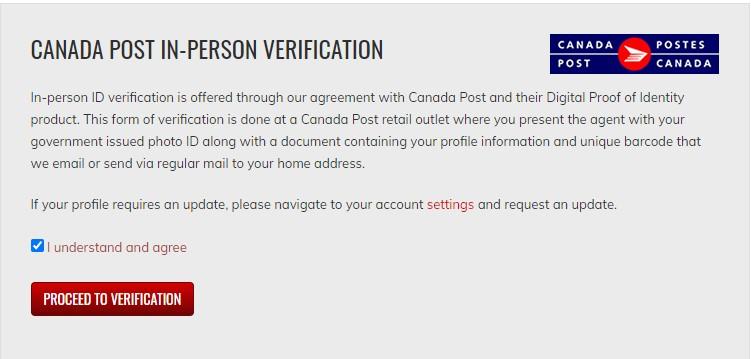 If your utility bills are issued in landlords, parents, or partner's name, you should reach out to the customer support for an alternative onboarding procedure.
MyBTC.ca fees and limits
MyBTC has a transparent and straightforward fee structure. The service does not charge fees deposits or withdrawals, and the fees and limits depend on your preferred purchase method.
| Method | Limits | Fee | Timeframe |
| --- | --- | --- | --- |
| Interac e-Transfer | CAD 50 - $10,000 | 7.75% (CAD 10 min.) | Received within 30 Minutes |
| Bank Wire | CAD 5,000- 100,000 | 4.75% | Next Business Day |
| Credit Card | CAD 75 - 25,000 | ~9.75% | Processed Immediately |
| Cash or Debit Card | CAD 50 - 2,500 | 7.75% (CAD 5min.) | Instant Funding |
| Flexepin Voucher | CAD 20 - 2,500 | 7.75% (CAD 5min.) | Instant Funding |
| Interac Online | CAD 20 - 1,000 | 7.75% (CAD 5min.) | Instant Funding |
As you can see, the cheapest way to get BTC via MyBTC.ca is by using a wire transfer. However, the minimum purchase amount via bank wire is at least CAD 5,000. There is no significant difference which payment method you're using for smaller purchases, as fees for Interac transfers, as well as other payment methods, are more or less the same.
Aside from that, you should also pay attention to its Bitcoin transaction fees. For fast transactions and quick confirmation times, MyBTC uses higher fees than necessary, which means that purchases below CAD 100 incur an additional CAD 1 fee. Purchases above CAD 100 do not incur the extra network fee, as the exchange covers it.
| Method | Limits | Fee | Timeframe |
| --- | --- | --- | --- |
| BTC Order | > CAD 100 - 100,000 | Free | Immediately |
| BTC Order | CAD 20 - 100 | CAD | Immediately |
Compared with other exchanges, MyBTC services come with a certain premium. Although you will pay similar or even higher percentages per transaction at most competing instant-exchanges, including Switchere, Changelly, and ChangeNow, there are some centralized exchanges like Coinbase or BitBuy that offer lower BTC purchase rates, though they might not be as convenient or easy to use as MyBTC.ca.
Exchange's security measures
MyBTC.ca is a secure and regulated exchange. Due to its non-custodial nature, the exchange does not keep user funds in their own digital wallet, which makes it an unattractive target for hackers. As such, the exchange has no recorded security incidents to date. Besides, it is regulated by FINTRAC, meaning that it is a secure and reliable exchange.
In fact, MyBTC.ca sends your Bitcoin directly to your private wallet, which means that you should get one prior to using the service. If you don't have a Bitcoin wallet yet, there are many secure yet different options. Please use this Bitcoin.org helper to find a Bitcoin wallet that suits your needs best. For ultimate security (or storing more than USD 1,000 worth of Bitcoin) we recommend getting a hardware wallet by Ledger or Trezor.
In terms of general security, MyBTC service runs on hardware secured by one of the most secure cloud service providers, all communications are encrypted with SSL, and the service doesn't store your credit card or banking information.
On the user side of things, you can secure your account with two-factor authentication (2FA). Besides, your MyBTC account is connected to your phone number and email, which makes it more difficult for someone else to access your trading history.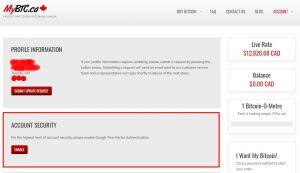 Looking at online reviews, we can see that MyBTC.ca has a solid user rating. Per TrustPilot, it is rated 4.8/5 by 111 users. On BitTrust, MyBTC is rated 4.66/5 based on 65 reviews. On Google, 98 users rated MyBTC.ca 4.8/5 rating. Based solely on these ratings, it can be said that most of MyBTC's users were happy with the service.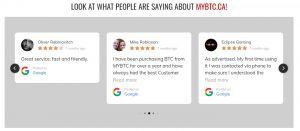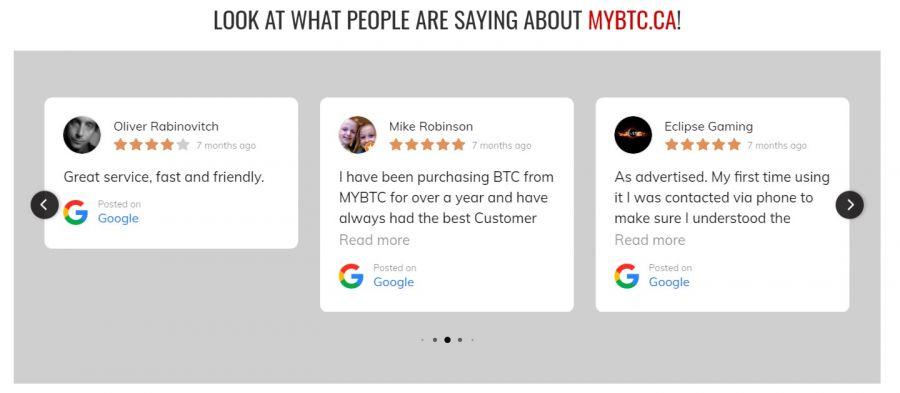 Design and usability
MyBTC.ca is a very simple platform that guides users through the entire purchasing process. It means that you don't have to have any experience to use the service, as MyBTC is designed to be newbie-friendly.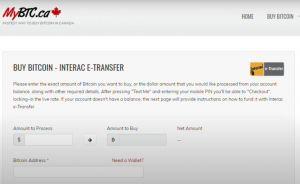 Basically, you can register, verify your identity, and buy bitcoins in minutes. There are no complicated trading charts or dashboards, making it a nice and pleasant experience.
To buy bitcoins with MyBTC.ca, you need to:
Go to MyBTC.ca homepage or "Buy Bitcoin" page.
Prior to initiating a purchase, you will be asked to register your Canadian phone number, email, and verify your identity.
Enter the amount of bitcoin you want to buy or the amount of CAD you're willing to spend.
Enter your bitcoin wallet address.
Buy bitcoin directly into your private wallet.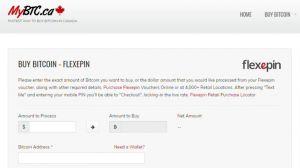 Once your payment is sent, you will receive bitcoin into your wallet in a specified period.
This it! As you can see, using MyBTC is as easy as pie. Enjoy your bitcoin!
Unfortunately, MyBTC.ca does not provide a way to sell your trade your bitcoins yet. The platform is strictly bitcoin-only service, meaning that you won't be able to purchase or sell other altcoins. Besides, MyBTC does not have a mobile app, so the only way to access the service is via a web browser.
Customer support
MyBTC.ca has an excellent 24/7 customer support team that is accessible via a number of channels. Besides, you can check its comprehensive FAQ page, which should answer most of your questions.
In case you need further assistance, you can contact MyBTC's customer support team via the following channels:
The contact form on the website.
Email:

[email protected]

Live chat feature on Facebook
Via Twitter messages or tweets
The support is typically quick to respond, so you should receive an answer to your query within an hour or so.
Deposit and withdrawal methods
MyBTC.ca is a bitcoin-only broker that does not support any selling or trading options. For this reason, it supports fiat deposits and bitcoin withdrawals only and both of them are performed during the same transaction.

Currently, MyBTC supports sIx different ways to buy bitcoin with Canadian Dollars (CAD):
INTERAC E-TRANSFER. You can purchase between CAD 50 and CAD 10,000 via all Canadian banks with a fee of 7.75% (minimum CAD 10) and receive your bitcoin within 30 minutes.
Interac Online. Buy CAD 20 to CAD 1,000 worth of bitcoin with a 7.75% transaction fee (or a minimum of CAD 5) and get instant funding to your account.
Bank Wire transfer. The cheapest but also the slowest way to make a purchase via this broker. Buy between CAD 5,000 and CAD 100,000 with a 4.75% fee using all Canadian banks and receive your BTC next business day.
Credit or debit card. The most expensive but also the quickest way to get BTC via the MyBTC platform. You can acquire between CAD 75 and CAD 25,000, and your payment will be processed immediately. However, you will pay up to 9.75% commission.
Cash or debit at Canada Post. Use cash or your debit card to buy from CAD 50 to CAD 2,500 worth of BTC with 7.75% (or minimum CAD 5) and receive instant funding to your account in more than 6000 Canada Post locations.
Flexepin Voucher. Another popular way to fund your Bitcoin purchase. Get Flexepin voucher online or at certain retail locations and use it to buy between CAD 20 and CAD 1,000 in bitcoin with a 7.75% transaction fee (or min. CAD 5) and receive BTC almost instantly.
Mind that you should only make deposits or transactions from accounts with your own name.
As you purchase cryptocurrency directly to your private wallet, there is no need to make a separate withdrawal from the platform. MyBTC.ca leaves you in charge of your own private keys, which makes it a secure non-custodial broker.
Conclusion
MyBTC is a great non-custodial fiat-to-crypto gateway for Canadians that offers lower fees compared with other instant-exchanges. It is super easy and convenient to use, even though you have to verify your identity. Security-wise, it is more secure than centralized exchanges, though you will have to set up your own private wallet in order to use the service.