Hot Meme Coin Burn Kenny Price Pumps 1.5x at Launch, 3-Day 30% Supply Burn Starts and Alpha Calls Kick In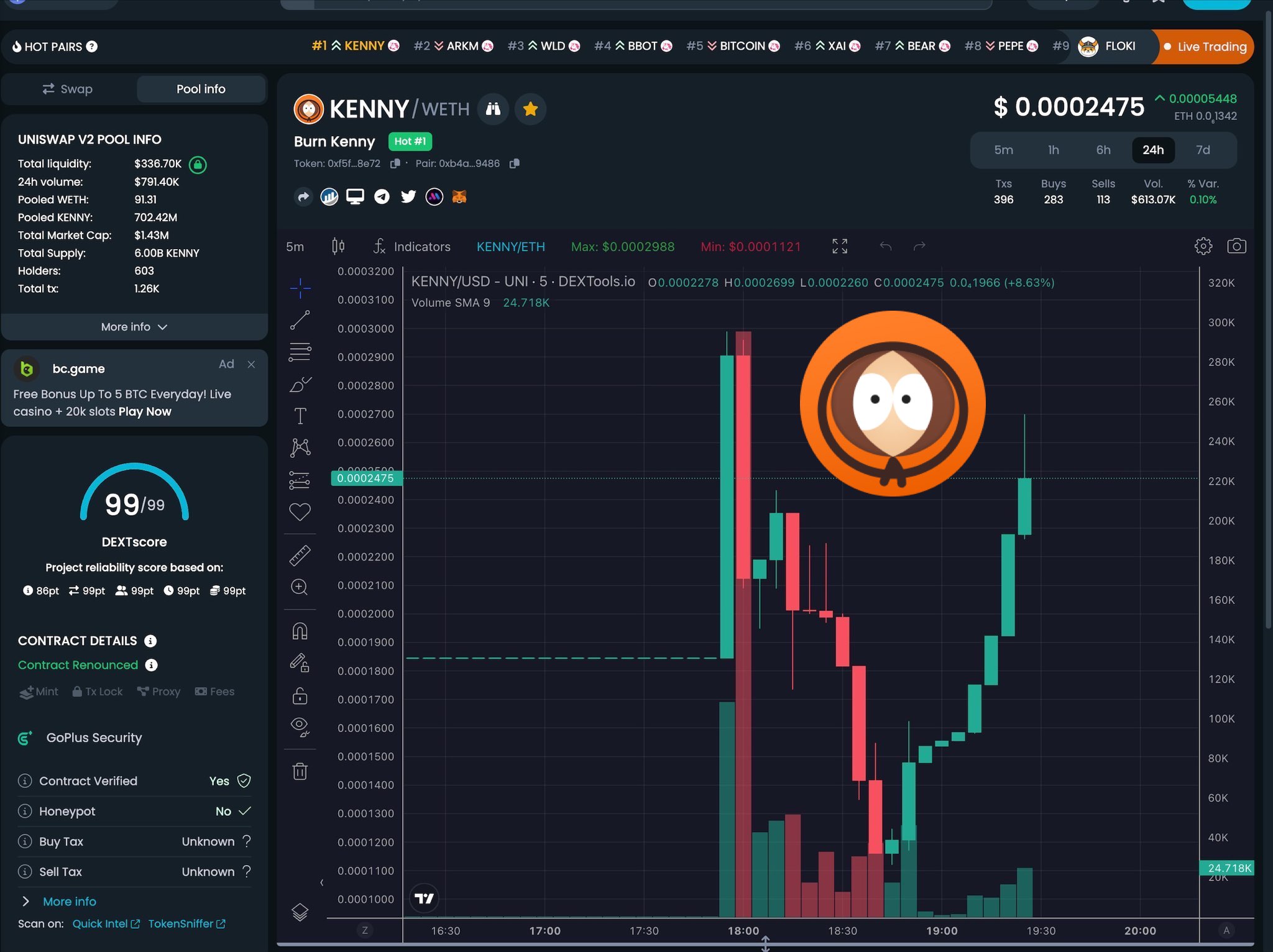 South Park-inspired meme coin Burn Kenny saw its token price soar 1.5x on launch day before finding a near-term bottom, and is now consolidating as it gears up for more advances.
Presale buyers of the coin were sitting on initial gains of 60%, having bought the coin for $0.0001875 to see it touch $0.0002987 for its intraday high.
10% of $KENNY token supply burnt and more to come in coming days
However, bullish sentiment continues to surround the coin because of its burn schedule over the next three days, in which 10% of the total supply is removed daily.
Today's Burn Kenny token burn has already taken place, which saw 666,666,666 removed from circulation.

With two more burns due to take place over the next couple of days, buyers continue to be attracted to the coin.
Burn Kenny coin trending at No.1 on DEXtools
The viral success of the Burn Kenny coin launch is perhaps a testament to the pulling power of the South Park brand, but also the clever token design and savvy marketing of the team.
Kenny is one of the lead protagonists in the South Park cartoon comedy, much loved for its irreverence and also for its running gag in which Kenny dies at the hands of 'those bastards' every episode.
Signs of the coin's growing popularity are evident as $KENNY is trending at No.1 on DEXtools, the premier site for keeping tabs on new decentralized exchange (DEX) listings.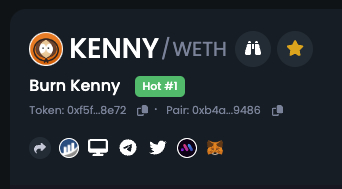 Further buttressing the positive sentiment are alpha calls starting to come in for the coin.
Telegram-based alpha call group Crypto Whale Pumps with more than 22,200 members scored another win after tipping $KENNY to pump at launch.
In its commentary on the early price action, its analyst says there's still money to be made:
It didn't drop below presale price for 30 minutes - plenty of opportunity to take first profit or exit without loss Early sellers were shaken out while the team worked to get 99/99 Dex score, Hot Pairs and trending on Dextools. Back in profit again (as expected) and another opportunity to make money.
There are plenty of reasons to support the contention of the folks at Crypto Whale Pumps.
The team at $KENNY seems to know what they are doing on the marketing front, hence the coin started trending at no.1 on DEXtools about an hour into trading.
What's more, the $330k liquidity has been locked for three months and there is no tax on transactions or blacklisting functions in the smart contract code for buyers to worry about.
$KENNY price set to gain another 2x
Burn Kenny's token price is consolidating at the $0.00021-22 level as it builds up energy for the next push higher.
Trading volume is almost at $1 million and there are 700 token holders at the time of writing – respectable numbers at this early stage of the lifecycle.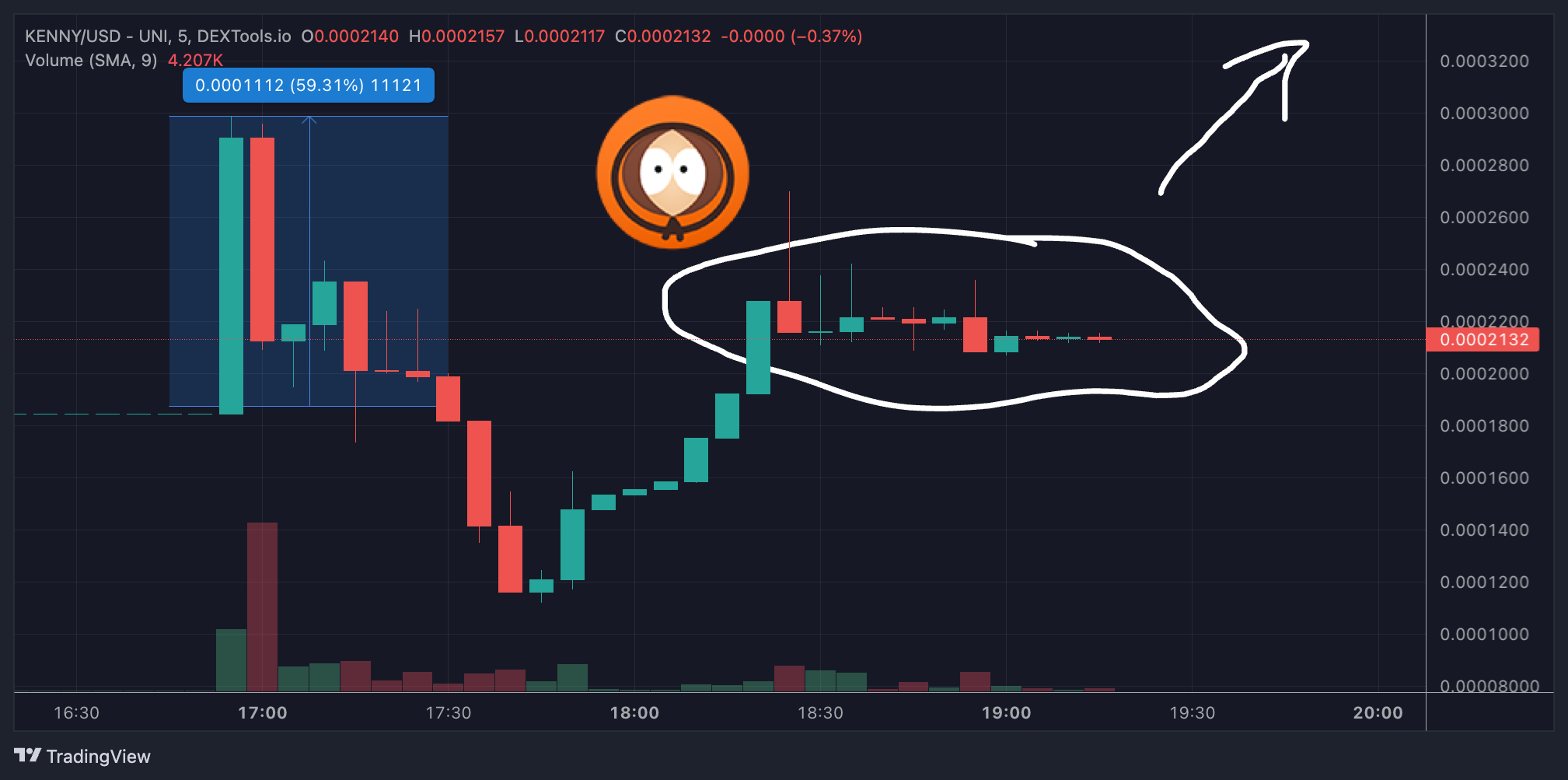 Burn Kenny's launch day performance is even more remarkable coming as it does against the background of Bitcoin falling to $29,100 and the launch of the much-heralded Worldcoin from OpenAI co-founder Sam Altman.

Despite all of that market noise, Burn Kenny got a hearing, and will no doubt be building on that strong platform going into the week ahead.
Crypto traders on Twitter are also getting in on the action. Here's the word from Rain NFT, in a tweet to his 119k followers:
Burn Kenny price could 2x from its current level to target $0.00045.
Disclaimer: Crypto is a high-risk asset class. This article is provided for informational purposes and does not constitute investment advice. You could lose all of your capital.
---