HedgeUp's Projected Record Breaking Growth Propels It Ahead Of Aptos And Neo
Disclaimer: The text below is an advertorial article that is not part of Cryptonews.com editorial content.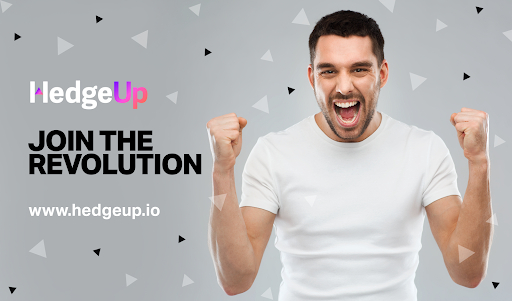 HedgeUp, with its native crypto HDUP, is a groundbreaking digital asset platform that is all set to make big waves in the blockchain industry. It is a much needed wave owing to the destruction caused by growing volatility and inflation in 2022. In light of this, we're going to talk about how HedgeUp can help investors diversify their asset portfolios by investing in real-world alternative assets via blockchain. In addition, we are also going to discuss how other altcoins, such as Aptos and Neo will disrupt the 2023 crypto marketplace, potentially surpassing many popular and renowned projects.
The Power of HedgeUp to Fight Volatility
While 2023 does look sunny compared to the inflation-ridden market of yesteryear, the effects of bearish trends do still seem to linger. This is why it is important to invest in something that offers stability. This is essentially where HedgeUp comes into play. HDUP is the only crypto in the world that gives investors a chance to inject capital into alternative assets.
You see, by giving you fractional ownership in NFTs, HedgeUp offers higher returns on investment through capital appreciation. The platform offers several real-world traditional assets users can invest in, such as precious commodities such as diamonds and gold, luxury watches, private jets, rare wines, fine arts, and more.
What's incredible about this is that previously, only top-notch and high-net investors and individuals could access such precious assets. But not anymore. Thanks to HedgeUp, virtually anybody can invest in these assets via HDUP! Better yet, you can start investing with $1!
Why You Should Give Aptos a Shot
If you're looking to diversify your crypto portfolio or simply want to invest in something different but equally lucrative, Aptos is a pretty good considering. While crypto is still in the planning phase, it has already become popular thanks to its scalability, security, and other unique features and options.
In addition, one of the main reasons why investors are putting money in Aptos is that the company is a continuation of a separate project that was started by Meta (Facebook). The Aptos team comprises several experts and highly experienced developers.
Why NEO is Gaining Popularity
Neo is a Chinese blockchain platform that the country's stringent regulators have given the green light. The platform aims to overcome several glaring challenges and complications in the Chinese blockchain stratosphere. In addition, Neo is also looking to become a powerful and more scalable alternative to blockchain networks such as Ethereum.
Another interesting thing about Neo is that the platform allows its developers to custom-design the required level of centralization or decentralization based on each use case of the platform. Similarly, Neo developers will also have the autonomy to make similar customizations based on the overall level of off-chain as well as on-chain platform governance.
Bottom Line
There's no question that the digital asset market is rapidly changing, bringing in more innovation and technological advancement. This makes it possible for newer and better projects to rank higher on the best altcoin ladder. So, it doesn't get any better if you're looking to earn higher returns without exposing yourself to volatility or unnecessary risks than HedgeUp's alternative investment platform.
For more information on HedgeUP click the links below:
Presale Sign Up: https://app.hedgeup.io/sign-up
Official Website: https://hedgeup.io
Community Links: https://linktr.ee/hedgeupofficial
---