Green Crypto Ecoterra Raises $2 Million in 3 Weeks – Secure Your Spot Now Before Price Rise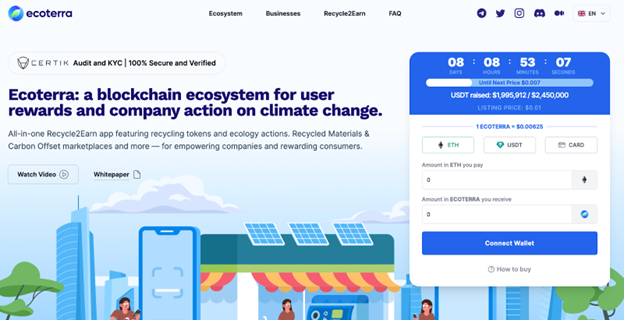 Thursday April 20th 2023 – Ecoterra, a unique blockchain-based recycle2earn app, has surpassed the $2 million mark in its presale, attracting eager investors looking to capitalize on the growing demand for sustainable cryptocurrencies.
Prospective investors who want to benefit from the current low price will need to expedite their decision-making or miss their opportunity.
There are eight days left in the current Stage 4 of the presale. But this stage will sell out well before then as there is only $450,000 to go.
Ecoterra has been selling at a rate that averages around $200,000 per day, so Stage 4 may sell out over the weekend.
This means there is a narrowing window of opportunity to secure the current low price. Would-be investors must move fast to secure the Stage 4 $ECOTERRA token price of $0.0065.
When Stage 5 arrives, the token price jumps from $0.00625 to $0.0070 – a 12% increase.
Experts Anticipate High Returns for Investors as Presale End Nears
The fundraising run rate continues to gather pace as the presale rolls on, with experts predicting large returns on investment for early buyers of the $ECOTERRA token.
Such is the success of the presale it could be sold out by the end of April, so there really is no time to lose.
To buy $ECOTERRA tokens investors must have ETH or the Tether stablecoin (USDT). Those unfamiliar with crypto can purchase with normal 'fiat' money using a card.
After the presale ends $ECOTERRA will list on exchanges at $0.01 – 150% above the Stage 1 price of $0.004 and 60% above the current Stage 4 price.
Ecoterra Gains Traction Among Traders and Environmentally Conscious Investors
Ecoterra's ambitious recycle2earn app has caught the attention of crypto enthusiasts and eco-conscious investors alike.
Recycling is an ecological necessity and a business opportunity as humanity seeks to mitigate the impact of climate change and environmental degradation.
To help to achieve those ends, ecoterra is building a rewards system for recyclers and a system to incentivize ecology action activities that improve our environment.
Ecoterra's recycle2earn app is the most important part of the ecosystem. The smartphone app enables users to access the three main planks of the platform: the recycled materials and carbon offset marketplaces and the impact profile where ecology actions can be tracked.
CEO Mihai Ciutureanu on Ecoterra's Filtering System for Recyclable Materials Marketplace
In a recent AMA on Coinsniper, ecoterra CEO Mihai Ciutureanu, explained to his audience some of the design decisions behind ecoterra, how it will work and what investors' funds will be used for.
The CEO provided some more detail about the recycled materials marketplace.
"The Recycled Materials Marketplace serves as a platform that connects companies in need of recycled materials with recycling businesses offering those resources," Ciutureanu explained.
"Utilizing an advanced filtering system, the marketplace ensures that the materials listed align with the specific demands of buyers
"Payments can be made with $ECOTERRA tokens or other cryptocurrencies, and the purchase history can be integrated into a company's trackable profile for greater transparency."
He also explained why the team is using the Ethereum blockchain. "We believe that Ethereum is the most suitable blockchain for our requirements. It is reliable, secure, and supports the development of smart contracts tailored to our specific needs."
Kieran, the Coinsniper AMA moderator, asked a question that highlighted the important utility the project provides not just for consumers but industry too:
"I actually work for a leading plastic packaging company and this is definitely something the industry needs, it's also something that most companies want now too as if they use recycled plastics for packaging they get a huge tax reduction, another reason why this will work.:
As you would expect, Ciutureanu concurred: "Pairing with blockchain technology is the best way to connect demand and offer [solutions] for recycled materials.
Ecoterra's Liquidity Pool and Corporate Onboarding Strategy
Ciutureanu went on to explain a little more about the mechanics of ecoterra's tokenomics.
"The ecosystem liquidity pool (LP) serves to balance the incoming $ECOTERRA from fees and packages purchased by companies with the outgoing $ECOTERRA used to reward users within the Recycle2Earn app.
He added: "For corporate adoption we will target the initial group of companies by offering free trial packages to persuade them to join our ecosystem.
This approach will allow them to gain a better understanding of how ecoterra's ecosystem operates.
Perhaps most importantly the CEO spoke to how his team intends to deliver the roadmap milestones.
"We plan to launch the beta version of the Recycle2Earn app by the end of the year, while continuing to develop the other pillars of Ecoterra.
"In the meantime, we are integrating various brands into the ecosystem. So far, we have incorporated Vittel, Heineken, San Pellegrino, and Dr Pepper, with plans to add more in the coming weeks.
"Additionally, we will be focusing on forming partnerships in the upcoming months. Our ongoing discussions have yielded promising results thus far."
Pepsi, Fanta, Peroni are also now in the process of being added to the ecoterra database of scannable recyclable materials.
The team at ecoterra has a wealth of experience in the recycling industry and the project has already signed up a partnership deal with supermarket chain Delhaize (Lion).
Delhaize has branch networks across Europe, North America and Asia, where its stores have available reverse vending machines (RVMs) – a key element of the circular economy-aligned recycling system.
An RVM accepts recyclable materials and in return issues a reward. In conjunction with the recycle-earn ecoterra app you will be able to earn tokens for each item recycled.
Ecoterra's NFTs: Promoting Sustainable Actions and Rewarding Environmental Stewardship
Experts are predicting greater interest in high-scoring environmental, social and governance crypto projects such as ecoterra.
To quantify that, it could generate an astronomical return on investment for early buyers that, at minimum, could see ecoterra realize a ten-bagger (10x) valuation.
As explained, there are so many good reasons to invest in ecoterra. One more excellent reason, if you are not yet convinced, is the non-frivolous use case for NFTs that the team has invented.
With ecoterra, all of the ecology actions an individual or company undertakes count towards milestone achievement totals that can be represented as non-fungible tokens (NFTs).
All the actions are trackable and constitute the main input for each user or company's impact profile.
By adopting NFT technology, ecological actions such as tree planting or removing plastic from the environment are commodified and become tradable.
NFTs, in effect, provide further encouragement for all of us to do the right thing for our environment.
Earn $ECOTERRA by Generating Renewable Energy for Planet and Profit
Another great ecoterra feature is enabling households and companies that generate renewable electricity to use this to create an $ECOTERRA token income stream.
Of course each prospective investor must conduct due diligence by doing their own research. Nevertheless the team at ecoterra are confident enough in their project to solicit for funds from the public.
Ecoterra is run by a team of experts with deep experience in the recycling industry as well as the crypto space.
Investing in ecoterra is the smart way to help save the planet and make money too.
---