Green Crypto Coin Chimpzee Helps Users Generate Income and Fight Climate Change – How Does it Work?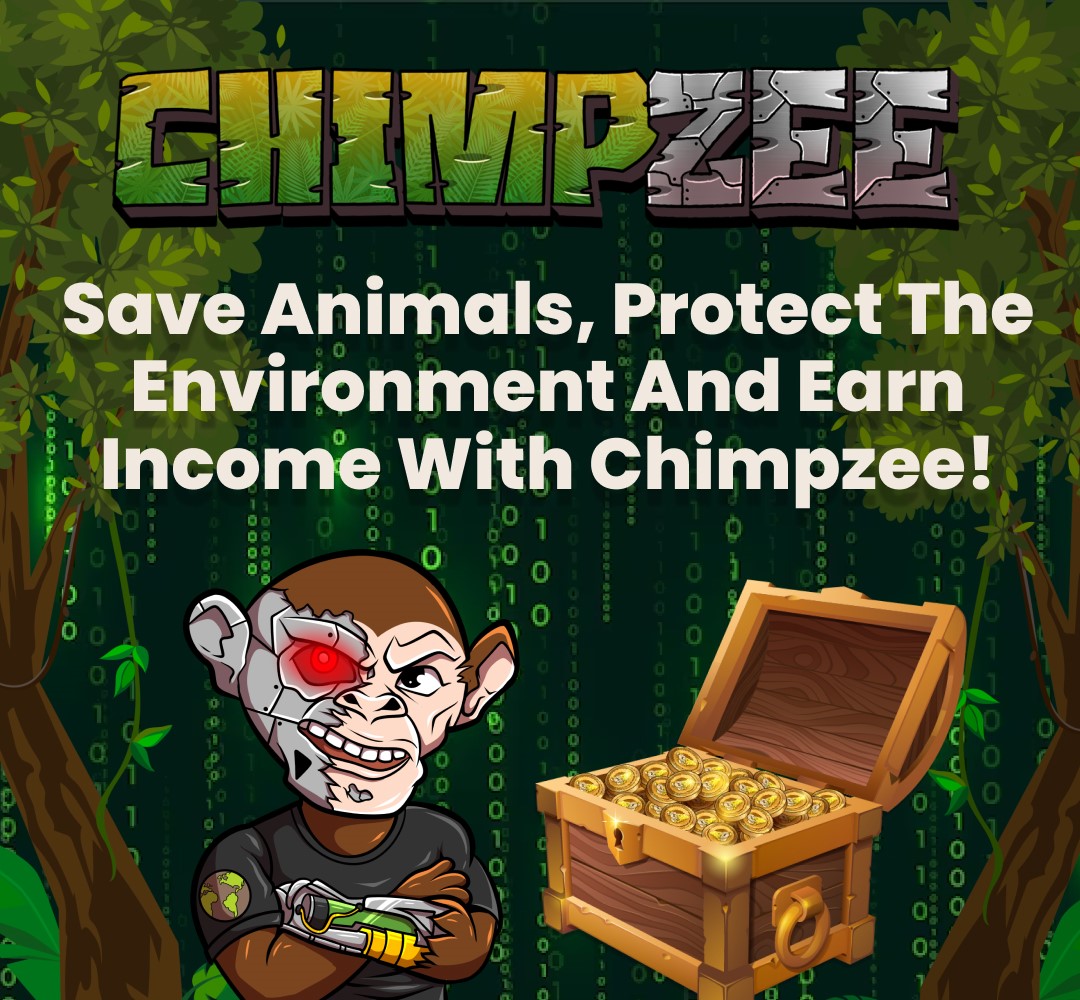 Embracing an eco-conscious future is no longer an option but a necessity, with pressing concerns about environmental protection and sustainable practices gaining increased attention globally. A novel approach to this issue is seen with the introduction of green crypto, digital assets that match the ingenuity of blockchain with the spirit of ecological conservation.
One such upcoming project is the Chimpzee platform, leveraging the strength of this combination to protect wildlife and mitigate climate change while allowing users to generate income.
Chimpzee: The Green Crypto Linking Conservation and Income Generation
Chimpzee is a cryptocurrency platform with an eco-conscious focus, currently progressing through the pre-release phase of development. Making progress towards its $1 million funding target for 2023, the platform is dedicated to both empowering users economically and supporting environmental charities.
Through the Chimpzee Gold Passport, a non-fungible token (NFT) with eight unique designs, the platform offers holders a unique investment opportunity. Investors participating in the current "gold stage" of the pre-release phase can secure the rights to mint a Chimpzee Gold Passport NFT for 750,000 $CHMPZ tokens post-presale.
The benefit? These NFTs offer various ecosystem perks, including a promising yield of 18% when staked.
But Chimpzee is more than just a high-yield investment opportunity. The platform also supports environmental charities and wildlife protection efforts. Recently, Chimpzee donated $20,000 to the WILD Foundation, contributing to the protection of the black jaguar.
Earlier, it contributed to reforestation efforts, planting 1,200 trees in Brazil and 20,000 in Guatemala. In addition to this, it made a $15,000 donation towards elephant conservation. The team behind Chimpzee has revealed that they have a comprehensive list of organizations that they plan to support.
The Pre-release Progress and Next Stages
Currently, Chimpzee is in the eighth stage of its presale, the second of three "gold stages". The presale will progress to its ninth stage in ten days, during which the $CHMPZ price will increase to $0.00085. The platform also offers a bonus of 125% tokens to early participants.
In addition to the presale stages, Chimpzee will provide multiple avenues for its users to earn income while supporting climate change initiatives. The platform will feature a merchandise store that rewards users with $CHMPZ tokens for every purchase, effectively making it a shop-to-earn experience.
In addition, it also maintains its green crypto characteristics by donating a percentage of profits to listed charities, making it a shop-to-donate experience as well.
After launching $CHMPZ, the team's focus will shift towards developing the merchandise shop, an NFT minting platform, and a staking engine. Future plans include creating an NFT marketplace and a play-to-earn game titled "Zero Tolerance."
The Potential of $CHMPZ Tokens
$CHMPZ tokens might bring environmental benefits, but they also present an enticing prospect for crypto investors. The platform plans to launch its token across major exchanges later this year at a price of $0.00185.
Simultaneously, Chimpzee uses deflationary tokenomics to maintain its token's value. The team plans to burn tokens used to purchase Chimpzee Passport NFTs, effectively removing them from circulation. Additionally, leftover tokens from each presale stage are also being burned, with 50 billion tokens already removed on July 19.
As more tokens get burned, this deflationary method could potentially drive up the token's price over time.
Prominent crypto influencers like Michael Wrubel, with over 300,000 YouTube subscribers, have already taken notice of the project, adding credibility to the green crypto platform.
With global climate change posing increasingly significant threats, environmentally conscious crypto investors have a unique opportunity to contribute positively with Chimpzee. The project offers a mix of potential profit and environmental protection, allowing investors to earn while also tackling climate change.
The $CHMPZ token allocation is thoughtfully designed, with 45% available to the public during the presale. Other allocations include 10% to exchanges and liquidity, 15% to marketing, 10% to development, 5% to community rewards, 5% to the team (locked for 2 years), and, fittingly, 10% for charity.
Additionally, there are no extra fees for buying or selling $CHMPZ tokens. The Chimpzee team is fully verified by Cyberscope, and the project has undergone a comprehensive security audit by Solidity Finance.
Disclaimer: Crypto is a high-risk asset class. This article is provided for informational purposes and does not constitute investment advice. You could lose all of your capital.
---