GLTM, Aave (AAVE) Stir Institutional Investors as Golteum is Poised to Become a Force in Precious Metals Trading
Disclaimer: The text below is a press release that is not part of Cryptonews.com editorial content.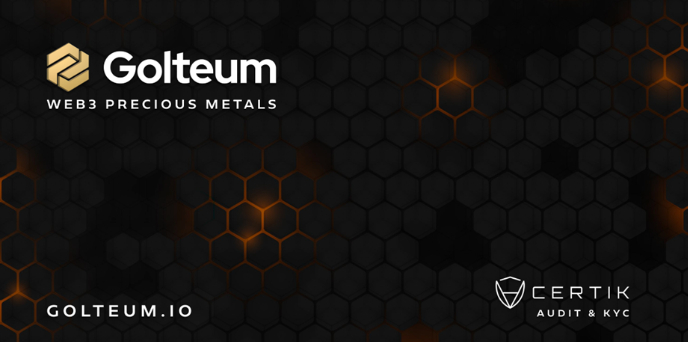 Looking at how the world of cryptocurrencies keeps revolving, it seems this is just the kick-off of groundbreaking evolutions.
A number of platforms, like Aave (AAVE), have emerged with different approaches to make the dynamic crypto market a sea of never-ending opportunities.
Amidst them, Golteum (GLTM) appears as a trailblazing project set to redefine the crypto sphere.
This report covers one of the many ways Golteum, along with its utility token GLTM, is prepared to aid investors in taking advantage of this impending revolution full of promising chances.
Aave (AAVE): Has The Top Cryptocurrency Lending Platform Fully Recovered?
Aave (AAVE) is a popular decentralized finance (DeFi) platform that runs on the Ethereum blockchain, which allows users to borrow and lend cryptocurrencies without the need for a third party.
The primary objective behind the development of the Aave (AAVE) platform was to facilitate direct trading among participants in the financial market.
However, one of the main issues with Aave (AAVE) is over-collateralization.
Recently, Aave (AAVE) lost about $100 billion in TVL (Total Value Locked).
And not long ago, news has it that Aave (AAVE) experienced a short-lived bullishness. While mid-term investors were trying to sell for profit, the price dropped by 7%.
The protocol continues to struggle till now, leaving investors wary of Aave (AAVE), and paving the way for demand for Golteum (GLTM).
Golteum (GLTM): Redefining Precious Metals Trading In Crypto
Golteum is a Web3 multi-asset trading platform that combines the benefits of diversified asset classes, facilitating the smooth trading of precious metals and cryptocurrencies.
Golteum's upcoming initiative seeks to offer customized solutions that especially address the needs of institutional investors diving into the crypto industry, by taking into account their special requirements.
Thereby, equipping them with needed resources to achieve their investment goals.
With an innovative approach, robust security measures, and compliance-driven practices, Golteum (GLTM) is poised to empower institutions and position itself as a driving force in the future of precious metals trading.
For instance, businesses will be able to add tokenized precious metals to their balance sheets, which signifies their possession of a certain amount of precious metals.
These asset-backed tokens can be exchanged for cryptocurrencies on a variety of blockchains and ecosystems, enabling businesses to profit from the decentralized digital economy without having to use their own funds.
Also, the tokenized precious metals can be exchanged for physical versions whenever an investor wants.
By prioritizing compliance, Golteum (GLTM) aims to establish itself as a trusted and compliant platform, fostering trust and reliability among institutional investors.
Golteum (GLTM) takes seriously the security and integrity of its smart contracts, using the acclaimed Certik platform for in-depth audits to ensure its strength, safety, and resistance to potential vulnerabilities.
Golteum's commitment to transparency is also shown in six of its team members undergoing the Certik KYC procedure and earning a silver badge for this.
Thereby, giving institutions the confidence they need to engage in OTC trading without hassle.
Don't Sleep On GLTM Presale
The ongoing presale is a demonstration of the platform's quick adoption driving massive demand.
For instance, the first presale event saw the token sold out in less than 48 hours with a total of 32.5 million GLTM tokens at a price price of $0.0074 per token.
In the second round of the presale which is now ongoing, Golteum (GLTM) supplied 55 million GLTM to investors, and early investors are now expecting significant returns after the token price doubled to $0.012 per token.
Furthermore, all participants will also receive a 15% bonus when they purchase GLTM during the second round.
Golteum's upcoming project seeks to unlock new investment opportunities for institutional investors in the crypto sphere.
As a result of this, experts forecast that GLTM might trade as high as $5.00 once listed on well-known exchange platforms, representing an immense profit on investment from the present price.
According to the Boston Consulting Group, by 2030, the demand for tokenized assets will be valued at $16 trillion.
And since Golteum is one of the first to usher in this massive industry, the price of GLTM is expected to balloon as the sector grows.
Through strategic partnerships, extensive market connections, and in-depth research, Golteum (GLTM) aims to identify and offer exclusive investment opportunities to retail and institutional investors alike.
Users will be able to manage both their crypto portfolios, as well as their precious metals portfolios on a single platform, all from the comfort of their homes or offices.
Make the move now and enjoy a competitive edge to this promising project in the evolving crypto landscape.
For more information about the GLTM Presale:
---