Ethereum Price Prediction as New 'Holesky' Testnet Launch Approaches – Time to Buy?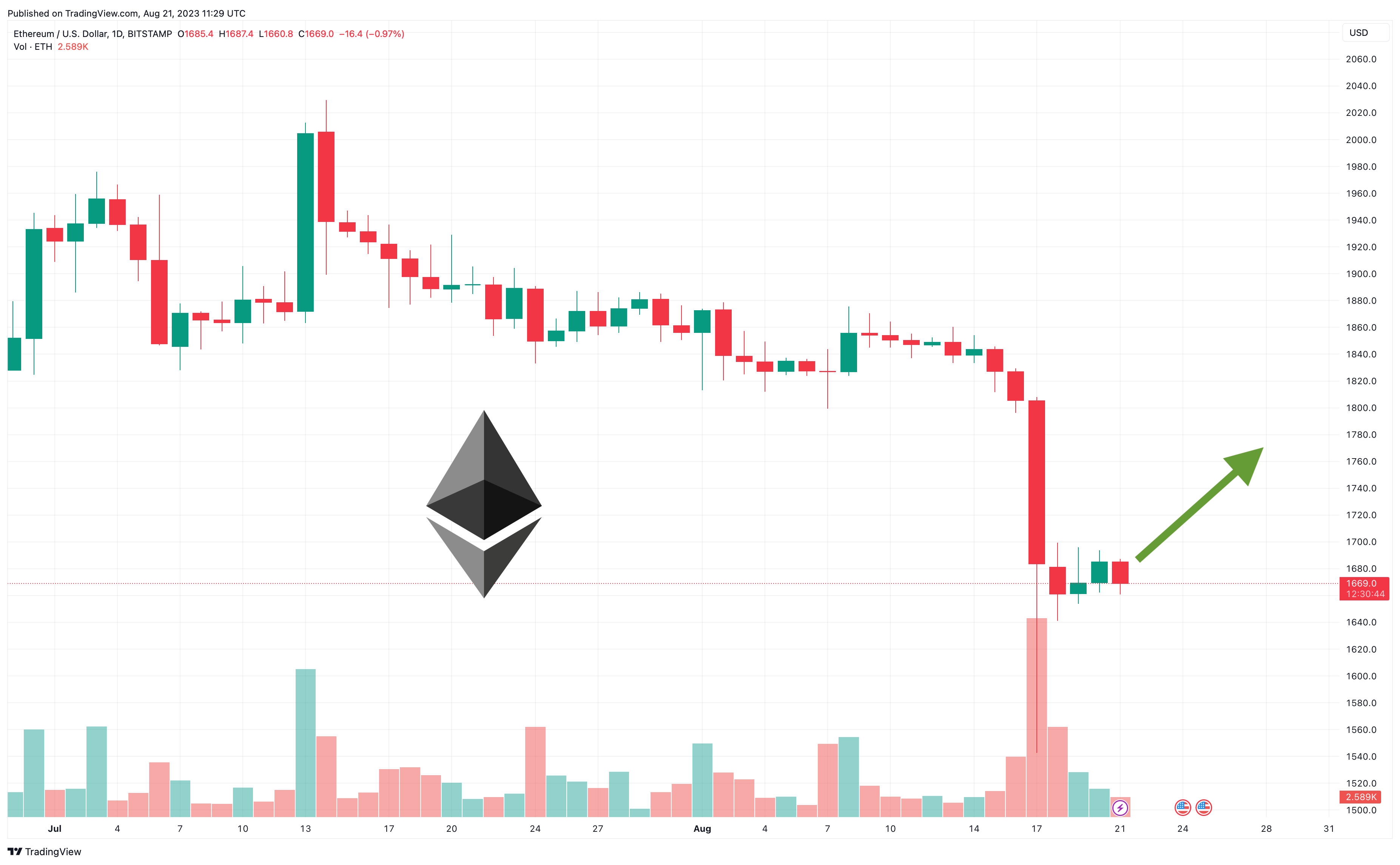 The Ethereum price has slipped by a very slight 0.4% in the past 24 hours, with its move to $1,666 representing a 10% drop in the past week.
ETH is also down by 12% in the last 30 days, with the altcoin having risen by 39% since the beginning of the year, a percentage which has declined substantially as a result of market-wide losses suffered last week and in the past few weeks.
However, Ethereum is looking forward to the launch of a new testnet, Holesky, which will enable it to more effectively test upcoming updates, such as the forthcoming Cancun-Deneb upgrade.
And given that the latter will make layer-two rollups cheaper and more efficient, such developments could help the ETH price recover very soon.
Ethereum Price Prediction as New 'Holesky' Testnet Launch Approaches – Time to Buy?
ETH's indicators suggest that the altcoin is close to the bottom of its recent falls, with its relative strength index remaining below 30 after crashing to 20 over the weekend.
ETH's 30-day moving average (yellow) is also very close to dropping below its 200-day average (blue), a move that can often signal further losses to come.
However, even if further losses do follow in the next couple of days, they are unlikely to be substantial, given that ETH's price has bounced up a little from its medium-term support level (green).
As such, a potential recovery may only be a matter of time, with Ethereum's fundamentals remaining as strong as ever.
In fact, Ethereum has the launch of its new Holesky testnet to look forward to in the next few weeks, with a successful deployment potentially providing a short-term boost to ETH's price.
While a testnet in itself won't do anything directly to make Ethereum a more useful and valuable network, it will help with work on upcoming updates.
This includes the much-anticipated Cancun-Deneb upgrade, which will pave the way for Proto-DankSharding, enabling Ethereun's layer-two rollup networks to save on memory and thereby offer faster, cheaper transactions.
In turn, this will help make Ethereum a more scalable network, further cementing its position as the biggest smart-contract platform in the cryptocurrency sector.
Not only does Ethereum's total value locked in account for more than 50% of the entire DeFi space, but it continues to attract major adoption and usage, as indicated by the recent news that PayPal will be running its very own stablecoin on the network.
For this reason, ETH can be expected to return to $1,700 and $1,800 in the next few weeks.
Faster Gains With Presale Tokens
As sound as ETH remains, its recovery is likely to be gradual, leaving traders interested in big gains having to look elsewhere.
They needn't look to far and wide, however, since there are a number of promising new presale tokens in the market at the moment, with many of these likely to surge once they're added to trading platforms for the first time.
One of the best examples of such a token is Sonik Coin (SONIK), an ERC-20 meme coin that began its presale last week and has already raised in excess of $250,000.
As its name suggests, SONIK has taken inspiration from the much-loved video game character Sonic the Hedgehog, with its memes and posts having an edgy, almost provocative flavor to them.
SONIK's presale is aiming to reach a hard cap of $2,098,547, which amounts to 50% of the coin's overall supply of 299,792,458,000 SONIK.
This makes SONIK a comparatively decentralized meme token, especially when another 40% has been reserved for staking rewards, enabling holders of the coin to earn passive income while simply sitting on their holdings.
Its distributed tokenomics is part of the reason why it has raised a quarter of a million dollars in around a week, with this figure set to begin accelerating even further from here on out.
New investors can join the SONIK presale by heading over to the coin's official website, with 1 SONIK costing $0.000014.
This price may end up being a bargain once SONIK lists on exchanges, with the meme token aiming to become the faster coin to reach a market cap of $100 million.
Disclaimer: Crypto is a high-risk asset class. This article is provided for informational purposes and does not constitute investment advice. You could lose all of your capital.
---