Ethereum Price Prediction as Millionaire Trader Says ETH Will Fall to $1,400 – What's Going On?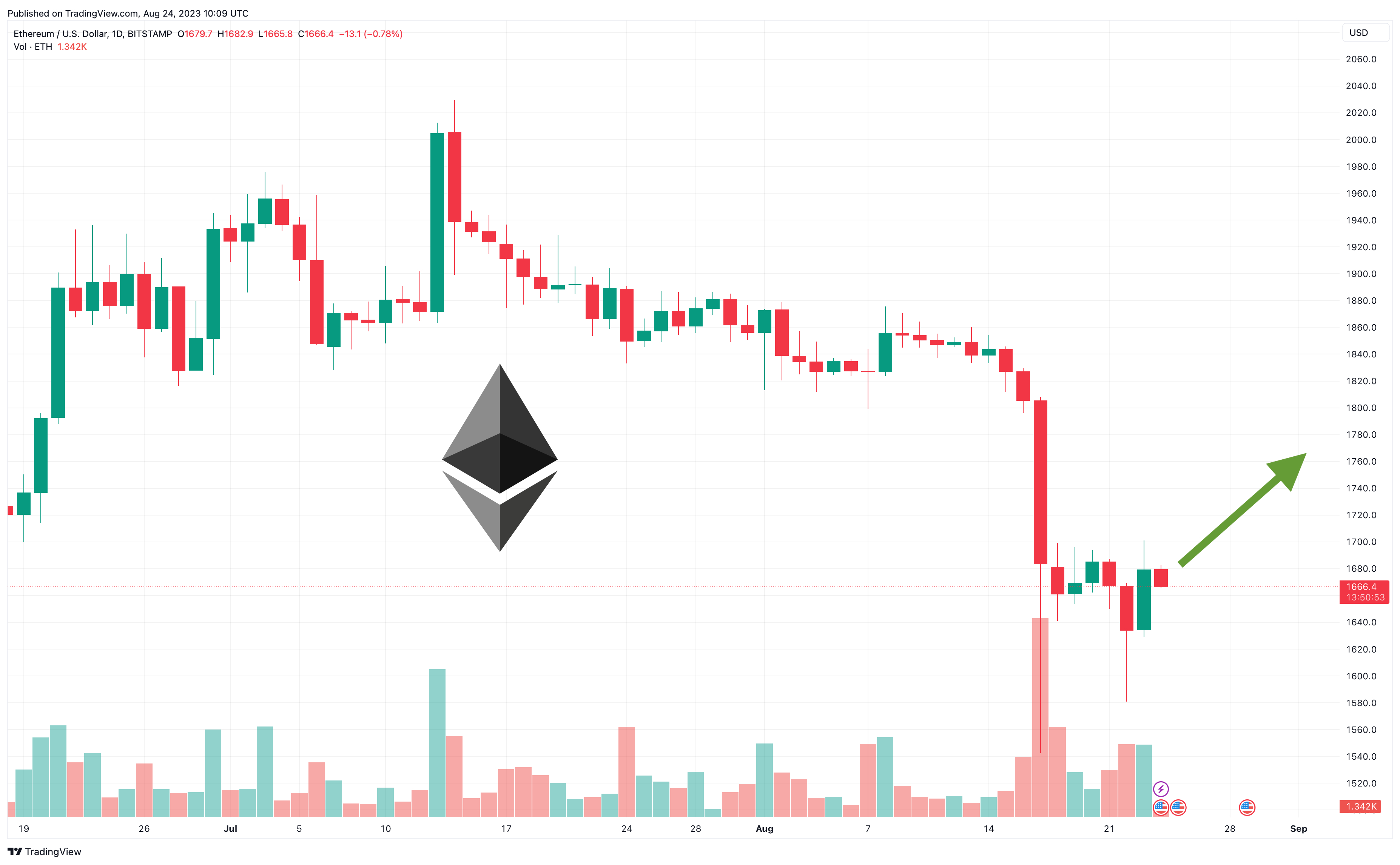 The price of Ethereum (ETH) has risen by 1.4% in the past 24 hours, reaching $1,669 after millionaire trader KBM predicted that the altcoin is set to fall to around $1,400.
This forecast comes as ETH remains down by 7% in a week and by 10% in the last 30 days, with the biggest altcoin remaining up by 39.5% since the beginning of the year.
With the wider market (and global economy) remaining in an unsettled and uncertain state, it is entirely possible that ETH will suffer further losses before making a sustained – and overdue – recovery.
However, its technical indicators suggest that it's already very close to bottoming out, and that a rebound should be arriving soon.
Ethereum Price Prediction as Millionaire Trader Says ETH Will Fall to $1,400 – What's Going On?
Looking at ETH's chart, it's clear that the altcoin doesn't have too much momentum right now, with its 30-day moving average (yellow) having just fallen below its 200-day average (blue) in a 'death cross.'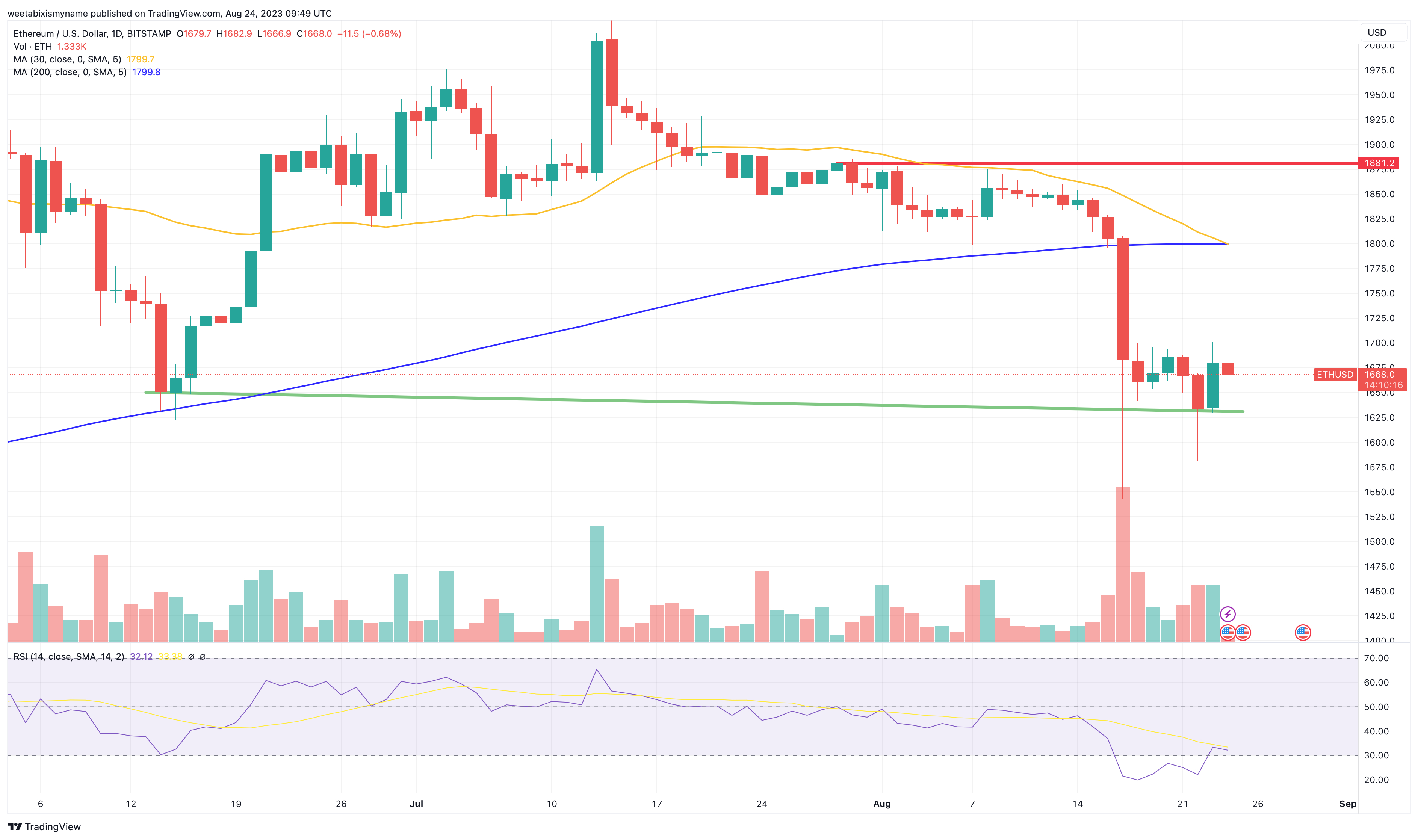 Such crosses can indicate further losses and sales, and with ETH's relative strength index (purple) struggling to rise significantly beyond 30, it is indeed possible that we will see the altcoin drop a little lower in the next few days.
This pessimism is supported by ETH's medium-term support level (green), which has fallen to a lower level in the past week or so, after the altcoin breached $1,700.
This means that the coin could potentially sink lower in the next few days or weeks, before making an eventual recovery.
Such a view is also supported by various high-profile experts and analysts, with investors and podcast host KBM (@KeyboardMonkey3 on Twitter) recently suggesting that Bitcoin (BTC) will fall to around $21,000 and ETH will drop to $1,400.
Of course, just because KBM has made some money doesn't guarantee an infallible ability to predict future prices, so retail investors should take his opinions with a pinch of salt.
And in the longer term, there's little doubt that ETH will rise considerably higher than its current price, let alone $1,400.
It continues to dominate the market in terms of total value locked in, and with the Holesky testnet and EIP-4844 upgrade approaching in the next few weeks, it's likely to cement its position even further.
Indeed, Ethereum scored big earlier this month when PayPal announced it would be launching its own Ethereum-based stablecoin, something which could result in a massive increase in traffic and adoption in the not-too-distant future.
For this reason, ETH can be expected to return to $2,000 towards the end of the year, with a new bull market pushing it towards $2,500, $3,000 and higher.
Faster Gains With Newer Altcoins
ETH's position as the second-biggest cryptocurrency in the market means that it will tend to make gradual rather than sudden or dramatic gains.
For this reason, traders in the hunt for big market-beating returns will probably have to look elsewhere, with presale tokens being one good source of quick and impressive gains this year.
One of the best such tokens right now is Launchpad.xyz (LPX), an all-in-one Web3 trading platform that has raised more than $1.3 million since kicking off its sale a few weeks ago.
Launchpad.xyz aims to make trading more accessible and rewarding for investors, providing a wide range of tools and features that can be harnessed by novice and experienced traders alike.
This includes Web3 wallet addresses, a play-to-earn gaming hub, a launchpad for Web3 presales, market intelligence and signals, as well as collaborative trading rooms and automated trading bots.
Other impressive elements of its ecosystem are its own DEX and NFT marketplace, as well as the ability to create and trade fractionalized assets.
Within its platform, LPX will be used to pay fees and subscriptions, with the coin also available for staking.
This provides the token with plenty of utility, and in combination with Launchpad's all-encompassing trading features, it's not hard to see why so many investors have poured into its presale.
New buyers can join this sale by heading over to the official Launchpad.xyz website and connecting their software wallets.
1 LPX costs $0.0445, yet such a price is likely to seem very cheap once the sale ends and the coin lists on trading platforms.
Disclaimer: Crypto is a high-risk asset class. This article is provided for informational purposes and does not constitute investment advice. You could lose all of your capital.
---