Ethereum Price Prediction as Huge Volatility Comes In – Here's Where ETH is Heading Now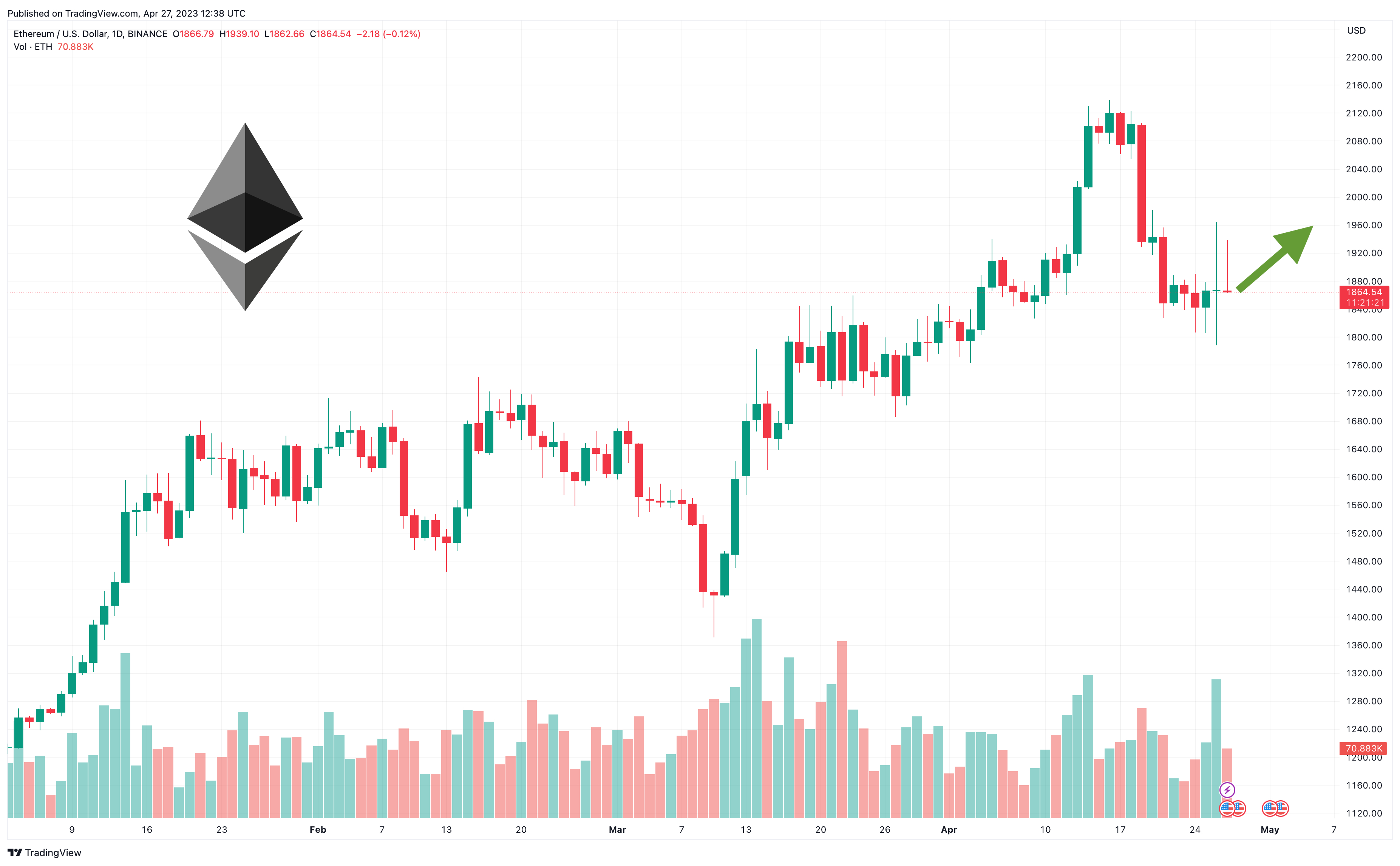 The Ethereum price has dropped to $1,886 today, making for a 1.5% fall in the past 24 hours as the cryptocurrency market as a whole also dips slightly.
ETH has now declined by 2.5% in the past week, although it remains up by 10% in the last 30 days and by 57% since the start of the year.
The altcoin's recent movements mean that its average volatility has increased since the beginning of April and since the end of 2022, implying that further movements (either up or down) are likelier now than at any other period in its recent history.
And given how strong Ethereum's fundamentals have grown following its recent updates, it's arguably only a matter of time before the cryptocurrency experiences some substantial gains.
Ethereum Price Prediction as Huge Volatility Comes In – Here's Where ETH is Heading Now
Despite today's dip, ETH's chart signals a potential recovery in the near future, given that its two main indicators are steadily rising.
For example, the coin's relative strength index (purple) is rising steadily toward the 50 level, marking a transition from oversold to more positive buying momentum.
Correspondingly, ETH's 30-day moving average (yellow) continues to rise above its 200-day (blue), signaling that future rises are in store.
What's encouraging to note in this respect is that ETH's support level is beginning to increase again, suggesting that it's consolidating a little after recent falls, giving it a higher base from which to rally.
ETH's recent ups and downs are also reflected in its volatility, with the BitMex Weekly Ether Volatility index more than doubling since the start of April, as well as rising from 1.8 to 5.44 since the start of the year.
As such, ETH has more rallies to look forward to in the near and distant future, something which is supported by its fundamentals, which arguably remain the strongest of any altcoin.
For one, the Shanghai update of a couple of weeks ago has added the ability to withdraw to Ethereum staking, something which will only increase staking in the long term, thereby increasing demand for ETH.
Secondly, Ethereum continues to witness more significant adoption than most other platforms, with major French bank Société Générale, has launched a euro-denominated stablecoin on the Ethereum blockchain.
This is a massive endorsement for Ethereum, and along with the earlier news of Visa's use of Ethereum for USDC payments and also Coinbase's new layer-two network, they suggest that the biggest enterprises may lean towards Ethereum whenever delving further into the blockchain.
This all points towards a rising price for ETH, which from its current position, can be expected to reach $2,000 in the next few weeks, before mounting a challenge towards $2,500 and even $3,000 in the latter half of the year.
From there, the arrival of a new bull market could see it reach $4,000 and higher in 2024, particularly if it continues to attract more adoption.
New Altcoins Offer Alternatives
The thing with Ethereum, however, is that investors shouldn't expect any massive surges in the near term, with solid fundamentals of the cryptocurrency meaning that it's geared more towards gradual price appreciation.
As such, traders looking for quicker profit may prefer to turn to presale tokens, which can potentially see big jumps in price when they first list on exchanges.
One of the most interesting and promising of these is AiDoge, an AI-powered meme-generating platform that has already raised more than $125,000 after kicking off its token offering less than 48 hours ago.
With its $AI token running on the Ethereum blockchain, AiDoge offers the chance to use advanced AI technology in order to create fun and topical memes which can be shared with the cryptocurrency community.
Its users can create memes simply by typing in a text-based description, with the platform's algorithms combining with its large dataset to generate a relevant meme.
Once created, memes can be up- or downvoted by users, with AiDoge's leaderboard ranking the best and worst.
The highest-rated memes will then earn rewards for their creators in the form of $AI, which can also be used for staking for the purposes of earning a regular yield.
AI is currently on sale for a price of $0.00002640, although this will rise to $0.00002680 when the third stage begins, in just over nine days.
This price will then rise all the way up to $0.00003360 by the 20th and final stage, given the earliest investors in AI the chance to make a significant profit, and that's even before the altcoin gains its first exchange listings.
---