Ethereum Price Prediction as ETH Builds Strong Support at $1,800 Level – When is the Next Leg Up?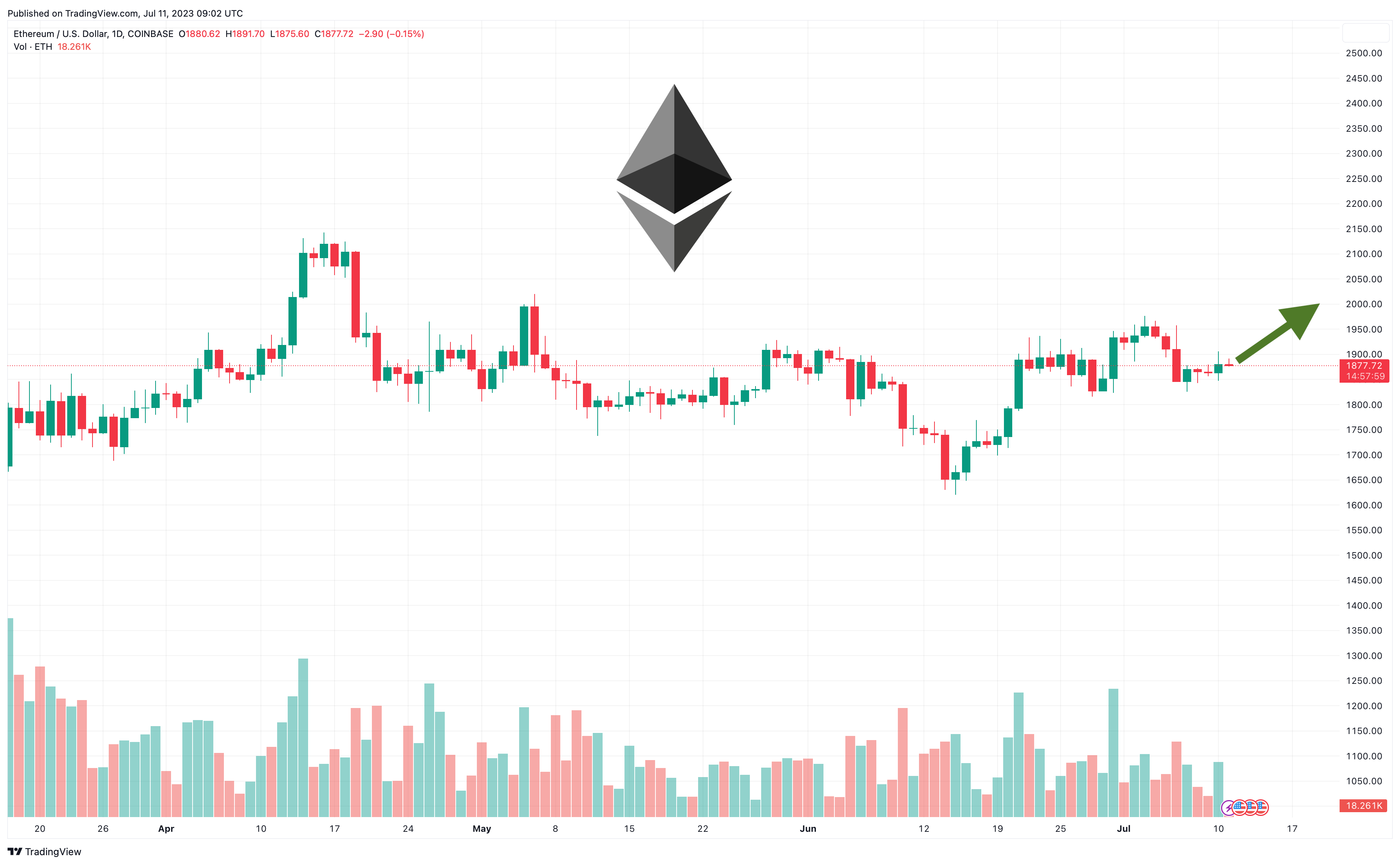 The Ethereum price has risen by 1.5% in the past 24 hours, with its move to $1,881 coming as the wider cryptocurrency market also sees a modest gain today.
ETH is now down by 3.5% in the past week but up by 7% in the last 30 days, with the altcoin holding firmly above the $1,800 support level in the face of recent market-wide losses.
And with Ethereum arguably being the strongest altcoin in the market in terms of its fundamentals, it's set to resume rallying again once the market enters more favorable conditions.
Ethereum Price Prediction as ETH Builds Strong Support at $1,800 Level – When is the Next Leg Up?
ETH has undoubtedly struggled in the past week or so (along with the rest of the market), but its indicators are now showing signs of picking up.
For example, ETH's relative strength index (purple) has now risen above 50 and looks like it's still climbing, implying that further gains are likely to follow as the altcoin accumulates further momentum.
There's also ETH's 30-day moving average (yellow), which is about to fall below its 200-day average (blue), and when it does, it will indicate the bottom of the coin's recent dip.
It's likely that this bottom isn't too far away either, given that ETH's support level (green) has held up well in the past couple of weeks, with the coin not looking at all like it will breach the $1,800 level.
As such, ETH could be expected to see gains in the very near future, with the coin potentially returning to $1,900 or $1,950 in the next few days.
And in the longer term, there's little doubt that ETH is one of the best-placed altcoins to enjoy sustained increases, with Ethereum's fundamentals remaining the stronger than those of its rivals.
For one, ETH has been deflationary since the Merge was successfully rolled out last year, with recent data suggesting that its overall supply has actually declined by 0.3%.
On top of this, the introduction of staking (and withdrawals) has resulted in a steadily increasing amount of ETH being locked up, with Dune Analytics showing that more than 23 million ETH (about 20% of the overall supply) is now staked.
Based on the staking ratios of other PoS blockchains (e.g. anything from 40% to 70%), the market can expect much more ETH to be taken out of circulation in the coming months, something which should squeeze the coin's price upwards.
Then there's the simple fact that Ethereum continues to account for more than 50% of the total value locked in of the entire cryptocurrency sector, and its move to a proof-of-stake mechanism means that it will be likelier to attract more adoption than most (or all) of its rivals.
For these reasons, ETH can be expected to hit $2,000 again by the close of the summer, with a move towards $2,500 by the end of the year also potentially on the cards.
Presale Tokens for Market-Beating Gains
As strong as Ethereum remains, its gains are likely to be more gradual than sudden or dramatic, meaning that traders looking for big short-term returns may prefer to look elsewhere.
In particular, presale tokens have been a good source of such returns this year, with the most successful tending to rally vigorously once their sales end and they list on exchanges.
It's possible that traders will see this with Wall Street Memes (WSM), a new ERC-20 token that has already raised more than $14 million since beginning its presale last month.
WSM has emerged out of online meme stocks movement, which famously instigated the 2021 GameStop and AMC rallies that ruined more than a few short sellers.
Its links to this community is one of the main reasons why it has been able to raise $14 million so quickly, with the coin allocating 50% of its two billion supply to the sale and another 30% to community rewards.
Such a highly distributed allocation has enabled Wall Street Memes to attract more investors than it would have otherwise, with the meme token now boasting over 250,000 followers on Twitter.
Such a following will enable WSM to rally big once it lists on exchanges, while it will also enable the token to have much greater longevity than many of the other new meme tokens launched this year.
New investors can join the WSM sale by visiting the official Wall Street Memes website and linking their crypto wallets, with 1 WSM currently selling for $0.0313.
The sale will close with WSM at a price of $0.0337, but judging by how quickly it has raised $14 million, it's likely that the token will rise well beyond this price once it lists.
Disclaimer: Crypto is a high-risk asset class. This article is provided for informational purposes and does not constitute investment advice. You could lose all of your capital.
---