Ethereum Price Prediction as $8 Billion Trading Volume Comes In – Are Whales Accumulating?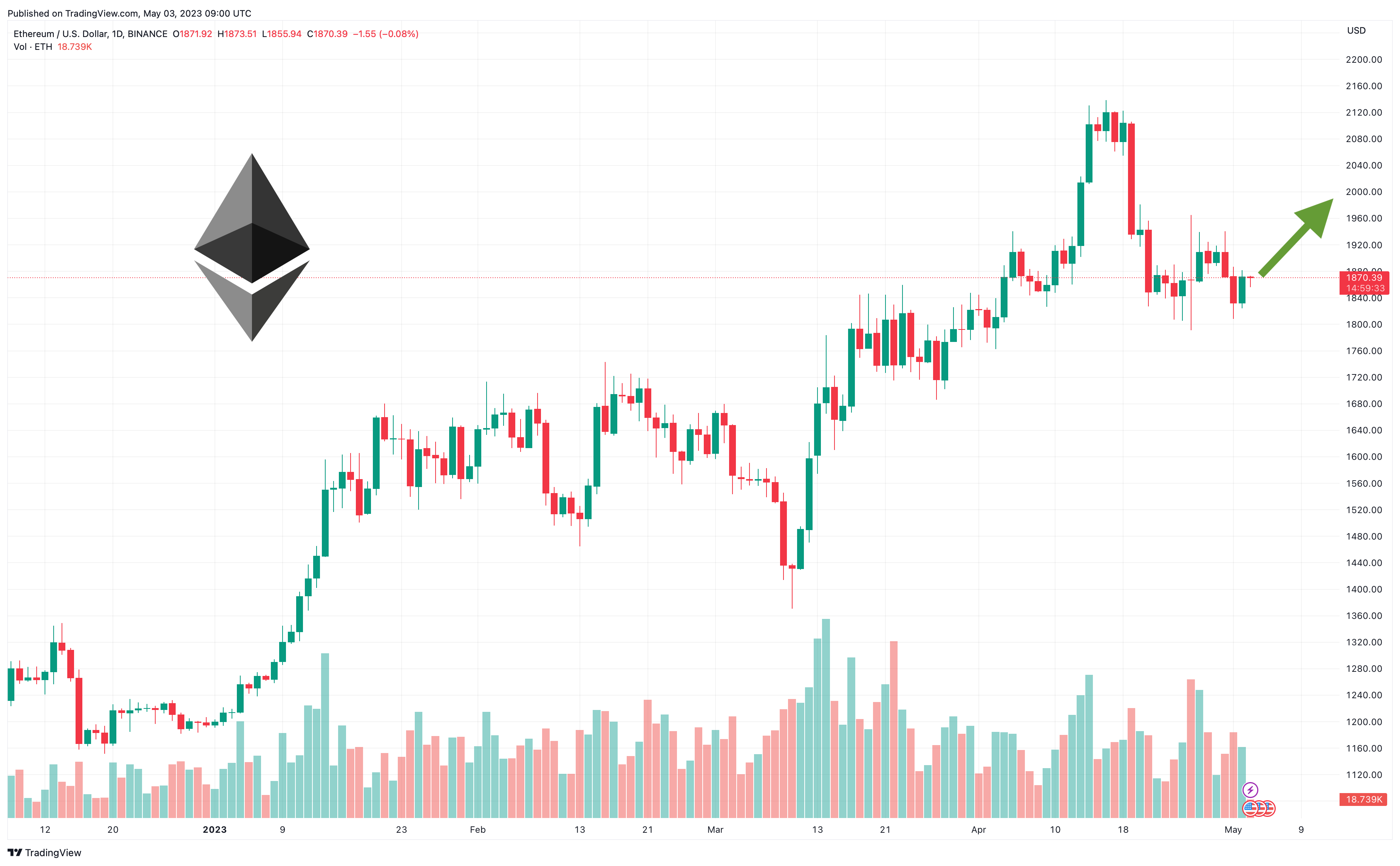 The Ethereum price has risen by 1.5% in the past 24 hours, with its climb to $1,865 happening as its 24-hour trading volume moves above $8 billion.
ETH's current price also means that it's barely unchanged in a week and has gained by 4% in the last 30 days, while also appreciating by 56% since the beginning of 2023.
Of course, with the market awaiting another likely rate hike from the Federal Reserve, ETH's modest gains today could be erased, or perhaps boosted if the Fed signals a softening of its stance on interest rates.
Regardless, with Ethereum now processing withdrawals following last month's Shanghai update, and with the platform continuing to enjoy steady development and growth, the medium- and long-term trajectory for ETH can only be up.
Ethereum Price Prediction as $8 Billion Trading Volume Comes In – Are Whales Accumulating?
ETH's chart continues to suggest that the altcoin remains on shaky ground, with its relative strength index (purple) falling below 50 in the past couple of days and potentially on its way down further.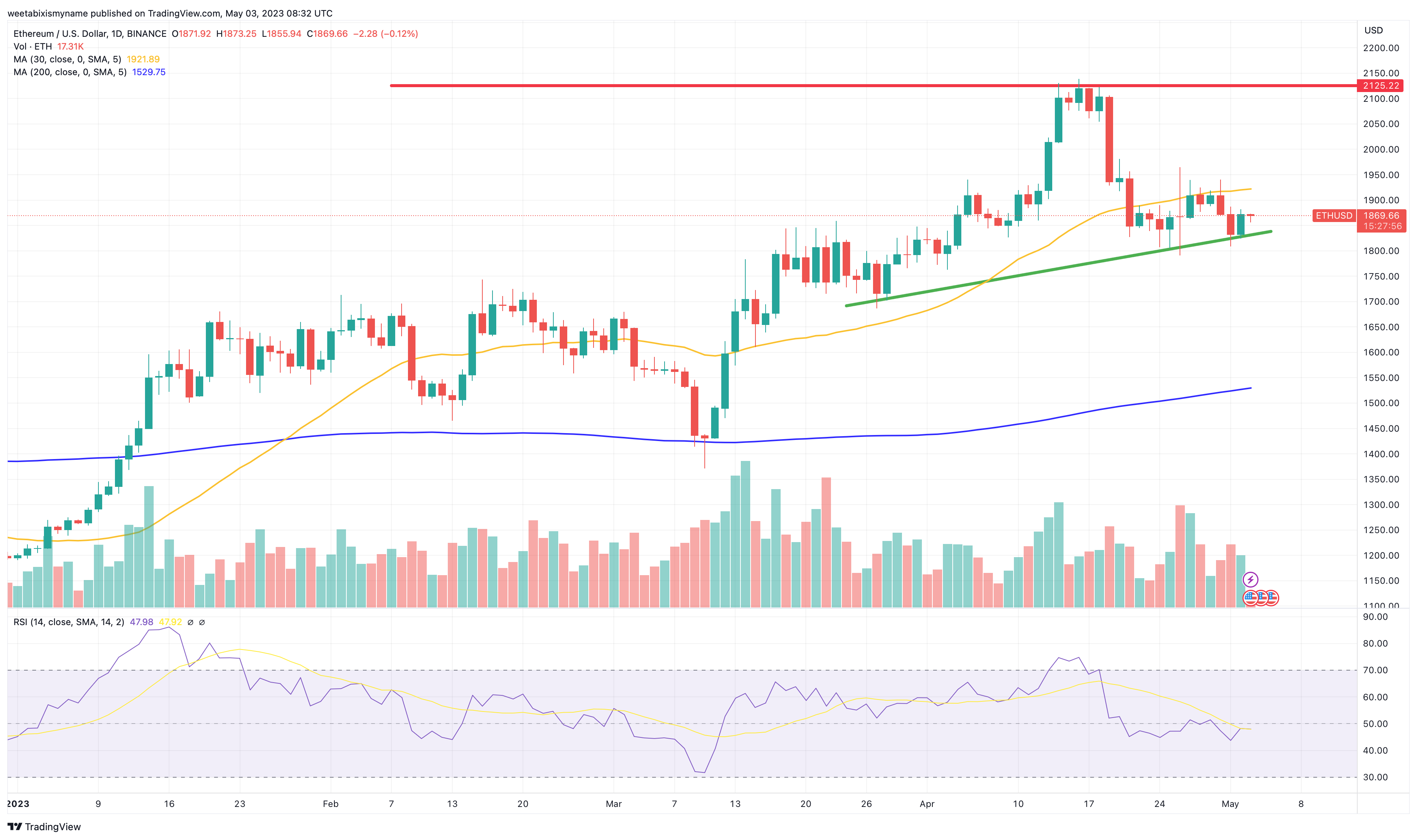 Correspondingly, ETH's 30-day moving average (yellow) has actually risen further above its 200-day (blue), something which could indicate that it's due to fall back down anytime soon.
Supporting this fear is that ETH has fallen through a couple of medium-term support levels over the past few days, with $1,850 being the most recent.
As such, it could be expected that Ethereum may suffer a few more falls before it makes a concerted and sustainable recovery, especially with the meeting of the Federal Open Market Committee likely to bring another rate hike today.
Still, ETH's recent dips have apparently provided whales with the opportunity to accumulate the coin at a discount, although some large traders are also moving funds to exchanges (potentially to sell).
Irrespective of whether whales are mostly buying or selling right now (the picture still appears mixed), Ethereum's fundamentals remain as strong as ever, and have recently been boosted by the aforementioned Shanghai update.
This added the ability to withdraw to Ethereum staking, something which will only increase staking in the long term, thereby increasing demand for ETH.
If that weren't enough, Ethereum continues to enjoy more adoption than most other layer-one networks, with major French bank Société Générale trialing a euro-denominated stablecoin on the Ethereum blockchain.
This comes in addition to other positive adoption news this year, including Visa's use of Ethereum for USDC payments and also Coinbase's new layer-two network, all of which draw a picture of an increasingly dominant and successful chain.
Because of this, it's surely only a matter of time before ETH returns to the $2,000 level, and if the market as a whole becomes more bullish, it could easily reach $2,5000 or even $3,000 in the next few months.
A New Web3 Platform
Of course, it needs to be stressed that such levels won't be reached overnight, so traders looking for altcoins with more of a chance of seeing short-term surges may prefer to look elsewhere.
In particular, presale tokens offer some of the best opportunities for making a market-beating return, with the best often seeing big rallies when their sales end and they first list on exchanges.
One of the most promising presales happening right now belongs to Launchpad XYZ (LPX), which bills itself as a seamless ecosystem for users wanting to enter and participate in the Web3 sector.
Launchpad opened the presale for its native LPX token several days ago, and has already raised just over $160,000.
What's most bullish about Launchpad XYZ is that its platform will combine the different elements, applications and features of the Web3 space that have remained siloed up until now.
This will make delving into Web3 more attractive to the average layperson, with Launchpad combining a wallet for cryptocurrencies and NFTS with a play-to-earn game hub, a launchpad for presales, a trading terminal, an analysis platform, and an AI-powered search engine specifically for crypto.
Investors can join its presale by heading over to the Launchpad website and connecting their wallets, with 1 LPX token currently costing $0.035.
This will rise to $0.0375 when the presale enters its second stage, while the coin will list on exchanges at $0.07, making for an increase of 100%.
---