Engage, Vote, and Earn: The Crypto Project Revolutionizing Social Media Polls – Join the Presale Now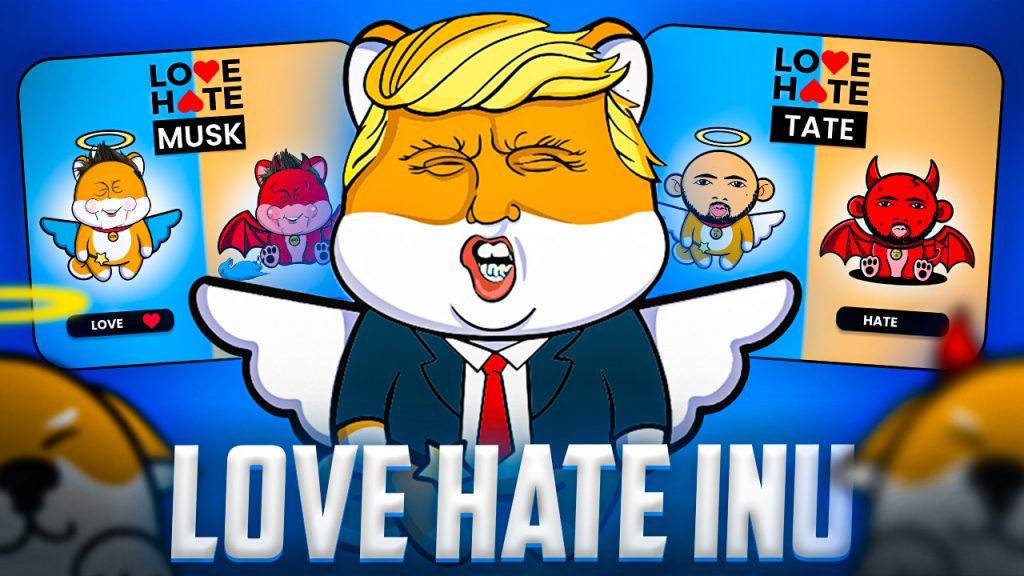 A soon-to-sell-out meme coin presale is set to unlock unhinged virality with an ecosystem poised to generate mass controversy.
Love Hate Inu (LHINU) is taking aim at the feverish divisions between icons of the 21st-century culture war like Andrew Tate and Donald Trump.
The latest in a string of moonshot altcoin launches by industry legend Carl Dawkins (the genius behind past 100x success-story Tamadoge).
Less than 2% of the supply remains in this sure-to-sell-out presale.
Love Hate Inu's presale gained jaw-dropping traction in the aftermath of Elon Musk's recent Dogecoin pump.
And with Twitter poised to introduce crypto integrations in a partnership with E-Toro, LHINU could become a key component of Web3 Social Media.
This is because Dawkins has once again discovered a crypto vertical with immense growth potential.
By offering the promise of the first Web3 Vote-2-Earn platform for the settlement of community disputes in conjunction with the skyrocket tokenomics of meme coins.
Biggest Memecoin of 2023: Love Hate Inu (LHINU)
Boasting one of the first-ever meme coins with genuine utility, LHINU is emerging as a disruptive project in the ripe for a shake-up meme coin world.
Meme coin traders are tired of boring Web3 browser games and the idea that any serious developer would build on Shibarium is laughable.
However, Love Hate Inu taps into the heart of what makes meme coins explosive: social media tribalism.
And this is where Dawkins plans to crunch the numbers - LHINU has the potential to completely alter the multi-billion dollar survey industry.
Communities will finally be challenged to stand up for their causes in high-stakes votes indelibly recorded on the blockchain.
By enabling users to vote on polarising issues and figures, permanently on the blockchain - LHINU will become a library of web history.
Better still, it will produce highly credible market data that will generate huge earning potential for the ecosystem.
This bridges into an innovative vote-2-earn system, which rewards users for participation with LHINU tokens.
This enables a democratization of ecosystem earnings.
Communities will have to lock-up their LHINU in votes for a staking period to earn rewards.
By tapping into emerging topics, trends, and controversies - LHINU will see a steady buy pressure from new communities.
In conjunction with the vote staking mechanism, this will alleviate any selling pressure.
Dawkin's aim here is to permanently reshape the future of the $3.2bn survey industry as Web3 emerges on center stage.
Less than 2% of LHINU Left In Moonshot Presale
The countdown is nearly over as just 22 hours remain in this soon-to-sell-out presale stage.
With less than 2% of LHINU presale allocation left - the last remaining investors will need to rush in quick to claim their slice of the pie.
Having raised an eye-watering $3.98m in less than a month, the sell-out potential of LHINU speaks for itself.
With a roadmap stuffed full of plans to roll-out more unique features including NFT rewards in coming months, stay tuned on Telegram for updates on the most exciting meme coin of 2023.
Currently LHINU's presale price is $0.0000105 USDT per token, but with less than 22 hours left and remaining presale supply dwindling below 2%, things could be over in hours for this presale stage.
So don't live in regret and ape this sensational coin today.
LHINU CEO Dawkins Secures Multi-CEX Launch
Early backers gathered in a recent twitter space with LHINU CEO Carl Dawkins.
During the discussions Dawkins explained his multi-year plans to unlock supercharged ecosystem growth.
This included plans for increasing reward yields with details to be revealed in an upcoming finalised tokenomics document.
The CEO also revealed that the team have secured multiple CEX listings ready for the product launch in Q2 2023 - which will see LHINU listed at a significant premium to presale pricing.
2% of LHINU Left In Presale Stage
With all the trappings of the next big meme coin in the social media sector, Love Hate Inu is poised to moonshot.
But with less than 2% of the presale supply remaining before prices increase, this is really your last opportunity to act and get in early.
Invest in Love Hate Inu today, and be part of a project that has the potential to revolutionize Web3 social media and the $3.2bn survey industry, all while generating impressive returns for its investors.
Don't miss this once-in-a-lifetime opportunity – buy LHINU now!
Disclaimer: The Industry Talk section features insights by crypto industry players and is not a part of the editorial content of Cryptonews.com
---