'Educational Show of Force' Fails as New EIP Quells Ethereum Miner Discontent
An "educational show of force" by a group of Ethereum (ETH) miners failed to happen yesterday, after a new Ethereum Improvement Proposal (EIP) appeared to quell discontent regarding plans to automatically set mining fees.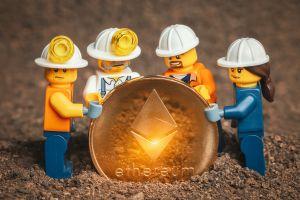 Spearheaded by Red Panda Mining in early March, the action called for 51% of Ethereum's hashpower to be moved to the Ethermine pool for 51 hours on April 1. However, Ethermine accounted for no more than 20% of Ethereum's computing power yesterday, a percentage in line with recent trends.
It's likely that a counterproposal to EIP-1559 — which proposed fixing mining fees — was the major factor in convincing miners not to shift to Ethermine.
Yet it's also possible that the threat was never intended to be realized, and was mostly intended to put pressure on developers to complement EIP-1559 with something miners could support.
Ethermine Show of Force: Cancelled
EIP-1559 proposed a token burn mechanism in addition to automatic fee setting, yet many miners weren't happy with it, arguing that a reduction in fees could potentially jeopardize the security of the Ethereum network.
But as unhappy as many miners seemingly were, they failed to come close to transferring 51% of Ethereum's hashing power to Ethermine.
Even now (10:38 UTC Friday morning), Ethermine commands only 20.7% of hashpower, despite the fact that we're only about 36 hours into the planned 51 hours of action.
A clear sign that the "show of force" wouldn't go ahead emerged on March 13, when miner Red Panda Mining tweeted approval of a new Ethereum Improvement Proposal — EIP-3368 — that would raise block rewards to ETH 3, and then lower this amount by ETH 0.25 every quarter until it hit ETH 1.
EIP-3368 would, in theory, be implemented alongside EIP-1559. There's no guarantee that it will be accepted, however, with some members of the wider Ethereum community being less-than enthusiastic about it.
Never Going Ahead?
Even with EIP-3368, it's possible that the Ethermine move would never have gone ahead anyway. For example, Michael Carter, the host of miner YouTube channel Bits Be Trippin and the author of EIP-3368, tweeted on March 14 that it was more about attracting attention and inciting a serious discussion than anything else.
But as the fallout from the threat revealed, it now seems that Ethereum developers have only accelerated their plans to transition to the proof-of-stake-based Ethereum 2.0, which would do away with mining altogether.
In other words, the plan to move hashpower has largely backfired, since there's no actual guarantee that EIP-3368 will be accepted, and focus has shifted even more towards making Ethereum miners redundant.
____
Learn more:
- Some Ethereum Miners Call for an 'Educational' 'Show of Force'
- Miner Backlash Over Fee Upgrade Provokes A Countermove by Ethereum Devs
- Ethereum Miners Are Likely to Accept EIP-1559 Activation - Analysts
- Ethereum Moves Ahead With Plans for Earlier Transition to Proof-of-Stake
- Ethereum Fees To Stay High Even With EIP-1559 - Another Analyst Says
- No Optimism For Ethereum In March - L2 Scaling Solution Delayed
- Ethereum 2.0's Phase 0 Goes Live 'Successfully', ETH Drops
- What's in Store for Ethereum in 2021?
---