Eco-Friendly Crypto Ecoterra Raises $6 Million as Global Investors Flock to the New Recycle2Earn Platform – Less Than 48 Hours Left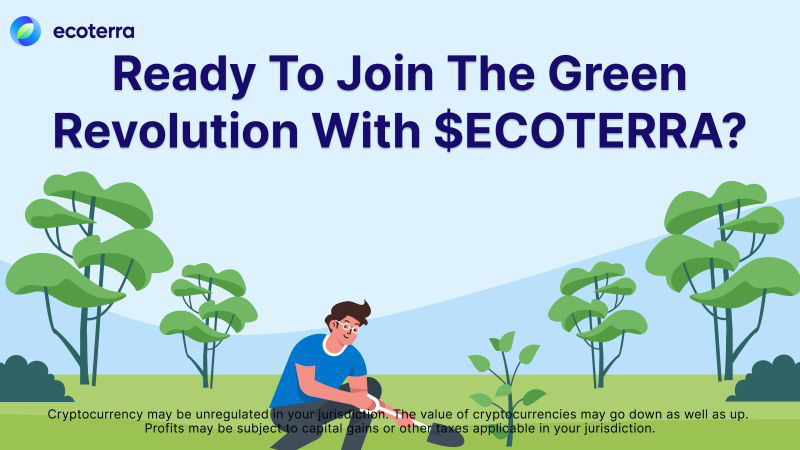 The eco-friendly crypto project has raised a whopping $6 million investment from early investors as it gears towards the last lap of its burgeoning presale.
Its $ECOTERRA token has piqued the interest of global investors looking to invest in the next biggest asset before it launches on public exchanges.
The Last Presale Lap: $ECOTERRA Will Shoot Up 100x After Exchange Listing
$ECOTERRA has been attracting significant interest and support since the start of its presale, and it has successfully raised an impressive $6 million out of its $6.7 million fundraising goal.
The digital asset is in its final presale stage, with less than 48 hours before it ends.
Investors are encouraged to purchase the $ECOTERRA token at a discounted price of $0.1 before it launches on public exchanges at $0.12, as experts predict a substantial increase in its value.
What sets $ECOTERRA apart is its platform's intrinsic focus on climate change, recycling, and production, which is expected to provide substantial gains and stability for the token.
Meanwhile, excitement among $ECOTERRA holders is building as the ecoterra development team has officially announced that it will be listed on the popular LBank crypto exchange on Friday, July 14, at 10 am UTC.
In addition, $ECOTERRA will be listed on other top exchanges, such as Bitmart and Uniswap V3, at the same date and time.
The announcement of these listings has further fueled the bullish sentiment surrounding the token, amplifying the excitement and anticipation among token holders.
Ecoterra Green Ecosystem Is Surging Despite Crypto Market Downtrend
Ecoterra is a decentralized crypto project that leverages blockchain technology and an innovative recycle-to-earn (R2E) concept to motivate and incentivize individuals in the fight against climate change.
The project aims to facilitate recycling, encourage individuals and organizations to offset their carbon footprints, and reward members with its native token, $ECOTERRA.
To drive adoption and attract institutional investors, ecoterra offers four essential features – the R2E app, carbon offset marketplace, recycled materials marketplace, and an impact trackable profile.
The R2E app enables members to partake in eco-friendly activities such as beach cleaning to remove used plastics, glass bottles, and cans.
The app can scan waste products and locate nearby reverse vending machines (RVM) to dump waste. Every scanned item equals an amount of $ECOTERRA.
The ecoterra carbon offset marketplace will enable individuals and companies to offset their carbon emissions by investing in green projects that reduce gas emissions.
These projects include tree planting, solar and wind energy development, recycling educational campaigns, and many more.
Ecoterra aims to create a business-to-business (B2B) marketplace that fosters increased demand for recycled products.
This allows recycling companies and manufacturing industries can interact, collaborate, and purchase recycled materials.
Transactions on the marketplace will be processed via $ECOTERRA, $BTC, or fiat.
Lastly, the impact trackable profile allows members to keep up with their green records, carbon emission, and positive contributions to building an eco-friendly environment.
In addition to these key features, the ecoterra development team plans to utilize blockchain technology to create more utility-centric innovations to empower green movements.
The potential popularity and growth of the ecoterra ecosystem will influence the price of $ECOTERRA to soar in value.
With less than thirty hours left before the surging crypto presale ends, now is the best time to secure the next biggest asset before it lists in a few days.
Buy $ECOTERRA Now
Disclaimer: Crypto is a high-risk asset class. This article is provided for informational purposes and does not constitute investment advice. You could lose all of your capital.
---