Award-Winning Recycle-to-Earn (R2E) Project Ecoterra's Presale Raise Surges to Nearly $5 Million - Is This The Ultimate Green Utility Crypto?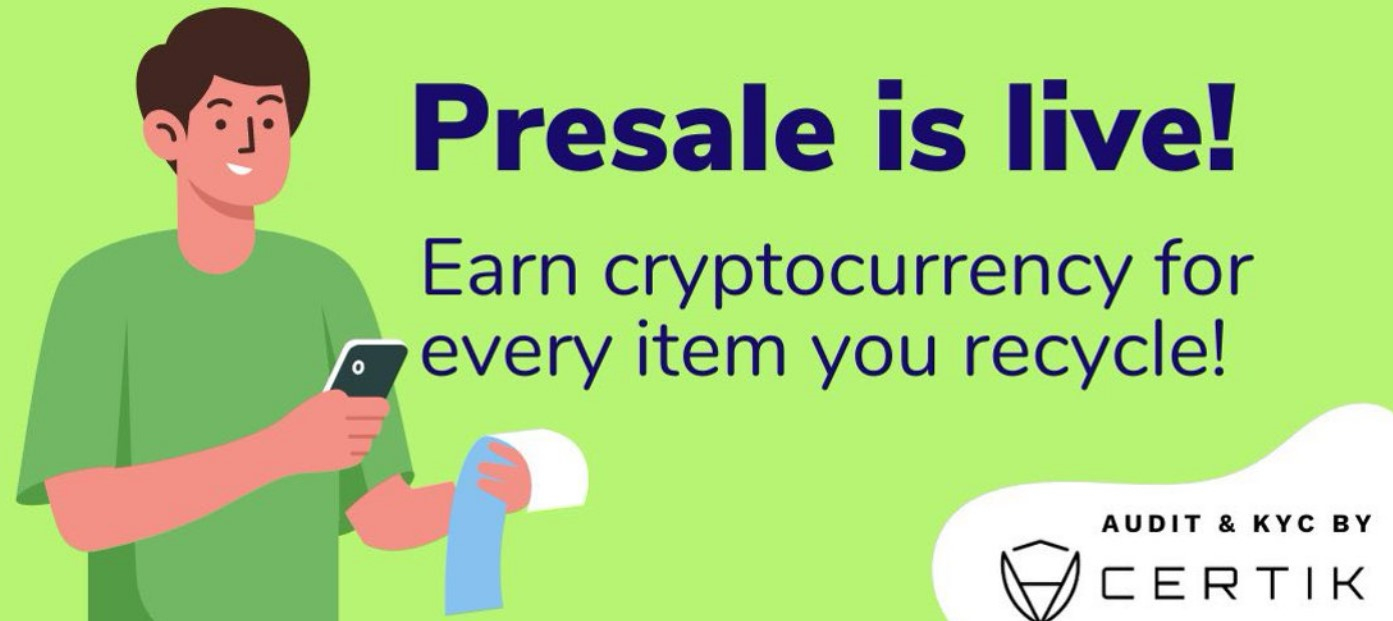 Saturday, 3rd June - One of 2023's most exciting green crypto projects just hit a huge milestone in its fundraising efforts.
Revolutionary web3 Recycle-to-Earn (R2E) platform ecoterra's presale of its native $ECOTERRA crypto token just hit the $4,775,000 million mark, meaning the presale has entered its eighth stage, with the price of $ECOTERRA rising to $0.00925.
And investors have no time to lose to get involved if they want to get in early.
That's because when the presale reaches the $5.7 million mark, the price of $ECOTERRA, which is issued as an ERC-20 on the Ethereum blockchain, will rise another 8% to $0.01.
That is the price $ECOTERRA will then list across major exchanges later this year, meaning investors who get in now could be sat on paper gains of around 8%.
As outlined in the project's Whitepaper, Ecoterra is building an all-in-one $ECOTERRA-powered web3 ecosystem, designed to encourage recycling via its first-of-its-kind Recycle-to-Earn (R2E) system, facilitate trade in recycled materials and encourage individuals and businesses to offset their carbon footprint.
Ecoterra's presale has been picking up in recent days after the project announced a fresh batch of major beverage brands into its ecosystem, including the likes of Coca-Cola, Carlsberg and Evian, further boosting the environmentally conscious protocol's utility.
Users of the ecoterra application will be able to scan and recycle bottles from the above-mentioned brands plus a host more like Dr Pepper prior to recycling them via Reverse Vending Machines (RVMs), and be rewarded with cryptocurrency for doing so.
The addition of further big-name brands into the ecoterra ecosystem is a major boost to the award-winning project, which is at the forefront of web3's push to encourage environmentally friendly behaviors.
Ecoterra Introduces the Game-Changing Concept of Recycle-2-Earn
When harnessed right, blockchain technology holds an unprecedented ability to promote environmentally friendly behaviors by rewarding recycling, making it easier to offset carbon emissions and tracking environmental impact utilizing the blockchain's transparency.
And ecoterra is building an all-in-one application that does all three of these things and more.
Ecoterra rewards users with the platform's native $ECOTERRA crypto token every time they recycle.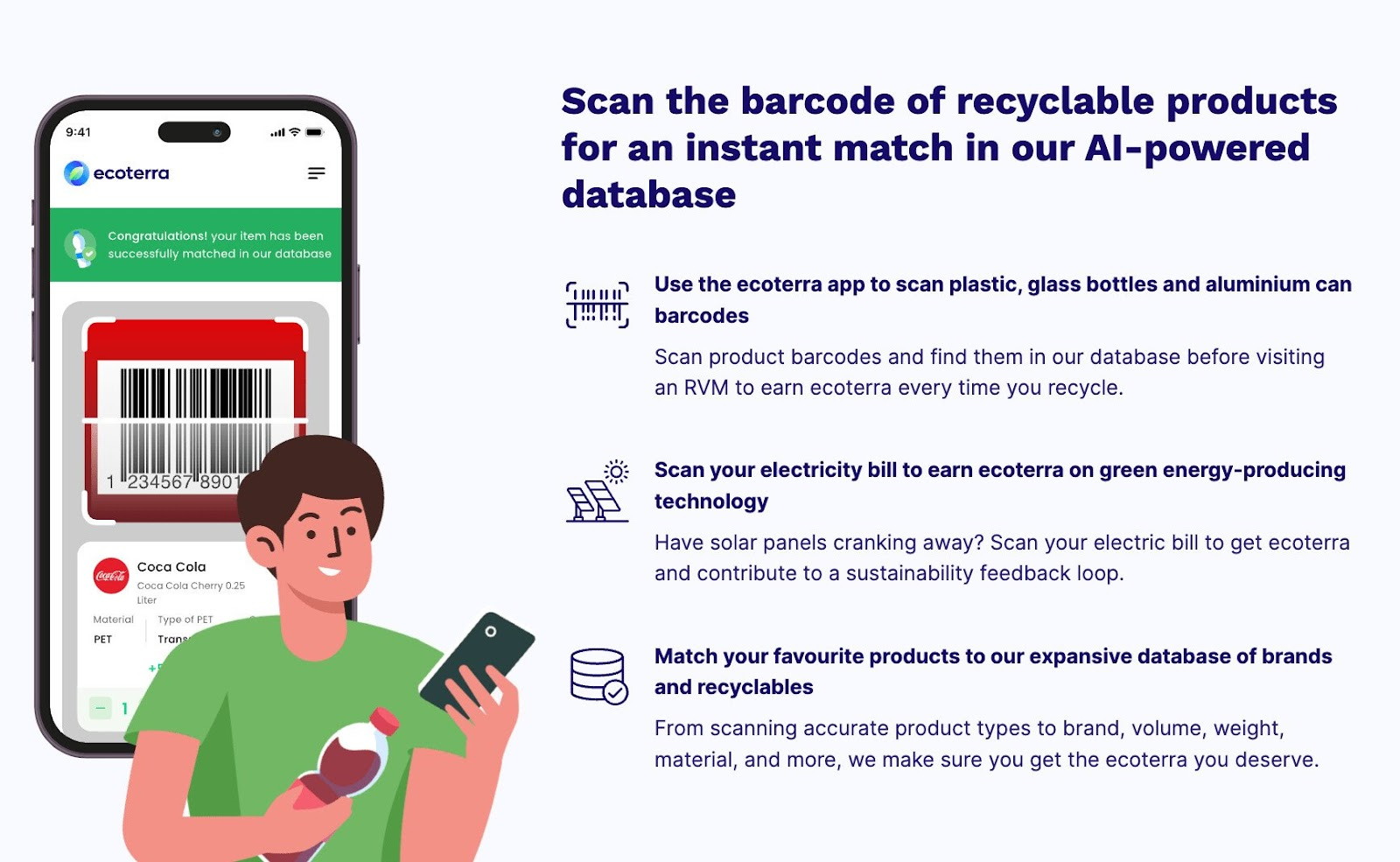 The green web3 start-up's R2E app is supported in any country that uses Reverse Vending Machines (RVMs), meaning a huge potential market.
The platform features a carbon offset marketplace to make it easier for individuals and businesses to offset their carbon footprint.
Ecoterra also features a recycled materials marketplace to make it easier for businesses to purchase recycled goods using $ECOTERRA or other cryptocurrencies.
Meanwhile, thanks to the transparency of the blockchain, ecoterra allows individuals and businesses to track their environmentally friendly practices via an Impact Trackable Profile.

Observers predict this feature to be very popular amongst environmentally-conscious businesses, who can use Impact Trackable Profile to boost their brand image and bolster customer loyalty.
$ECOTERRA –- The Ultimate Green Utility Token
The economic backbone of ecoterra's web3 ecosystem, $ECOTERRA is the ultimate green utility token.
And the token will also come infused with passive income.
Ecoterra's development team intends to launch a staking protocol in the future that allows ECOTERRA holders to generate a passive income stream through their token holdings, adding further reason for investors to hold the token beyond just expected price gains on the public market.
$ECOTERRA's supply is capped at two billion, with one billion of these (50%) being made available to presale investors.
20% is allocated to ecosystem liquidity, 10% to listings and marketing each and 5% to corporate adoption.
Only 5% is allocated to the team, meaning that if they want to make big money off of the project, they will have to stick with it for a long time in order to really pump the $ECOTERRA price.
With nascent green web3 projects like ecoterra expected to play an increasingly important role in global efforts to address climate change in the decades ahead, it's no wonder analysts are predicting big things for the $ECOTERRA token.
Popular crypto presale analyst Jacob Crypto Bury thinks that $ECOTERRA has the potential to 10x when it launches across cryptocurrency exchanges later this year.
---