Dogecoin Price Prediction as Hopes for $1 Linger – Is a Bull Market on the Horizon for DOGE?
Disclosure: Crypto is a high-risk asset class. This article is provided for informational purposes and does not constitute investment advice. By using this website, you agree to our terms and conditions. We may utilise affiliate links within our content, and receive commission.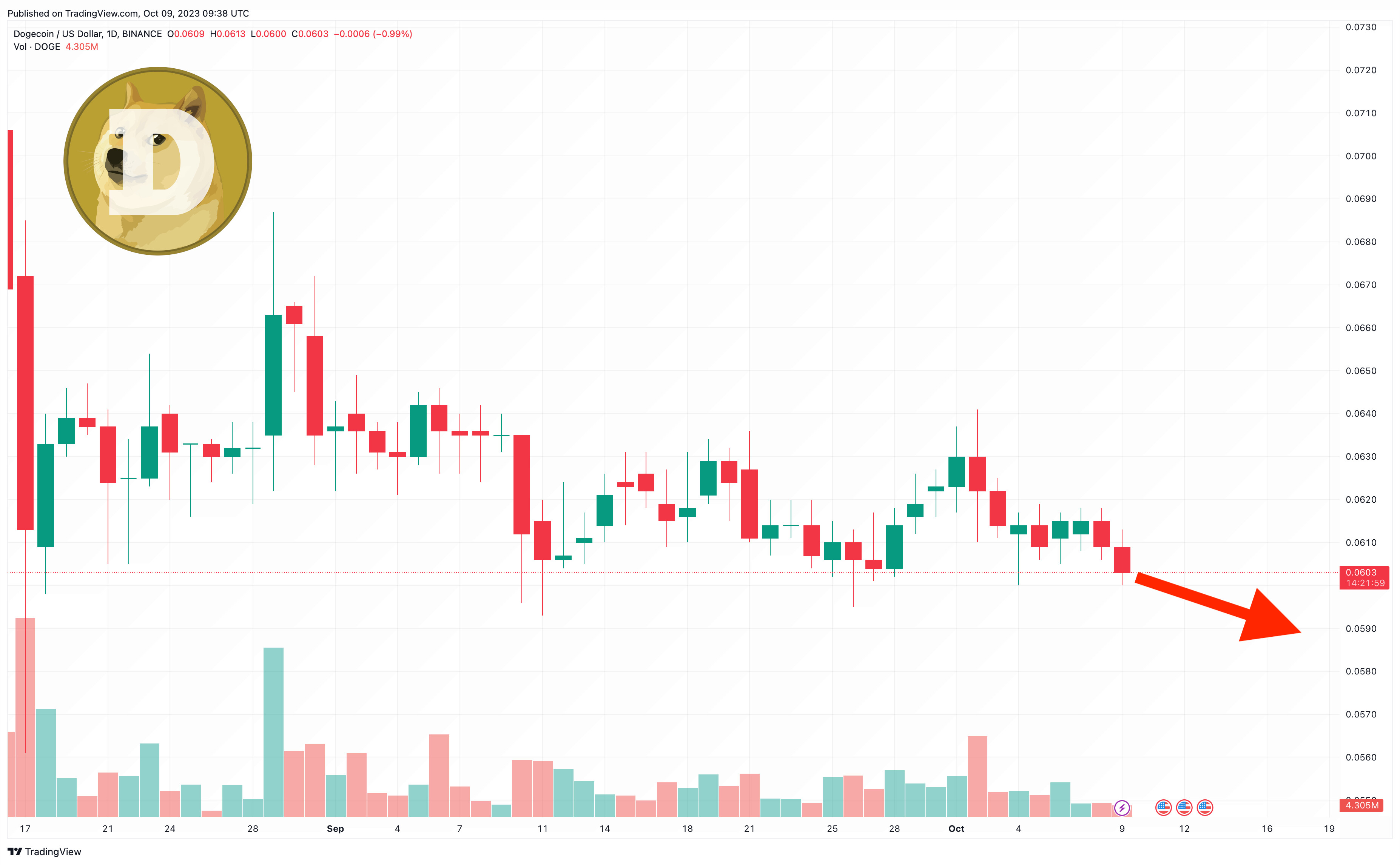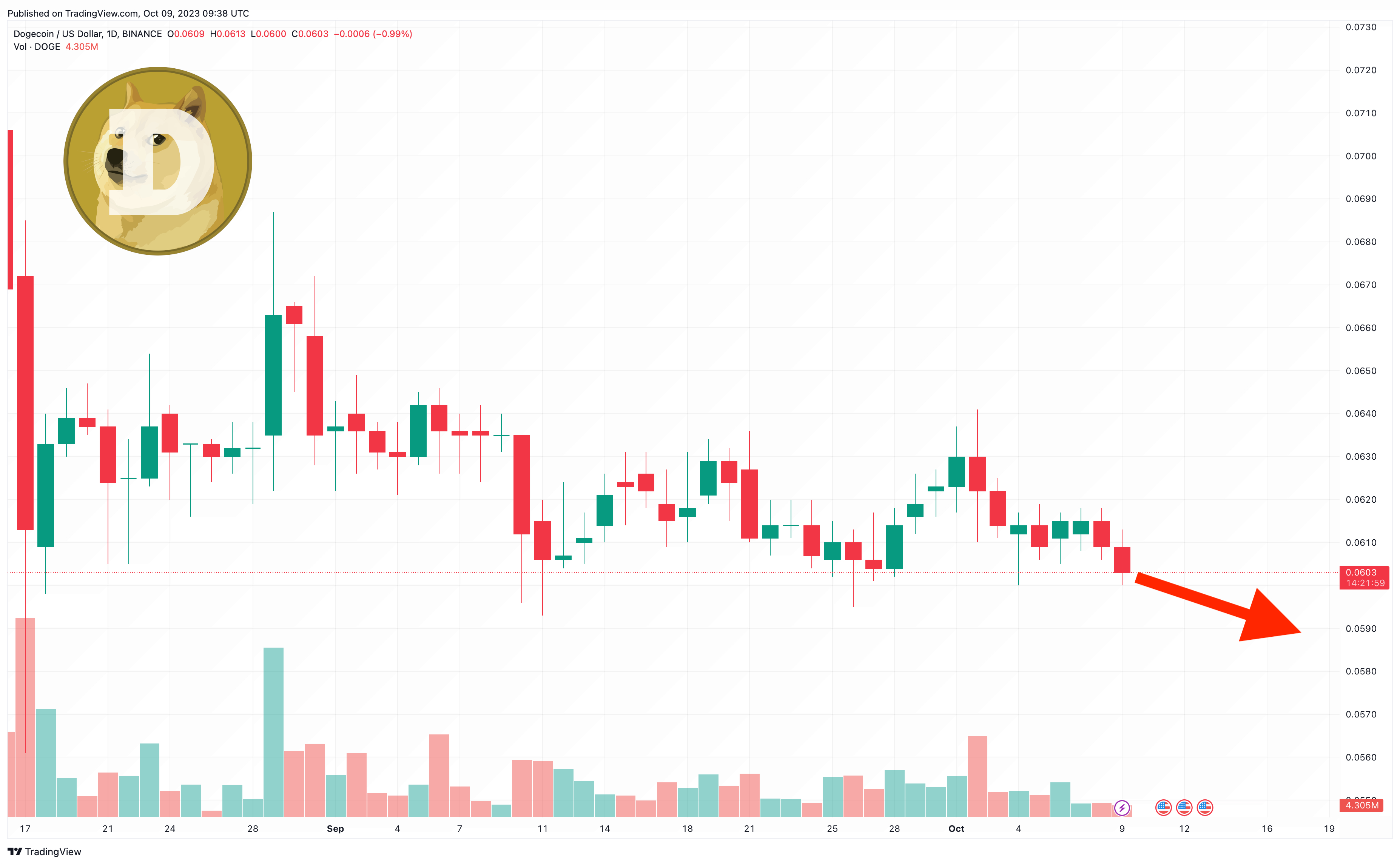 The price of Dogecoin (DOGE) has dropped today as the cryptocurrency market continues to weather poor conditions, with the meme token falling by 2% in the past 24 hours.
At $0.060220, DOGE is also down by 6% in a week and by 5% in a month, with the original meme coin having fallen by 14% since the beginning of the year.
This fall since January contrasts strongly with many other major tokens (e.g. BTC, ETH, XRP), with DOGE looking like it's suffering a long-term decline.
However, the Dogecoin community still hoping that X (formerly Twitter) will eventually introduce cryptocurrency payments, DOGE could witness a big comeback eventually.
Dogecoin Price Prediction as Hopes for $1 Linger – Is a Bull Market on the Horizon for DOGE?
DOGE's chart looks fairly grim at the moment, and it has looked this way for well over a month now, with its indicators showing no immediate signs of recovery.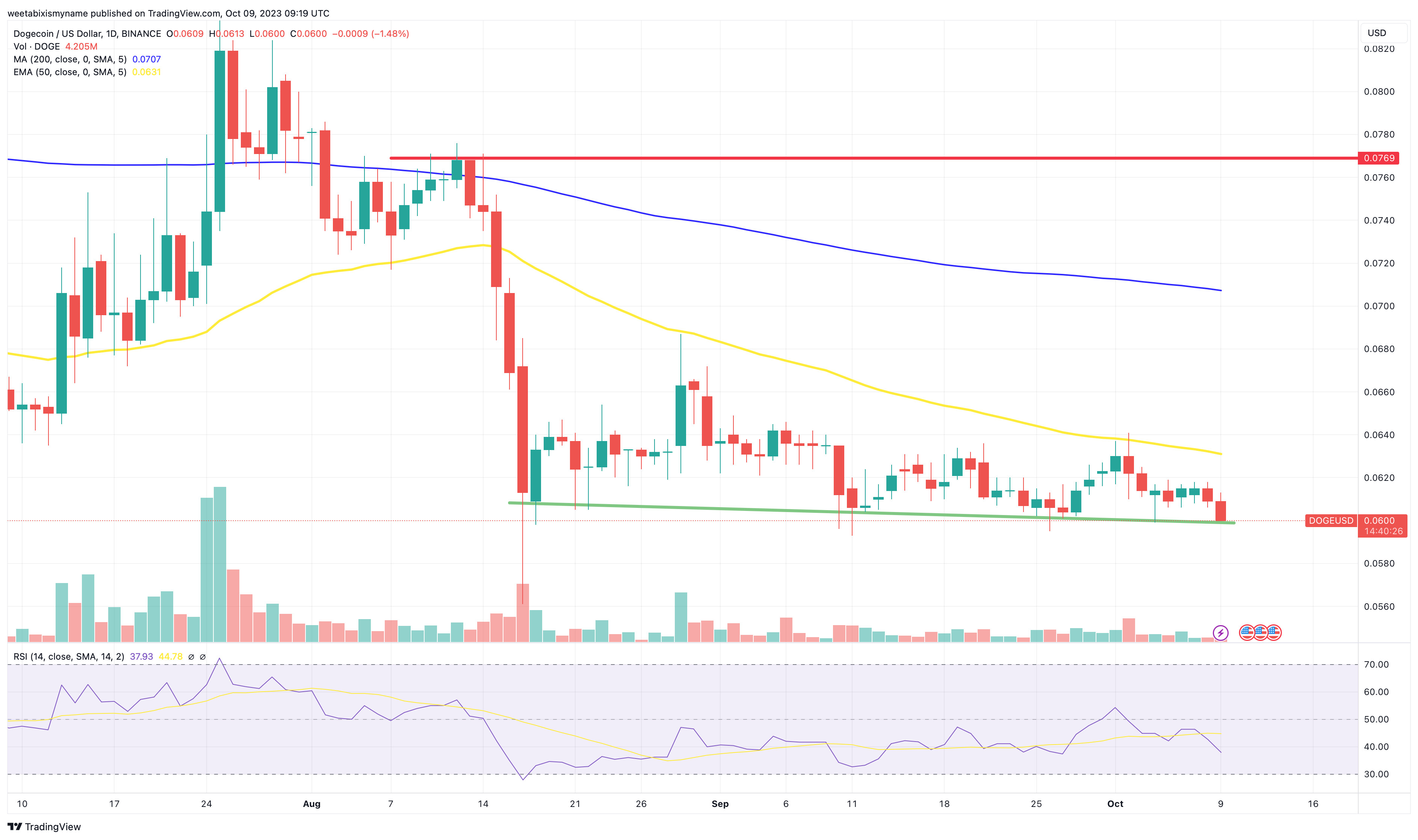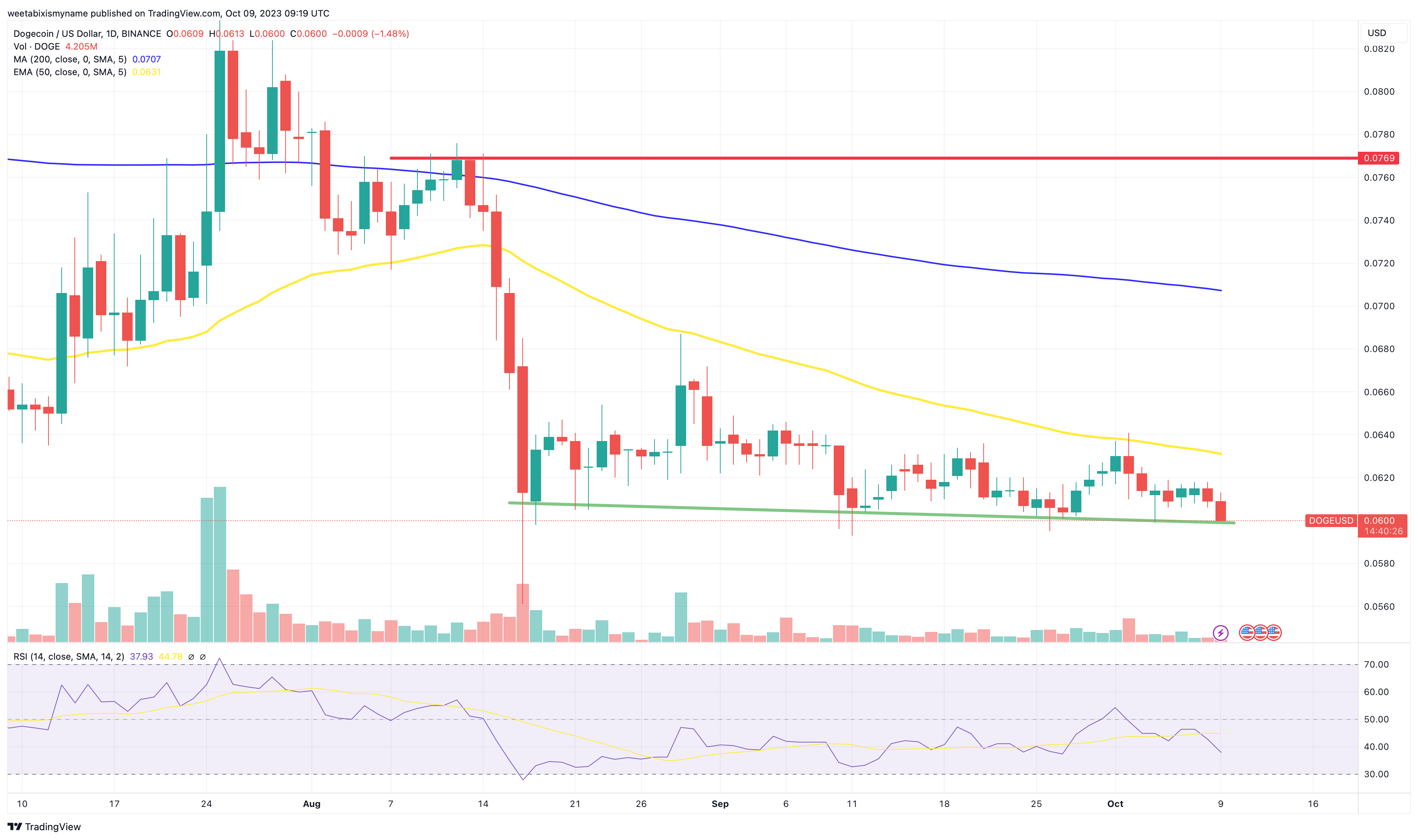 Its relative strength index (purple) has remained below 50 since the middle of August, and has actually been below 40 and close to 30 for much of this time, indicating some serious overselling.
Reinforcing this concerning picture is the fact that DOGE's 30-day EMA (yellow) has been comfortably below its 200-day average (blue) for much of the year, something which again suggests it's in the middle of a drawn out process of decline.
It also looks bad as far as the coin's support level (green), which has been sliding since the middle of August and could easily continue sliding for the foreseeable future.
The problem with DOGE is that, caught in the middle of an ongoing bear market, there is nothing fundamental holding it up and protecting it from ongoing falls.
It's hard to remember when Dogecoin saw its last significant piece of news or update, with the coin almost exclusively waiting for Elon Musk to tweet some inane reference to meme token in order to prop it up.
$DOGE is catching my attention again.

People seem to have largely forgotten about Elon's plans for crypto payments on X, and, ever the cyclical beast, Doge has been quietly basing on long term support for some time now. $DXY and $TLT topping (at least short term) should…

— Colin 🐻d⚡🛡 (@Vires_Num3ris) September 30, 2023
As far as the longer term picture goes, its community is hoping that DOGE payments eventually come to X, which is certainly moving in a direction that would suggest it intends to introduce digital payments of some kind.
Indeed, recent months have seen X receive money transmitter licenses, meaning that it's nearing the point where it will be able to offer financial and/or payment services.
Of course, plans to introduce payments doesn't guarantee that such plans will involve DOGE, even if Musk is undeniably a long-term supporter of the meme token.
Because of this uncertainty, it's hard to say whether DOGE will enjoy a major recovery in the not-too distant future.
Assuming that DOGE payments do come to X, it could easily return $0.10 if not much higher.
But if they don't, the meme token could continue its seemingly inexorable decline, falling through one support level after another in the coming months, unless another bull market arrives.
Fundamentally Stronger Coins
Traders tired of coins without fundamentals may prefer to look at some of the newer tokens on the market that do boast actual use cases, with some of these currently holding their presales right now.
For example, TG.Casino (TGC) is a decentralized casino platform that will combine online betting with social networking.
$500k now reached in our presale for $TGC and lots of people staking for over 888% APY.

Want to join in?
👇👇👇https://t.co/1CivTnIx4Z pic.twitter.com/JSmtWwJd23

— TG Casino (@TGCasino_) October 6, 2023
Having begun the presale for its native TGC token a few weeks ago, TG.Casino has already raised in excess of $500,000, a sign that investors are being won over by its fundamentals and roadmap.
As a casino platform, TG.Casino offers a wide variety of online games and gambling experiences, with its platform having already launched and having already begun attracting a growing userbase.
But what distinguishes the platform from its rivals is the fact that it also operates on Telegram, which it has begun using in order to tap into the large online communities that already exist on the popular social messaging app.
This harnessing of Telegram has given TG.Casino a headstart over many of its competitors, with the platform's success in a raising half a million dollars suggesting that the use of the app is already paying off.
Its native token, TGC, will have a hard cap of 100 million, with 40% going to its presale, 20% going to staking rewards and 10% to gaming rewards.
Such a distribution is likely to motivate greater involvement from its community, increasing the chances that TG.Casino will have a long and fruitful lifespan.
🚀Victory Quest at https://t.co/1CivTnIx4Z🚀

⚡Dive into our electrifying MULTIPLIER DUEL!

🌟Capture the highest multiplier on any game & show off your gaming skills.

🏆Spin, win & join the elite!

💰Top Prize: $3k USDT

+ 4 more prizes.

See Community TG for full details. pic.twitter.com/2O4Ij78D8J

— TG Casino (@TGCasino_) October 6, 2023
New buyers can join the presale by heading over to the official TG.Casino website, where 1 TGC costs $0.125.
TGC will remain at this price for the entire presale, yet once it lists on exchanges in the next few weeks it could easily rise much higher.
Disclaimer: Crypto is a high-risk asset class. This article is provided for informational purposes and does not constitute investment advice. You could lose all of your capital.
---