Dogecoin Price Prediction as Elon Musk's Legal Team Respond to Dogecoin Lawsuit – Will DOGE Rise Soon?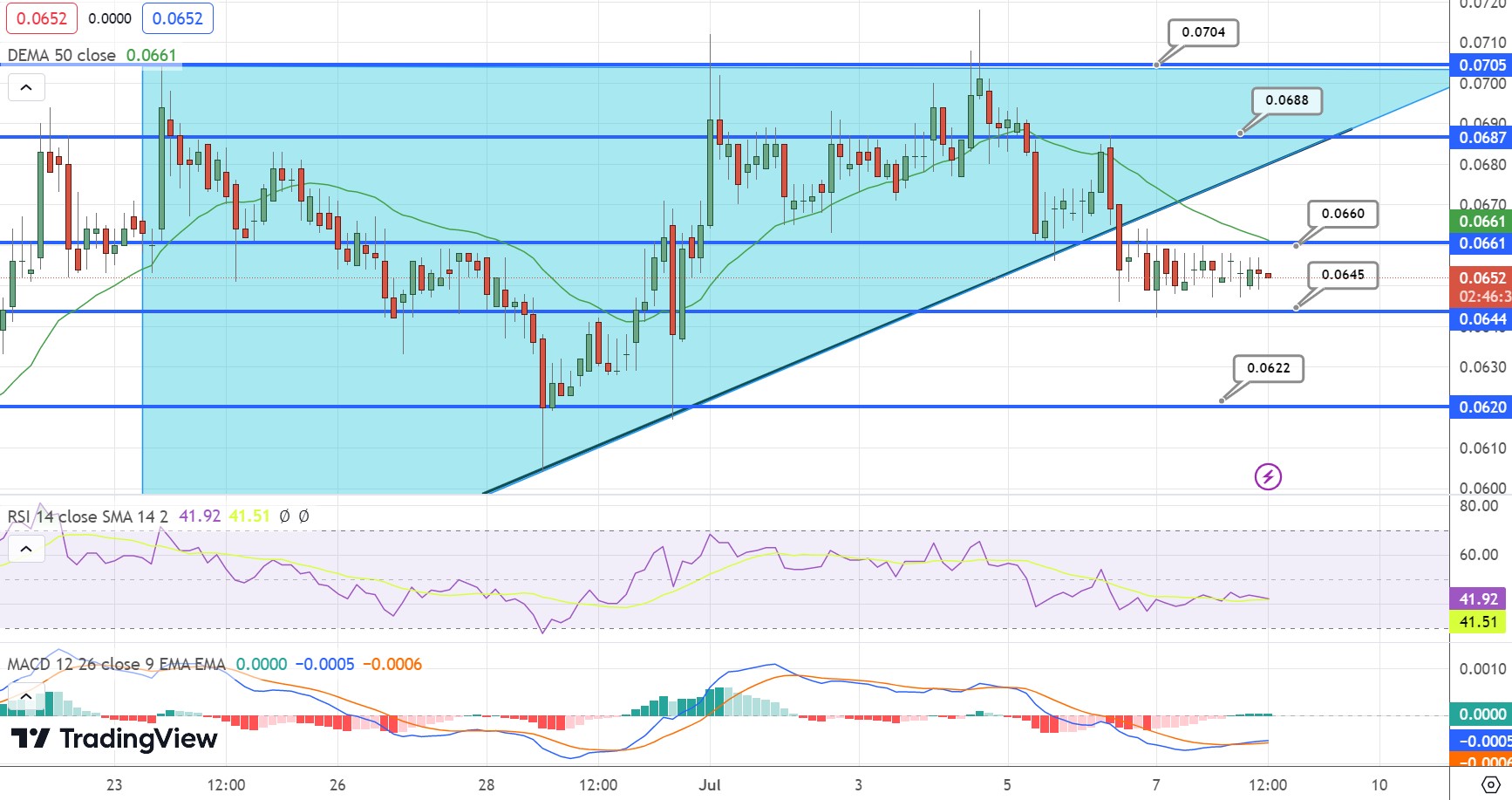 Dogecoin, the popular cryptocurrency that gained attention due to its meme-inspired origins, is facing a legal challenge.
The recent lawsuit against Dogecoin has attracted the attention of Elon Musk's legal team, who have responded to the allegations.
As investors eagerly await the outcome of this legal battle, the question remains: will Dogecoin experience a rise in its value in the near future?
Let's delve into the factors at play and explore the potential price prediction for DOGE.
Dogecoin News: Elon Musk's Legal Team Responds to Dogecoin Lawsuit
Elon Musk's attorneys have filed a motion with a federal judge to reject a complaint that sought their removal from a class action lawsuit filed by Dogecoin investors.
The investors had accused Musk's attorneys of unethical conduct, but Musk's legal team dismissed the allegations as baseless and a waste of the court's time.
In a 17-page document, Musk's attorneys argued that the accusations against them lacked merit and failed to meet the legal standard for consideration.
They described the claims as false, including the allegation that one of Musk's attorneys leaked a crucial letter to the media.
Instead, they argued that the plaintiffs' attorney, Evan Spencer, had engaged in improper behavior.
On June 26, attorney Evan Spencer filed a motion accusing Elon Musk's attorney, Alex Spiro, of engaging in a pattern of improper behavior that undermined the case.
Spencer alleged that Spiro used unethical tactics by leaking a letter to the New York Post that questioned Spencer's competence.
Another attorney, Allison Huebert, was also accused of a conflict of interest due to her employment with Elon Musk and Tesla.
Elon Musk's Legal Team Disputes Allegations, Calling Them Baseless
Elon Musk's legal team strongly disputed the allegations, stating that there was no evidence to support Spencer's claim of a leaked letter.
They argued that even if true, it would not violate any rules regarding media communication.
They also emphasized that in New York, it is legally acceptable for lawyers to represent both executives and their companies simultaneously. The team deemed Spencer's argument unfounded and false.
The ongoing legal battle between Elon Musk and Dogecoin investors began in June of the previous year.
The investors accused Musk of involvement in a cryptocurrency-related racketeering scheme, seeking $258 billion in damages.
Despite expressing support for Dogecoin on social media and collaborating with its founders in the past, Musk has consistently denied any wrongdoing.
In summary, Elon Musk's lawyers have requested the dismissal of the complaint to be removed from the class-action lawsuit.
They vehemently denied the misconduct allegations, dismissing them as baseless and lacking credibility.
The legal dispute between Musk and the Dogecoin investors continues, with Musk firmly asserting his innocence.
Dogecoin Price Prediction
Dogecoin (DOGE) has reached a significant support level at approximately $0.0644. A decisive break below this level could expose DOGE to additional support at $0.0620 or potentially $0.0580.
It is anticipated that Dogecoin will undergo a minor bullish correction, targeting resistance levels at $0.0705 and $0.0720.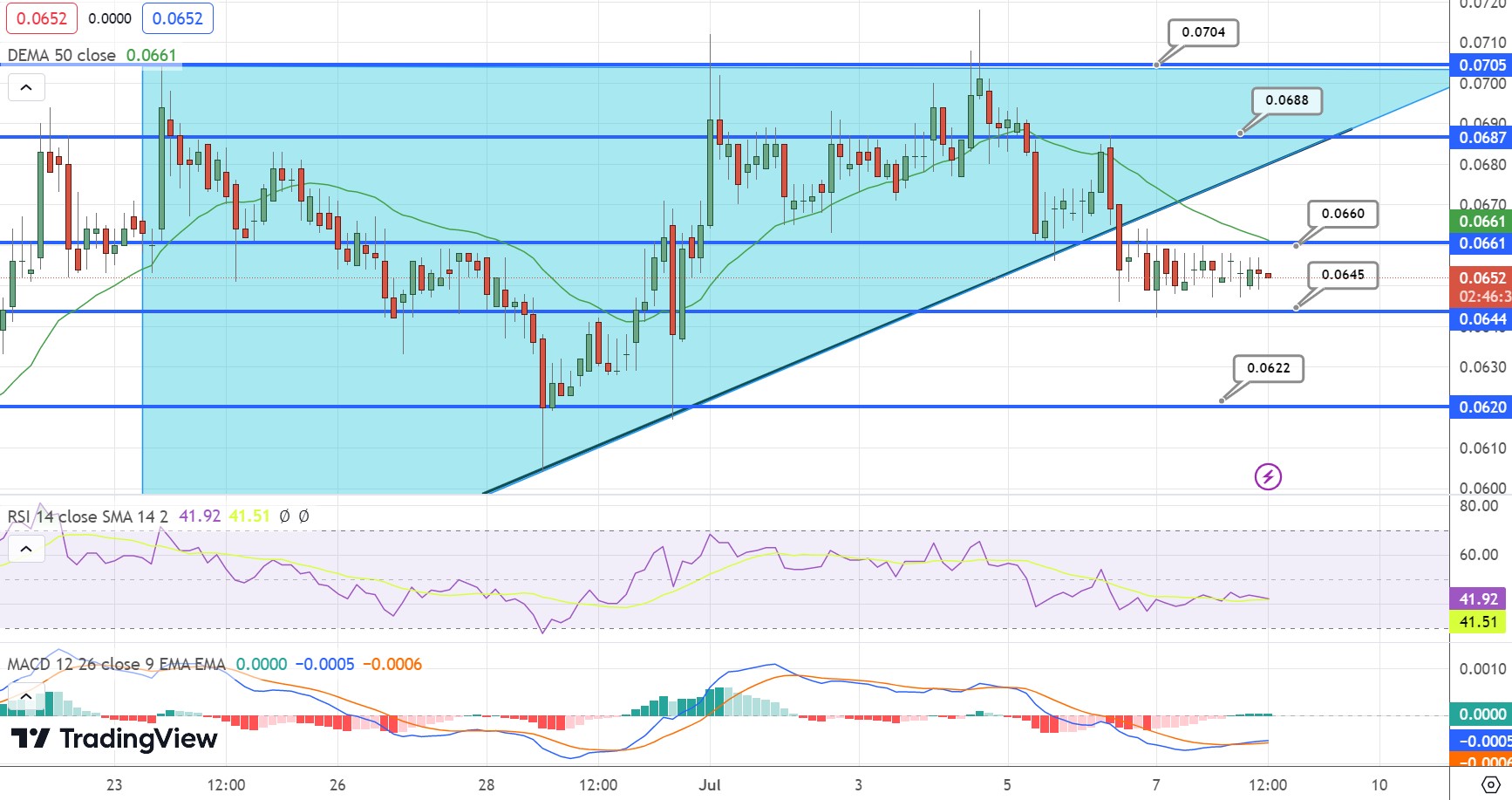 Traders may find viable selling opportunities at these levels, with potential profit targets set around $0.0670 or even lower, specifically near the $0.0660 support level.
This comprehensive analysis provides valuable insights into the potential market movements of Dogecoin, aiding informed decision-making for traders and investors.
Alternative Meme Coin: Wall Street Memes
Wall Street Memes, a popular online community for retail investors, has achieved a significant milestone with the successful presale of its meme coin, $WSM.
In just a few weeks since its launch, the presale has raised an impressive amount of over $13 million, showcasing a remarkable fundraising rate.
Currently, in the presale phase, investors can acquire $WSM for $0.0313.
As the presale progresses, the price will gradually increase to $0.0316, offering investors the potential to secure guaranteed gains on paper by participating at this stage.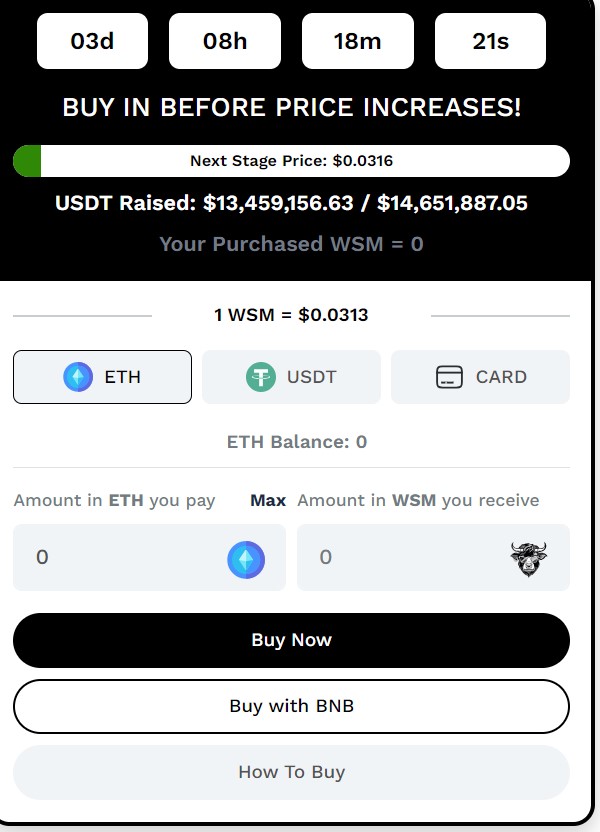 Don't miss out on the chance to participate in the $WSM presale and potentially benefit from its promising growth. Take action now and purchase Wall Street Memes to be part of this exciting and lucrative opportunity!
Disclaimer: The Industry Talk section features insights by crypto industry players and is not a part of the editorial content of Cryptonews.com.
---