How to Buy Wall Street Memes Coin - WSM Token Presale
The Wall Street Memes crypto project's presale began May 26, 2023, at wallstmemes.com.
This guide outlines how to invest in the Wall Street Memes presale using a crypto wallet such as a MetaMask or Trust Wallet. A 'how to buy' section is also included on the official WSM presale website.
The presale has become one of the best ever, rasing more than $25 million since it launched, with WSM also offering passive rewards through its staking mechanism - the current APY sits at 50%.
However, investors need to move quickly to secure their tokens before the presale ends, with a closing date of 6pm UTC on September 25 ahead of what is expected to be an explosive IEO.
The IEO, which takes place on September 26, will be hosted on a tier-1 centralized exchange, with full details to be released imminently.
What is the Wall Street Memes Presale?
The Wall Street Memes presale is open to the public and a way to invest in WSM coin before it is listed on crypto exchanges in Q3 - Q4 2023.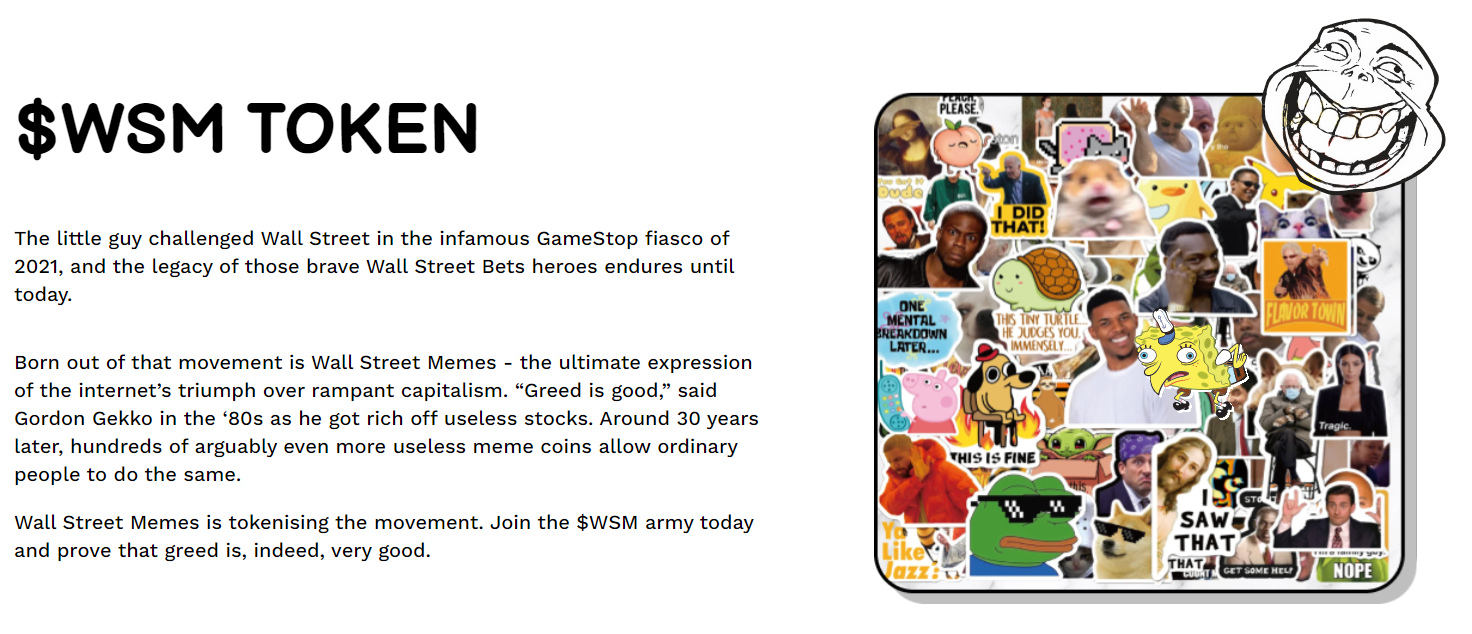 As a meme coin, its use case is for speculation and a rewards token for its community of investors and traders following the Reddit subculture that grew out of the 'infamous GameStop fiasco of 2021, and the legacy of those brave Wall Street Bets heroes' that still endures today.
While they lack utility, meme tokens have been the best-performing assets of each crypto bull run, whether Dogecoin (DOGE) and Shiba Inu (SHIB) in 2021, or Pepe (PEPE) in 2023 following the Bitcoin price starting to recover from the 2022 bear market.
The Pepe bull run turned many meme coin investors into millionaires. The '$WSM army' hopes to replicate some of that success and show that 'greed is good' - a slogan used by composite character Gordon Gekko in the film Wall Street.
The Wall Street Memes crypto asset is a way to 'tokenize the movement' and 100% of its 2 billion supply will be able to be held and traded by the community, with 50% set aside for presale buyers, 30% for community rewards, and 20% for liquidity once WSM token is listed on exchanges.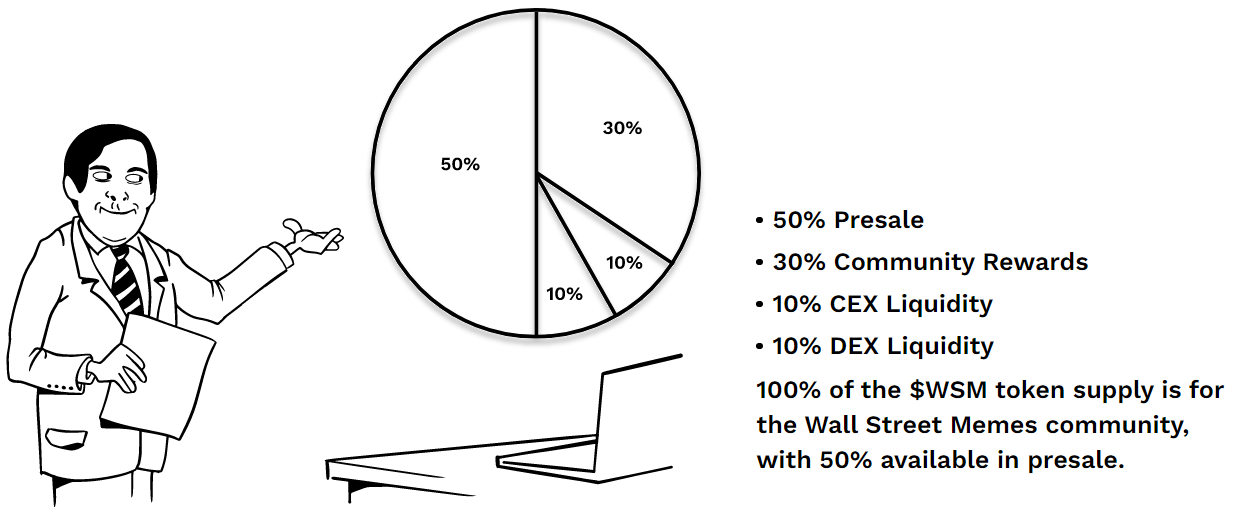 Unlike some meme coins created spontaneously, Wall Street Memes token already has a wide backing from one million followers across its social channels due its popular NFT collections and Instagram memes centered around investing in crypto and stocks, or 'stonks'.
How to Buy Wall Street Memes Crypto - Step by Step
To invest in Wall Street Memes token during the presale, follow these steps:
1. Open a Crypto Wallet
To invest in crypto presales via desktop a MetaMask wallet is the most commonly used option - follow the instructions to set up a new wallet on metamask.io if you don't already have one.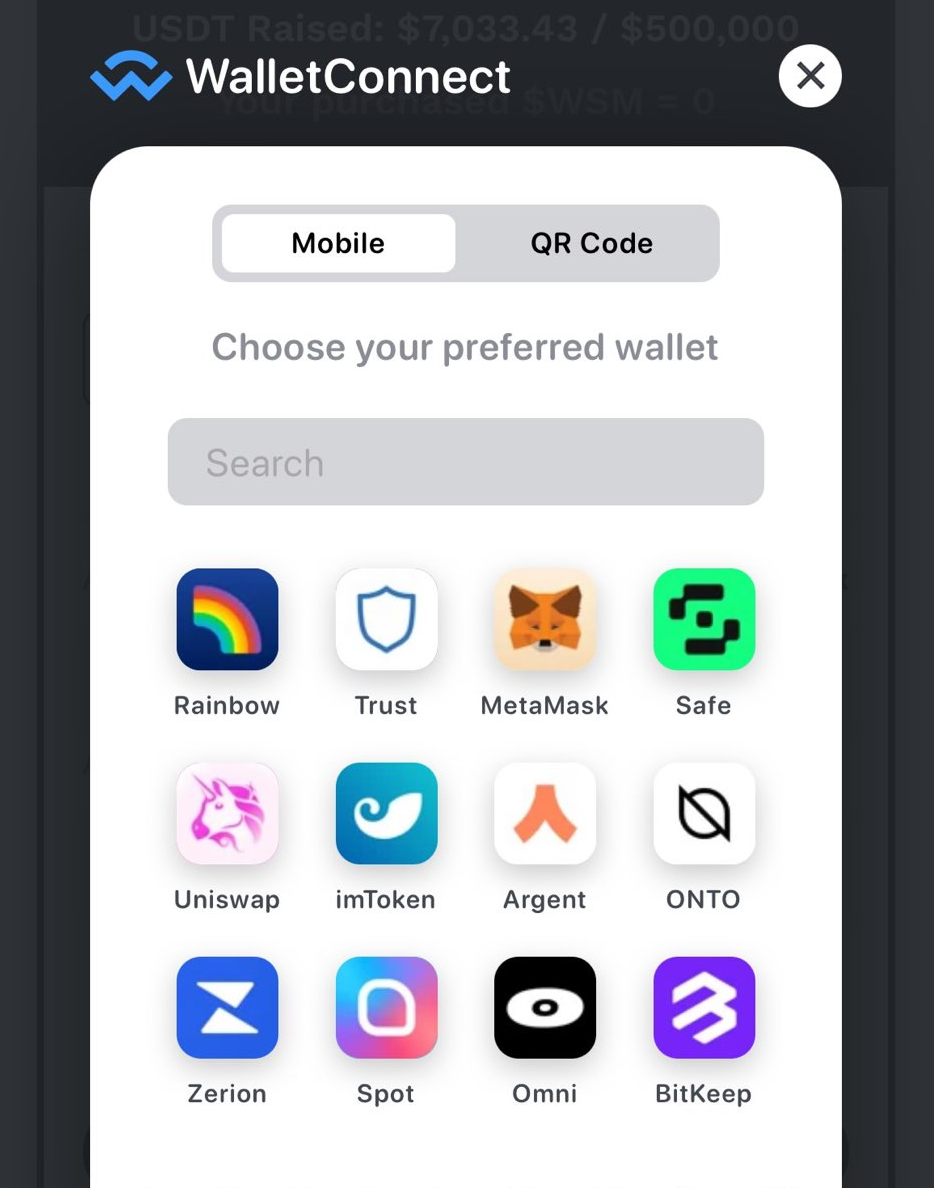 On mobile, Trust Wallet is often preferred, the official wallet of Binance exchange. It is available on the App Store or Google Play. It does also have a desktop version. For this guide, we'll be using Trust Wallet.
The Wall Street Memes presale also supports a wide number of other options, under the WalletConnect option.
2. Connect Wallet
Visit the official website wallstmemes.com - beware of fake sites that often impersonate popular crypto presales - and click 'Connect Wallet'.
After selecting e.g. the Trust Wallet option, you'll be prompted to connect with a message 'Wall Street Memes wants to connect to your wallet'.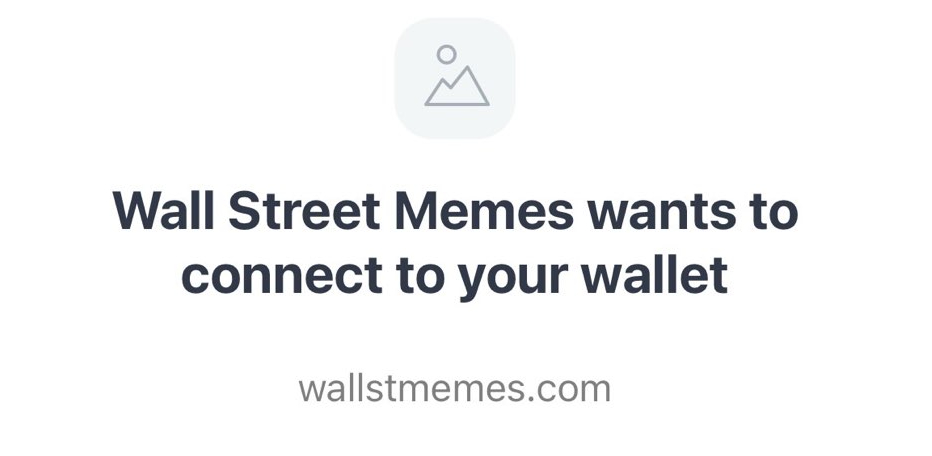 Note that you will not be required to provide your seed phrase, and never are with any crypto project - admins do not require it. If you are asked to provide that backup phrase or 'validate your wallet' to buy tokens or receive an airdrop, that will be a fake domain operated by scammers.
3. Swap ETH, BNB or USDT for $WSM
Enter an amount of ETH, USDT, or BNB to swap for $WSM - the amount you will receive is displayed before confirming the buy order.
Ethereum, Tether and Binance Coin can be bought from a crypto exchange or directly within many crypto wallets.
Note the gas fees - these vary by the time of day.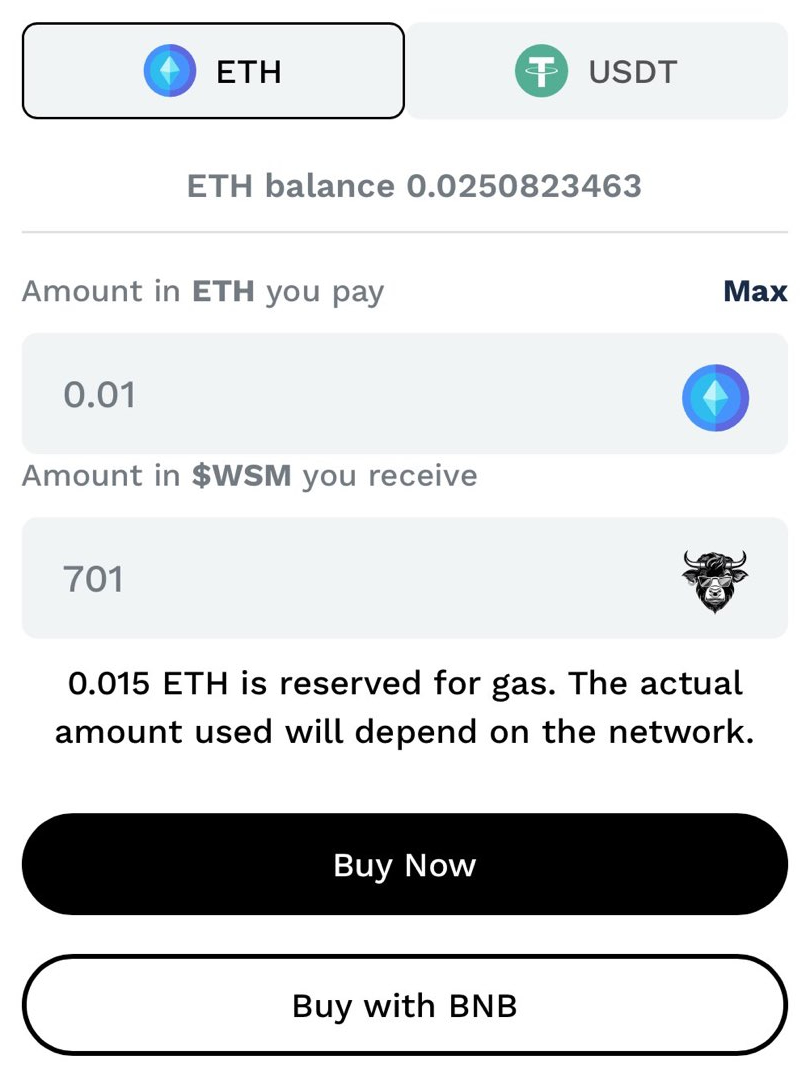 The $WSM price also rises over time to provide a discount to early buyers - the initial stage (shown above) sold out within 48 hours due to high demand.
When then clicking 'Buy Now' in Trust Wallet, the message 'smart contract call executed' will be displayed and the details summarized on the next screen - with the Wall Street Memes Dapp (wallstmemes.com) and network fees.

An option to buy Wall Street Memes token with a debit / credit card is also available.
4. Claim Tokens
Once the presale concludes, connect your wallet once again and WSM tokens will be transferred to your wallet.
Follow the Wall Street Memes presale social channels for announcements of the exact claim time and date, and the DEX and CEX listings that will take place shortly after.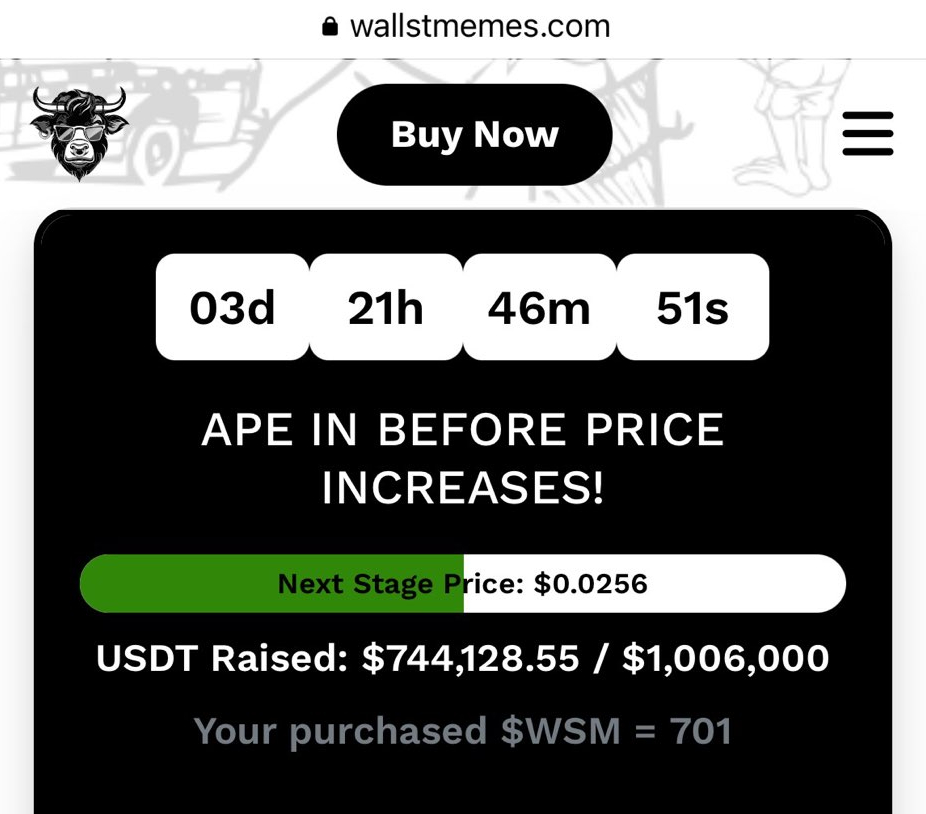 Prior to the Wall Street Memes presale claim date, your amount of purchased $WSM can be viewed on the official website by visiting it and connecting your wallet.
Summary
During the Wall Street Memes presale rounds, to invest in WSM token connect a crypto wallet to the official site and swap ETH, USDT or BNB for WSM, or use a bank card. So far, more than $25 million has been raised since the project launched in late May.
Wall Street Memes also allows holders to generate passive income through its staking mechanism, with the presale to close on September 25.
Remember admins will not message you first on platforms such as Discord, Telegram, Instagram or Twitter - its official handles are on its Linktree.
Keep your crypto wallet backup phrase (seed phrase) and any other passwords / two-factor authentication secure and don't share them with anyone. Losing access to your wallet or being compromised by phishing links may prevent your $WSM tokens from being claimed.
Don't approve any transactions you are unsure of, and always use official links - the only place to buy Wall Street Memes token before its DEX and CEX listings is on wallstmemes.com.
Trust Wallet also supports facial recognition to access your wallet as another 2FA measure.
The Wall Street Memes IEO will take place on September 26 on a tier-1 CEX, with details to be released imminently on thir social media pages.
Disclaimer: The Industry Talk section features insights by crypto industry players and is not a part of the editorial content of Cryptonews.com.
---