Dogecoin Price Prediction as DOGE Spikes Up 2% Overnight – Is the Sell-Off Over?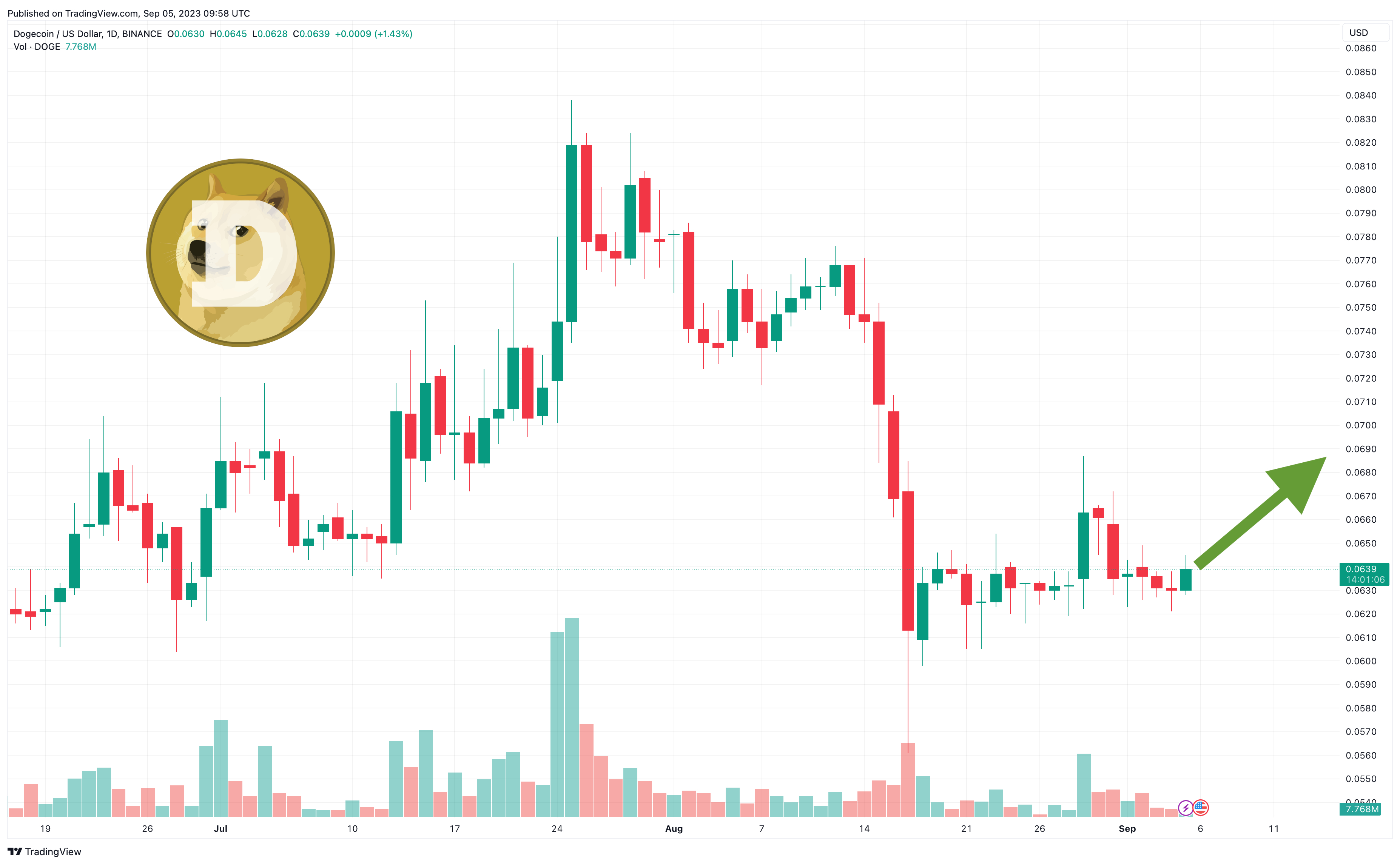 The Dogecoin price has risen by as much as 2% in the past 24 hours, with its move to $0.063909 coming as the cryptocurrency market as a whole dips by almost 1% today.
DOGE is now up by 1.5% in the past week, although it remains down by 15% in the last 30 days and by 9% since the beginning of the year, something which stands in stark contrast to many other major coins (e.g. BTC, ETH and XRP are all substantially up since January).
However, the meme token's lift today suggests that its recent declines may have bottomed out, and that investors are now ready to begin buying it again at its steeply discounted price.
Dogecoin Price Prediction as DOGE Spikes Up 2% Overnight – Is the Sell-Off Over?
What DOGE's chart reveals is that the coin is beginning to gain some momentum, and that it may therefore be at the beginning of a recovery rally.
For example, the coin's relative strength index (purple) has climbed beyond 40 after spending a couple of weeks very close to 30, which is strongly indicative of overselling and undervaluation.
And while DOGE's 30-day moving average (yellow) remains substantially below its 200-day average (blue), the fact that it's still some distance below the longer term average would also indicate that a big rebound is due very soon.
This piece of optimism is supported by the coin's support level (green), which has been rising steadily since the middle of August and which suggests that DOGE has stopped falling in the short- and medium-term.
The question of whether DOGE can rally in a big way all depends on whether larger investors and whales are likely to get involved anytime soon.
Based on transactions shared by Whale Alert, the last time there was a big, $1m+ movement of DOGE was back in the middle of July, suggesting that whales have lost interest in the meme token for the time being.
Still, DOGE benefitted from some good news last week, in the form of Robinhood adding support for Dogecoin-based swaps to its cryptocurrency wallet.
This will likely increase usage of DOGE in the longer term, and may have already helped the meme token enjoy gains in the past few days, at a time when the overall market has been up and down.
As for DOGE's more distant future, this all hinges on whether Twitter ever ends up introducing Dogecoin payments of some form.
The past couple of weeks and months have brought hints that the social network is making progress on this front, including its securing a money transmitter license last week.
As such, DOGE payments/transfers on Twitter continues to remain a possibility, and if they do arrive, there's no doubt DOGE would skyrocket.
In the meantime, it could be expected to reach $0.070 in the next few weeks.
Presale Tokens For Quicker Gains
DOGE does look like it could end up having a very big rally at some point in the future, but it's important to keep in mind that such a rally may not come for several months or even years.
In the meantime, many traders may prefer to look at alternatives, with a number of presale tokens looking very promising at the moment, with some likely to rally big once they list.
And the biggest sale at the moment belongs to Wall Street Memes (WSM), a new ERC-20 meme token that has raised over $25 million on the back of having a large and growing community.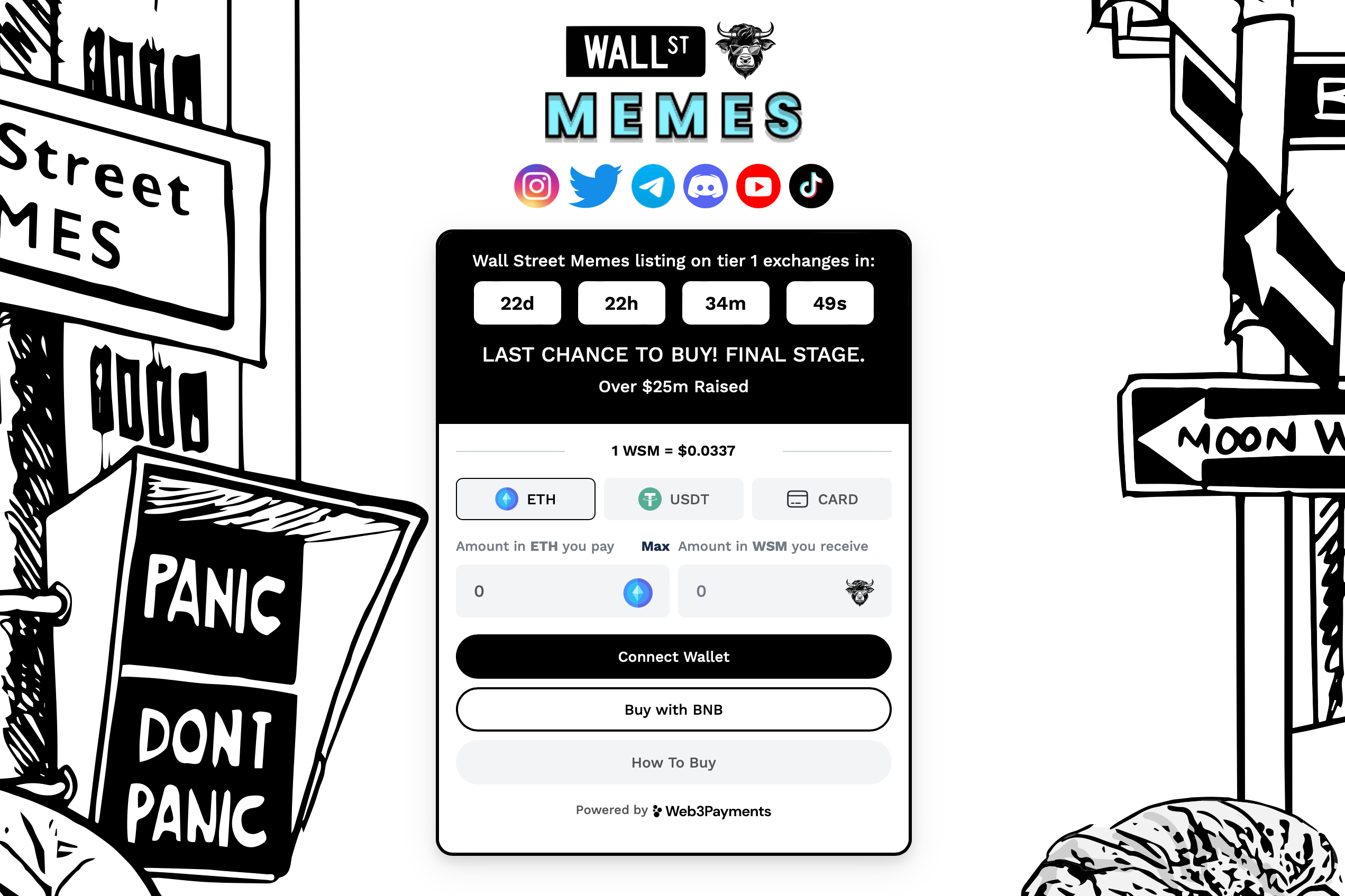 Wall Street Memes already has a big edge over most other new meme tokens, since it has grown out of the meme stocks movement that was responsible for the GameStop and AMC rallies in 2021.
Its connection to this movement has already enabled it to attract a relatively large number of investors, with its Twitter account now claiming more than 268,000 followers.
Such a strong count will prove very important once the coin lists, since meme tokens live and die by the strength of their communities.
The coin has a max total supply of two million, with 50% of this amount going to the presale and 30% going to community rewards.
Again, such a distribution will help attract more engagement and followers, which in turn will ultimately help to support WSM's price in the long run.
New investors can participate in the sale by going to the official Wall Street Memes website, although they should act quickly, since the sale will end in 21 days.
1 WSM now costs $0.0337, with the coin's listing on exchanges in the next few weeks likely to push it even higher.
Disclaimer: Crypto is a high-risk asset class. This article is provided for informational purposes and does not constitute investment advice. You could lose all of your capital.
---