Dogecoin Price Prediction as $500 Million Trading Volume Comes In – Are Whales Buying?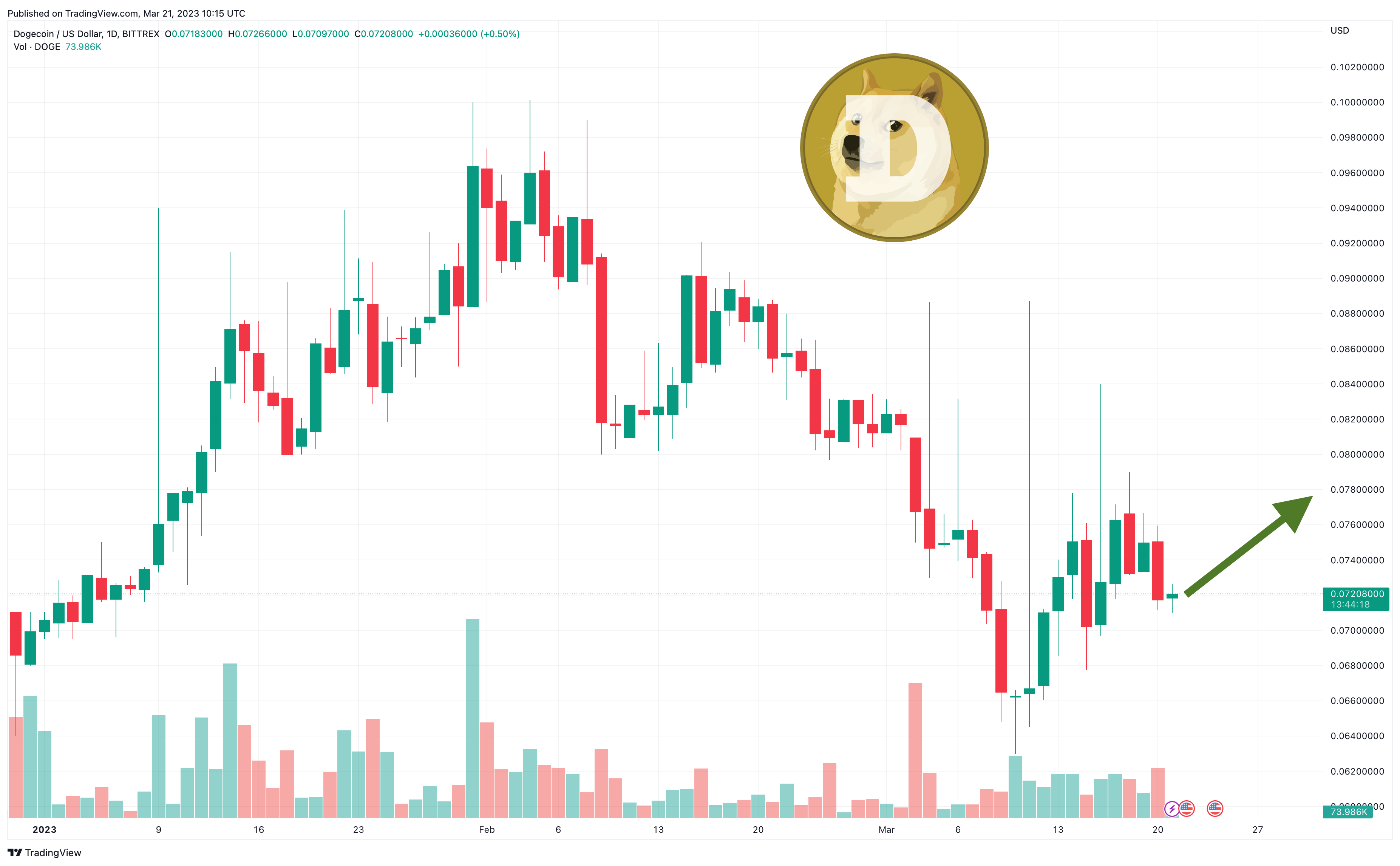 The Dogecoin price has dropped by 2.5% in the past 24 hours, falling to $0.072580
as the wider cryptocurrency market suffers a 1% decline.
At $0.071741, DOGE has dropped by 2% in the past week and by 19% in the last 30 days, although the meme token is up by a very modest 2.5% since the start of the year.
However, with the coin's 24-hour trading volume peaking above $500 million today, there has been an increase in liquidity that potentially makes more gains likely in the immediate future.
And with DOGE holders still hoping for some kind of Twitter payments integration later in the year, the token could end up rising massively in the coming months.
Dogecoin Price Prediction as $500 Million Trading Volume Comes In – Are Whales Buying?
DOGE's indicators are lining up nicely for a big rebound rally in the not-too-distant future, with both its relative strength index (purple) and 30-day moving average (red) at undervalued levels.
After sinking to nearly 20 earlier this month, DOGE's RSI has risen close to 50 in the past couple of days, and should climb further soon.
Likewise, its 30-day average has fallen below its 200-day (blue) and may reach a bottom soon, at which point it's likely that an upwards correction will arrive.
A key resistance level for DOGE right now is $0.075, with the coin being pushed down from this level on several occasions in the past week or so.
In terms of what whales seem to be thinking about DOGE, there has been a mixture of transactions in the past couple of days, with some large holders moving the coin to exchanges and some moving it from exchanges.
At the same time, there have been a few large transfers between unknown wallets, potentially indicating that someone may be preparing to sell, or possibly simply indicating a reorganization of wallets.
Regardless, there's an argument that DOGE is currently undervalued and that some whales may be taking advantage of that right not by purchasing it at a discount.
Indeed, if we accept the claim of most DOGE fans that the coin will (sooner or later) be integrated into Twitter as a payment option, then there's little doubt that the meme token is wildly undervalued right now.
While this may largely be wishful thinking on the part of DOGE holders, it can't be denied that Twitter owner Elon Musk has dropped numerous hints in the past year that Dogecoin will somehow be added to the social network.
Not only that, but credible reports from January revealed that Twitter has been accelerating its plans to introduce digital payments on its platform, with the company already applying for payment licenses in several US states.
Admittedly, the inside sources behind these reports have said that fiat payments will be rolled out first, yet they have also reaffirmed that the firm plans to add cryptocurrency-based options at a later date.
And given that Musk continues to drop references to Dogecoin all over the place, it still remains highly plausible to claim that DOGE will be included if and when Twitter does introduce cryptocurrency payments.
Of course, the flip side of this expectation is that DOGE arguably doesn't have much else going for it right now, which is why it hasn't pumped as much as other major tokens during the market-wide rallies of the past week.
Dogecoin hasn't had a major software update in quite a while, and apart from the odd new exchange listing, there hasn't been much in the way of adoption news.
Indeed, active DOGE wallet addresses have been more or less at the same level for around three years (actually, there's been a slight decline during this period), suggesting that users aren't exactly flocking to the coin right now.
Still, they almost certainly will flock to Dogecoin if Twitter ends up adopting it, with DOGE set to rise strongly in price if this does happen.
From its current level of about $0.0725, it could easily rise to back up to its current all-time high of $0.731578, set back in May 2021.
This would depend on the wider market enjoying a sustainable recovery, yet there's no doubt that Twitter adoption would give DOGE the momentum to reach such levels and potentially rise even higher.
Dogecoin Alternatives
DOGE certainly remains undervalued to a significant degree, yet it likely won't see a really bullish rally until Twitter introduces Dogecoin payments.
However, traders looking for gains in the shorter termns could consider other coins, as several newer altcoins and presale tokens currently have big potential.
If you're interested in exploring these options, the Cryptonews Industry Talk team has compiled a list of the top 15 cryptocurrencies for 2023, featuring some of the most exciting up-and-coming projects in the crypto space.

The list is updated weekly with new altcoins and ICO projects, so be sure to check back for new entries.
Disclaimer: The Industry Talk section features insights by crypto industry players and is not a part of the editorial content of Cryptonews.com.
---