Dogecoin Price Prediction 2023 – 2030
Disclosure: Crypto is a high-risk asset class. This article is provided for informational purposes and does not constitute investment advice. By using this website, you agree to our terms and conditions. We may utilise affiliate links within our content, and receive commission.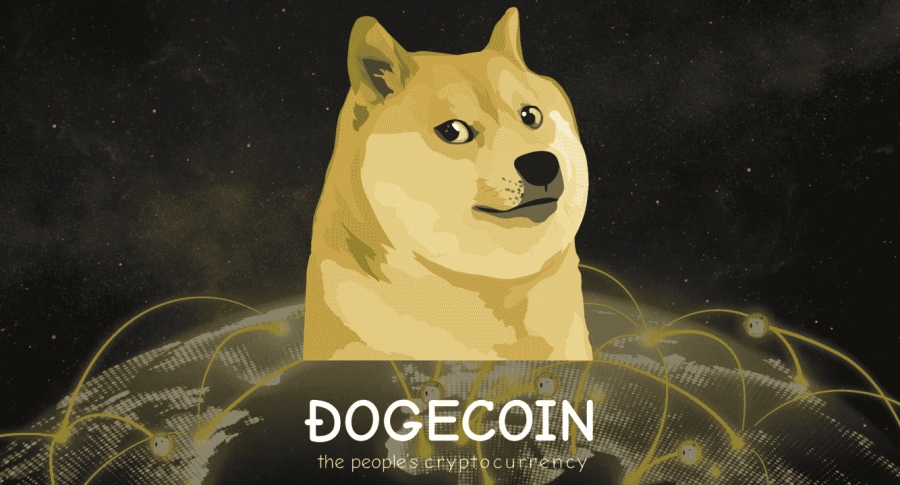 One of the most popular meme coins, Dogecoin (DOGE), disrupted the cryptocurrency scene after delivering explosive returns to investors in the last few years, finally topping out during the 2021 crypto bull run when Elon Musk appeared on SNL. 
Currently trading at a price far below its all-time highs after a deep correction, internet searches for 'Is Dogecoin Dead' and 'Should I Sell My Dogecoin' are now common according to keyword data.
This Dogecoin price prediction guide will analyze the potential future of this popular cryptocurrency – should holders sell DOGE, or will Dogecoin recover?
Dogecoin Price Prediction Summary 
Launched in 2013, Dogecoin is currently ranked 9th on CoinMarketCap with a market cap of over $11 billion. The list below briefly summarises our Dogecoin price prediction for 2023–2030.
End of 2023 – Despite being known as a meme token, Dogecoin's competitive transactions per second and low cost per transaction can make it a strong asset to hold. Doge currently battling to climb and stay above the $0.08 mark. It it does we expect the token to trade near $0.1 by the end of 2023.
End of 2024 -As Dogecoin follows the rest of the crypto markets upwards and the project continues to develop its Trailmap, providing more utility, we can expect Dogecoin to spend the majority of time above $0.10 and hit a high go $0.18.
End of 2025 – Dogecoin developers will have completed most of the new utility-focused tech stack, which allows merchants to easily integrate DOGE as a payment method. We should also be seeing new all-time highs (ATHs) for cryptos as the results of the Bitcoin Halving kicking it. Here we predict that Dogecoin will hit new ATHs in 2025, closing in on $0.80.
End of 2030 – With Doge and other meme coins having increased their utility prospects and gained widespread adoption they are no longer simply memes are are established as acceptable forms of payment. The price of Dogecoin will have stabilized by this point with a potential high of $1 in 2030.
History of the Price of Dogecoin
Still regarded as one of the best meme coins, Dogecoin (DOGE), has regularly attracted high levels of volatility. Dogecoin is a fork of Litecoin (itself a fork from Bitcoin) created 2013 "in like 2 hours" according to one of its creators Billy Markus.
Tokenomics & Launch
Dogecoin was launched through a fair launch process (meaning no presale, no premine, no token allocation to developers, and no fundraising). According to CoinMarketCap, Dogecoin's first price is recorded on December 16th, 2013, at $0.0002993 per token. Dogecoin has a "diminishing inflation rate" as a maximum of 5 billion tokens can be added to the total supply each year, this cap on token distribution means that each year the rate of Dogecoin inflation actually goes down.
Created by Billy Markus and Jackson Palmer, the token was originally launched as a fun cryptocurrency token and an alternative to Bitcoin, incorporating the popular Shiba Inu dog meme as its logo to help it be a crypto with more mass appeal. This has since spurned a whole slew of dog- and doge-themed meme tokens. 
Before becoming one of the best cryptocurrency assets to purchase, Dogecoin traded sideways for nearly 7 years, between 2013 to 2020, with a brief spike from $0.001045 to $0.01507 in late 2018—an increase of 1342%. After that spike Dogecoin settled back into a trading range between $0.002 and $0.004.
Doge Crypto Price Increase 
However, the fate of the DOGE crypto price changed in 2021 after receiving mainstream appeal. Dogecoin started to really grow in popularity after Elon Musk, the CEO of Tesla and owner of Twitter, started releasing a series of tweets supporting this investment asset. In April 2019, Musk tweeted about Dogecoin, saying, 'Dogecoin might be my fave cryptocurrency. It's pretty cool'.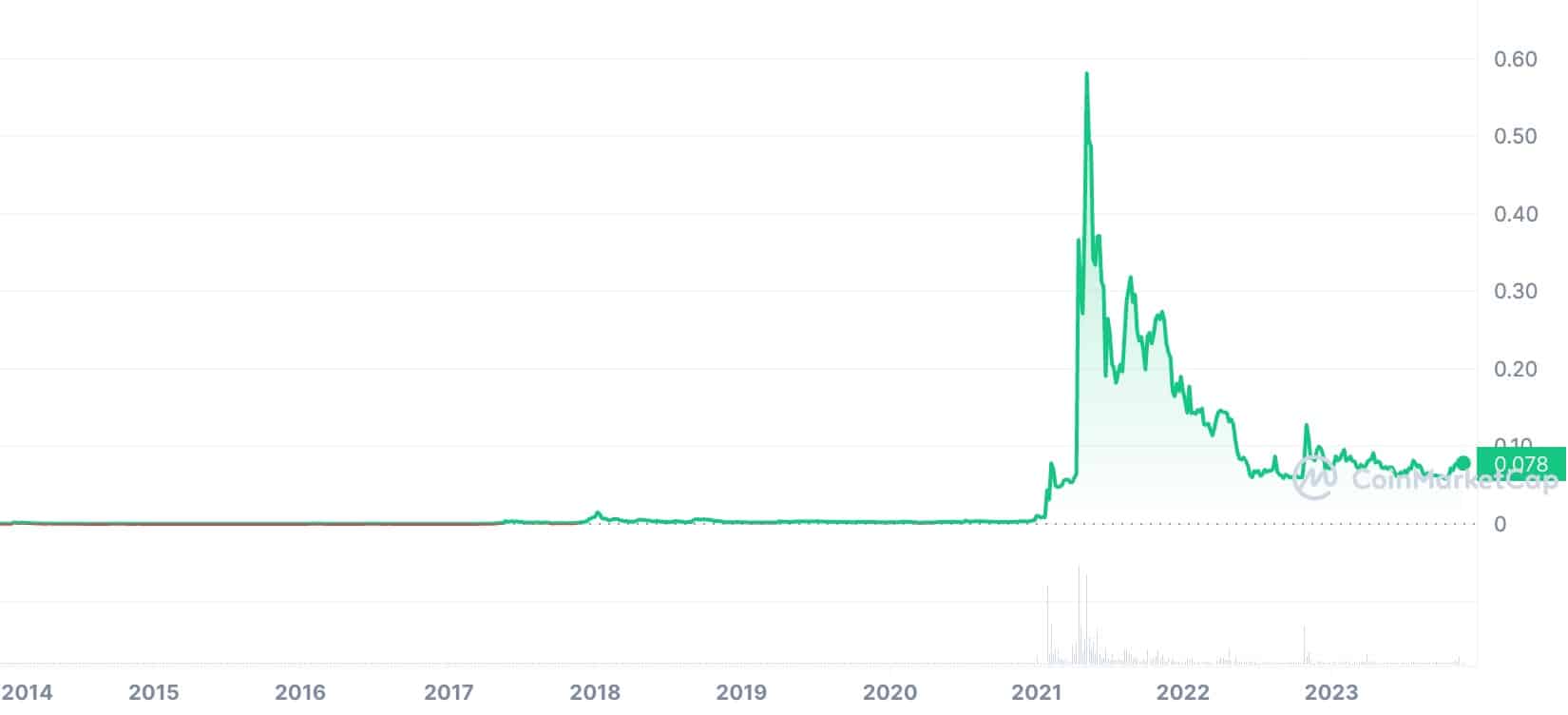 However, the token began to escalate throughout 2021 after Musk's tweets got more frequent. Between January 1st to May 8th 2021, the Dogecoin price increased from $0.004681 to an all-time high (ATH) of $0.7376 – a staggering 15,657% price increase. Many have analyzed the market moving effects of Elon Musk's tweets, for Doge, Tesla, and other assets in the market.
Dogecoin Price Correction
However, the price of Dogecoin dropped significantly after Elon Musk went on Saturday Night Live as a guest host. After the world's richest man made a series of jokes about the token, the token corrected from its ATH of $0.7376 to $0.41528 two days later—a precipitous drop of 43.7%.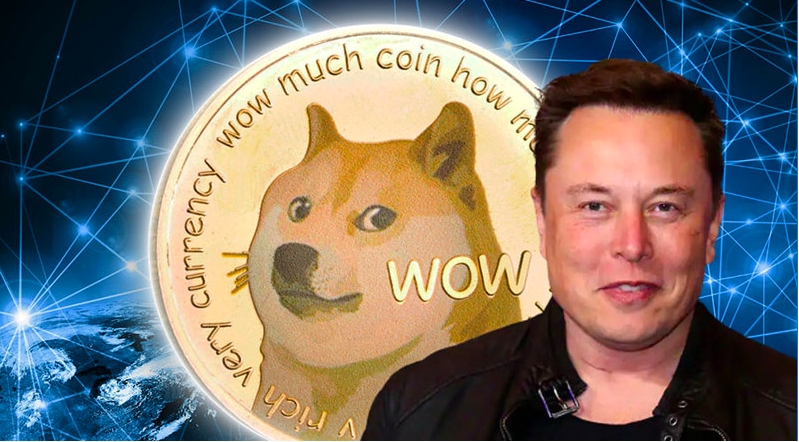 One of the most volatile cryptos to trade, Dogecoin continued on its downward trend, albeit more steadily, and finished 2021 at a price of $0.1705, 76.88% off its ATH on May 8th. However, 2022 was also not kind to the price of Dogecoin.
Over the course of 2022, after a brief yearly peak above $0.17 in January, economic conditions worsened, the Ukraine-Russia conflict started, and inflation rates started to rise around the globe. DOGE saw a steady decline over they year, finishing 2022 valued at $0.07024, a 58.8% decrease from it starting price of $0.1705. Inside of all that, Dogecoin did see an increase of 35% in late-October early-November 2022 as Musk's deal to purchase Twitter came to a close.
After Elon took over Twitter, thing looked like they might be starting turning around for Dogecoin. Rumors started to spring around that Dogecoin would become the official mode of payment on Twitter—and, without explanation, Musk changed the Twitter logo to Dogecoin's now iconic Shiba Inu on April 3rd, causing the coin to pump over 32% in a single day.
Despite this and Dogecoin's continued association with Twitter and Elon Musk, DOGE declined throughout most of 2023, finally breaking out of a longterm downward trend at the beginning of November, 2023, with a price of $0.6908.
Doge Price History: Summarized
With a circulating supply of 100 billion tokens, DOGE launched in 2013 and its first listed price on CoinMarketCap is $0.0002993 per token on December 16th, 2013.
Backed by sporadic Tweets from Elon Musk, Dogecoin increased by 15,657% from its opening price of $0.0002993 to an ATH of $0.7376 on May 8th, 2021. 
After May 8th, 2021, when Musk appeared on SNL, Dogecoin dropped more than 43%.
Dogecoin has been in a long term falling wedge pattern since this time, only recently breaking out of it on November 5th 2023, where its price was $0.6908.
The DOGE price today is $0.07895, with a market cap of $11.1 billion. 
Dogecoin Price Prediction 2023
2023 has not been kind to to the crypto markets, as regular inflation hikes in many of the world's leading economies, and the rollercoaster of news that has been the story of Bitcoin ETFs and the SEC, have helped to keep downwards pressure of the price of all cryptocurrencies. Meme tokens, seen as speculative assets by the majority of investors, are often hit harder than others in prolonged market downturns, as investors seek assets with greater utility and, therefore, perceived security.
Dogecoin has also suffered because, while it has long been considered one of the best proof of work coins, proof-of-work has been falling out of favor due to environmental concerns—a sentiment only enhanced by one of the top coins, Ethereum, completing its 2 year move to proof-of-stake in late 2022.
However, the end of 2023 has provided some light for many cryptos, with Bitcoin climbing steadily over the course of the year, and many altcoins are now breaking their long term bearish trends and finishing the year on positive notes as well.
All-in-all, Dogecoin is currently battling to see if it can stay above $0.08. If it does, we could see highs of $0.08793 by the end of the year. If it doesn't, it could trace back to test support of $0.06 by the end of 2023. In contract, the AMBCrypto site predicts that Dogecoin will finish the year in a much lower range, prediction it trading between $0.0004 to $0.00046 on December 22nd.
Dogecoin Price Prediction 2024
It is worth noting that, whilst meme coins became less favorable in 2023, due to economic tightening, they didn't fall entirely out of favor. Indeed, the meme coin PEPE launched and spiked 1000's of percent in 2023. As Elon Musk, with his known love of Dogecoin, begins building out Twitter and adding features, expect at least some more Musk/Twitter-focused DOGE drama in 2024. This could lead to investors choosing to add Dogecoin to their bag on the back of speculations that it could be integrated into Twitter as a payment mechanism.
Looking past the influence of Musk and the rumors of Twitter, we can see that there is a team of developers contributing to the future development of Dogecoin. This development involves creating the tools that enable business to seamlessly accept DOGE payments through their tech stack. This development also, eventually, leads to a switch to a proof-of-stake model—a move that is almost certain to be welcomed by the Dogecoin community and the wider crypto community.
Finally, in 2024 we have the Bitcoin Halving event. Traditionally, this does not have an effect on the crypto markets until 12–18 months after it occurs, and, therefore, doesn't affect our Dogecoin medium-term price prediction. But, seeing as cryptocurrencies are growing in popularity, this Bitcoin Halving may be the first to break to the mold and we could see price impacts in the same year that the Halving happened.
That all being said, without any huge news confirmed by the likes of Musk or someone at the Dogecoin Foundation, it doesn't seem like DOGE will be breaking any records in 2024. Our prediction for the value of Dogecoin in 2023 is, however, a positive one, with highs of $0.22 and lows of $0.07. The website DigitalCoinPrice predicts a similar range, with lows of 0.0688 and highs of $0.17.
Dogecoin Price Prediction 2025
A DOGE forecast for the long term means looking past any technicals on the charts and looking for clues in ongoing the development of the Dogecoin project and what is happening in the wider world of crypto.
As mentioned, a team of developers is developing the toolkit needed to help Dogecoin evolve from its speculative meme coin model to a coin that has the utility it needs to achieve adoption. This involves writing the tools for merchants, games, and other platforms to seamlessly add Dogecoin to their list of accepted currencies, helping to diversify the network.
This also involves rewriting the Dogecoin protocol in the C language to make it much easier for others to integrate. While this project is not expected to be complete by 2025, its continued development adds another quiver to the bow of Dogecoin price predictions.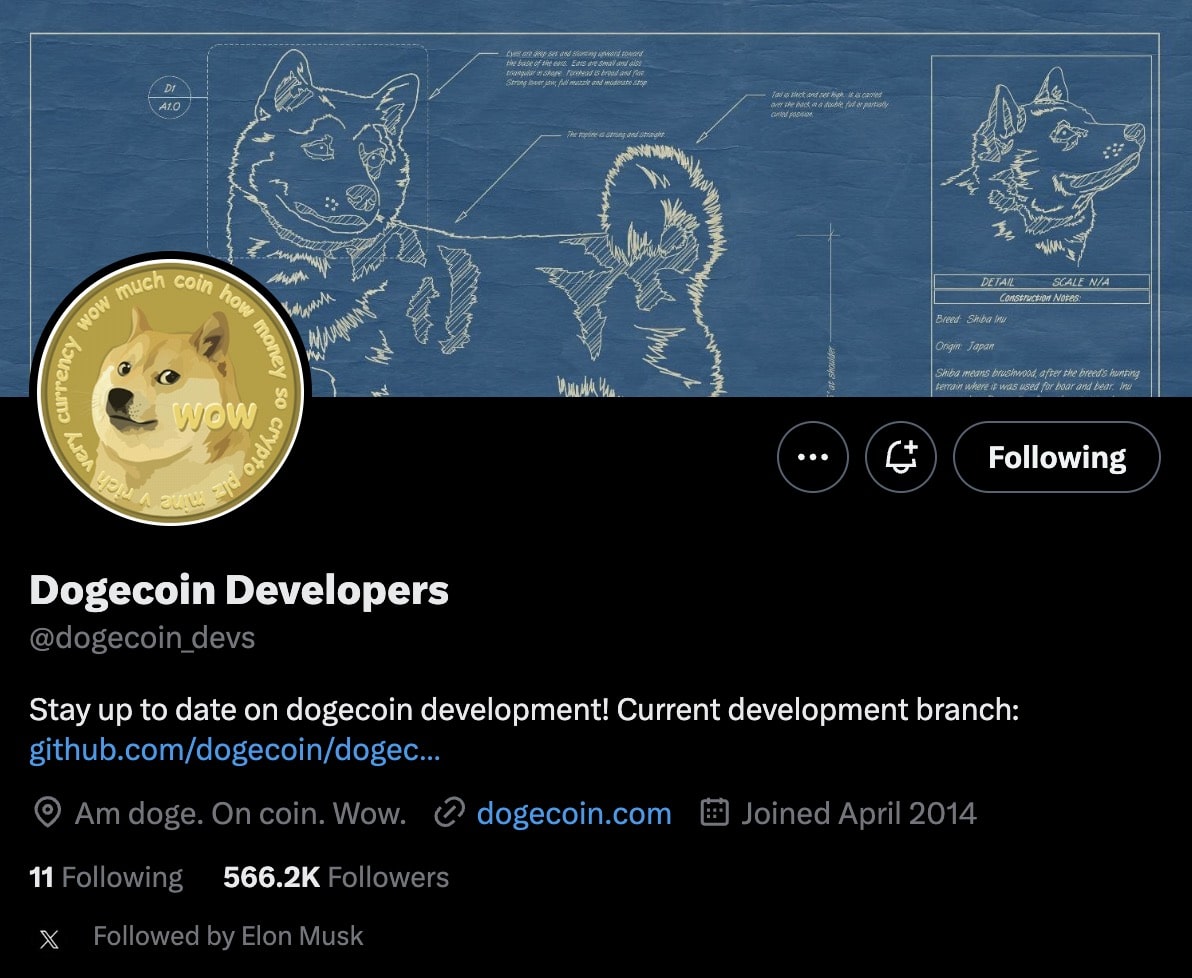 With the effect of the Bitcoin Halving from 2024 expected to be felt in 2025 and crypto prices to be rising, we can expect investors to be returning to crypto with the expectations of significant gains, like those that came after the last Halving in 2020, and there's nowhere else where huge gains are expected more than in meme coins.
These points cover many fronts, and they bode well for Dogecoin in 2025. As a result, we expect Dogecoin to attain new ATHs in 2025, hitting highs of $1.12 but being unable to sustain prices above $1 due to large amounts of profit taking by speculative investors. That is why our low prediction for Dogecoin in 2025 is $0.25.
We are not the only one predicting new ATHs for Dogecoin in 2025 as the CoinPedia platform predicts highs of $1.07 for DOGE in 2025, with lows of $0.62.
Dogecoin Price Prediction 2030
The further into the future we peer, the harder it is to make accurate predictions for all cryptocurrencies—especially meme coins, whose price is typically supported by speculation. However, there are a few facts we can use to create an informed Dogecoin price forecast for 2030.
The world of cryptocurrencies is moving fast, and by 2030, the regulation and adoption of cryptocurrencies will be much greater than they are now—we can even expect many merchants to be accepting crypto payments. Will this mean the disappearance of meme coins, or will they have to evolve utility to stay relevant?
With the aforementioned technical development of Dogecoin potentially being complete by 2030, along with its migration to a proof-of-stake consensus mechanism, we can expect some merchants to have adopted this coin as payment. Will Twitter be one of them? Only time will tell us that.
If the history of Bitcoin Halving events repeats itself, then in 2030, we can expect to be coming down from the highs of 2029 that resulted from the 2028 Bitcoin Halving event.
All of this combined leads us to predict that the price of Dogecoin and other cryptocurrencies will have stabilized by this point in the future, and our Dogecoin price prediction for 2030 is a high of $1.45 and a low of $1.08. The CoinCodex site, however, predicts a very different scenario, stating that Dogecoin will continue to languish far below the price of a dollar, with a yearly low of $0.060328 and yearly high of $0.143800 in 2030.
Potential Dogecoin Price 2023 – 2030 
The table below summarizes the potential Dogecoin (DOGE) price prediction from 2023 – 2030.
| | | |
| --- | --- | --- |
| Year | Potential High | Potential Low |
| 2023 | $0.08793 | $0.06 |
| 2024 | $0.22 | $0.07 |
| 2025 | $1.12 | $0.25 |
| 2030 | $1.45 | $1.08 |
The Price Predictions of Other Anaylsts for Dogecoin
Below we've summarized some of the price predictions from other analysts and platforms from around the web to give a better idea of the wider sentiment on Dogecoin.
The Changelly Blog predicts a high of $0.222 for DOGE in 2025, and that it will spend 2030 above $1 with a high of $1.46.

Changelly
The CryptoNewZ website predicts that Dogecoin will be worth a maximum of $0.39 in 2025, and a hit a high of $0.82 in 2030.

CryptoNewZ
The zebpay platform calls their Dogecoin price predictions for 2025 "optimistic", and give a low of $0.20 and a high of $0.45.

ZebPay
The ForexCrunch website states that there's scope for Dogecoin to break the $2 mark by 2030.

ForexCrunch
Best Place to Buy Dogecoin
The section below discusses one of the best places from where you can purchase Dogecoin – Binance. We cover the fees, features, and payment methods that the Binance exchange supports:
Binance – Overall Best Place to Purchase Dogecoin
Binance is one of the best places from where you can buy Dogecoin. This cryptocurrency exchange is used by more than 160 million people and gives you access to over 400 digital cryptocurrencies and thousands of token pairs.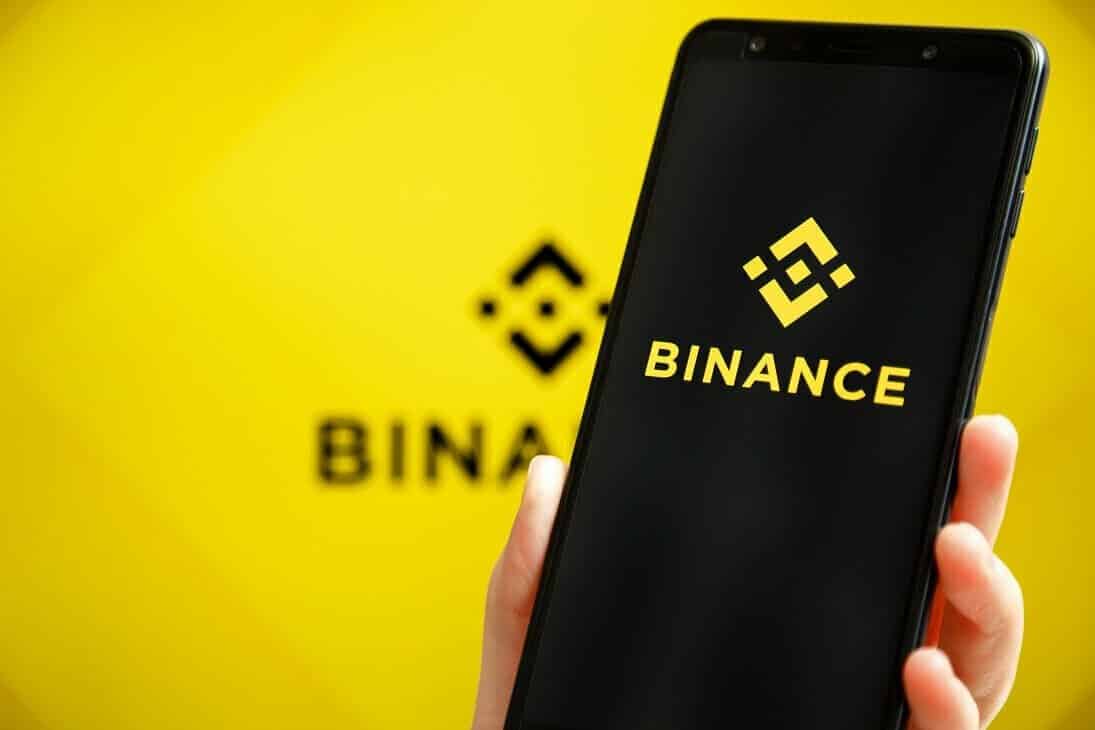 While specific payment methods such as credit cards incur high fees, other methods such as ACH transfers can be accessed free of cost. A popular platform for expert traders – Binance supports leverage and margin trading. The platform offers a highly intuitive user interface, which can be accessed via desktop and mobile. 
Beginners can take advantage of the Binance demo account – which lets you trade using virtual funds. You can also learn more about cryptos and NFTs through the Binance Academy. This popular platform uses two-factor authentication and displays whitelisting capabilities. 
Is Dogecoin the Best Crypto to Invest in Today?
Unsure as to whether DOGE is a good investment in 2023? While Dogecoin is the most popular meme cryptocurrency in the space, the markets are experiencing an increased number of exciting new multi-use cryptocurrencies. However, one of them matches the marketability of Dogecoin, and it has constantly been climbing the presale charts – Wall Street Memes. 
Wall Street Memes (WSM) is a meme coin project born out of the GameStop saga, where individual investors challenged Wall Street giants. WSM's mission is to revolutionize finance by harnessing the power of memes.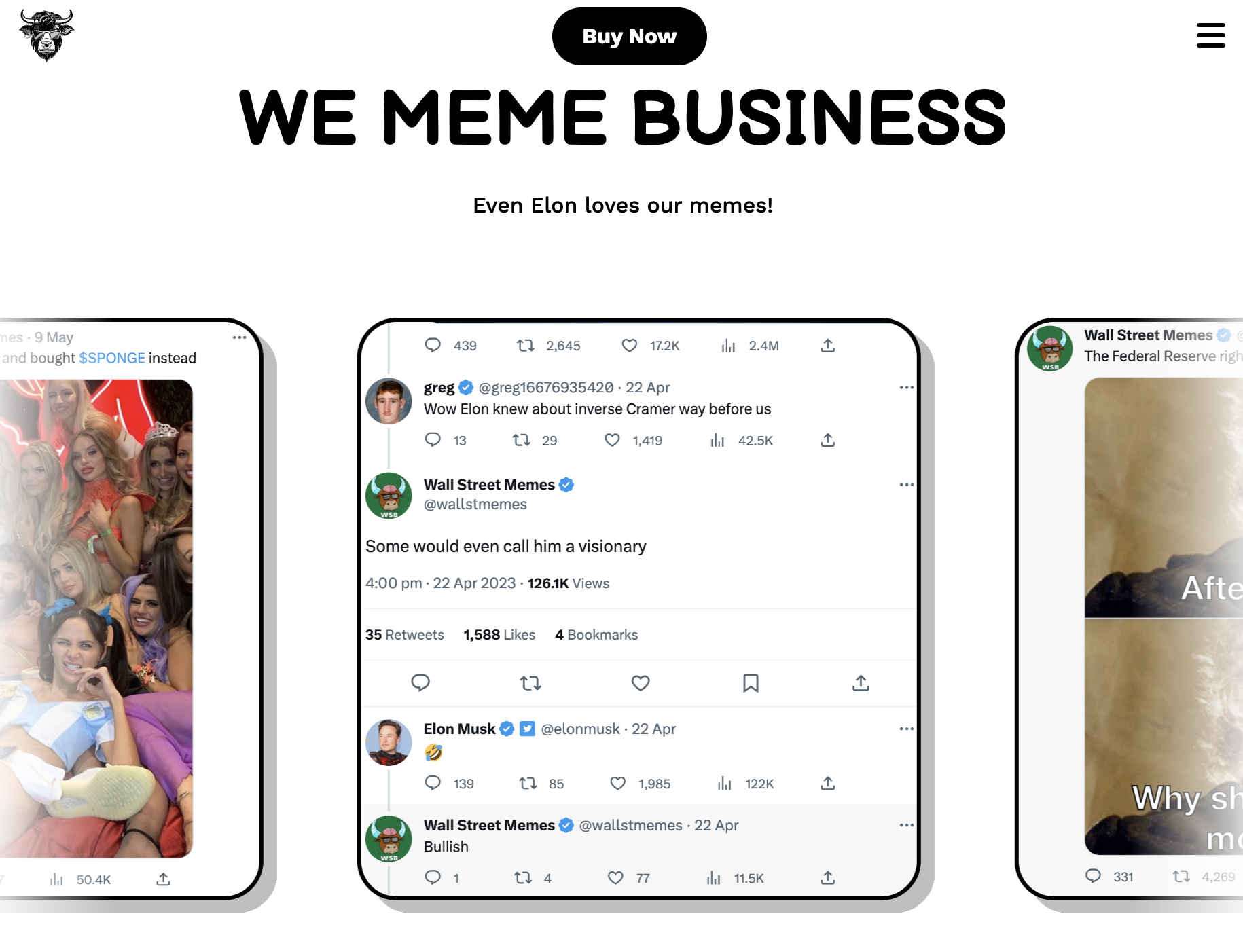 Their roadmap consists of three phases. Phase 1 focuses on developing a secure smart contract, building a strong community, and launching a comprehensive branding and marketing campaign. Phase 2 marks the official launch of the $WSM token, including strategic partnerships, listings on decentralized and centralized exchanges, and awareness campaigns.
Phase 3 aims to empower the community within the WSM gated community, targeting a market capitalization of $1 billion and listings on top-tier centralized exchanges. While the utility and agenda of WSM remain unclear, investing in WSM poses challenges in making reliable predictions.
To purchase WSM during the pre-sale, options include transferring ETH or BNB to your wallet, exchanging them for WSM, using USDT (ERC-20 or BEP-20) and swapping for WSM, or making a purchase with bank cards and a crypto wallet address.
The tokens can be purchased for $0.025 at the time of writing, on the official website. It can then also be staked there and then to begin earning more rewards in $WSM.
Conclusion
Despite correcting by more than 89% since reaching an all-time high of $0.7376, Dogecoin has the potential to retake these highs in the long term. Besides the token's social media popularity and celebrity backing, Dogecoin has a team of developers working to turn into more than just a meme coin and give it a potential future. 
Alternatively, we recommend Wall Street Memes as a potential alternative to Dogecoin. This project has an active and vibrant community and is currently on sale on the Wall Street Memes website, where it can be staked immediately to earn more $WSM tokens.
References
FAQs
What will Dogecoin be worth in 2023?
We predict that Dogecoin will finish 2023 between a high of $0.08793 and a low of $0.06.
What will DOGE be worth in 2025?
Our price prediction forecasts that Dogecoin will attain new all-time highs of $1.12 in 2025. This is due to market-wide price increase driven by the Bitcoin Halving event in 2024. Prices in 2025 are predicted to swing wildly, and Dogecoin is predicted to hit lows of $0.25.
What will Dogecoin be worth in 2030?
In 2030 we predict that the Dogecoin price will exist between a high of $1.45 and a low of $1.08. This is as a result of real utility being developed for Dogecoin, and greater crypto adoption meaning that merchants are accepting Dogecoin as payment.
What was the starting price of Dogecoin?
Dogecoin was launched in December 2013 and the first recorded price for Dogecoin was $0.0002993 on December 16th, 2013.
What was Dogecoin's highest price?
Dogecoin reached an all-time high of $0.7376 on May 8th, 2021. 
Is Dogecoin a good investment?
In the past 9 years, Dogecoin has proven to be a volatile asset. High-risk traders can diversify their portfolios by purchasing Dogecoin and creating a tight stop/loss to avoid major losses.
 
---