Doge Rush ($DR) Token Price Prediction 2023 – 2030
Disclosure: Crypto is a high-risk asset class. This article is provided for informational purposes and does not constitute investment advice. By using this website, you agree to our terms and conditions. We may utilise affiliate links within our content, and receive commission.
Disclaimer: The Industry Talk section features insights by crypto industry players and is not a part of the editorial content of Cryptonews.com.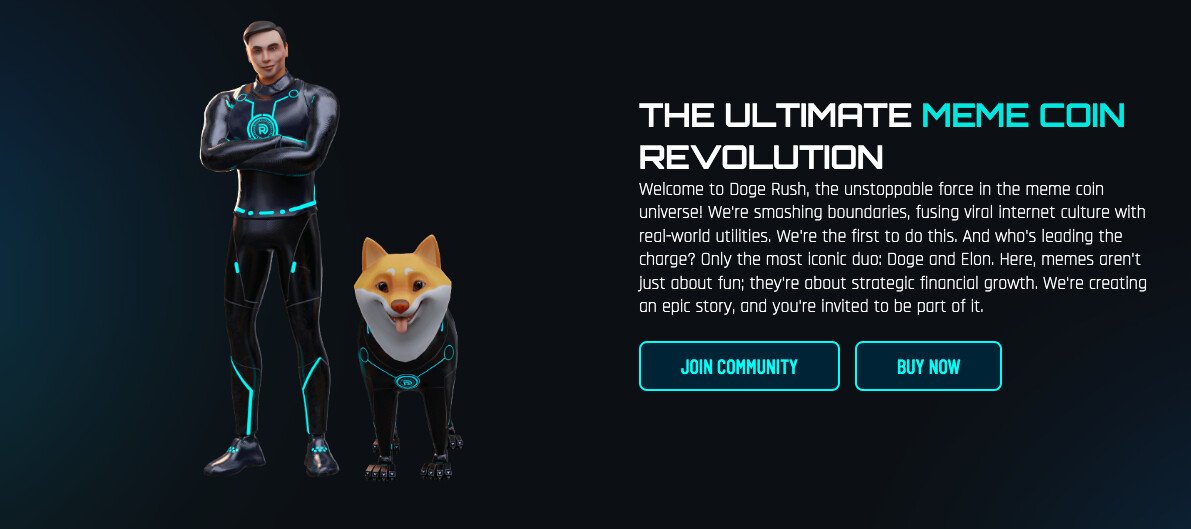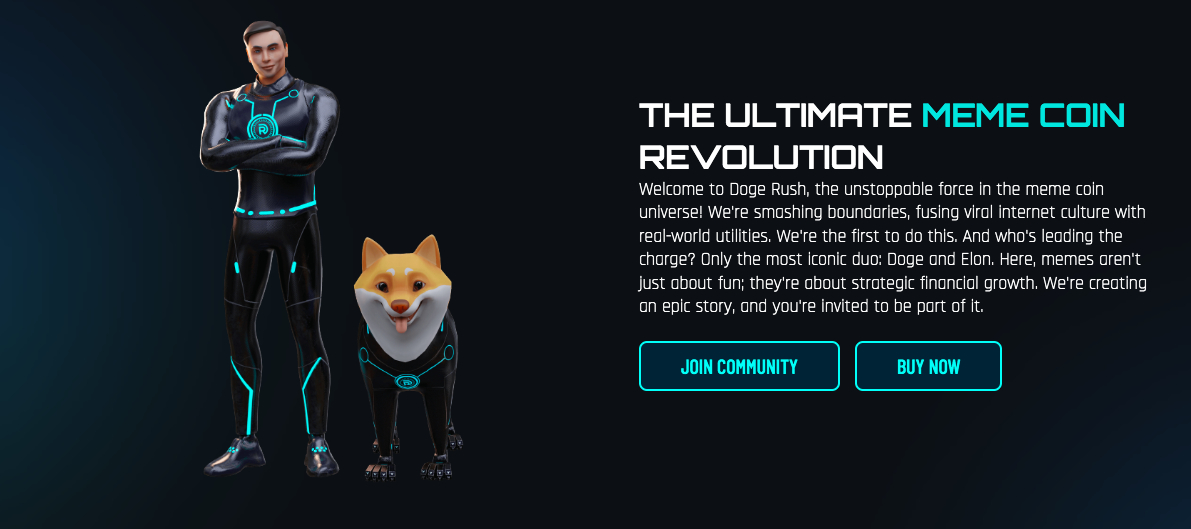 By combining popular internet memes into a play-to-earn gaming experience, Doge Rush ($DR) is emerging as one of the hottest new cryptocurrency presale projects.
Through $DR, the native token, platform members can access multiple revenue-earning opportunities.
In this guide, we will take a look at the Doge Rush price prediction for 2023 – 2030 and study the key features of this new project.
Doge Rush Price Prediction – Key Points
End of 2023: The Doge Rush token presale has only just started but has already raised $350k at the time of writing, priced at $0.0055. Once the presale sells out, $DR tokens will head for listing on exchanges with a price of $0.0099 – we predict the token could follow other meme tokens and explode to $0.02 by the end of the year.
End of 2025: In the next couple of years the project will roll out key features such as its DogeHub P2E gaming ecosystem. While all cryptos, especially meme coins, experience volatility, we predict a price of $0.04-$0.05.
End of 2030: By the end of the decade we would predict $DR to target a price of $0.10 as its gaming ecosystem becomes fully formed and the project reaches a wider audience.
Doge Rush – P2E and Competitions Platform
In the past few years, the meme cryptocurrency space has provided some of the highest returns in the market. While projects such as Dogecoin ($DOGE) and Shiba Inu ($SHIB) have been among the best meme cryptocurrency tokens regarding performance, there have been questions about their utility.
Thus, Doge Rush is emerging as a revolutionary meme token that combines the virality of a meme token while offering multiple use cases to keep you engaged. One of the key platform features that can be accessed to generate financial opportunities is the DogeHub environment.


This functions as the platform's play-to-earn environment. DogeHub will be a P2E first-person side-scroller game. On the game Doge Rush will feature two popular internet personalities, Elon Musk, and Doge.
These two characters will be reskinned and introduced as in-game avatars on the DogeHub environment. The ecosystem will consist of a variation of several popular side-scroller games, including Subway Surfers, Temple Run, and Sonic Dash. The gameplay will feature your doge avatar running away from an Elon avatar.
You can collect $DR, the native token, within the ecosystem. Furthermore, players can use their tokens to purchase NFT skins and upgrade their in-game avatars.
Another environment of Doge Rush is DogeWin – an exciting platform where $DR token holders can participate in raffles and competitions. Notably, DogeWin will host hourly competitions, where users can win crypto tokens, valuable NFTs, and even Ethereum (ETH).
Thus, this new cryptocurrency platform has already laid out the framework by letting members participate in exciting gaming experiences, resonate with the internet trends, and earn exciting rewards.
Doge Rush Price Prediction – How High Can It Go?
With the recent launch of the $DR token on presale, investors will be keen on entering the project early. However, it is important to go through the tokenomics of the project and properly analyze the cryptocurrency before making an investment.
The sections below will analyze the Doge Rush price prediction for 2023 – 2030.
Doge Rush 2023 Price Prediction
At the time of writing, Doge Rush is still undergoing its cryptocurrency presale for the $DR token. From a total token supply of 2 billion, 1 billion $DR tokens have been made available for the cryptocurrency presale.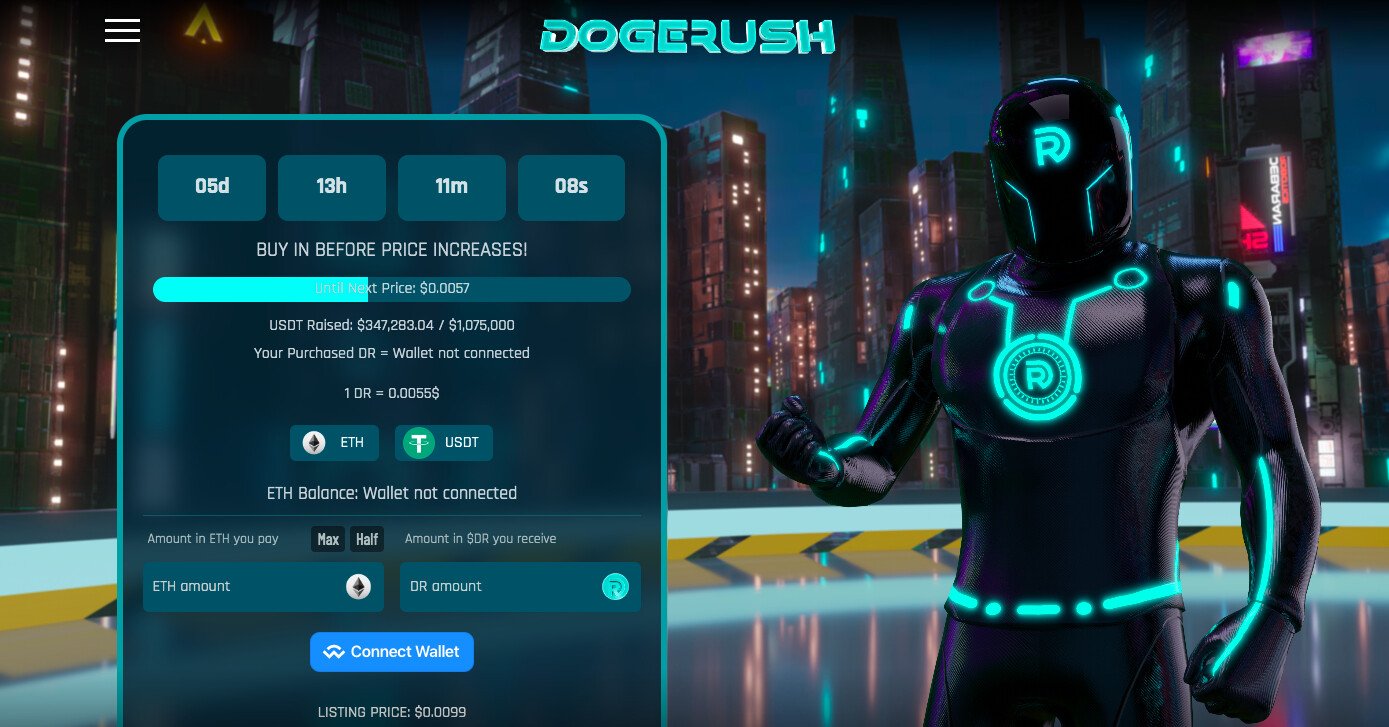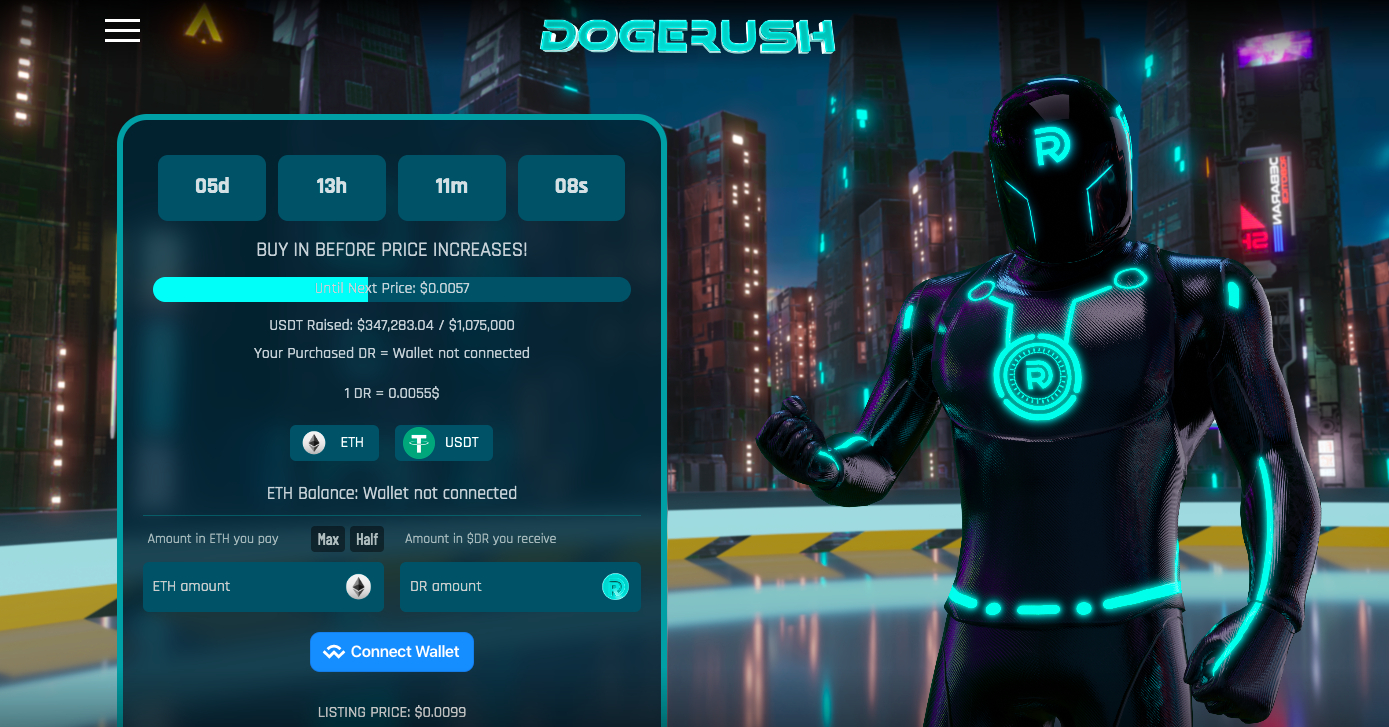 While the token was listed for just $0.0055, it will increase by 80% to $0.0099 upon its exchange listing. Since the presale started, Doge Rush has already raised more than $345K. By the end of 2023, Doge Rush will likely conduct the initial exchange offering for $DR.
As seen with many meme tokens such as Tamadoge (TAMA), the price tends to skyrocket after the exchange listing takes place. Given the fact that Doge Rush offers real utility through its meme token, it will not be a surprise if the listing starts off strong.
The exchange listing price for $DR is set at $0.0099 per token. With the listing expected to occur in the next few months, Doge Rush could experience an instant price increase. We predict $DR to be trading around the $0.02 mark by the end of 2023.
| | |
| --- | --- |
| Presale Started | Q2 2023 |
| Purchase Methods | ETH, USDT |
| Chain | Ethereum |
| Min Investment | N/A |
| Max Investment | N/A |
A Look Ahead – Doge Rush 2025 Price Prediction
While Doge Rush is still in its early stages right now, the project will roll out its key ecosystem features once the exchange listing takes place. Doge Rush is backing the success of its two environments – DogeHub and DogeWin.
While the DogeHub P2E gaming ecosystem is still in its infancy stage, combining popular internet memes will make it a relatable project for millions of crypto enthusiasts. With a vision to focus on gameplay as much as the project's economics, Doge Rush's choice of gameplay is ideal for the long term.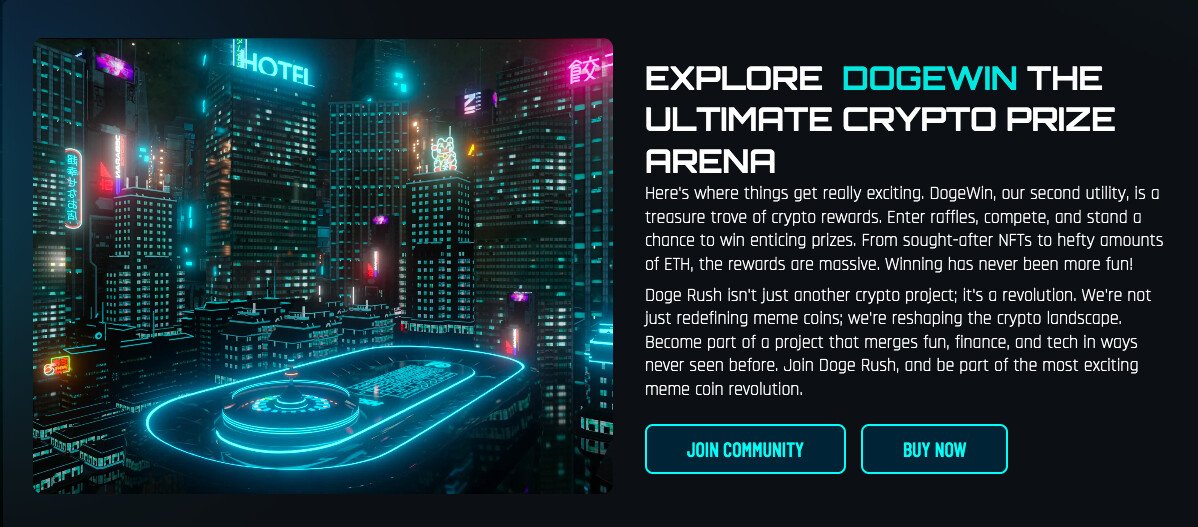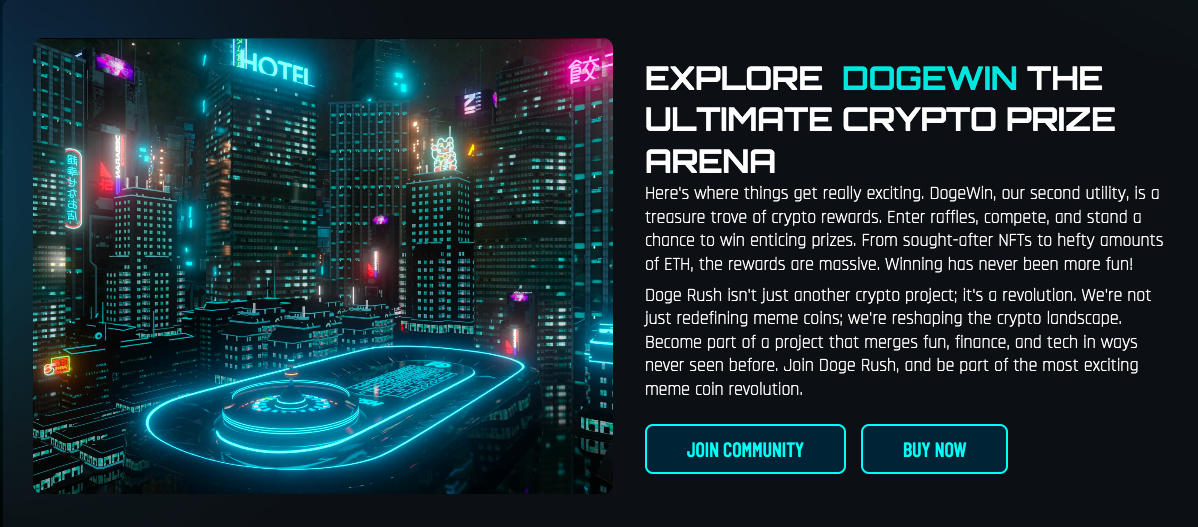 The platform will combine popular games with the added crypto meme element, which will help it stand out from the pack. At the same time, $DR will be at the center of the ecosystem. You are rewarded with tokens and NFTs by spending time on the platform.
Thus, it is likely that Doge Rush could onboard a huge consumer base in the coming few years. As the ecosystem's popularity increases, the adoption of the $DR token will grow exponentially. However, we must also consider the volatility in the meme cryptocurrency space.
A huge price dip is not uncommon for new meme tokens. Therefore, the earlier you enter, the more likelihood of making a higher profit. By the end of 2025, $DR may be trading around the $0.04 – $0.05 mark.
Doge Rush 2030 Price Prediction
While we have highlighted that Doge Rush is a high utility project, an established community and following are key for any meme tokens to survive in the long run. Despite Doge Rush being a new token, it has already begun establishing and promoting itself over social media platforms.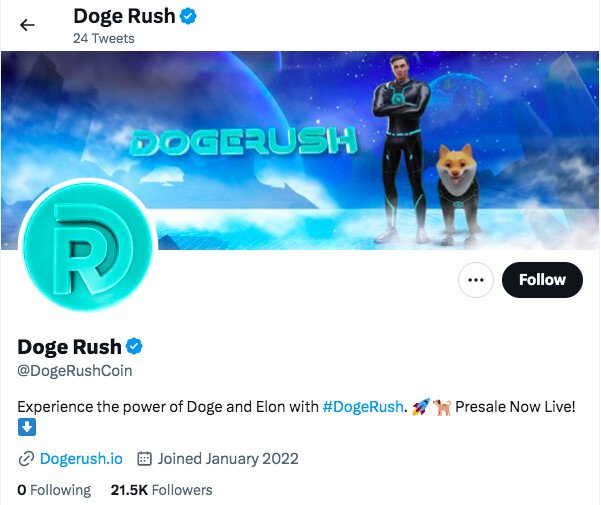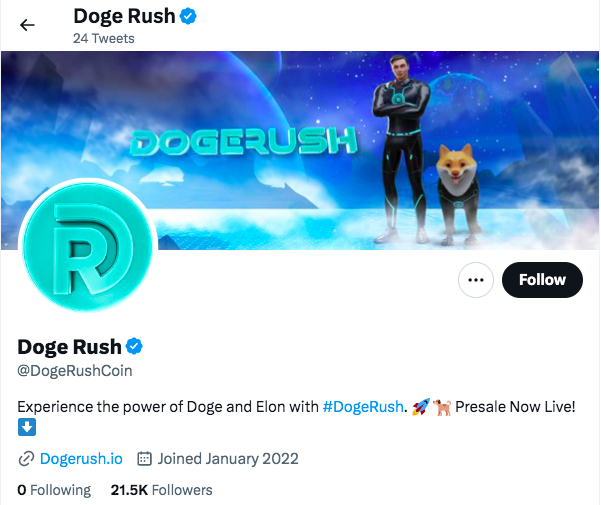 On Twitter, Doge Rush has a growing user base of 20K+ followers. With over 170K followers and more than 2.7 million likes, this cryptocurrency is also huge on Tiktok. By continuing to grow through these organic marketing means, Doge Rush could become one of the best future cryptocurrency projects.
To help the token holders, Doge Rush has also decided to charge no buying and selling tax. Thus, members do not need to pay an additional slippage fee on the ecosystem. Furthermore, 25% of the token supply will be reserved for P2E coins, showing just how much importance Doge Rush is giving to the gaming side of this platform.
By the decade's end, Doge Rush could sky-rocket to the $0.10 mark and beyond.
Is Doge Rush a Good Investment?
As the name suggests, Doge Rush is hopping on to the crypto meme trend but distinguishes itself from the pack at the same time. The creators of Doge Rush are giving a lot of importance to generating real value from within the project.
While virality and social media growth are of utmost importance, Doge Rush's main concern is developing its competition platform and P2E ecosystem. The meme element has been introduced within the P2E game, as popular figures such as Elon Musk and Doge will be introduced as playable characters.


To fuel user growth, Doge Rush will also feature a competition platform where token holders can win big regularly. A 100% secure project to use, Doge Rush's contract code has been fully audited Coinsult.
To ensure anti-rug and complete team security, Coinsult has verified the project team as well. Read the Doge Rush whitepaper for more information on this project.
Conclusion
Our Doge Rush price prediction has looked at the potential price of $DR for the upcoming years. While the token is still on presale, it can offer huge growth in the long term.
This is due to the mix of revenue-earning opportunities, gaming experiences, and meme tokenomics that the project offers.
Currently, $DR is available for $0.0055 during the ongoing presale, which has raised around $350k since launch.
---