DexTools Trending Crypto $HAMS and $MOG Prices Surge 30,000%, But Buy These 2 Coins Before They List Today – Burn Kenny and $EVILPEPE to Explode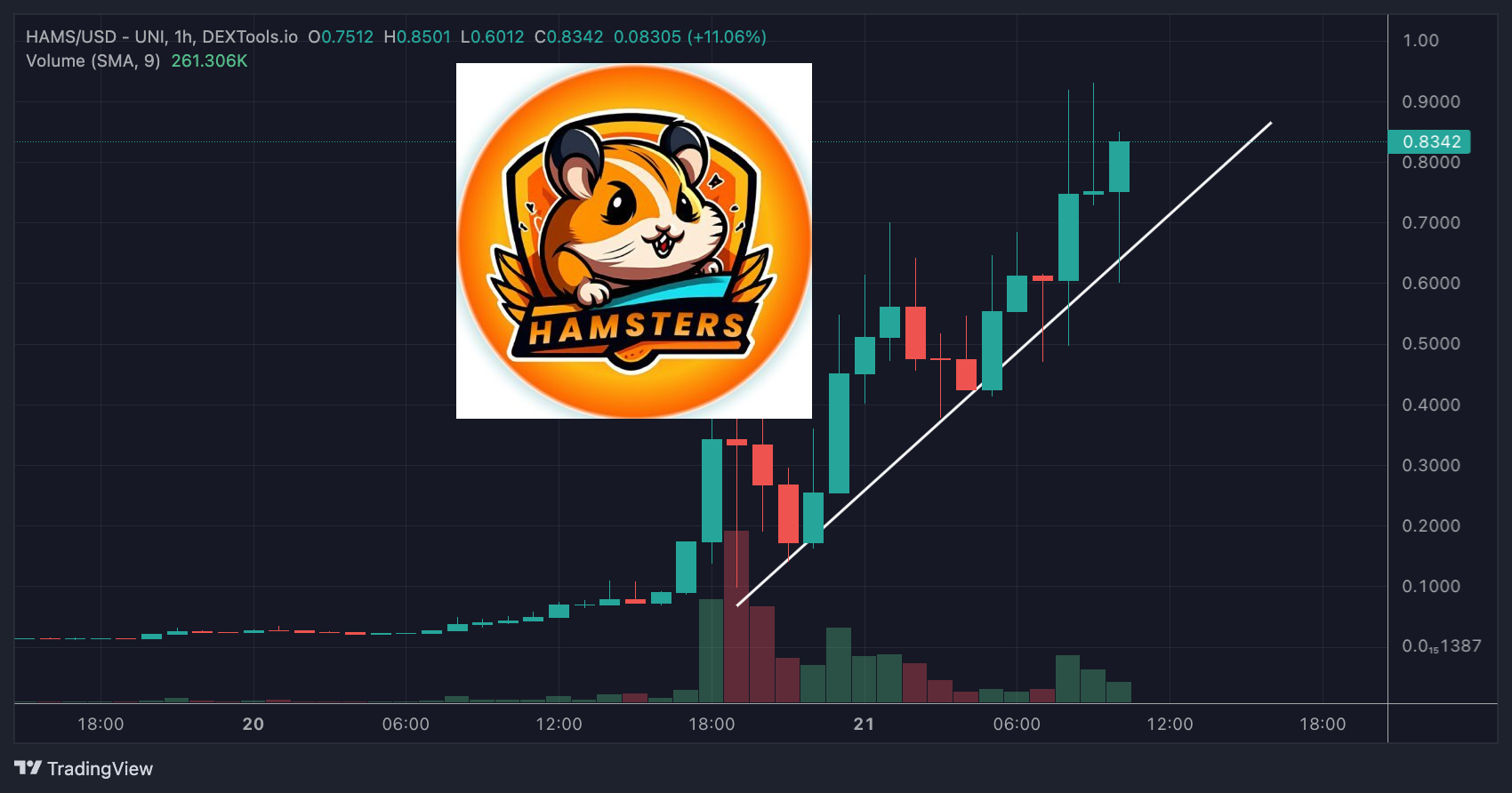 DexTools trending crypto $HAMS and $MOG have both seen their prices pump 30,000% since launch, as money continues to chase hot speculative coins listing directly on decentralized exchanges (DEXs).
And there is no shortage of launches. Burn Kenny ($KENNY) and Evil Pepe Coin ($EVILPEPE) are both likely to list today.
Indeed, Kenny could be listing on DEXs in the next few hours as it closes in on its presale target of $500,000, with only around $120k to go.
$HAMS price pumps – go Hamster, go!
The $HAMS token is the utility token of the Hamsters gaming platform that combines live-streamed pre-recorded, hamster races with a competitive PvP betting system.
Launched on July 10, the coin has pumped 35,962%, landing early investors with a sizeable windfall, depending on the size of their initial investment.
However, its future price progress might be stalled by the 5% transaction tax on buys and sells.
In addition, there's a smart contract feature that allows it to limit the number of transactions, and the deal size, that an individual wallet address can make.
Still, the price continues to pump higher at the time of writing, so it might not be too late to catch the upswing.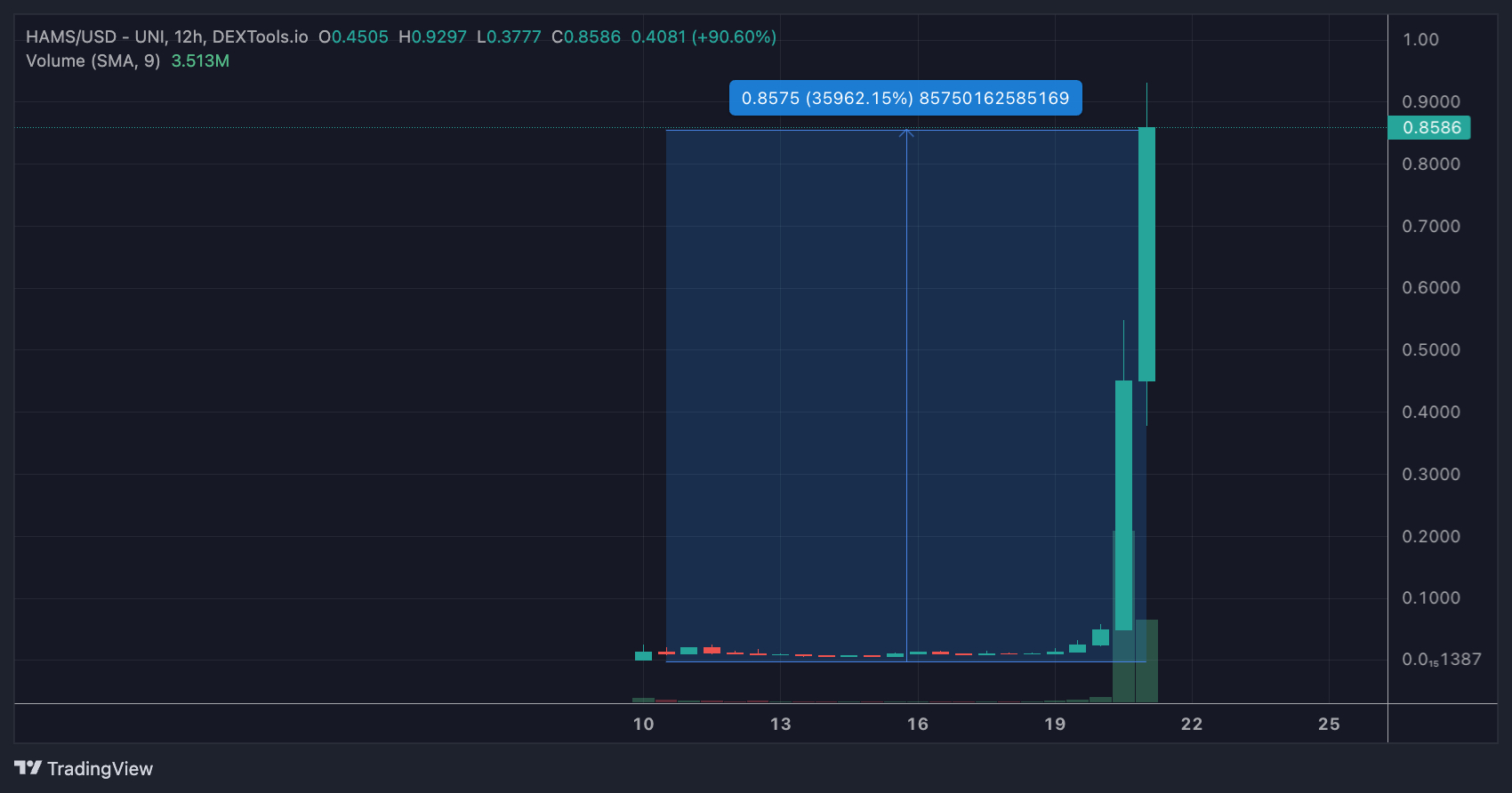 Milady OG ($MOG) coin – can it be the new LADYS coin?
Also flying high today is Milady OG ($MOG), an entirely different kettle of fish to $HAMS. $MOG wears its meme coin credentials on its sleeve.
There is no utility here, other than holders perhaps being able to flex that they are a Milady OG. That ploy seems to be working in attracting degens to buy.
This team has presumably watched the success of the Milady Coin ($LADYS), which drew its inspiration from the eponymous Milady NFT collection.
The $MOG price has blasted 33,000% higher since yesterday's launch (July 20).
As the chart below shows, there has been no break in the upward trend as yet. Whether the bullish sentiment can continue may rest on market participants' judgment regarding how the team executes.
Like $HAMS, it has an anti-whale device that can be invoked to limit the number and size of transactions.
On the face of it, that's a positive for smaller holders, but it undermines the decentralized self-sovereignty ethos of crypto and, of course, will undoubtedly put off whales.
Nevertheless, the green candles will continue to keep the interest bubbling, and in the short term, at least, the price appreciating.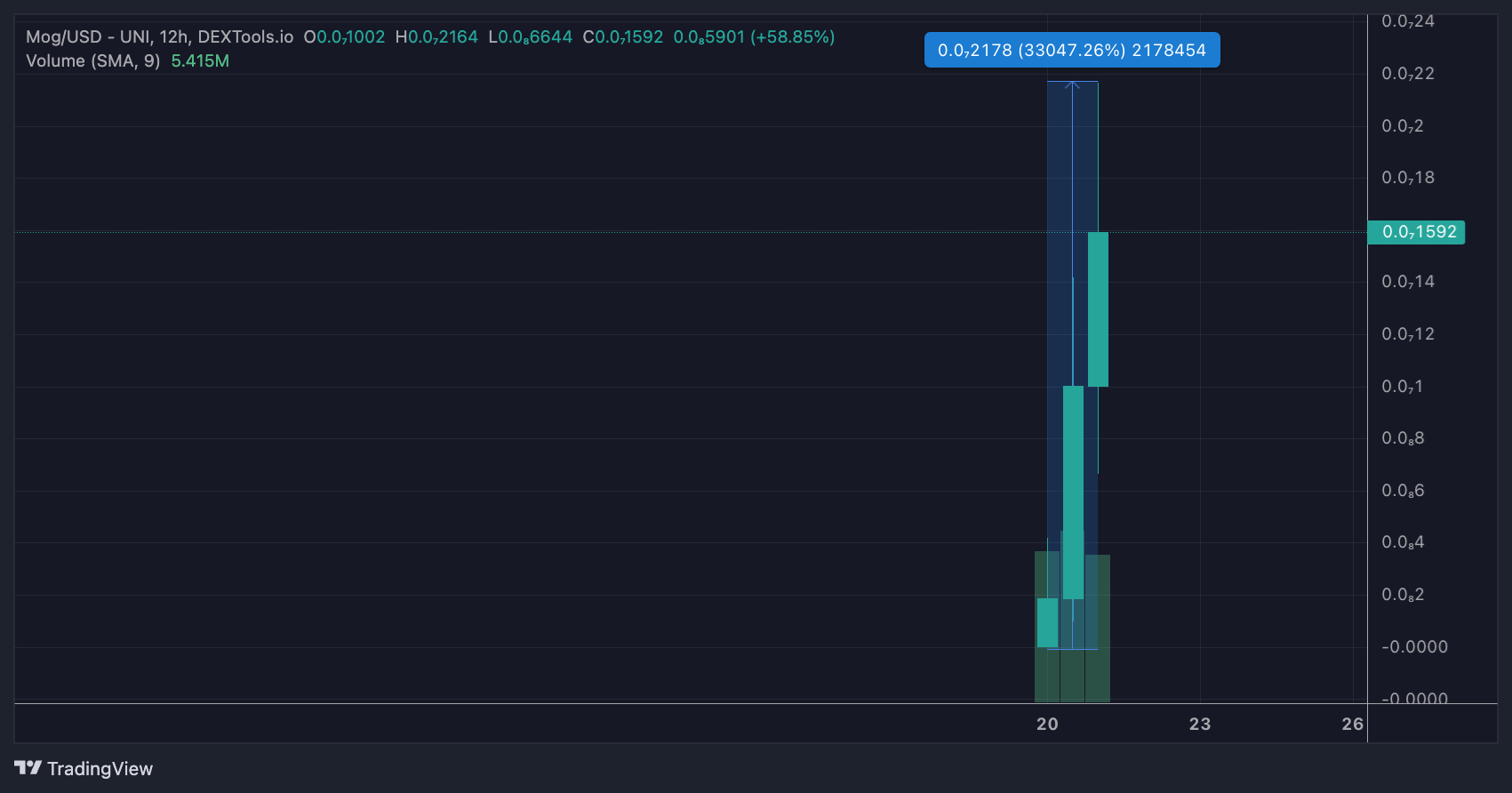 Meme coin delight: South Park-inspired Burn Kenny and latest Pepe coin $EVILPEPE prices set to pump
Two new coins that are setting the crypto space on fire are Burn Kenny ($KENNY) and Evil Pepe coin ($EVILPEPE).
Starting with looking at $KENNY – Burn Kenny – it is a South Park-inspired meme coin based on one of the lead protagonists, Kenny McCormick.
Its presale will very likely sell out today after it raised $250 in less than an hour yesterday and will probably reach its hard cap target of $500,000 in as little as an hour or two.
At the time of writing $KENNY has raised $378,000. You can buy $KENNY for $0.0001875.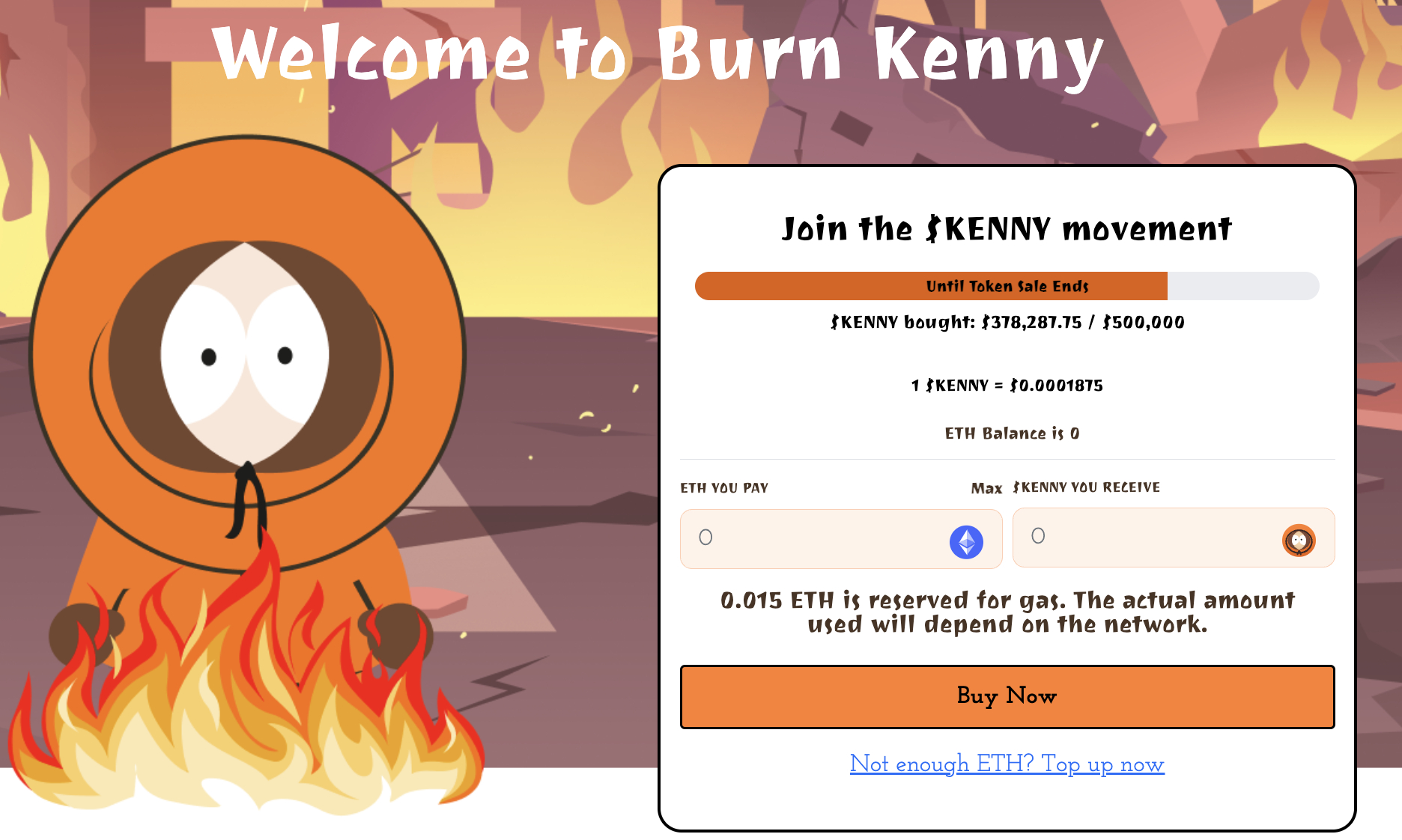 There's no time to lose to get in on what could be the latest trend in crypto meme coins.
However, even if you miss the presale, the coin will likely list on the decentralized exchange Uniswap later today. $EVILPEPE is priced at $0.000333.
Followers of the irreverent cartoon comedy series will know that Kenny dies a lot – this time he dies by burning – the coin has a burn mechanism.
Burn Kenny coin's burn design will see 30% of the total token supply burned over three days, beginning 24 hours after the listing.
Crypto experts expect $KENNY to fly out of the gates when it lists, so have your wallet funded and ready to connect to be an early winner.
Articles that have appeared on Finbold, Cointelegraph, CryptoPotato, Coingape, and Cision Newswire show a strong marketing presence.
Crypto analysts on YouTube are also jumping in with their tips, with one expert predicting a significant return on investment for $KENNY buyers.
Visit the Burn Kenny Coin website.
Will the $EVILPEPE coin be the Pepe to rule them all?
The second coin vying for high returns is Evil Pepe Coin ($EVILPEPE) is the second coin vying for high returns, the newest token to join the Pepe coin family.
On its website Evil Pepe asks you to "embrace your evil side", in its pitch to buyers – it is a new angle that could catch the imagination of alpha seekers.
The original $PEPE coin came from nowhere, to today sporting a market capitalization of $634m.
PEPE2.0 has also been phenomenally successful – the copycat coin has rocketed 514,000% since its launch in late June.
$EVILPEPE is on the road to equally impressive returns.
Evil Pepe Coin has raised $175,453 of its hard cap target of $1,996,002 in less than 24 hours, so prospective buyers have no time to lose to grab this 100x coin.
The presale finishes in 11 days so there's no time to lose.
The coin is thought to come from the same team that brought us the $SPONGE coin, which 100x on launch
Meme coins are all about brand and marketing, and this team looks like it has all the ingredients for success.
Evil Pepe has already been mentioned in CryptoPotato, CoinGape, Techopedia, Finbold, and The Financial Express, to name but a few, so the word is spreading fast. Don't miss out.
Visit the Evil Pepe Coin website.
Disclaimer: Crypto is a high-risk asset class. This article is provided for informational purposes and does not constitute investment advice. You could lose all of your capital.
---